This post is about how to take some fun and unusual shots by using the crystal ball photography technique. It's always fun to learn a new technique and challenge yourself, using a crystal ball (it is also called a glass orb) will do just that. A crystal ball inverts the scenery so everything inside it looks upside down, and it captures a really wide angle. The shots taken using a crystal ball look very similar to those taken by the fisheye lens. Here are some photos that were taken by using the crystal ball technique:
Light refraction
Refraction occurs when light strikes the surface of the new medium. As the light enters a dense medium slows the light wave down. The light is passing through an optical medium (like air) to another optical medium (like glass).
Refraction is the phenomenon that causes a light ray to bend when it hits an optical lens surface (or another medium that can act to transmit light e.g. water droplet).
When refraction occurs with a transparent spherical object something magical happens. An inverted image (upside down) of the scene behind the ball is seen. The lens of your camera actually works the same way as well. You can use a glass ball as an extra lens element, one you can move around your scene.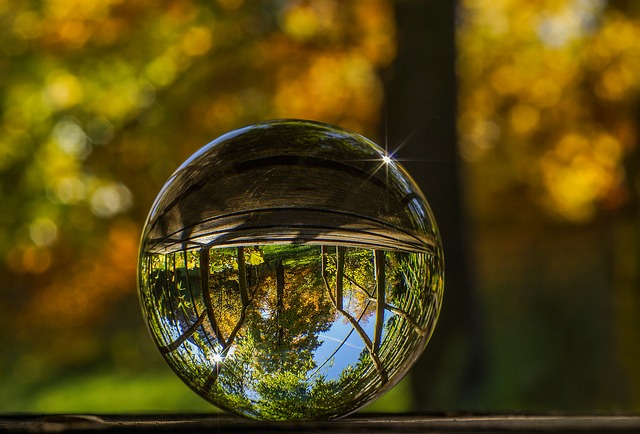 Safety and handling of crystal balls
Before you take your crystal ball out of its box you need to remind yourself that you are using a magnifying lens that will concentrate the light rays and may start a fire if you give it enough time. You don't need a lot of sunlight to do damage either. If you aren't very careful you may also damage your camera. So it is very important to keep your crystal ball in a sock or fabric pouch to avoid any unfortunate accidents. Never display it in direct sunlight. Also, remember to keep your shooting time as short as possible, and returned it back into its casing.
Using a pair of gloves is recommended when handling the crystal ball, with bare hands, you may leave unwanted fingers prints on the surface of the glass of the ball, and you can't even see it during shooting. These marks can ruin your photos.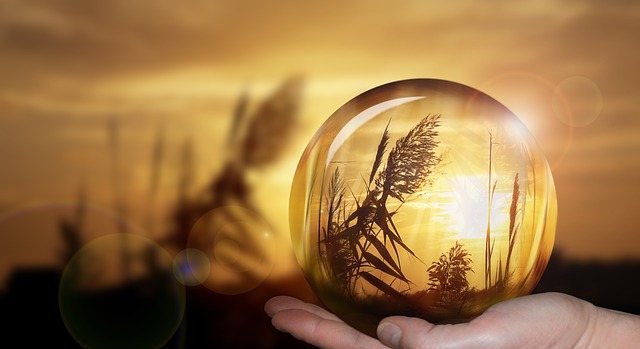 What is the perfect size for a photographing crystal ball?
There are many sizes of crystal balls available in the market; the table below shows some common sizes, weights, and approximated prices.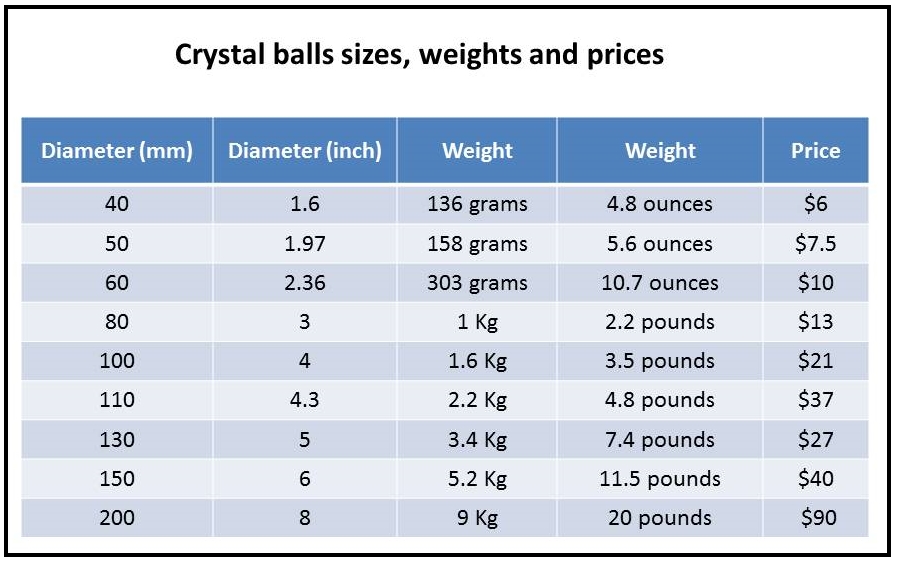 Using larger sizes are easier to photograph. The larger size better fills your image and reflects more of the scene, and it will cost you more. The downside to the larger crystal ball is it's comparatively heavyweight and its difficult portability. These are solid quartz crystals, which gives them surprising heft for their size. The smaller size allows you to take shots while hand-holding the ball and it will cost you less. For the larger size, it is much more suitable for shooting while the crystal ball is resting on a stand. The decision is yours, for me, I prefer to use 100mm with a stand and have my hands free for the shooting, and use a zoom lens from further back.
Where to position your crystal ball?
Look around and find a shady spot, if there is too much direct light, your crystal ball will pick up reflections and these can ruin your image.
Try to find a place that is elevated, relative to your subject. Rest your ball on something raised and shoots from below to avoid too much ground in your image. A crystal ball flips and distorts the scene that is behind it. If you place the ball down on the ground, much of your reflection will simply be the ground. By getting the crystal ball up higher and shooting from below it, you emphasize the sky and above-ground features of your subject.
Remember that moving the ball closer to your subject will emphasize the distortion and bending while moving the ball further away will render the subject in a more realistic manner.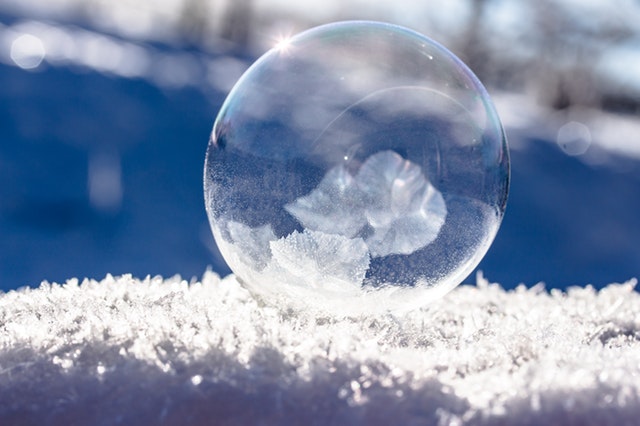 Camera setting
The distance between your camera and the crystal ball is critical to your image. Move your camera away from the ball for a crisper image and closer to it for a more distorted look.
Use a long lens or a telephoto setting on your zoom lens. This will give you a more pleasing perspective and a better effect. A lens that covers between around 20 to 60mm is suitable for this type of shooting.
Make sure you focus on your ball to take the shot and not the background.
Decide on whether to make the background bluer or in focus. Setting the F-stop allows you to control the depth of the field. A small f/stop number will give you a shallow depth of field and will help render the background out of focus. This will emphasize the image within the ball as the main subject. I have found that a good mid-range aperture, in the f/8 to f/10 range, works well. If you want the background to be more in focus and distinguishable, choose a narrower aperture. (Narrower than f/11.)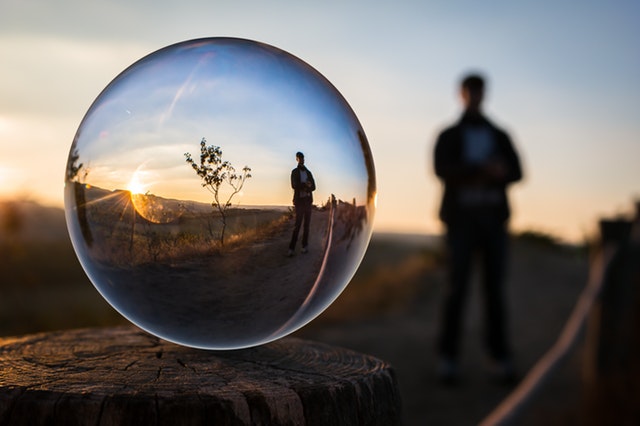 Dealing with the upside-down image
As I mentioned earlier, the image in the crystal ball is always inverted upside down, to do something about that, you have three options: the first is to keep it and blur the background or invert the all image with also blurring the background, and finally the third option is to use a photo editing software like Photoshop to invert a part of the photo, which is the scene in the crystal ball. All the options are available, it is up to you to decide.
You can enjoy yourself by watching my videos
Where do I get a crystal ball for photography?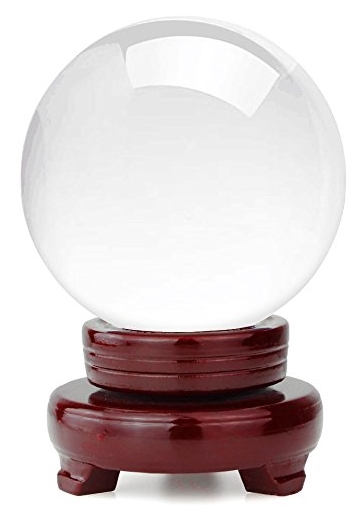 Product highlights:
PERFECT WORKMANSHIP – Ball Diameter: 4 inches (100mm); Made of Re-constituted Quartz Crystal. Flawless Quality, No lead, 100% Clear; Free of bubbles and inclusions.
IDEAL FOR PHOTOGRAPHY – Great for taking pictures. Makes for the interesting subject matter and unusual photos. Explore their more creative side in photography.
You can buy HBlife Clear Crystal Ball 4 Inch (100mm) Including Wooden Stand from <<Here>>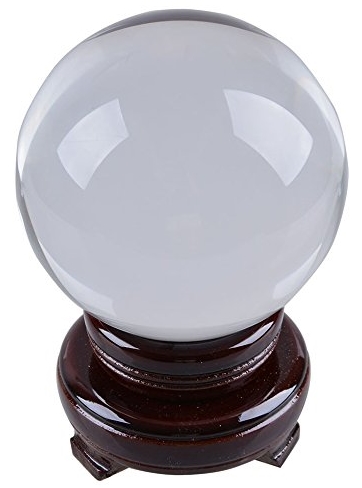 Product highlights:
Handcraft, without impurity, comes with a wooden stand.
The diameter of the ball:110mm(4.3″)
will be a great photography tool
You can buy LONGWIN 110mm Feng Shui Crystal Ball Sphere Wooden stand Photography Tool from <<Here>>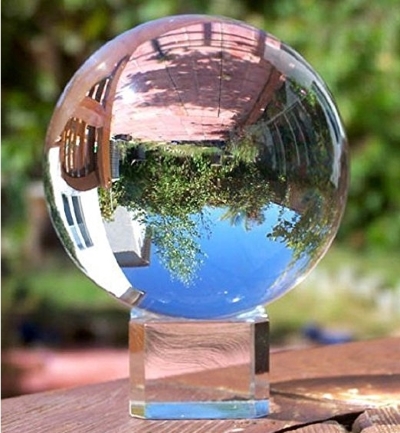 Product highlights
JEWELRY LEVEL MATERIALS – Handcrafted from crystal material. Flawless and lead-free. Can serve as part of a high-precision Heliograph
EXQUISITE CRAFTWORK – Crafted by proficient artificers who possess a minimum of 10 years of experience. Handpicked from polished end products to guarantee no scratches and no bubbles residual. Use shock cushioning package to avoid damages during delivery
POLISHING WITH HIGHLIGHT – The 3-1/5″ size is perfect for holding with a sole hand in any costume play or street art. The flawless orb is ideal for creating inverted reflections by photographers
POWERFUL PURIFY FUNCTION – The clear crystal is believed to clear your mind and absorb sunshine and moonlight to enhance the divination ability
ENDLESS GLAMOUR – Luxuriant clear crystal centerpiece or collection may add brightness and harmony to your living space or studio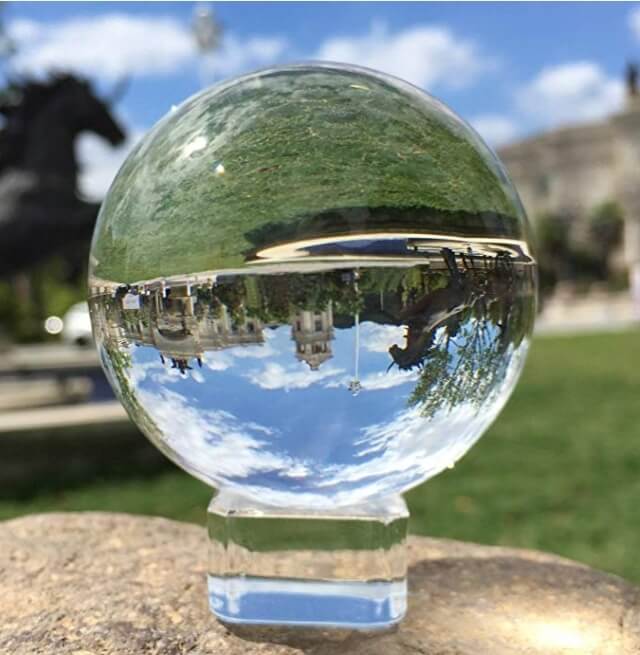 Product highlights
Crystal ball size:70mm=2.75 inches with a crystal stand
Solid K9 crystal glass ball high quality, flawless, no bubbles, no scratch
No lead, 100% clear in a nice gift packing box
Great for Feng Shui, fortune teller ball, divination, photography props, home & office decor
Only seller"JIHUI" is the owner of brand "JIHUI', please recognize before placing an order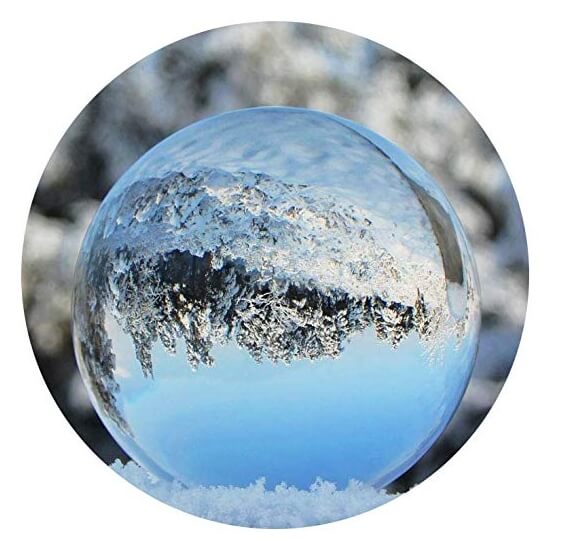 Related post
The Photography Techniques- 15 Amazing Techniques
Thank you very much for reading this article. I hope you found what you are looking for; if you need any information related to photography, please don't hesitate to leave your comment in the box below.
If you like the site, remember to subscribe, we will inform you when there is a new post.