Few tools get as little attention yet as much use as your computer's keyboard. You'll be spending hours a day using it to advance your photo editing so why not choose a keyboard that's functional, stylish, and helps advance your craft? Here are the best photography keyboards for photo editing to consider!

One of the first things you'll notice about this keyboard is the sleek, modern design. The black matte finish begs to be touched while the sleek, rounded edges ensure it fits into nearly any desk and computer layout. The attractive, weighty silver bar on top is also home to the 1,500 mAh battery that gives a week of wireless power use with moderate use.
The key layout includes a 10 key number pad and hotkeys in between the QWERTY letters and number pad. To ensure you remain connected the keyboard uses dual connectivity through a 2.4 GHz wireless connection as well as a Bluetooth option with a 10-meter range. And since you probably don't want to buy multiples the Logitech Craft can be paired with up to three devices, Windows or Mac.
At 17 inches across, 6 inches wide, and just over an inch thick, the keyboard is a surprisingly dense 960 g. As a photography tool, the Logitech Craft comes pre-programmed to work seamlessly with Photoshop, Lightroom, Premiere Pro, and other creative software.
The backlighting is especially clever as the keys light up once your hand is near them, rather than constantly wasting battery power.
One of the handiest tools is the Creative Input dial at the top left corner, which is customizable and can be made specific to both the program and your workflow. If you need to make contrast adjustments in Lightroom, exposure changes in Photoshop, or text enlargements in Powerpoint the Input dial is highly intuitive!

From spreadsheets to Photoshop, the Apple Magic Keyboard is versatile and effective in helping you achieve your productivity goals. Thanks to the extended layout, you have ample room for your hands as well as dual number buttons for additional speed.
Document navigating controls allow you to move quickly through pages and the full-sized arrow keys are perfect for gaming. Each key also uses Apple's scissor mechanic that increases stability with each keystroke. While each key has plenty of travel the overall size of the keyboard can be reduced, contributing to Apple's minimalist style.
A Lighting port on the rear allows for quick recharging – and is the same port as the one the iPhone uses, cutting down on the number of adapters and power cords one needs to carry. Coming in silver and space grey, like all Apple products, the Apple Magic is delightfully stylish and ties in perfectly to any Mac desktop setup. Typically the battery lasts a month with regular use before needing to recharge.
Also, the low, minimalist profile ensures you remain comfortable while working for long periods without wrist strain. If you prefer a keyboard that angles upward slightly, you might need to reconsider as the Apple Magic doesn't have rear feet to prop itself upward. 
Unfortunately, the keyboard also does not include a backlight, making working in low light a little less convenient.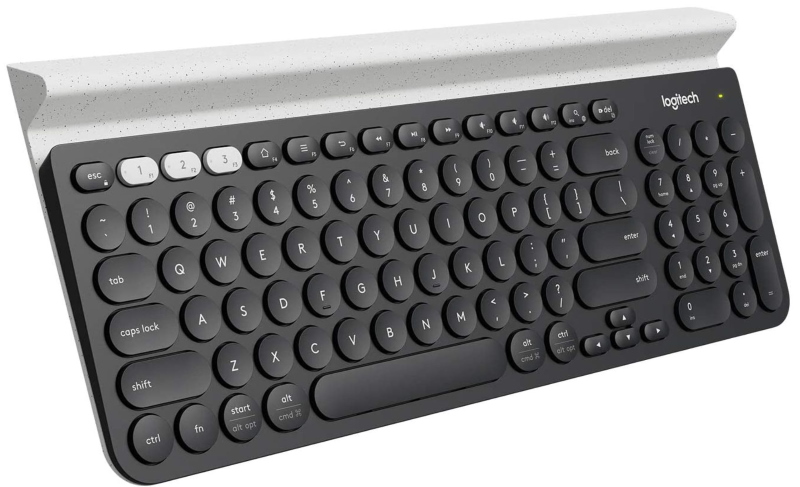 The keys feature an aesthetically pleasing circular motif and are both larger than normal yet dampened enough to be near-silent when in use. As a larger keyboard, the Logitech K780 uses full key spacing, eliminating the cramped feeling smaller keyboards often induce.
The rechargeable battery has a two-year lifespan and thanks to the 10-meter working range you can take this device anywhere within your workspace. Despite being rechargeable the Logitech K780 does not have back-illuminated keys or an illuminated Caps Lock function.
This laptop is also compatible with the Logitech FLOW, a device that allows you to use multiple desktops simultaneously with a single mouse! File sharing, editing, drag, and drop are all vastly simplified and even work across different operating systems. For photographers working with multiple screens, the FLOW and K780 are a winning combination! 
Since your smartphone is typically very close at hand the 780 also includes a smartphone slot on the keyboard's base. Any phone up to 11.3mm thick can be held upright for quick viewing and instant access!
The only real criticism I have is that it's not quite as polished in appearance as the Logitech Craft or Apple Magic keyboards. While quite functional the other two have a luxury feel many users might prefer!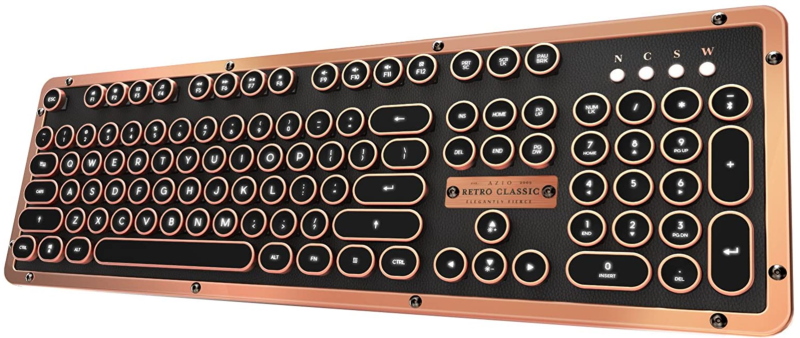 If you're looking for a stylish, truly vintage option for your photo editing studio the Azio Retro Classic is by far the best choice! Azio specializes in heavy-duty gaming keyboards meant to take constant use without breaking.
Since the keyboard is already fairly large Azio installed a huge 5,000 mAh lithium rechargeable battery. This grants up to a year of moderate use on a single charge or 1 to 2 months if the backlighting is enabled.
Not only are the keys backlit with LED bulbs placed under each key but they are fine-tuned to have a click-feel almost identical to that of a vintage typewriter! You have four styles to choose from Artisan, Elwood, Gunmetal, and Posh, all of which use different color schemes and backgrounds ranging from textured leather to stained wood.
And if you're a Mac user, don't worry! While they are preassembled with a Windows key layout, each unit includes Mac keys in the box so it's a simple matter to replace them! From there, a switch on the side can be adjusted to instantly swap compatibility from PC to Mac.
Unlike some of the other options here the height of the Azio Retro Classic can also be adjusted to suit your preferences. The rear pillar feet can be twisted to precisely the right height, rather than simply being engaged or not like cheaper keyboards.
The only real complaint I have is the price; while you get what you pay for this is clearly a premium keyboard!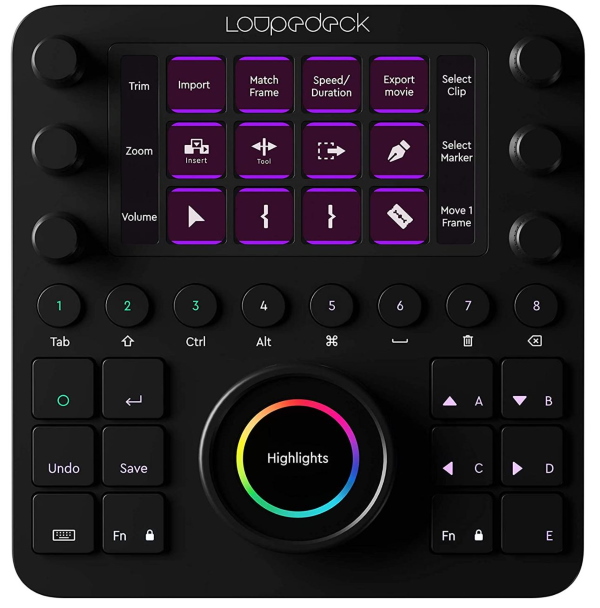 Of all the photography keyboards out there the most specialized and purposeful is the Loupedeck Creative Tool. Designed specifically to work with creative software like Adobe Lightroom Classic and Photoshop, the Loupedeck is also perfect for videographers and graphic designers.
The keyboard is LED backlit and constructed out of aluminum, high-end touch screen glass, and machine-quality ball bearings for a premium feel. The Creative Tool also includes an internal 8GB memory capacity to hold your own presets or custom CT layouts.
When set up for Lightroom, each button is mapped to common functions within the program. Button 1 takes you directly to the Library module, while Button 2 moves to Develop mode. Contrast, exposure, highlights, shadows, and more can all be fine-tuned using the control knobs in a tactile expression of Lightroom sliders.
If these settings aren't to your liking, you can customize the entire layout from the Loupedeck control panel, ensuring you have instant access to your most commonly used adjustments. Impressively, the Creative Tool is roughly the size of a mousepad, making it large enough for comfortable key spacing yet small enough not to feel obtrusive.
Related Category
Thanks for reading, I hope you enjoyed the article if you have any questions just post them below & I will be happy to answer you.
If you enjoy the site, don't forget to subscribe, we will only inform you when a new article is posted.