Are you looking for a mobile editing app for your phone? If so, take some time to consider the 10 best photo editing apps for android in 2020!
Price: Free or $10/month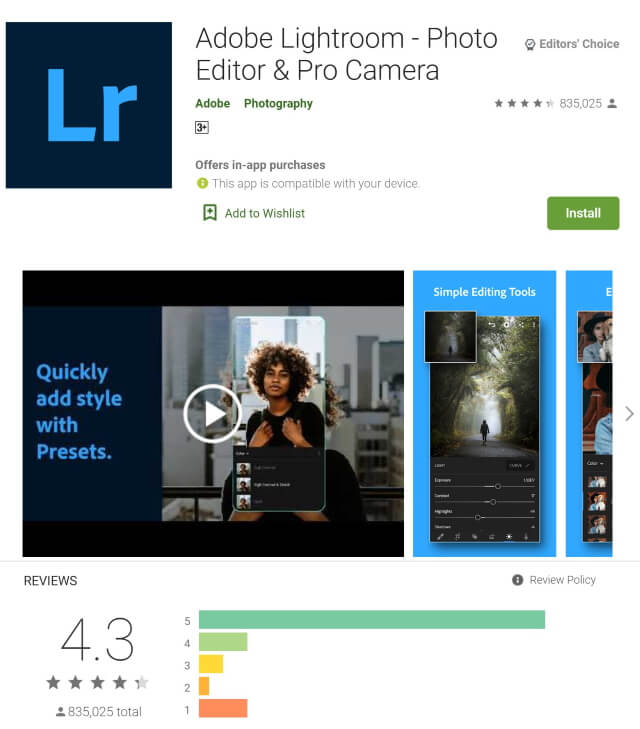 Of all the photo editing apps out there Adobe Lightroom clearly deserves its place as one of the best. Originally designed for PCs the mobile version retains much of the functionality of the original. 
Many, if not most, phone apps rely on filters and basic adjustments like sharpness and B&W conversion. In the paid version of Lightroom, you retain RAW editing capacity, including highlights, shadows, clarity, saturation, and luminance slider adjustments. 
You can also make keystone corrections via the Geometry slider tool so your architecture shots have nice, straight lines. Lightroom is the professional photographer's mobile app if the quality is what matters most to you! Note that the free version does not support RAW editing, only JPEG.
Price: Free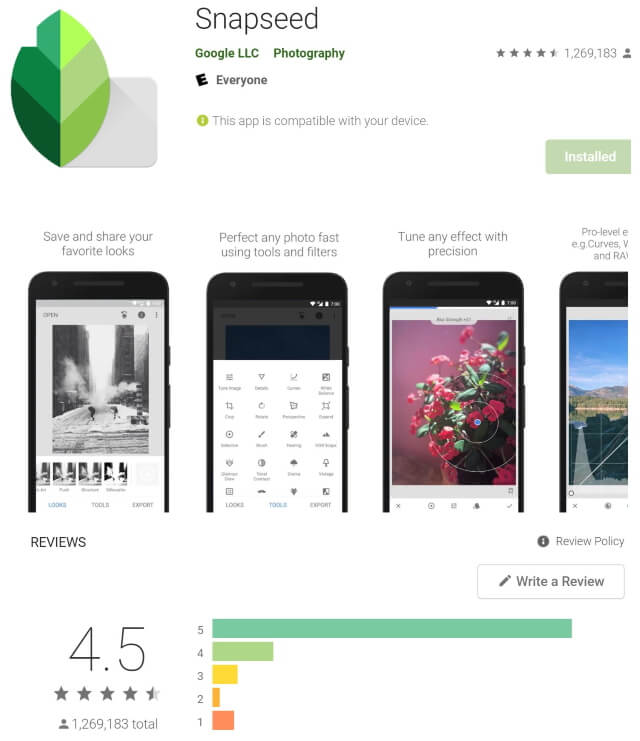 Google Snapseed is a fantastic Lightroom alternative if you're looking for RAW editing capacity but are turned off by the subscription model of Adobe Lightroom. 
Amazingly, you get a full suite of professional-level editing tools. Tone curves, white balance corrections, radial blur adjustments…Snapseed is a full RAW editing suite that is more than enough for the majority of photographers.
Snapseed also comes preloaded with a great variety of presets for an instant correction ready for social media. Considering the app is entirely free there are next to no downsides to using it.
On the other hand, Snapseed uses a slightly non-intuitive interface that often requires experimentation and tutorial browsing to understand.
Price: Free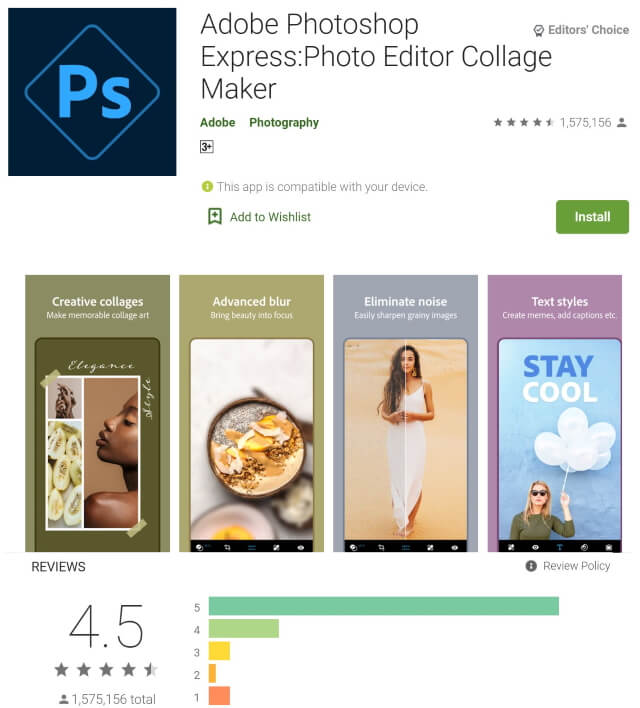 Adobe Photoshop Express distills all of the best features we've come to love in the PC version into an easy to use mobile app. Cropping, color, sharpness, and red-eye correction are all going to be regularly used.
The app also syncs directly to Facebook, allowing you to go in and clean up previously uploaded photos. Another nice thing about Photoshop Express is how intuitive it is to use: all of the functionality is right at your fingertips, limiting menu diving and tutorial browsing for a specific function.
Currently, the app doesn't support photos with a resolution of over 18 megapixels. The majority of cell phone cameras don't go beyond this. But if editing your digital camera photos on mobile is important to you, Photoshop express may not be ideal.
Price: Free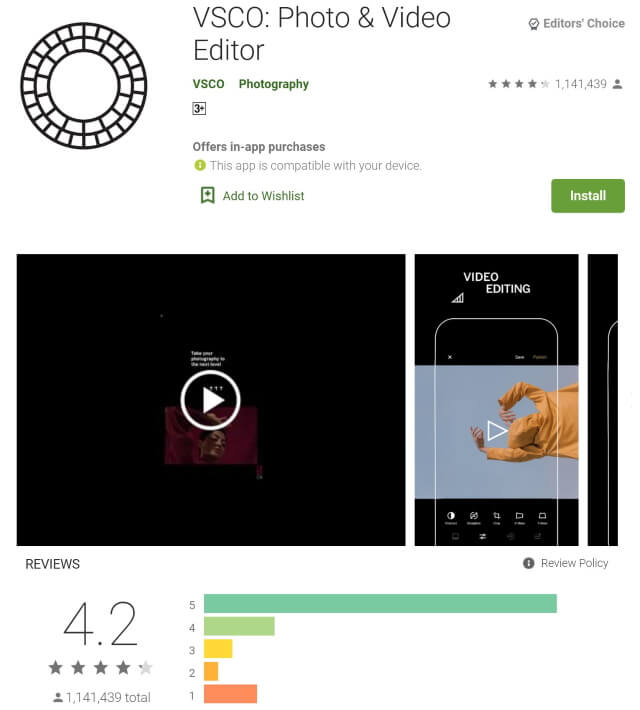 If editing your mobile device's JPEGs fast and efficiently is what you prefer, VSCO may be the best app for you. VSCO offers a suite of the most common and effective photo correction tools, including color temperature, exposure, sharpness, and cropping features.
VSCO also includes a suite of Instagram-like filters as well as additional options that can be purchased in-app. It also stands apart from many image editing apps by allowing you to edit videos. 
Lastly, VSCO is a stand-alone social media platform that aims to distinguish itself from Instagram as the "artsy" photographer's choice. By avoiding the "like and comment" game, your work takes on a purer form of appreciation that's since been lost with modern social media!
Price: Free or $9.99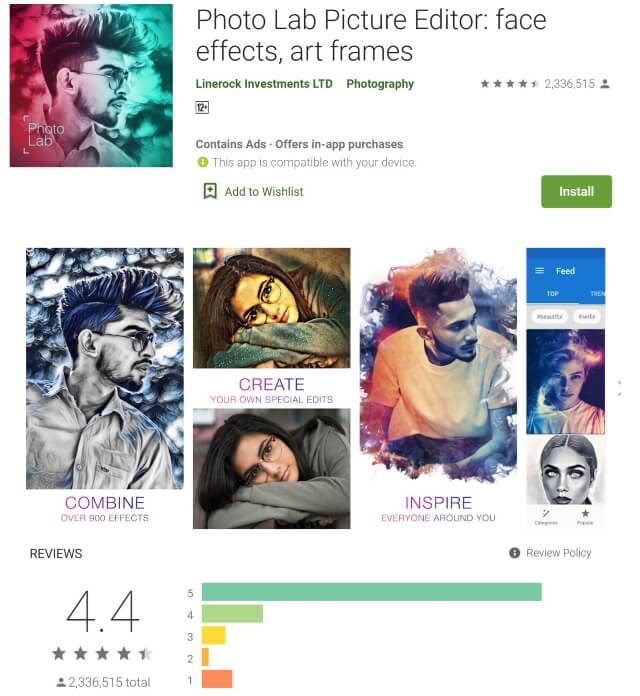 Photo Lab Picture Editor takes the filter niche to an 11 and offers nearly 900 different options for image editors looking for an easy adjustment. Not only can you merge each of these effects in entirely new ways but you even have the ability to customize and save personal editing styles in-app.
Photo Lab Picture Editor is also perfect for photographers in love with double exposure, montages, and other edits that typically require a PC to pull off.
The free version is usable but unfortunately includes a watermark. However, the Pro version is only $10 and well worth buying.
Price: Free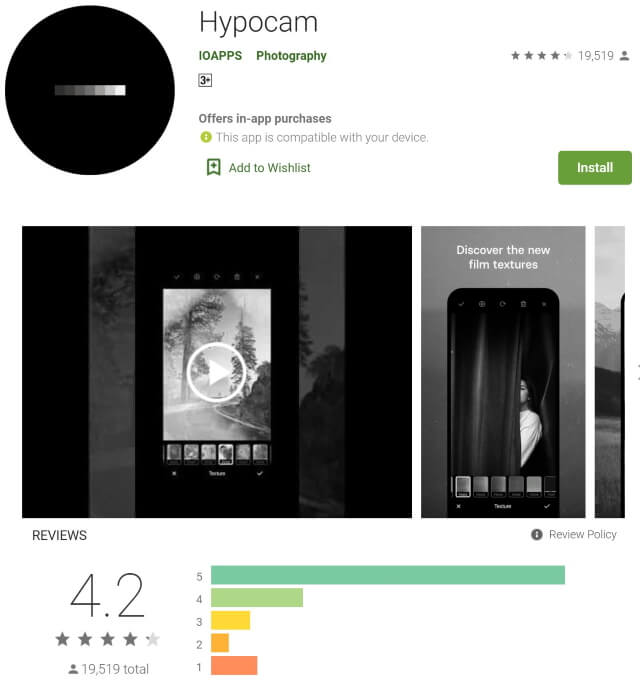 Hypocam occupies a very unique niche in the photo editing app space: it is the only pure monochrome editing app. 
Hypocam includes a rich suite of filters meant to invoke documentary, film, and RGBYO color filters for precisely tailored monochrome styles. While it includes highlight and shadow adjustments the full spread of adjustments don't go into the same depth as Snapseed or Lightroom. However, that does play to its ethos as a minimalist platform!
Like most modern editing apps Hypocam also allows syncing to social media for easy exporting of edited images. Hypocam also includes its own photostream for sharing as well as inspiration images from professional B&W photographers!
Price: Free or $4.99/month or $19.99/year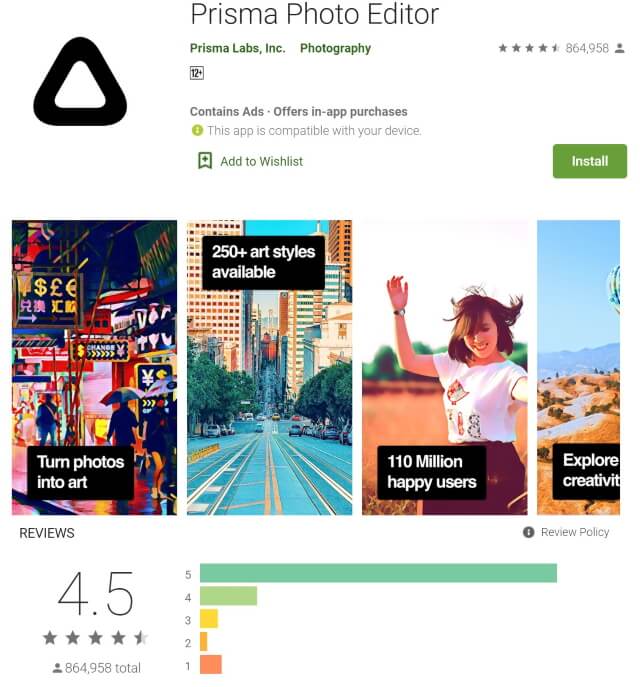 Prisma is unique because it adds highly artistic, painting-like effects that work really well for portraiture and landscape images. Since the processing power required for these levels of edits is too much for smartphones, you have to send your photo to Prisma's servers, where it is then edited and sent back to you.
Beyond these heavy edits, Prisma also includes options for local exposure, shadow, vibrance, saturation, and brightness adjustments.
While the base app is free you can upgrade for $4.99/month or $19.99 for a full year if you're looking to edit higher resolution photos or get access to additional filters.
Price: $4.99/month or $29.99/year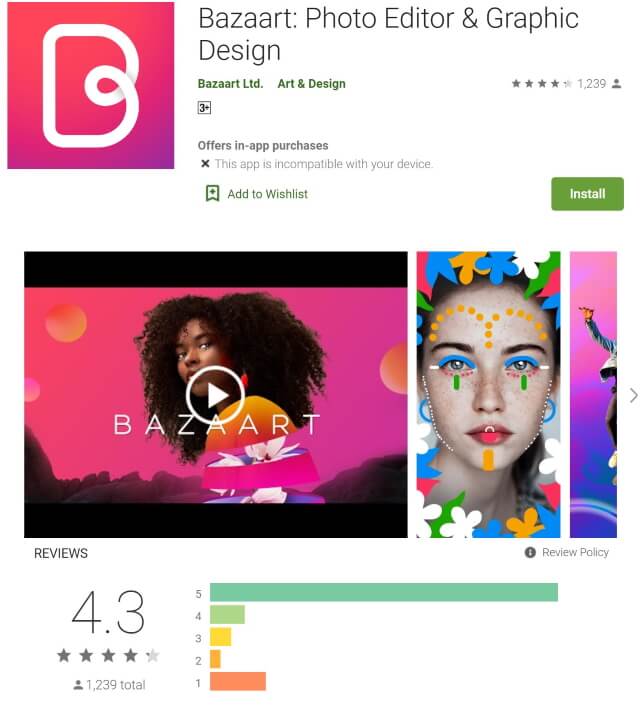 Bazaart is a heavy-duty photo manipulation app that opens the door to not just crop, rotation, and color adjustments, but layer editing, background replacements, and much more. 
Text addition, editing, and filter options abound here – this is one of the best apps for photographers who want to take apart an image and recreate it to suit their own creative vision!
Bazaart's free version is mostly functional but does include a watermark. Upgrading to Premium not only removes this but offers you full HD saving, finger cut-out brushes, Adobe integrated functionality, and more.
Price: Free or $3.99/month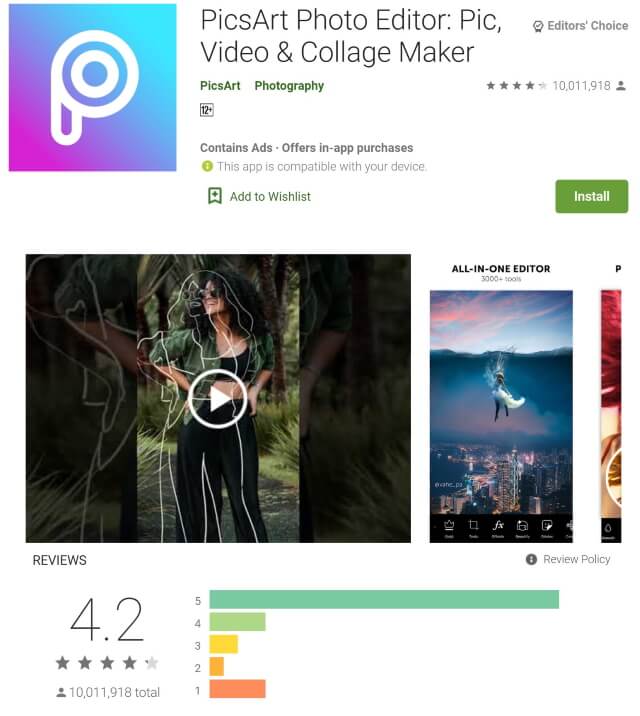 PicsArt includes some handy features, such as over 200 font choices for adding text to images, photo retouching tools that allow you to remove objects entirely, and a powerful background eraser tool. Also, if you find you really enjoy a particular editing series you can save it and replay it as a custom edit for later.
Like VSCO, PicsArt also stands apart as a video editor. You can add music, crop footage (including an Instagram-friendly square crop), create TikTok videos, and create a video collage.
By upgrading to PicsArt Gold, you gain access to the video editing suite, premium fonts, extra filters, and more.
Price: Free, subscription, or $55 Permanent Unlock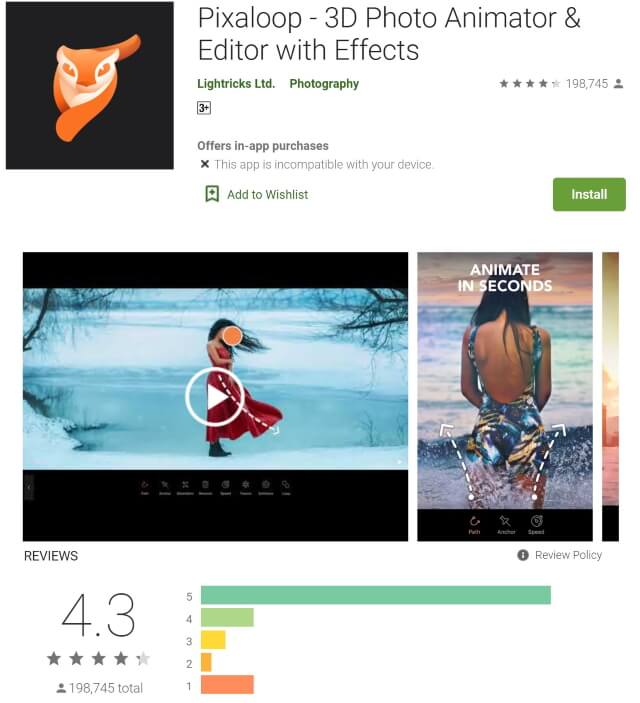 Enlight Pixaloop occupies another unique niche in the photo editing world: it lets you animate still photos! What you can animate does depend on how much time you're willing to spend in the app – something like making water flow in a river scene is fairly easy to do. But animating flowing locks of hair can take quite a bit of time to set up.
Pixaloop also lets you adjust and swap out skies for preset animated versions and add camera FX endings.
While Pixaloop comes with free and subscription-based pricing, for $55 you can have permanent access to everything the app has to offer! The Pro version also offers more overlaps, loop functions, and camera FX.
Thanks for reading, I hope you enjoyed the article if you have any questions just post below & I will be happy to answer you.
The featured Photo by Plann from Pexels
If you enjoy the site, don't forget to subscribe, we will only inform you when a new article is posted.