In the world of artificial intelligence (AI), a new platform has emerged that is changing the way we generate photos from simple text. This platform is called DALL-E2. It generates digital images from natural language descriptions, called "prompts".
This article will explore what Dall-E2 is, its main features, how to use it, some examples, some tips on using Dall e2, and finally its pros and cons.
What is artificial intelligence (AI) technology?
Artificial intelligence (AI) technology is a field of computer science that focuses on creating machines and software programs that can perform tasks that typically require human intelligence, such as reasoning, problem-solving, learning, perception, and decision-making. AI algorithms are designed to analyze large datasets, identify patterns, and make predictions based on data.
The field of AI has many applications, including healthcare, finance, transportation, robotics, and more. In photography, AI technology is used to enhance the quality of images, automate image editing tasks, and develop intelligent camera systems that can recognize scenes, adjust camera settings, and capture images with optimal exposure and focus.
AI applications examples in photography
The following are some examples of AI applications in the field of photography:
Generating photos from simple a text, this process is called text-to-image synthesis.
Image editing software that uses AI algorithms to automatically adjust brightness, contrast, and color balance.
Face recognition technology can automatically tag people in photos and group similar photos together.
Intelligent camera systems that can recognize different types of scenes (e.g., landscapes, portraits, night scenes) and adjust camera settings accordingly.
AI-powered image search engines can find similar images based on visual features, such as color, texture, and shape.
Overall, AI technology has the potential to revolutionize the way we create, capture, edit, and share photos, making it easier and more efficient to produce high-quality images.
There are both free and paid services that offer Generating photos from plain text. Here are some examples:
DALL-E: DALL-E is a service created by OpenAI that can generate images from natural language descriptions.
Deep Dream Generator: Deep Dream Generator is a free online tool that allows you to generate images from text. It uses machine learning algorithms to create images based on the input text.
Artbreeder: Art breeder is a paid service that allows you to generate images from text, as well as mix and match existing images to create new ones. It has a range of features, including the ability to adjust various image parameters, such as color, lighting, and texture.
The main features of the photos generated by these services can vary depending on the specific service and the input text provided. However, in general, the photos produced tend to be realistic and high-quality, with a level of detail that is often impressive.
In addition, Some services may also allow you to specify certain image characteristics, such as the color palette or the composition of the image. Overall, the quality and characteristics of the generated photos will depend on the sophistication of the underlying algorithms used by the service.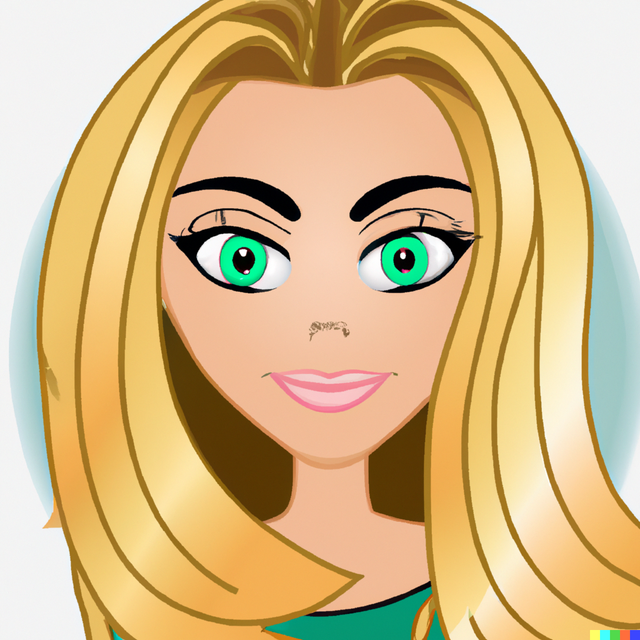 The prompt: "A portrait of a beautiful girl with green eyes and long blond hair in cartoon style"
What is Dall-E2?
DALL-E2 is a neural network created by OpenAI. It generates images from textual descriptions using powerful AI technology. This platform is a huge step forward in AI technology as it opens up a new level of creativity for content creators, graphic designers, and anyone else who needs high-quality images without any manual labor.
Dall-E2 main features
Dall-E2 has several features that make it stand out from other AI-powered image generators. Some of the main features include:
Quick generation: Unlike other platforms that take a long time to generate an image, Dall-E2 can generate images in seconds. This makes it ideal for projects that require quick turnaround times.
High-quality images: The images generated by Dall-E2 are of high quality, making them suitable for use in professional projects.
Flexibility: Dall-E2 can generate images of different styles, ranging from cartoons to realistic images.
Image customization: Dall-E2 allows you to customize the images generated to suit your needs. You can adjust the color, size, and other aspects of the image to create the perfect image for your project.
OpenAI now allows commercial use of DALL-E images. Users get full usage rights to commercialize the images they create with DALL·E, including the right to reprint, sell, and merchandise.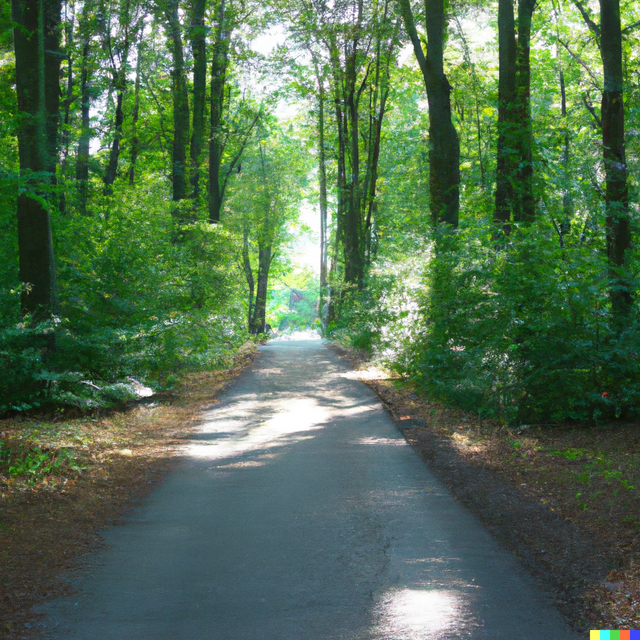 The prompt: "Digital photo of a narrow road in a forest with sun lights going through the trees"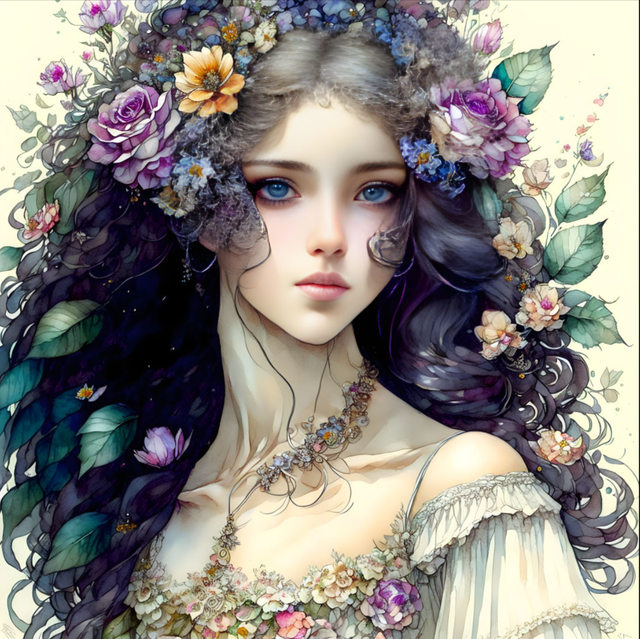 Prompt: "Stunning face of a young woman with beautiful large eyes staring straight ahead,
exquisite flowers in her hair and on her clothing"
DALL-E2 Pricing
OpenAI introduces a credit system for DALL-E 2. A credit corresponds to a prompt (image generation command) for a new image, for editing an existing image, or for creating variants of a generated image. Since each prompt generates up to four images, this results in about 460 AI-generated motifs per month – for only 15 US dollars.
| The prices for DALL-E 2 | | | |
| --- | --- | --- | --- |
| | Cost | Credits | # of images |
| First month | Free | 50 | 200 |
| Every month After | Free | 15 | 60 |
| Additional credits pack | $15 | 115 | 460 |
How to use Dall-E2
Step 1:
If this is your first time, you will need to create an account to sign in, but it's totally free. To create an account on Dall-E2, you must first visit their website. Once you are on their homepage.
You will see a "sign up" button. Click on it, and you will be redirected to a sign-up page where you will enter your email address, username, and password.
You also have the option of signing in via Google or Microsoft if you'd like to save some time. Once you have completed this process, you can log in to your account and start using Dall-E2.
Step 2
When you first sign up, you get 50 free credits to experiment with for your first month. Every month after that, you'll receive an additional 15 credits to use. Each credit represents a single DALL-E 2 request, like generating an image, so that gives you an idea of how many tries you'll get. You can buy additional credits at any time through OpenAI's store: $15 will net you 115 credits to work with.
Step 3
Using Dall-E2 is easy. Once you log in to your account, you have a few different options, first, you will see a text box where you can enter your textual description (You only have 400 characters to use). Or you can upload an image for the AI to edit based on your instructions.
After entering your description, click on the "generate" button, DALL-E 2 will generate four different images for each request.

The prompt: "A cat sitting on a windowsill, looking outside."
You can select one you like, and use the buttons in the upper-right corner to either favorite it for a later look or download it right now.
Step 4
If you are not satisfied with the results, you can try selecting Variations, which will generate a new selection based on the image you chose. Or you could go back and try to tweak your phrase to get a different result.
More Examples:

The prompt: "A landscape with mountains, trees, and a river."

The prompt: "A cup of coffee on a table with a book beside it."

The prompt: "An oil painting of a beautiful girl with Picasso style"
Tips for using DALL-E 2
Prompts don't have to be long, they can be only a few words. Even more interesting, they can also be a series of emojis, which DALL-E 2 will try to interpret as accurately as possible.
Because AI has processed a lot of art, just mentioning a specific type of art (such as surrealism) will encourage DALL-E 2 to take it into consideration when generating the art. It will also draw inspiration from the time period when that style was in vogue. You may simply add something like "the 1950s" to your description to get a particular era.
DALL-E 2 also knows a lot about photos. Photographers shouldn't hesitate to include specific views, angles, distances, lighting, and photography techniques (or even lenses) to see how DALL-E 2 will respond.
DALL-E 2's policies are against uploading and using a prompt photo that you don't have the right to. Or using all kinds of proper nouns, like popular cartoons or movies.
AI generators typically struggle with faces. If the face in your image is just too weird, you can try again and add more description for the face (expression, where the face is looking, etc.)
Pros and cons of DALL-E 2
Pros:
Quick image generation: Dall-E2 can generate images in seconds, which is ideal for projects that require a quick turnaround time.
High-quality images: The images generated by Dall-E2 are of high quality, making them suitable for use in professional projects.
Flexibility: Dall-E2 can generate images of different styles, ranging from cartoons to realistic images.
Easy to use: Dall-E2 is easy to use, even for those who are not tech-savvy.
Cons:
Limited customization: Although Dall-E2 allows you to customize the images generated, the customization options are limited compared to other platforms.
Limited text length: Dall-E2 only allows you to enter a limited amount of text, which can be frustrating if you need to generate an image based on a long description.
Conclusion
Dall-E2 is a powerful platform that is changing the way we generate images from text. Its quick image generation, high-quality images, and flexibility make it a valuable tool for content creators and graphic designers.
Are you looking for Photo editing resources?
If are looking for editing resources like actions, overlays, and textures, I highly recommend paying a visit to my store, it has amazing professional photo editing tools.
In addition, you can check my editing tutorials, and my YouTube channel there are many tips and tutorials there. 
Thanks for reading, I hope you enjoyed the article, in case you have any questions just drop them below & I will be happy to answer you.
If you enjoy the site, don't forget to subscribe, we will only inform you when a new article is posted.