Canon EOS R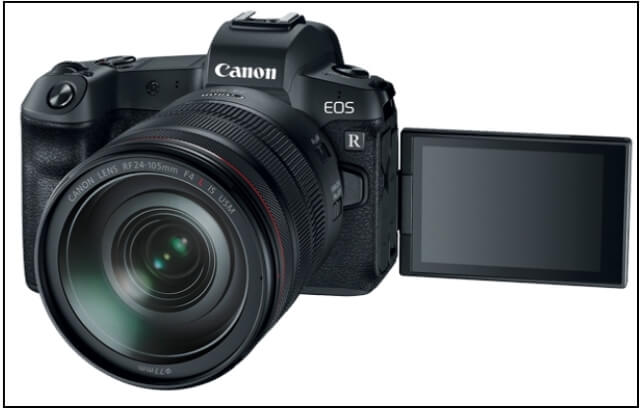 This is the new Canon addition to its EOS System, the EOS R camera. The foundation of this system is an entirely new lens mount, designed for optical excellence today and incredible optical potential for the future.
You can capture a variety of subjects in many different environments. Versatility is key with the EOS R; a 30.3 Megapixel Full-frame CMOS sensor and the DIGIC 8 Image Processor deliver stellar low-light performance, even in dark situations.
Focus can be attained with incredible speed and accuracy thanks to Canon's proprietary Dual Pixel CMOS AF system and a maximum of 5,655 manually selectable AF points. This system also captures smooth 4K video that's easy to share and can be enhanced in post-production thanks to the included Canon Log.
The built-in, high-precision EVF and a Variable-angle Touchscreen LCD make it easy to adapt to different shooting situations. In daylight or in the dark, in the studio or on the street, the EOS R's lightweight, intuitive and durable design means strong performance and gorgeous results.
Whether capturing landscapes or wildlife, wedding portraits or dance performances, the EOS R is an advanced and impressive imaging tool that's primed to deliver the stunning photos and videos that photographers, moviemakers and any visual storytellers need to make their stories fly. Witness a new beginning with the EOS R and be the revolution.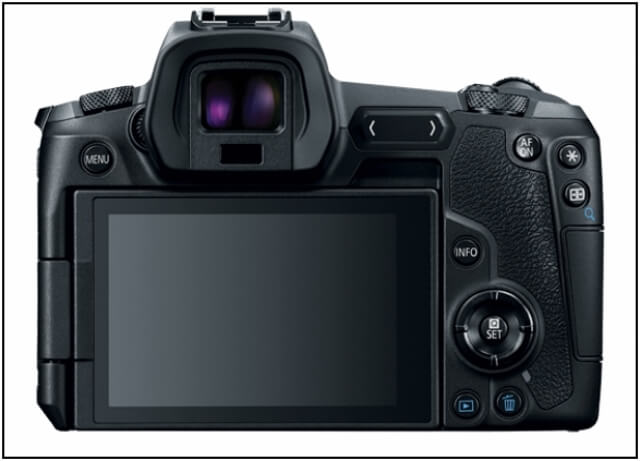 Canon EOS R lenses
Canon has decided to create a brand new lens mount for the "EOS R" and called it RF mount. This has meant it's been able to create some exciting new lenses, while also offering support for older ones through an adaptor.
At launch, there will be four new lenses for the EOS R. Naturally, there's a 24-105mm f/4 kit lens, which you can buy bundled with the camera for £3,269.99.
there's also a 35mm f/1.8 IS STM Macro lens, a speedy 28-70mm f/2 zoom lens, and a 'nifty fifty' 50mm f/1.2 prime lens, which isn't quite as bright as Nikon's upcoming f/0.95 equivalent but will be available at launch with the EOS R.
Here are the 35mm f/1.8 M IS, 50mm f/1.2L, 28-70mm f/2L, and 24-105mm f/4L.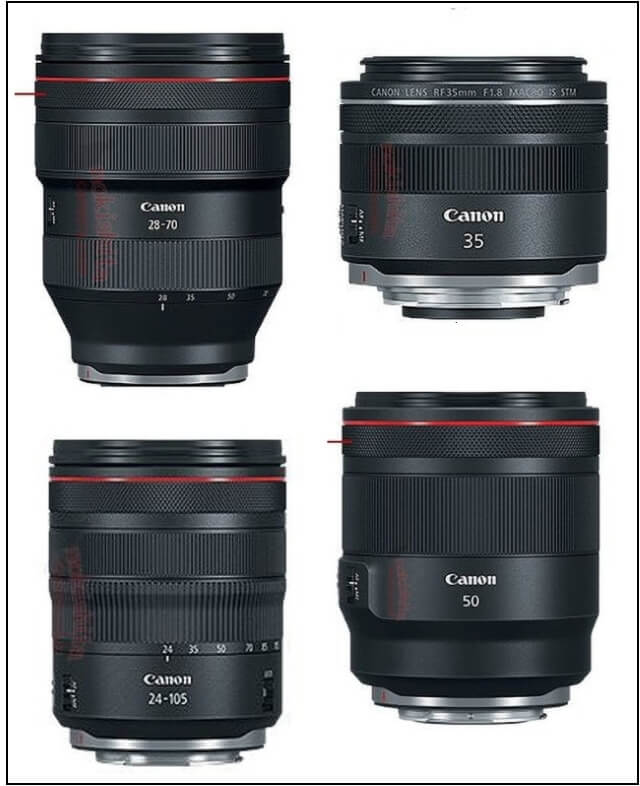 Canon EOS R price and release date
The Canon EOS R will be available to pre-order from 12th September 2018 and will hit shelves from 9th October 2018.
You'll be able to buy in two different bundles. The EOS R body and EF-EOS mount adapter will cost £2,349.99. That's slightly more than the Nikon Z6, with its equivalent bundle costing £2,199, although the Z6 only has a 24.5-megapixel sensor.
You'll also be able to buy the EOS R body with the mount adapter and 24-105mm f/4 kit lens for £3,269.99.
On its own, that kit lens will cost £1,119, while the 50mm f/1.2 prime lens will be available for £2,349.99. You'll also be able to buy the EF-EOS R adaptor for existing lenses for £99.99, which is pretty reasonable compared to the £269 cost of Nikon's FTZ adaptor.
A sample of photos from Canon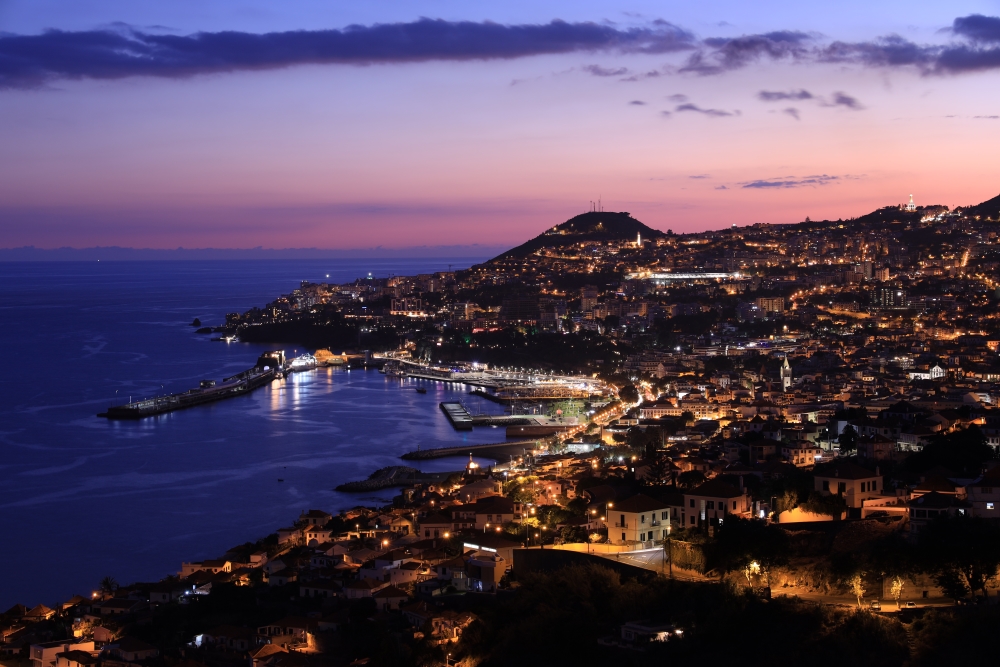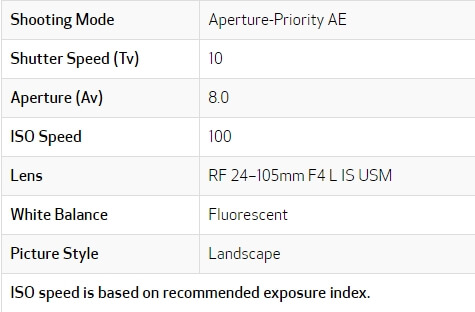 Mount Adapter Options for EF/EF-S Lenses
Whether you're purchasing your first EOS camera or your fifth one, the EOS R camera is designed to integrate smoothly into existing EOS systems. Engineered to work seamlessly with RF lenses, it maintains complete compatibility with EF and EF-S lenses by using one of three optional Mount Adapters.
Mount adapters, such as the Mount Adapter EF-EOS R, deliver seamless connections between the EOS R camera and EF and EF-S lenses with all functions intact. Offering L series level weather and dust sealing, the Mount Adapter EF-EOS R is even compatible with EF extenders like the Extender EF 1.4x III to extend your camera's optical reach. With an entire arsenal of EF and EF-S lenses at your disposal, the Mount Adapter EF-EOS R and other mount adapters ensure endless creative possibilities for the EOS R camera.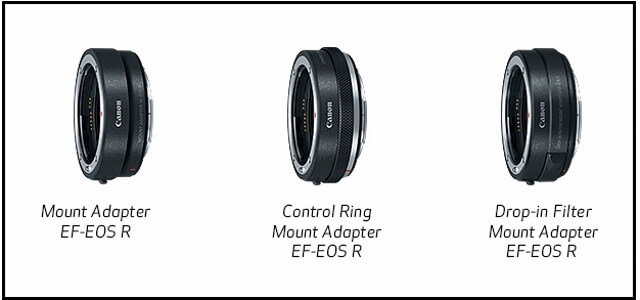 Beyond enabling the use of EF and EF-S lenses on the EOS R camera, the Control Ring Mount Adapter EF-EOS R and the Drop-in Filter Mount Adapter EF-EOS R add functions that open up a number of new possibilities for creative image capture. The Control Ring Mount Adapter EF-EOS R adds a control ring like those found on RF lenses, providing the same level of control to your EF and EF-S lenses and supporting the same setting configuration regardless of lens. The Drop-in Filter Mount Adapter EF-EOS R enables compatibility with EF and EF-S lenses and includes drop-in filter capability for use with circular polarizing filters or variable ND filters. This enhancement enables compatibility with numerous lenses regardless of their front diameter and makes filter use possible with lenses like the ultra-wide EF 11–24mm f/4L USM lens or the tilt-shift TS-E 17mm f/4L lens which cannot accept a filter on the front.
Lightweight and Compact
With a compact, lightweight and comfortable design, the EOS R camera reflect Canon's decades of experience in designing and manufacturing cameras. With an intelligent layout of buttons, dials, and screens, the EOS R is intuitive for new users and feels familiar to EOS users, offering the advanced features and nimble operation EOS users demand.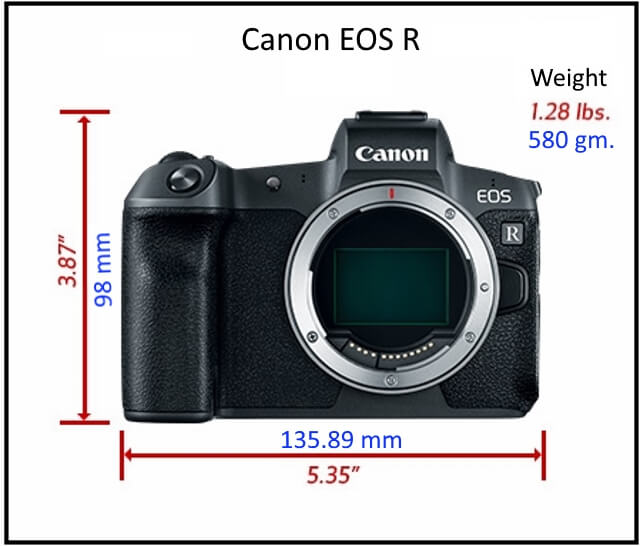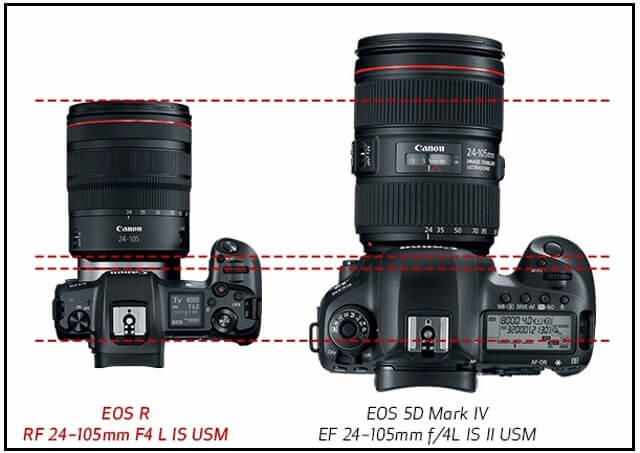 EOS R Specifications
30.3 Megapixel Full-frame CMOS Sensor
The EOS R camera features a Canon-developed and produced 35mm full-frame CMOS sensor with approx. 30.3 effective megapixels. It employs the DIGIC 8 Image Processor to enhance the speed of operations across the board. This means fast, efficient performance and phenomenal image quality for big prints, impressive 4K video and more.
54mm Large Diameter and Short Back Focus
The RF mount on the EOS R camera has a large, 54mm internal diameter that enables impressive handling and provides increased flexibility for lens design. And thanks to the camera's mirrorless design, the lens's rear element can be much closer to the image plane. This reduced back focus distance, combined with the RF mount's 54mm diameter, helps facilitate lenses of stellar optical quality and stunning performance while enabling innovative compact camera and lens designs.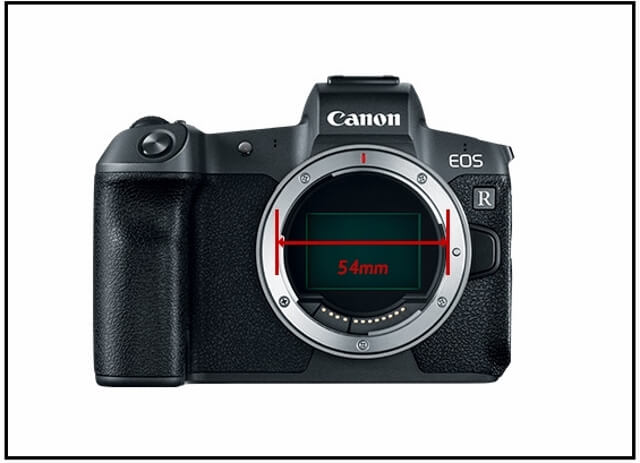 Low Pass Filter
Installed in front of the image sensor, non-detachable
Dust Deletion Feature
1- Self-Cleaning Sensor Unit
Removes dust adhering to the low-pass filter.
At power off only / Enable / Disable. Performed automatically (taking about 3.0 sec. as indicated on the screen) or manually (taking about 9.0 sec. as indicated on the screen).
After manually activated cleaning, the camera will automatically restart (Power OFF to ON).
When [Multi Shot Noise Reduction], [Multiple exposures], or [HDR mode] is set, [Clean now] and [Clean manually] cannot be selected.
2- Dust Delete Data acquisition and appending
The coordinates of the dust adhering to the low-pass filter are detected by a test shot and appended to subsequent images.
The dust coordinate data appended to the image is used by the provided software to automatically erase the dust spots.
Not available with EF-S lenses, in cropped shooting or when distortion correction is applied.
3- Manual cleaning (by hand)
A sample of photos from Canon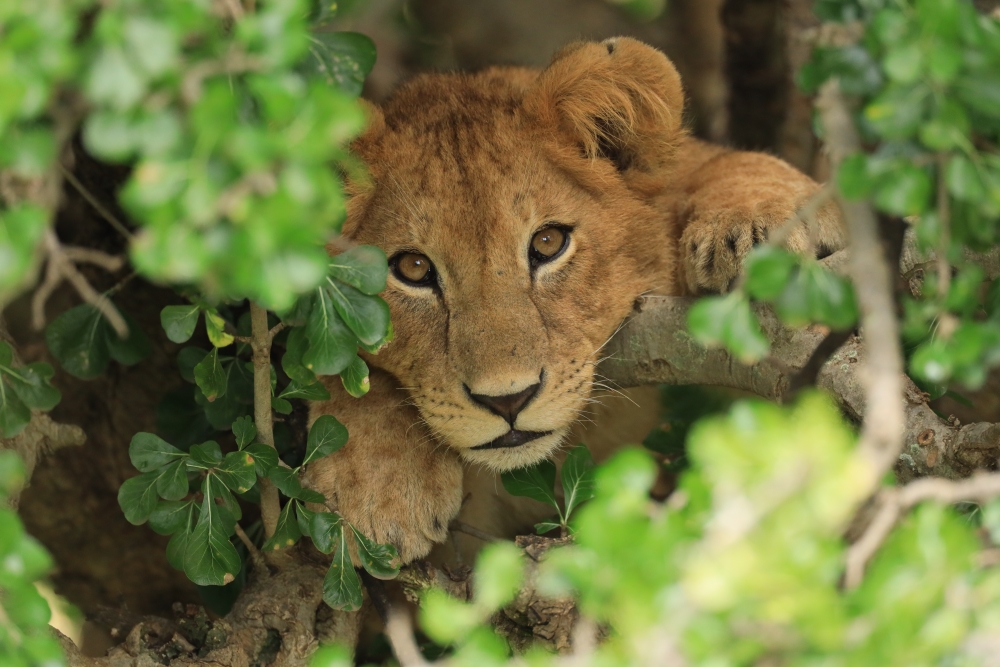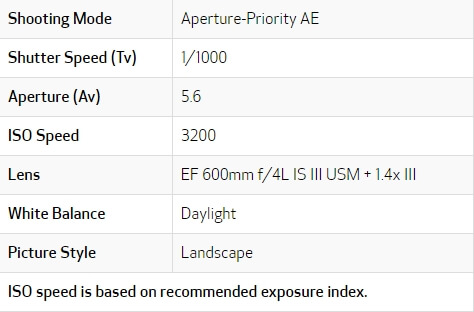 High-speed Focusing 
The EOS R camera's highly responsive Dual Pixel CMOS AF system features an incredible 5,655 manually selectable AF points** and can deliver sharp focus within approximately 0.05 seconds***. This means fast action can be captured and the focus can be maintained with speed, accuracy, and ease. Whether taking candid photos in the park or making movies in an event space, the EOS R's fast AF helps to ensure speedy, accurate and consistent AF.
Amazing for nighttime photography or in very low light, the EOS R camera's brilliant AF can operate in a light as dim as a light rating of EV -6 where other AF systems may fail or search. Phenomenal AF is achieved even when using lenses with high F numbers. This ultra-sensitive AF works in concert with the EOS R's EVF to clearly capture subjects even when there's limited light.
Variety of AF Modes including Eye Detection AF
The EOS R camera's Face+ Tracking mode helps enhance reliability for tracking moving subjects. When the camera detects a human face, it uses the subject's eye as the AF point, choosing the eye closest to the camera by default. Photographers can also select which eye to focus on by touching the screen or using the camera's AF point selection button and cross keys.
Touch and Drag AF makes it fast and easy to select a focus point without taking your eye away from the viewfinder. Using the Touchscreen LCD, it's as simple as pointing to the desired area of focus. The chosen AF point is then displayed in the camera's EVF for quick confirmation.
A sample of photos from Canon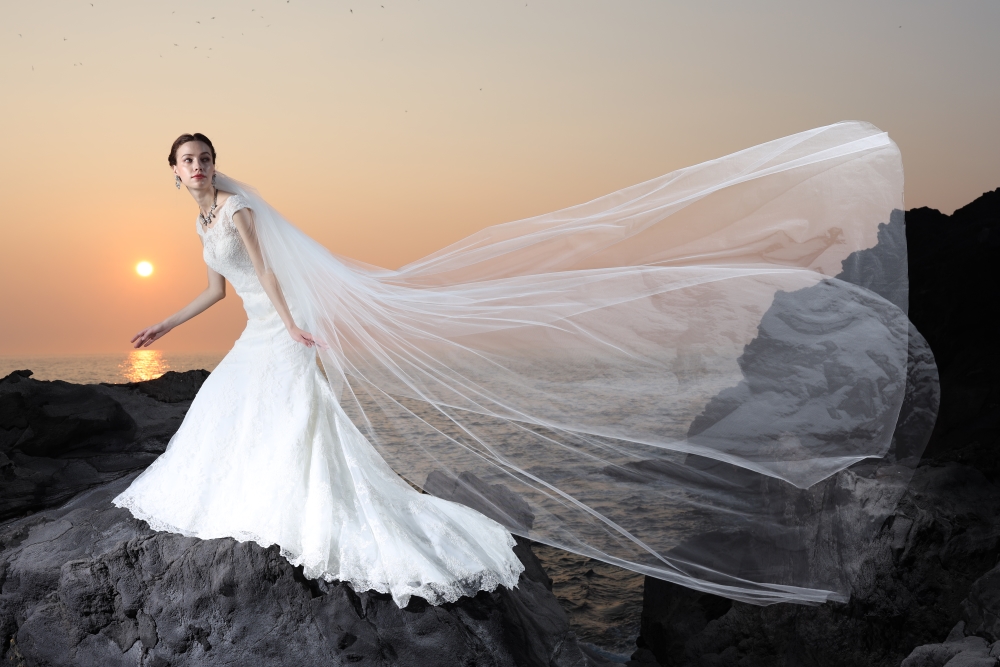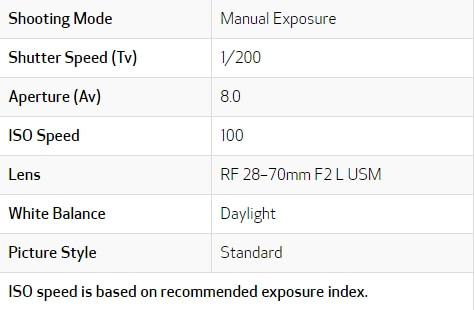 Fv Mode
The EOS R camera features an all-new Flexible-priority AE mode. With Fv mode, shutter speed, aperture setting, and ISO sensitivity are set automatically by default and change according to the setting changes the photographer makes. This gives the user the freedom to specify or change aperture, shutter speed or ISO sensitivity, without having to change modes, providing confidence that the camera will select the correct corresponding settings.
Multi-function Bar with Customizable Functions
The EOS R camera's newly designed multi-function bar provides a high level of functionality and customization options for fast, intuitive shooting. Positioned to sit right under the thumb, the multi-function bar recognizes three touch actions: swipe left tap and right tap. This allows the user to change settings including AF mode, ISO sensitivity, white balance, and movie modes; check manual focus and more. The bar can also be used to quickly browse finished photos or set shortcuts during playback.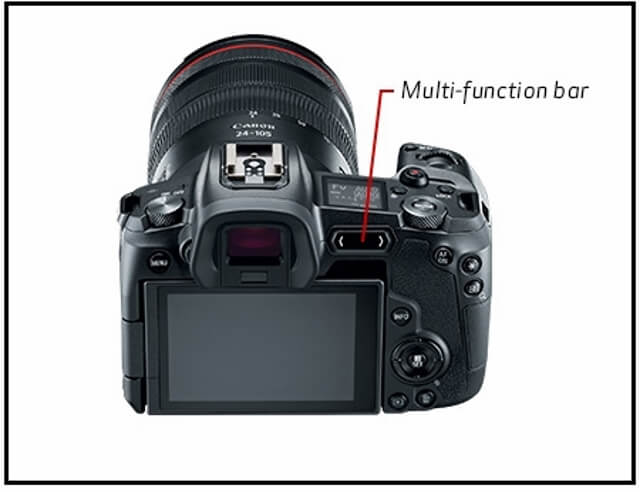 Built-in EVF with 3.69 Million Dots
The EOS R camera features a high-precision 0.5-inch OLED (Organic Light-Emitting Diode) EVF with approx. 3.69 million dots and a 23mm eyepoint. Displaying a bright image and extensive shooting information that rotates with the camera, the viewfinder excels in bright conditions where viewing the camera's LCD may prove difficult.
The EOS R's electronic viewfinder has been created to provide a bright, sharp and colorful 100% view of the subject at hand. Equipped with an aspherical lens, the EVF shows a crisp and vivid image with minimal aberration or distortion, even when the eye moves off the center of the visual field.
Vari-angle Touchscreen LCD
The EOS R camera features a 3.15-inch, 2.1 Megapixel Clear View LCD II Vari-angle Touchscreen LCD. Brightness is adjustable in seven levels and four types of color adjustment are supported, including warm and cool tones. Its extensive flexibility makes it easy to compose and shoot from virtually any angle, making selfies simple and enabling the LCD to fold away when not in use. The brightness of the EVF and the LCD monitor can even be adjusted individually – a first for an EOS camera. Touchscreen features include settings, review and even AF point selection.
Dot-matrix LCD Panel
An LCD panel on the top of the camera features a dot-matrix display that shows information on the camera's status, recording mode and more. It gives real-time setting information both when the camera is in use or on standby and can be inverted from black to white to suit viewing preferences or the ambient light source. For convenience, the LCD remains on even when the camera is powered down.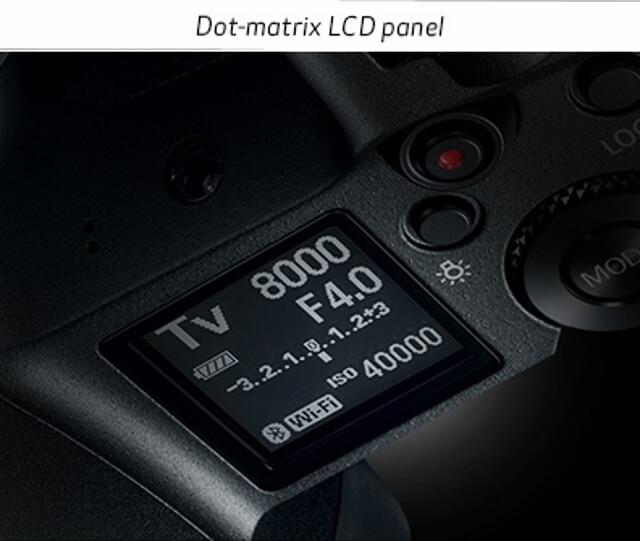 USB Charge Compatible
The EOS R camera is compatible with the USB Power Adapter PD-E1 for in-camera charging via USB. Featuring an industry standard USB-C connector, the USB Power Adapter PD-E1 makes for easy charging without the necessity to remove the battery from the camera.
Battery Pack LP-E6N
For power and the convenience of compatibility among multiple cameras, the EOS R camera uses Battery Packs LP-E6N, the same batteries used on the EOS 5D Mark IV and others. Especially helpful for photographers with multiple EOS cameras, the Battery Pack LP-E6N is a robust, long-lasting battery that helps deliver power, shot after shot, recording after recording.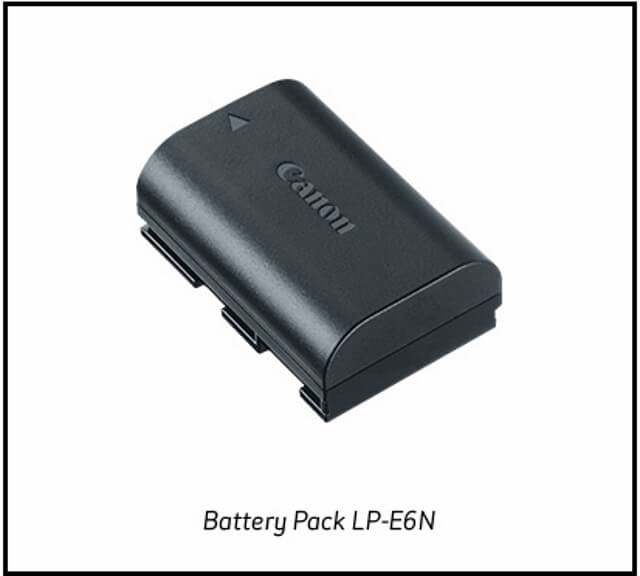 Battery Grip BG-E22
The EOS R camera's dedicated Battery Grip BG-E22 holds 2 Battery Packs LP-E6N while enabling virtually seamless vertical operation and additional functions with all buttons similarly configured in a comfortable and dedicated grip. Designed to maintain an optimal balance between the weight of the camera body and lens, the Battery Grip BG-E22 also adds a flash sync terminal for use in the studio. It also has a useful battery charging function (with an optional USB power delivery adapter attached) that's particularly helpful for power-hungry operations like video recording or shooting over an extended period of time with the EVF.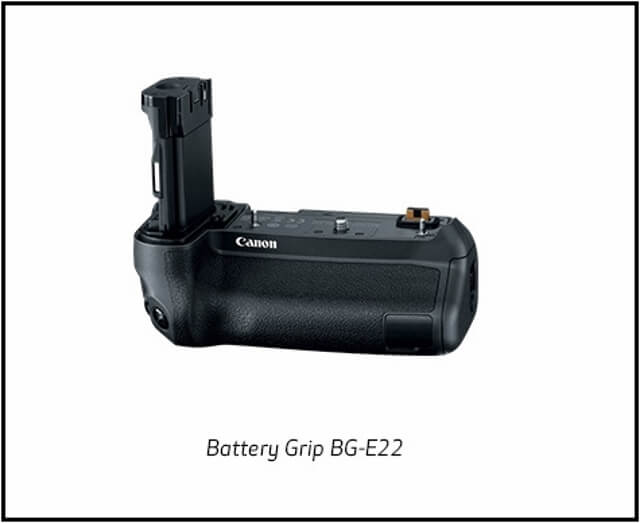 You can view the full specifications of "Canon EOS R" at CANON EOS R Camera body Full Specifications
Thanks for reading, I hope you enjoyed the article if you have any questions just post them below & I will be happy to answer you.
If you enjoy the site, don't forget to subscribe, we will only inform you when a new article is posted.