Many people like to watch the amazing view of fireworks; they are a spectacle and full of various colors and shapes. Obviously, most of us as a photographer is interested in capturing the amazing event and memorizing it in beautiful photos.
To vastly increase your chances of success, I hope this post of Fireworks photography settings can be of great help to you in shooting fascinated photos, hopefully, there will be no chance for over or underexposed frames, out of focus, etc.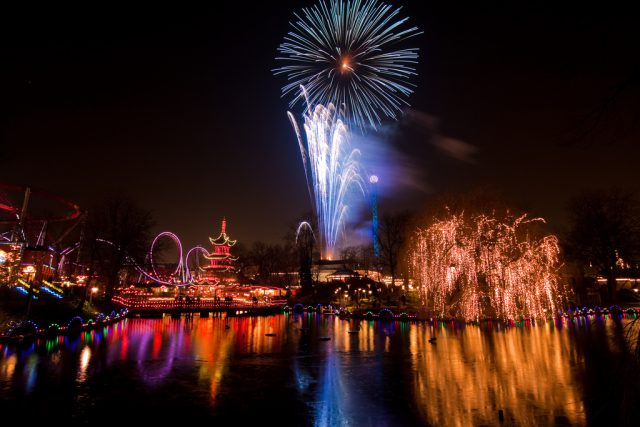 Before starting the steps and guidelines, I would like to remind you that shooting fireworks need a long shutter speed setting; otherwise, you will get the fireworks in your photo as many dots of light. Surely you don't want that. Surely you want those long tail trails in your photo that make fireworks photos looks dramatic.
The following are steps and guidelines to make your fireworks photography successful.
Fireworks photography settings – Steps & Guidelines
1) Be at the right location and at the right time.
It is a very good idea that you go to the shooting place early enough to arrange your equipment's, choose the appropriate place, making sure that there aren't any obstacles. Keep in mind that there will be a lot of smoke, so avoid shooting from the downwind position because the smoke will be between you and the fireworks.
2) Shoot most of your photo at the start of the show.
As the show continued, the sky will be full of smokes and it is not pretty at all. The first shoots always the sharpest ones.
3) You must use a tripod and remote shutter release.
Because you are going to shoot a long shutter speed photo, it very important to use a sturdy tripod to ensure that your camera is held firmly in position, and there is no chance for sinking, tipping or wobbling. As you get your camera on the tripod; make sure to level it, so the horizon is straight. Furthermore, to eliminate camera shake, use a remote shutter release.
4) Camera lenses.
Most camera lenses will work well as long as they have the right focal length. Also, most camera lenses have good optical quality at f/8 through f/16 apertures, which are typically used in fireworks photography.
5) Setting Aperture.
The light emitted from a firework is quite bright, so choose small or medium range; f/8  to f/16, it will give reasonably good results.
6) Setting Shutter Speed.
Choose something between 3 to 10 seconds, surely you need to take some trial shots to evaluate the suitable shutter speed. If it seems that you need longer time, consider switching to bulb mode and just open and close the shutter manually when you feel you captured enough bursts in one image.
7) Set ISO
To get a clear photo, less noise stick with low ISO, say ISO 100 will be fine enough.
8) Focal Length.
Since it is obviously hard to farm the photo in the right place of the sky and at the right time, you should consider shooting at a wide focal length. Assuming you are at a fair long distance away from fireworks, you shouldn't have to refocus at all, unless you change the view angle or view soothing else. After focusing, remember to turn off AF.
Remember to leave enough room in your frame for the anticipated height of the fireworks. It is a matter of trial and error, adjust as necessary.
9) Switch off your flash.
Shooting with flash will have no effect at all because it only reaches just a few meters away. It only tricks your camera into thinking it needs a short exposure time, so remember to turn it off.
10) Shoot, Review & Adjust.
Take a few shots at the start of the show, quickly check and review them, adjust the setting if needed. It is also important that you occasionally monitor your shots to ensure you are not taking a completely bad batch.
11) Be Creative.
Try getting some additional subjects in your fireworks photos. For example, a large landmark building looks great in fireworks photos. Adding a person or a group of people to the frame can turn the photo into a silhouette fireworks photo.
Summary
Getting great-looking fireworks photos is a matter of good planning and a lot of trial and error practice. I hope you try out the above setting and do not forget to share your photos and your experiments with us.
You may check this video:
Thanks for reading, if you have any questions just post below & I will be happy to answer you.
If you enjoy the site, don't forget to subscribe, we will only inform you when a new article is posted.
Check more tutorials here.
Save
Save