Astrophotography is a type of photography that needs to choose the best equipment. When you take photographs in a low-light environment, choosing the right equipment gets even trickier. One of your most important pieces for astrophotography is your lens. The best lens for astrophotography will allow you to capture vibrant images of the night sky and all of its colorful glory.
There are two different methods used for astrophotography. The first is using a traditional DSLR tripod and lens. The alternative to that method would be to attach a camera directly to a telescope.
The key to success with using a DSLR camera and tripod is to choose a lens that's capable of capturing photos in low-light settings. Wide-angle lenses on a full-frame camera are recommended. Wide lenses provide a large field of view, which picks up more of those beautiful stars you're trying to photograph.
Further reading: Milky Way Photography Tips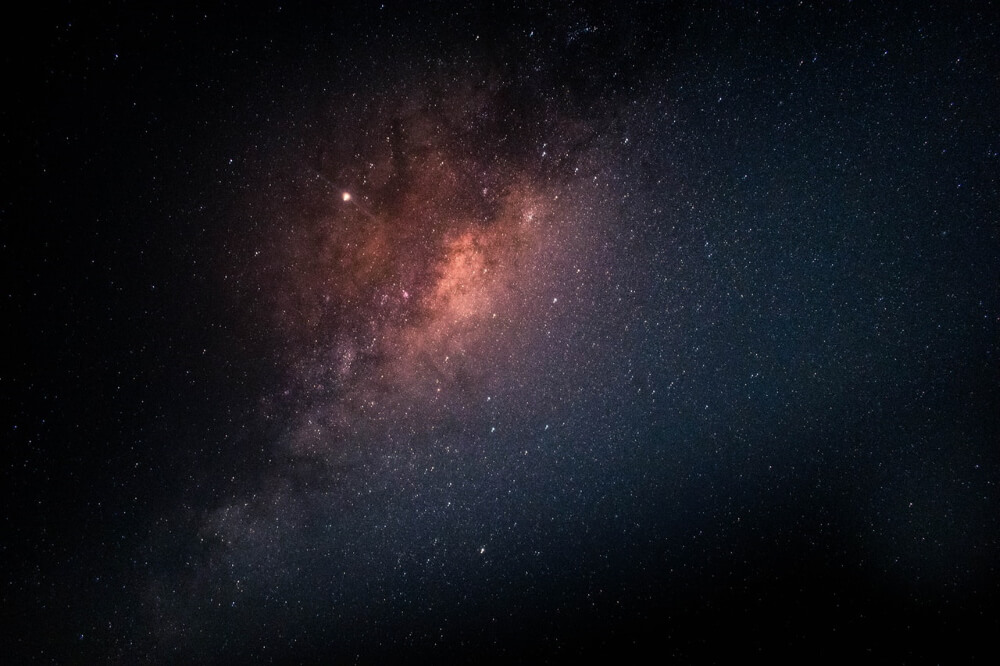 Photo by Nicole Avagliano from Pexels
Factors to be considered when choosing an Astrophotography lens
When it comes to Astrophotography photography, the limiting factor is always light. Starlight isn't bright enough to give you a strong ambient light source so you need as fast a lens as you can get. It is also important that the lens offer good wide-open image quality, since you may be using its fastest aperture often. Let us discuss in some detail these factors.
Focal Length
You will generally want a wide-angle lens. I generally suggest a lens with a focal length of 24mm or shorter on an APS-C camera or 35mm or shorter on a Full Frame Camera (The shorter the focal length, the wider angle the lens). These wide-angle lenses offer some advantages when shooting images of the sky.
Wide-angle lenses have a larger field of view (FOV) and allow you to frame more of the sky. This trait lets you collect light from a larger area of the sky and offers a balancing compromise to a typically small clear aperture for light gathering capability.
Short focal length, wide-angle lenses produce a smaller image size at the sensor allowing you to use longer shutter speeds without creating star trails from the Earth rotation.
Aperture
You need a wide aperture for light-gathering purposes, as using too high an ISO setting will crank the grain up too high and render the stars illegible.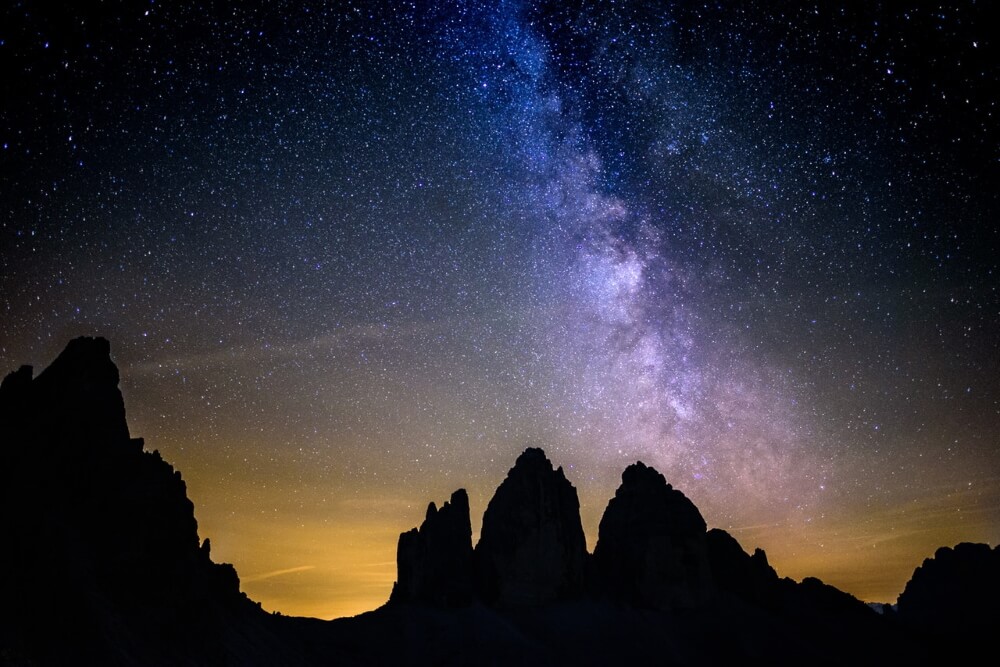 Photo by Fabio Marciano from Pexels
While there is no one single lens that is best for astrophotography, there are groups of lenses that will work best for astrophotography compositions. Here is my favorite list: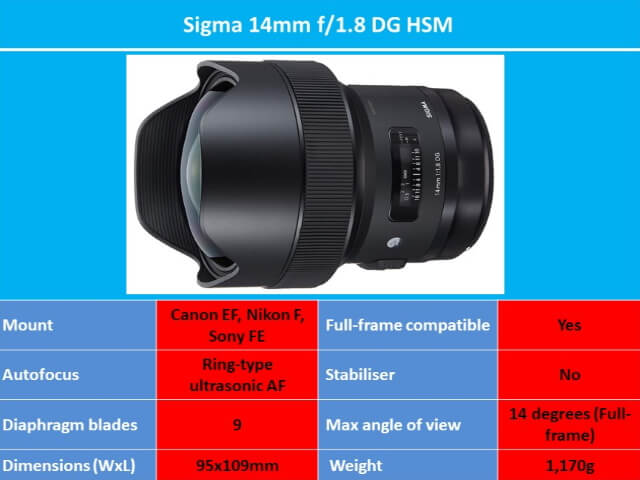 It is a full f/stop faster than most other lenses on this list, and it includes super-speedy ring-type ultrasonic autofocus. The wide aperture comes at a price, however: the large-diameter elements required are not only more expensive to make, but they also result in a comparatively big and heavy build. With its full-frame 35mm coverage, 14mm focal length for an ultra-wide angle of view, F2 barrier-breaking F1.8, the SIGMA 14mm F1.8 DG HSM | Art is the true high-speed ultra-wide-angle lens. Although some zoom lenses are available that can cover 14mm, the large diameter delivering F1.8 brightness is a singular advantage. Going beyond fast shutter speed, this lens can capture a swarm of fireflies with crystal clarity. Equally impressive are contrast, color rendition, and the absence of spherical and lateral chromatic aberrations. There are very noticeable coma and astigmatism towards the corners of the image frame, but go down one stop and virtually disappear, making overall image quality for astrophotography altogether excellent.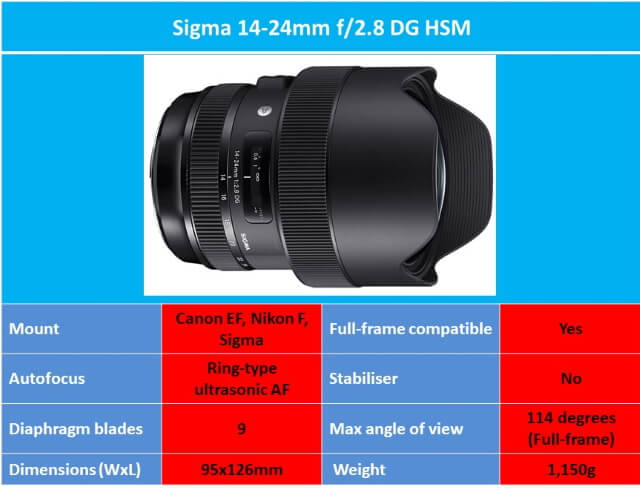 Available in Canon EF and Nikon F mounts, this Sigma lens is up against own-brand legends like the Canon EF 16-35mm f/2.8L USM III and the Nikkor AF-S 14-24mm f/2.8G ED. It beats both of them for image quality and price. Build quality and handling are excellent, with a full set of weather-seals and a fluorine coating on the front element. The lens is also compatible with Sigma's optional USB Dock for customization and firmware updates.
Even at the shortest focal length with the widest aperture, sharpness is excellent across the entire frame, and the lens does very well to retain excellent corner sharpness at wide apertures. Vignetting is remarkably minimal and though barrel distortion is prominent at close range, it's negligible for astrophotography. Lateral and spherical aberrations are also very well controlled.
For full-frame Canon and Nikon DSLRs, this is simply the best ultra-wide, fast-aperture zoom lens on the market, and not just for astrophotography.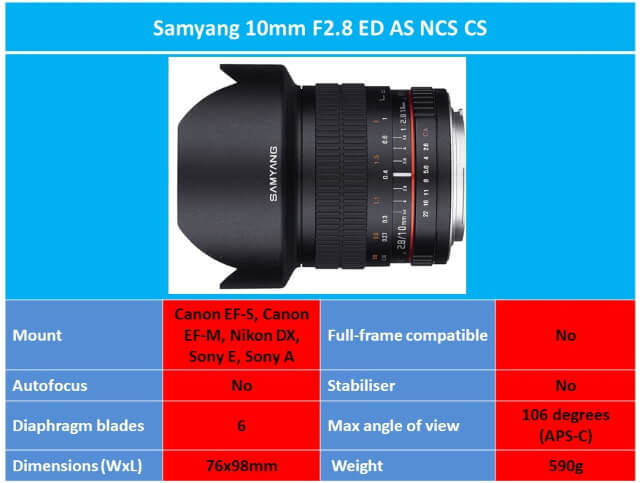 This lens works well for Micro Four Thirds and APS-C format astrophotography, where the lack of autofocus isn't really a drawback. It's great value at the price.
This manual-focus Samyang has an Astro-friendly 'effective' focal length on crop-sensor cameras, ranging from 15-16mm on APS-C format bodies to 20mm on Micro Four Thirds. It's available in many mount options, but only the Nikon fit has built-in electronics. This enables the aperture to be set from the camera.
Manual focusing is precise and assured. Build quality feels solid, but there are no weather-seals. Performance is good in terms of coma, spherical aberration, and vignetting, helping stars to retain their natural shape across the image frame, even when shooting wide-open at f/2.8. Sharpness isn't fabulous, however, but it doesn't drop off much towards the edges of the frame. Color fringing can be more noticeable than usual towards the image corners, and there's a fairly typical amount of barrel distortion for this type of wide-angle prime.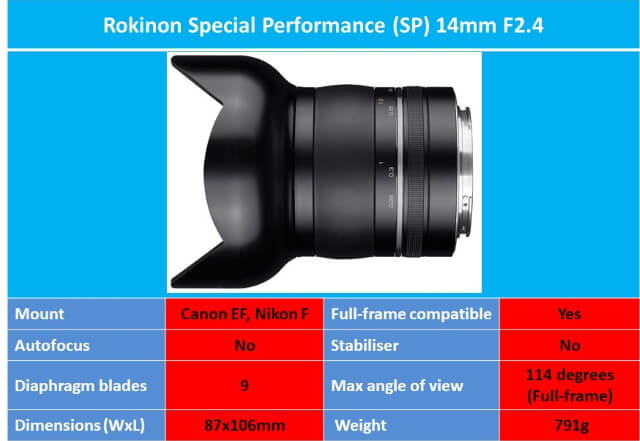 The Rokinon SP 14mm F2.4 is a premium quality super-wide-angle prime that combines an advanced optical design with simple, intuitive handling and control of focus. It has the unprecedented resolving power for 50-megapixel photo and 8K video production to meet the extreme capabilities of the newest high-resolution pro cameras.
Incorporating 18 high precision Ultra Multi-Coated glass elements in 14 groups, the SP 14mm F2.4 takes no compromise when it comes to image quality. Four types of special lens elements (2 Aspherical, 1 Hybrid Aspherical, 2 Extra-low Dispersion, and 3 High Refractive Index) are incorporated to reduce color fringing, aberrations, and distortions for sharp, clear, and color-accurate imagery. The high-quality glass is neatly wrapped in a solid casing. The rubberized manual focus ring gives a very assured grip and has a long rotational travel with a fluid feel. Image quality for astrophotography at the widest aperture is markedly better than from the Irix's rival 15mm f/2.4 Blackstone lens or a Sigma 14mm f/1.8 DG HSM Art. Sharpness is both very good and extremely consistent across the image frame. Chromatic aberrations are negligible, while coma and astigmatism are minimal.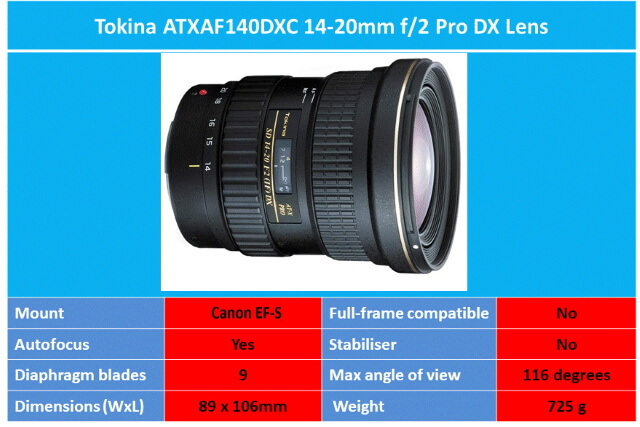 A fast wide-angle zoom for Canon EF mount APS-C-format DSLRs, the AT-X 14-20mm f/2 PRO DX Lens from Tokina spans a concise 22.4-32mm equivalent focal length range while retaining a bright, constant f/2 maximum aperture. Ensuring a high degree of sharpness and clarity throughout the wide-angle range, the optical design features an array of aspherical and Super Low Dispersion elements to minimize chromatic and spherical aberrations. A multi-layer, anti-reflective coating has also been added to individual elements to suppress flare and ghosting for increased contrast and color fidelity when working in strong lighting. In regard to handling, an internal focusing design enables quick, accurate autofocus performance that can quickly be overridden for manual control using the One-Touch Focus Clutch Mechanism. Well-suited to working in a variety of situations, the variety of wide-angle perspectives and bright maximum aperture are especially beneficial to landscape, reportage, and other environmental photography applications.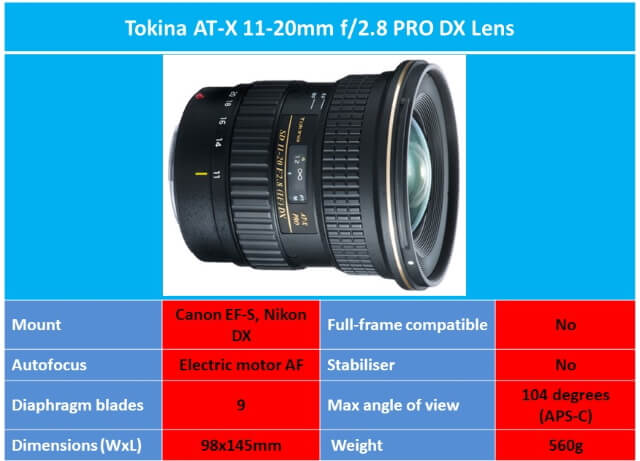 A versatile wide-angle zoom for Canon APS-C-format DSLRs, the AT-X 11-20mm f/2.8 PRO DX Lens from Tokina offers a 17.5-32mm equivalent focal length and features a constant f/2.8 maximum aperture for maintained brightness throughout the zoom range. One P-MO hybrid aspherical element and two glass-molded aspherical elements work in tandem to minimize distortions and control various aberrations while three SD ultra-low dispersion elements reduce chromatic aberrations for increased clarity. A multi-layer lens coating has also been applied to further enhance overall light transmission and color accuracy by suppressing lens flare and ghosting. Well-suited to working in a wide variety of situations, this ultra-wide zoom covers an array of wide-angle perspectives while maintaining consistent illumination for working in challenging lighting.
Benefitting the usability, a one-touch focusing clutch permits quick switching between autofocus and manual focus modes, and an internal focusing design maintains the overall length of the lens during use. The medium-torque focusing ring further benefits precise handling by allowing for refined control when manually focusing. Additionally, this lens sees the incorporation of a nine-blade diaphragm, which contributes to a pleasing out-of-focus quality when employing shallow depth of field shooting techniques.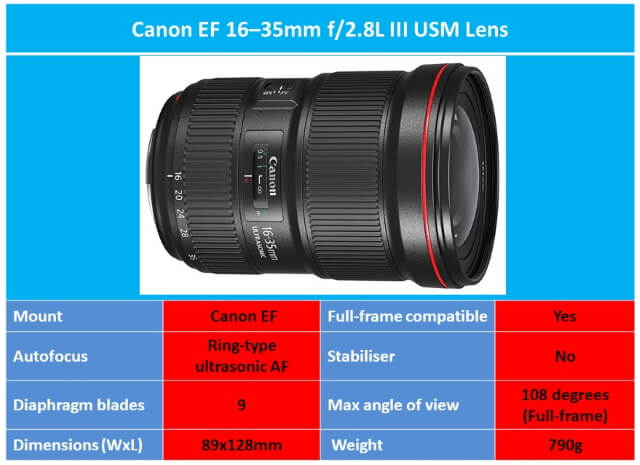 If you own a full-frame Canon DSLR, this is Canon's most ideal zoom lens for astrophotography. It may not be as wide-angle as the company's EF 11-24mm f/4L USM, but it's an all-important f-stop faster. Characterized by a revamped optical design, the EF 16-35mm f/2.8L III USM from Canon is a workhorse wide-angle zoom and member of the well-regarded L-series of lenses. Featuring a series of specialized elements, this lens utilizes a trio of aspherical elements and two ultra-low dispersion glass elements to control a variety of aberrations for high sharpness and clarity. Both SWC and ASC coatings have also been applied to the elements in order to reduce lens flare and ghosting for increased contrast and color accuracy.
Complementing its optical prowess, a ring-type Ultrasonic Motor offers fast, smooth, and near-silent autofocus performance, which is further benefitted by full-time manual focus operation and internal focusing design. The lens is both water and dust-resistant, and fluorine coatings have also been applied to the front and rear elements to protect against fingerprints and smudges from affecting image quality.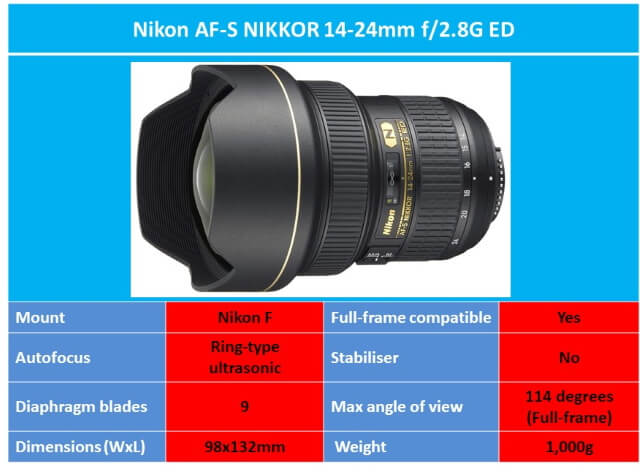 The widest of Nikon's f/2.8 zoom, the AF-S NIKKOR 14-24mm f/2.8G ED presents a flexible ultra-wide-angle range of focal lengths, well-suited for landscape, nature, and interior photography. Besides its broad angle of view, this lens is characterized by its f/2.8 constant maximum aperture, which affords consistent performance and illumination throughout the zoom range. Similarly impressive, the optical design contains three aspherical elements and two extra-low dispersion elements, which greatly reduce distortion and aberrations for a high degree of sharpness, clarity, and accurate rendering. A Nano Crystal Coat has also been applied to control flare and ghosting for greater contrast and color accuracy in harsh lighting and backlit conditions. Additionally, a Silent Wave Motor enables fast, near-silent autofocus performance, along with full-time manual focus override, to benefit both stills and video applications.
Final remarks
There are many other lens options that may also be great choices but these are our favorites. One of the most important traits, with few exceptions, is that the lenses on this page are generally spectacular in regards to minimizing aberrations like astigmatism and coma that would affect stars on the corner of the frame. There may be some lenses that I have not listed here but that does not mean that they may be a great choice, too. Is there a lens that you use and love for astrophotography? You are welcome to share it in the comments below!
Related posts
3 Legs Good – Top Rated Tripods For DSLR Cameras
What Is The Best Camera For Night Photography? – Recommendation & Tips
Tips For Taking Good Photos At Low Light Condition
Thanks for reading, I hope you enjoyed the article if you have any questions just post them below & I will be happy to answer you.
The featured Photo by Dids from Pexels
If you enjoy the site, don't forget to subscribe, we will only inform you when a new article is posted.