Buying used camera equipment can be a bit of a hassle. The idea just seems intimidating; what if I get scammed or buy the wrong thing? What if the lens is damaged?… How do I ship it back? As it turns out, there is a company that's taken all of this into account and simplified the process immensely.
When purchasing used lenses online, it's important to keep track of your purchase and have proper documentation. One way to do this is by using a receipt template. A receipt template can help you record important information about your purchase, such as the seller's name and contact information, the lens model and condition, and the price paid. By keeping a record of your transaction, you can protect yourself in case of any issues that may arise, Look for a receipt template online or adapt one to suit your needs.
KEH is one of my favorite online distributors of used camera equipment for this reason. Let's talk about how to buy used camera lenses from them!
How to Buy Used Camera Lenses from KEH
Why KEH?
KEH is a one-stop shop for camera and lens enthusiasts who love the process of buying and selling gear. They have one of the largest online lens collections around and they have streamlined the process of buying and selling in a way few others have.
When buying from KEH, you also gain substantial peace of mind. The company offers a 180-day warranty on all purchases, something few used sellers provide. They are so confident in their ability to diagnose and correct problems that they will refund or exchange your product if something like a battery terminal or shutter dies on you…Common issues with used purchases.
KEH also buys used gear from photographers at reasonable, if not super high, rates. Your best bet, if you're interested in making the most money, is always to sell directly to someone interested in using your camera lens.
But if you want money as fast as possible or you have older, niche equipment that few people are interested in, KEH is a much more reliable way to sell. Their website also allows you to get an instant quote on used gear and even schedule video chats to discuss sales and purchases with their competent staff.
Finding Compatible Equipment
Their selection really is impressive for a used camera body and lens retailer. They carry both the latest mirrorless lenses as well as an extensive DSLR, SLR, large format lenses, and other systems. Each of the major brands (Canon, Sony, Nikon, etc) is well represented, as are Sigma, Leica, Pentax, and other niche systems.
When looking to buy an item, be aware that the photo is not always of the exact item, especially for popular items or lenses that they have large numbers of. KEH does make this immediately clear and states as much if this applies to a given listing.
The base price is displayed along with the option to finance using Affirm. Handy if you're looking at making an impulse buy of a rare full-frame lens costing thousands of dollars! KEH's prices tend to be well in line with the used market elsewhere. In fact, they are a bit of a trendsetter in this regard.
When it comes to the latest mirrorless bodies and lenses, KEH prices aren't going to be significantly better than eBay, Adorama, and other outlets unless they are lower on the grading scale (see below). But for DSLR, SLR, and other older gear, you can often find some real bargains!
I also enjoy browsing KEH's Equipment Spotlight because they regularly feature both the latest and greatest gear as well as more niche equipment that even I've never heard of. The Equipment Spotlight is a great way to learn about what's hot and what's old yet interesting within the photography world!
KEH's Grading Scale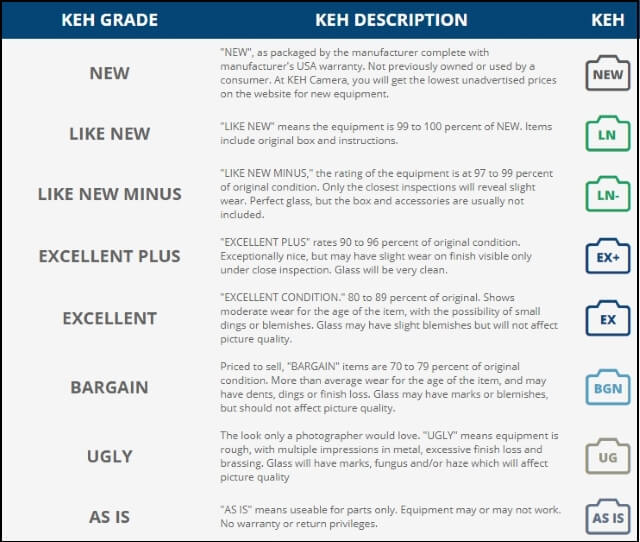 KEH uses a grading system that is clear, concise, and consistent. This stands in stark contrast to places like eBay and Amazon, where buying used equipment feels like a matter of sheer luck and trusting that the photos are accurate.
KEH starts with New and Like New, which are obvious enough. But from there, we get to Like New Minus, Excellent Plus, and down the scale to Ugly and As-Is. And the further you get from New, the lower the prices become.
At first glance, anything below Excellent sounds like a real risk. KEH Photographs each item for sale but who would want a lens "Glass may have marks or blemishes, but should not affect picture quality"? As it turns out, KEH rates their equipment extremely conservatively because they serve collectors as much as they do actual photographers.
In fact, I personally purchased a Bargain rated Sigma DSLR lens that was 1/4th the price of a New/Like New version and it was in fantastic condition for photography purposes. Just a few scuffs on the body and a microscopic flake from the lens coating that had no impact on image quality. And even if I wasn't happy with it (I was) their return policy is extremely flexible. It solidified my trust in KEH as a quality retailer that wants to ensure you're 100% satisfied.
KEH Shipping and Returns
Both KEH's shipping and return policy are top class as well. KEH ships via Fedex the same or next day, depending on when your order is received. It took just two days to receive my order the last time I purchased a used lens from them.
KEH does require that you call them in order to arrange a return, which I think is meant to partially discourage folks from getting too free with swapping around gear. Let's be honest: as photographers, we would absolutely return gear as a free "rental service" if we could get away with it.
If you have an account with them and they notice you're using them like a cheap library, KEH will add a 15% restocking fee to future returns. Otherwise, returns are free within 14 days and you get a full refund, minus shipping fees spent by them. Returns received from 14-30 days have a 15% restocking fee added in.
Also, for more options on buying used cameras & lenses, I recommend reading this post.
Conclusion
Overall, I find KEH to be one of the best places on the internet to find used camera lenses. While they don't have the insane selection of eBay, their warranty, standardized grading scale, and return policy ease your mind as a shopper. When buying used lenses online from anyone else, it simply feels too much like a matter of luck…
At this point, you should know how to buy used camera lenses from KEH! If you found this article useful, feel free to comment below; I'd love to hear from you!

If you enjoy the site, don't forget to subscribe, we will only inform you when a new article is posted.