There is no better way to visualize the internal area of any real estate than with an interactive 360 photos, and now it's possible for anyone to shoot super-high quality 360 photos. In this tutorial I'm going to answer the question: How to make virtual tour for real estate and explain everything you need to know, start by explaining what is VT, how to select the proper gear, how to plane for taking the required photo, and finally taking the actual shots and assemble them in a professional way into an interactive VT and publish it.
Virtual tours are becoming an increasingly popular tool for realtors to show off their most impressive listings, but how easy is it to create these virtual tours.
What is Virtual Tour?
Panoramic pictures are a very wide picture; it can be done by capturing multiples of images and stitching them together to form a photo with a horizontally elongated field of view (180 degrees). It is sometimes known as wide format photography. But it doesn't require any special viewer and can be simply printed, but no immersion comes with that of course.
360-panorama picture is a photograph with a very wide angle of view (360 degrees) which is beyond the scope that the human eyes are capable to see. If you combine multiple 360 panorama photos, you are simply creating a spherical panorama photo. It requires a special viewer to create the effect of full immersion. The spherical photos can also be obtained by special camera types called 360 spherical cameras.
Here is a sample virtual Tour  (by hui wen)
A virtual tour is a series of "panoramic" images linked to each other in a way that allows you to view a real estate property as if you are really there. You can do the following action in a virtual tour photo:
View in horizontal direction of panorama window (pan)
View in vertical direction of panorama window (tilt)
Zoom in and out.
Set a customized walkthrough of various frames which can be set at selected arbitrary positions. You can direct the virtual tour by editing walkthrough of frames to make it play automatically in time sequence just like a video.
Set Hotspots: Hotspots are clickable link areas within a panorama; you can assign an action to a Hotspot, such as opening a new panorama, slideshow, URL, etc.
Play a sound (music or a commutator audio)
You may check another sample of a real estate virtual tour here (by easypano.com)
Selecting the gear
Choosing the right gear depends on what you want to achieve and your budget. If you need the absolute best quality then you'll need a DLSR camera with appropriate panorama head. The quality of the image is undoubtedly the best, not to mention the brightness and color accuracy. DLSR rigs allow you to create high-quality panoramas because the lenses are very good at capturing light and detail. But the main drawback to this, apart from a large amount of time it takes, you'll need to invest in software packages, particularly a stitching program. You will need to spend more time in editing. If you have a lot of photos to take in your tour, you could find yourself spending hours editing and stitching images together. Besides that, the price of the equipment makes this an expensive, as well as time, consuming way to shoot real estate virtual tours, but certainly produces the best results.
If you can sacrifice a bit of quality, acquiring a special camera that can produce 360 spherical photos in only one shoot, it would be the best option. I believe that using this technique would be a wonderful choice.  
The Ricoh Theta V is an excellent option that will save you a huge amount of time and produces directly the spherical panorama photo. If cost is an issue then the Ricoh Theta S, or Mi Sphere Camera will do a decent job for a lower price.
Ricoh Theta V 360 Spherical Camera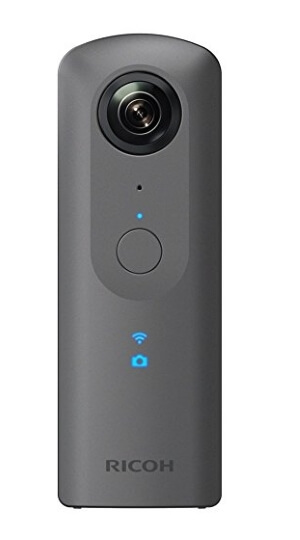 You can capture and share life's epic moments in immersive 360 Degree photos & videos with the Ricoh Theta SC. Experience high image quality with high-precision stitching technology that delivers an astonishing 360 Degree of experience. The slim, lightweight design makes this an ideal 360 Degree camera for portability and is easy to handhold without the use of additional accessories, while the dual fish-eye lenses capture all of your surroundings with a simple push of a button. The 1/2.3-inch image sensor gives you approximately 14-megapixel output. The bright F2.0 lens provides exceptional low light shooting capabilities, and the ability to shoot in Manual Mode by setting shutter speeds up to 60 seconds.
A number of optional shooting modes are available, including DR Compensation, Multi-shot noise reduction, and HDR composition. Capture up to 5 minutes of Full HD 360 Degree video, which can then be transferred and viewed directly onto your mobile device or uploaded directly to social media sites such as Facebook to share immersive moments with friends and family. The Theta SC is equipped with LED status lights on the body itself, allowing for easy switching between still image and movie mode.
The Live View function turns your smartphone into a viewfinder allowing you to preview what you are capturing. The new and improved intuitive user interface makes capturing, viewing, and sharing fully spherical imagery a snap. Create and share little planet images effortlessly with the dedicated Theta+ App or edit, add filters and background music to your 360 Degree videos with the Theta+V App. The Ricoh Theta SC is compatible with iOS & Android devices and comes in a range of stylish colors including sand, blue, salmon, and white


Product highlights
Theta V shoots hi-def smooth 360 Degree video at 30 fps @ 3840 x 1920 pixels or 4K. It supports the H.264 file format for video recording
Hi-res 360 Degree spherical stills & video with improvements to the image quality. The New Qualcomm Snapdragon processor has completely enhanced the exposure accuracy and white balance algorithm
Theta has a 4-channel microphone that supports 360 Degree spatial audio recording built in Omnidirectional audio is recorded not just in the horizontal direction but also in the vertical direction
The worlds first Remote Playback capable fully spherical camera allows users to wirelessly playback 360 Degree images and videos on a large-screen display Using a compatible wireless display adapter
The camera can always be connected to a smartphone using Bluetooth low energy (BLE) This function provides improvements in usability and power consumption
Ricoh Theta S Digital Camera (Black)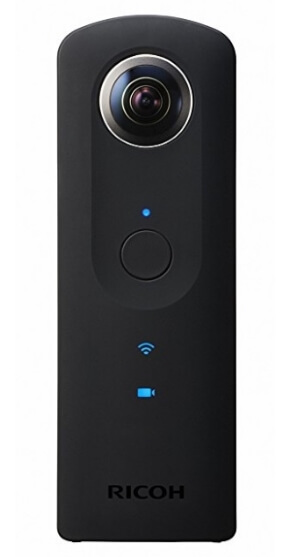 The Ricoh Theta S 360 Degree Spherical Panorama Digital Camera (Black) gives you even higher quality and performance. Since its launch last year as the world's first image input device, the RICOH THETA has opened a new world of imaging possibilities. Users can shoot game-changing new spherical images at any time, capturing more than they ever imagined. In response to popular demand, the new model enables Wi-Fi transfer that is almost twice as fast as the previous model as well as spherical video capture, all with the same small, lightweight, and easy-to-carry design as before.
Video image conversion processing can be performed on a computer after shooting, enabling users to enjoy up to 3 minutes*2 of spherical video footage that will make them feel like they're right there. Users can also choose from four body colors, providing a more fun and attractive tool to carry around every day. The RICOH THETA S also boasts a fully updated design and user interface. Usability has been improved with an elegant but practical sure-grip black rubber coating and handy face-mounted LED mode indicator. Internal memory has been increased to 8GB. Also, superior image processing technology and bulb mode for long exposures produce spherical still images with less visual static, even in low-light settings. The camera has a sleek and unique design to capture 360° stills and full HD movies with a single click and features updated imaging components and performance attributes for producing broad-field imagery in a variety of ways.
It has dual 12MP 1/2.3″ image sensors pair with bright f/2 twin lenses to capture high-resolution spherical images with a sensitivity range from ISO 100-1600. The Theta S is also revamped with enhanced sharing capabilities to wirelessly share both movies and photos to a mobile device for posting online using built-in Wi-Fi. The images can up uploaded to the dedicated Theta 360 website for sharing with social media sites as well as published on Google's Street View app


Product highlights
360 Degree Spherical Panorama images and Spherical Videos up to 25 minutes
Live view function on a mobile device
Transfer videos directly to your mobile device without the need of a computer
Full HD Video at 30fps, 360 Degree Spherical Video Supported by YouTube
Charge the battery by connecting it to a PC using the supplied USB cable
Mi Sphere Camera Kit 360 Degree Panoramic Camera
An ultra-wide-angle high aperture lens + reflective prism eliminates blind spots.
Up to 23.88 effective megapixels
Dual 1/2.3″ Sony image sensors are highly light-sensitive at 1600W, allowing seamless transitions at resolutions of 6912×3456 (up to 7K).
Professional-grade image fidelity
The two lenses automatically calibrate and adjust the image and colors – ensuring smooth video recording at 3456×1728/30fps or 2304×1152/60fps. This is perfect for indoor, outdoor, travel, business, journalism, film, and other uses.
On just one charge, Mi Sphere Camera can record up to 75/90 minutes of HD panoramic video with Wi-Fi on/off – and up to 200 photos.
Measuring only 0.47" at its thinnest point, Mi Sphere Camera is highly portable and can be carried in a bag, pocket, or hand. Take panoramic photos anywhere, anytime.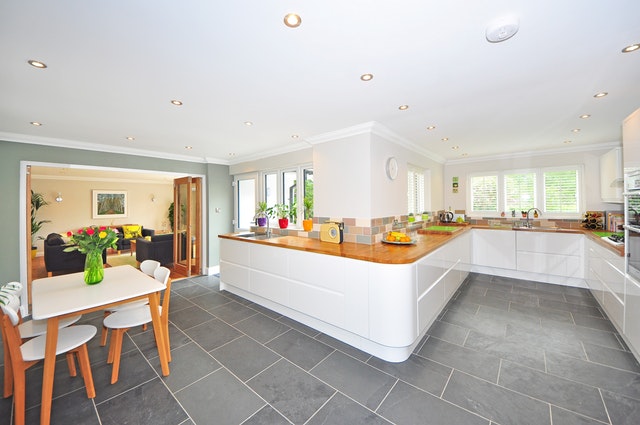 Taking the 360 panorama photo
Ricoh Theta camera has two lenses and two sensors that shoot in opposite directions. The stitching of the images is done in the camera. And Ricoh has done some smart things in making it quick and easy to share the images.
To start taking a spherical panorama of a real estate property, you need to mount one of the above-mentioned cameras on a tripod and connect your camera to your smartphone to remotely control the camera. And for real estate and architectural virtual tours, that remote function is essential. You don't want to be in the frame, after all.
Ricoh Theta V and Ricoh Theta S use a basic application on your smartphone.  The spherical image can be taken, viewed, and shared via the application. There are two versions available of RICOH THETA (the basic application) for Android, and iOS. You can check the recommended operating environment here.
RICOH THETA Series has 4 shooting modes: "Auto", "Shutter priority", "ISO priority", and "Manual". In the "Auto" shooting, the camera is not only set to the optimum mode, but exposure correction and HDR rendering can also be performed.
HDR Rendering is done by taking several shots at different exposures and applies an algorithm to merge them so that it keeps the best parts of the various parts to preserve shadow and highlight detail. The remarkable thing is that it's all handled automatically in the camera, so there's no need to mess with HDR software. Switch the HDR option on and click the shutter. It takes a little longer to render, but it's not more difficult than a regular shot at default settings.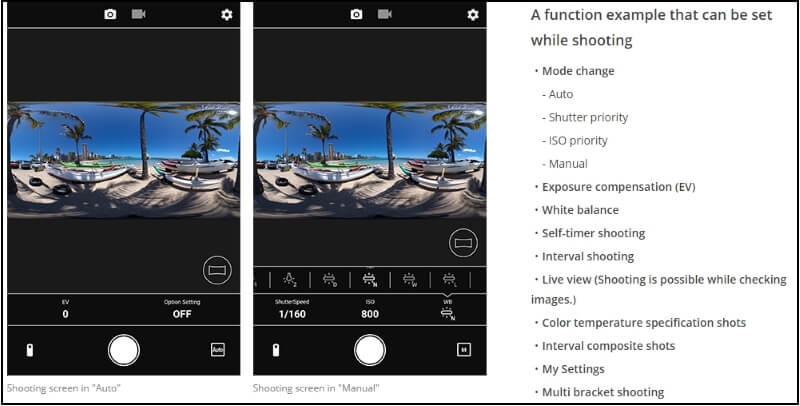 There is the Compensation function which is suitable for shooting at a location where there is a great difference in brightness. Shooting and rendering of four different images under exposure conditions in one shooting enable a wide and dynamic range image to be captured.  Also, a Compensation function is suitable for high definition shooting in a dark place. When noise reduction is turned ON, the ISO sensitivity is automatically set to low sensitivity. Noise can be reduced by rendering after continuous shooting for multiple photos depending on the situation.
"Searching for homes in Tuscon? "eXp Realty" is one of the top sites for Tucson homes for sale. Tucson is the second-largest city in Arizona and offers an amazing quality of life. It's known as "The Old Pueblo" because it was once occupied by the Hohokam people who built extensive irrigation systems that still function today! The city has more than 350 days of sunshine per year, making it one of the sunniest places in America".
Viewing, editing, and sharing panorama photos
Once the photo has been taken, you can preview it as an interactive spherical image right on the phone.  360° still images taken with RICOH THETA can be transferred to your smartphone. They can be viewed at the desired angle by moving them freely by pinching in or out on a touch panel or sliding them to rotate them.
The photos can be edited using THETA+ application. Also, there are available versions for Pc and Mac computers.
360° still images taken with RICOH THETA can be easily shared on SNS (Social Network Service). Even if the person you are sharing the image does not have the THETA app, he/she can still enjoy the 360° still image or video in a browser or on an SNS platform. For social media, the obvious choice is Facebook. It can display both 360° still images and videos. (YouTube can do 360° videos, but not still images.)
Making and Publishing the Virtual Tour
When you finished editing the 360 panorama photos, you need software to make the virtual tour of the whole real estate. There are many software packages available in the market; the following are some of them.
Specifically designed for the property industry, but ultimately targeting the mass-market.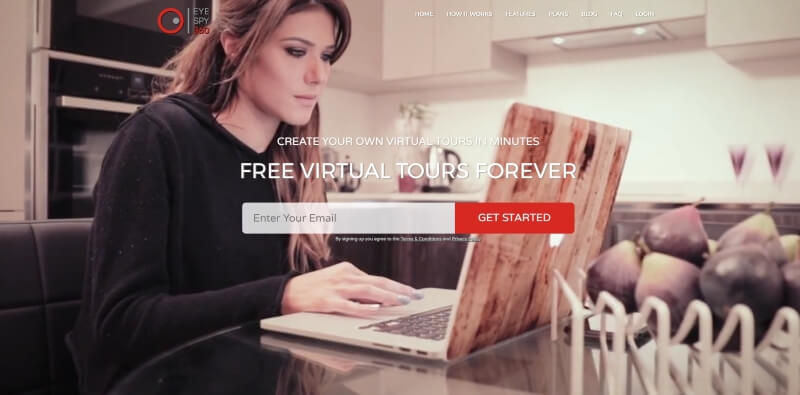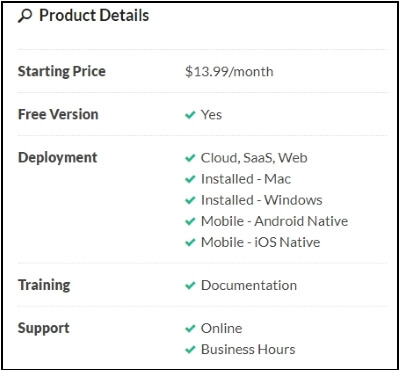 It is designed for Professional and amateur panoramic photographers and virtual tour production studios, Architectural bureaus, Interior design studios, Real estate portals, Marketing / Event agencies, 3D design studios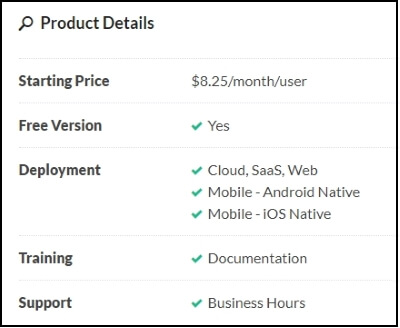 It is designed for Real Estate Agents & virtual Tour Enthusiasts. Our software is specifically designed to capture leads within your virtual tours and created for people with little or no experience! Easy and simple!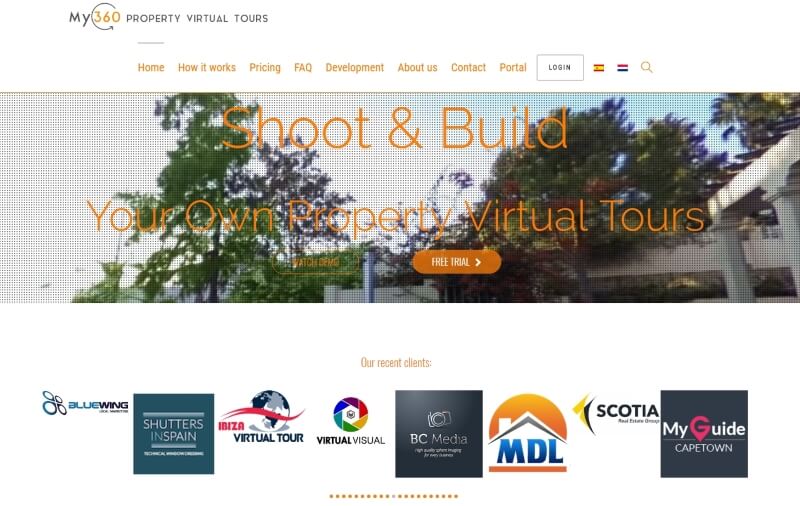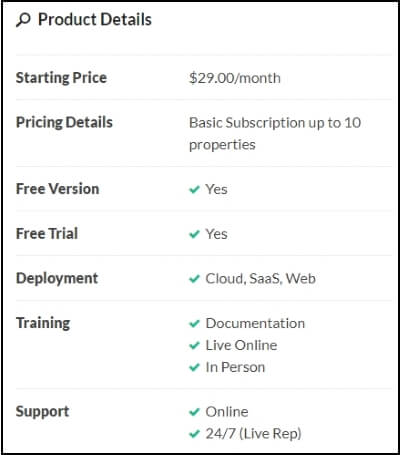 As the industry-leading virtual tour software, Tourweaver 7 makes a great step forward by supporting Flash 11 Player Engine, 3D object, Google map street view, multilingual tour, as well as tons of features inherited from its predecessor. With this version of 360 virtual tour software, you can share your virtual tour onto your Facebook account and you can also publish HTML5 virtual tour for your iPhone and iPad. A full-featured free trial version is also provided as usual. There are two versions: standard, professional for window system, and another one for Mac computers.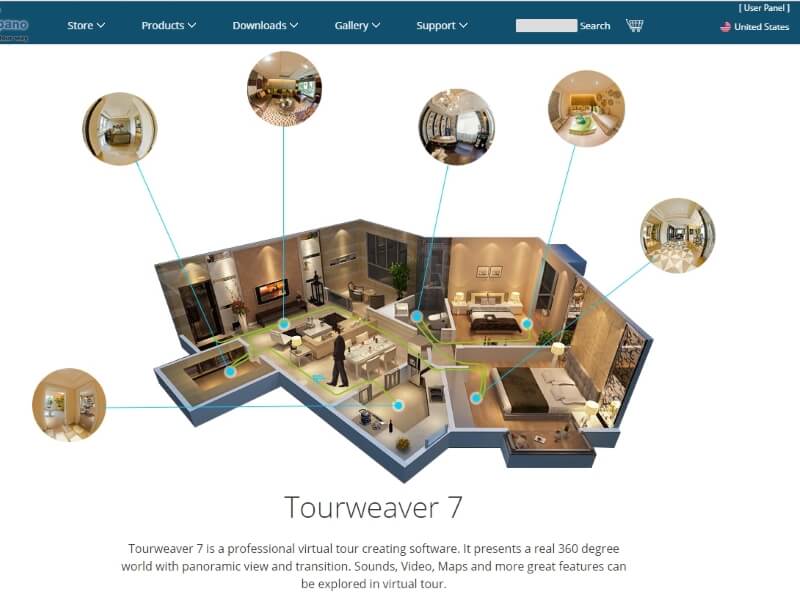 You can watch an introductory video of Tourweaver here.
That all! The most spectacular presentation of a real estate property is certainly the 360° virtual tour. It can be done in a straightforward way if you choose to use a 360° camera like the Ricoh Theta and your smartphone (who take care of everything).
Thanks for reading, I hope you enjoyed the article if you have any questions just post them below & I will be happy to answer you.
If you enjoy the site, don't forget to subscribe, we will only inform you when a new article is posted.