Weddings at a restaurant, hotel, or even at a yard are so last year – it's time to make the best day of your life even better!
Selecting the right location is key, and nothing could beat the beauty of the cobalt-blue hue of Lake Tahoe. Possibly the most romantic, dream-like spots of this ethereal beauty are no other than the Sand Harbor Beach, Zephyr Cove, or Incline Village.
But, what is so different about these sites that makes them the perfect destinations for a Lake Tahoe wedding on the beach? so, keep reading to review our Lake Tahoe Wedding Checklist
Keeping it Casual yet Beautiful
Not every wedding has to be grand and rob you of your savings. You can still enjoy that straight-out-of-a-fairytale wedding when you plan your big day at wedding venues at Lake Tahoe and stay within budget. Amazingly bright blue skies, crystal-clear water, and a light breeze – what's not to like about!?
A Lake Tahoe wedding can be a bewitching testament of love and commitment while ensuring that things are casual yet memorable. All Lake Tahoe wedding destinations deliver this sensation!
Rent a Boat
Why drive away with your newlywed partner in a car when you can do so in a boat? Make your wedding day all the more special with boat rental services available at the Lake Tahoe wedding destinations. Driving away into the blue waters as the sun sets into the horizon can be a magical experience!
If you are planning a wedding in Lake Tahoe during Labor Day or Memorial Day, advance booking is a must to avoid cancellation issues due to high visitation, regardless of whether you chose.


Post-wedding Underwater Excursions
Lake Tahoe is ideal for a good swim to shake the stress of planning your wedding. It doesn't have any waves, currents, or those great whites. So, you can make a perfect day out of a wedding planner at Lake Tahoe. You can also hire a trained professional to help your guests enjoy the scuba diving or snorkeling experience.
Enjoy the Horse-Drawn Sleigh Ride
If yours is a winter wedding, do not forget to plan a horse-drawn sleigh ride with your bride/groom. Enjoy the spellbinding experience as you gaze at the beautiful lake by your side. You can find this service in almost every Lake Tahoe wedding destination, but before you head on there, a simple Google research will give you all the information you need as to their availability.
Wedding Album of Your Dreams
When choosing wedding venues in Lake Tahoe, do not forget to pick a professional Lake Tahoe wedding photographer to click some amazing pictures for your big day. Imagine a wedding album that is full of blues, greens, and all other natural colors that add to the couple's charm. Among other breathtakingly beautiful destinations at Lake Tahoe, Sand Harbor has a trail that leads to secluded areas on the beach. You can get your pictures clicked here to ensure there are no random photobombers in the background.
If you are a Canon shooter you might be interested to know the best canon lenses for wedding photography. Also, you can have a look for the best wedding photography tips.
Book the Ramada with BBQ Services
To top things off, you can book the perfect Lake Tahoe wedding chapel, whether in Sand Harbor, Zephyr Code, or whichever spot you choose as your dream destination.
The ramadas at Lake Tahoe are complete with electricity, water, tables, and a massive BBQ if needed. Usually, the ramadas offer seating solutions for 100 guests, but depending on the location at Lake Tahoe you choose for your ceremony, you might be able to host 200 people. The wedding venues can be reserved by phone or in person.
Go Green with the Pines & Cedars
Lake Tahoe's beauty is multiplied by the presence of the thick cover of cedar and pine trees. If it is sunny during your wedding, the trees can keep you cool and shaded as you take those vows and say, "I Do."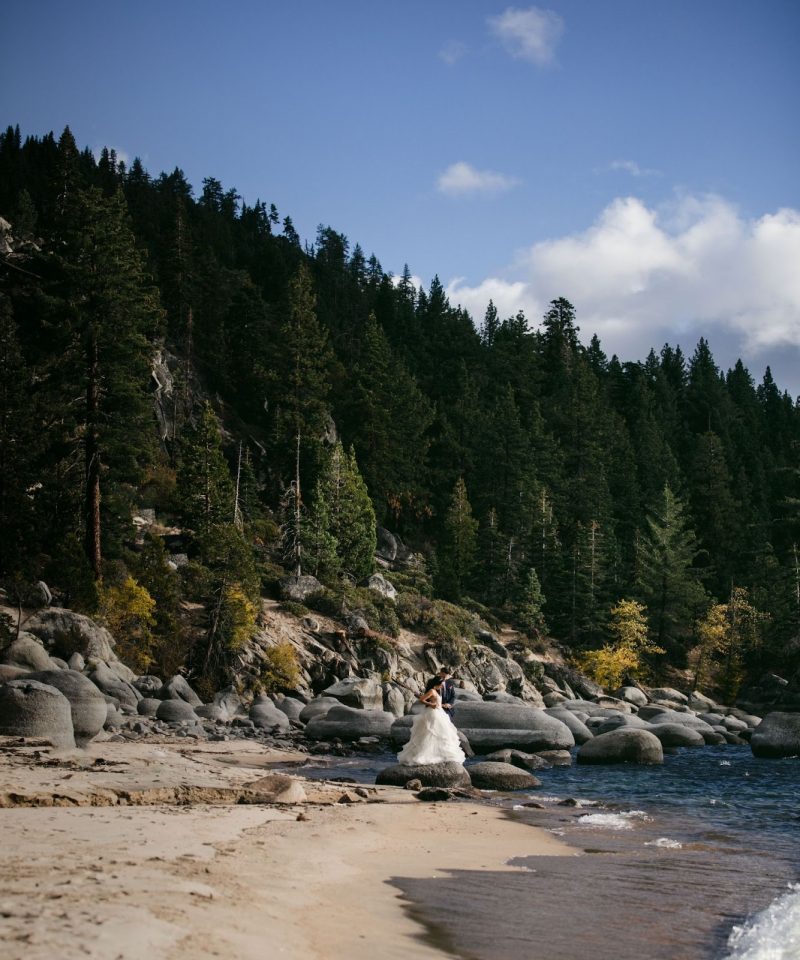 Best Time to Get Married at Lake Tahoe
Before you start booking Lake Tahoe wedding packages, make sure you take note of the best time to get married in the area. As per the official Nevada State Parks website, the right time to plan your big day is during the winter, fall, or spring months.
Summers can be crowded, and hence, it's best to avoid planning your Lake Tahoe elopement during these months.
Comfortable Stay for your Wedding in Lake Tahoe
Whether you are on a budget or looking for a luxurious stay for your wedding at Lake Tahoe, there are plenty of options to choose from. The Hyatt Regency Resort is a prime choice for couples looking for luxury along with the likes of Red Wolf Lakeside Lodge, Hampton Inn & suites, and Tahoe Sands Resort. You can also opt for pocket-friendly Airbnbs like Nonny's Place.
Takeaway
Choosing wedding venues in Lake Tahoe is as easy as ABC. Given the beauty and godly scenery of the location, it would no doubt be the best decision of your life – not counting getting married. Simply remember not to plan a Lake Tahoe wedding during the peak summer months, and you are good to go! So, start inviting your guests and call in to make those reservations before you walk down the aisle. If you thought Kate Middleton's wedding was breathtaking, wait till you attend yours – it sure is going to be the talk of the town!


Thanks for reading, I hope you enjoyed the article, in case you have any questions just drop them below & I will be happy to answer you.
If you enjoy the site, don't forget to subscribe, we will only inform you when a new article is posted.