A decent wedding retains the most ravishing memories in one's lifetime. Everyone envisions that their wedding day will be foxy- the cake, the music, the flowers, the guest, the venue but what makes these memories live forever is the artistic photographs. You own them yourself so it's your key responsibility to make them as charming as possible.
As much as the wedding day is for the bride and the groom, a lot of emphasis on portraits is placed on the bride. If you are new to photography or simply looking for some tips to improve your portraits you would notice that shooting a wedding is one of the toughest assignments that a photographer can take. To ease it out, we have compiled a list of wedding portrait photography tips and key mistakes that photographers make.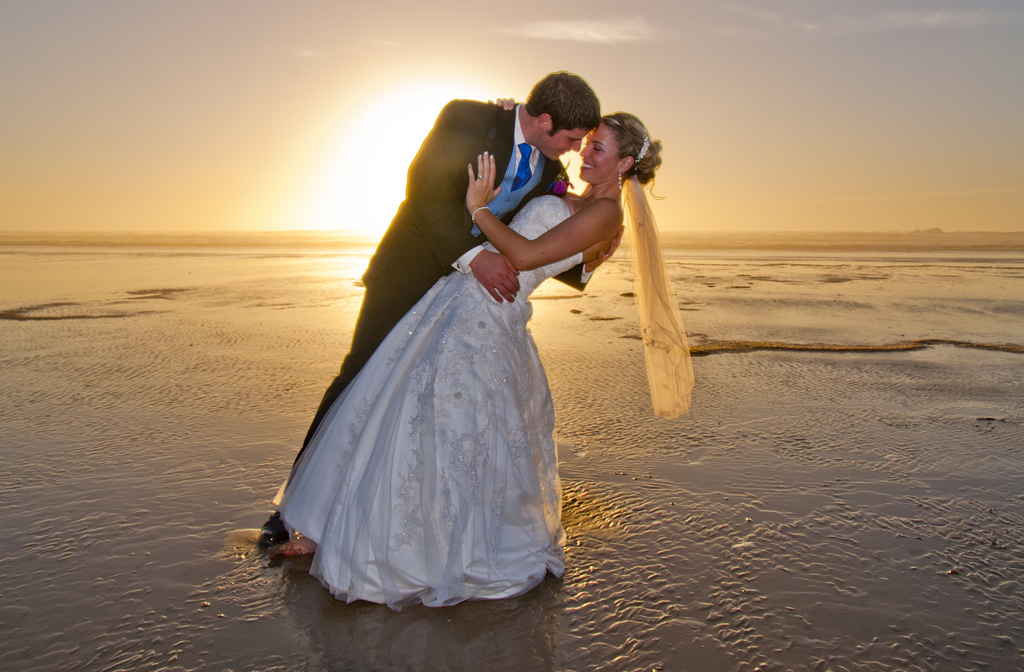 10 Essential Wedding Portrait Photography Tips:
Tip 1: Wear comfy shoes
---
As a wedding photographer, you are going to walk like you never before. At the wedding reception, the "sharp-pointed" might look good for you, but in the field, you will be the grumpiest photographer on the planet. The essence of comfy shoes is to make you flexible at any angle. At times, you will have to slide, bend or even lie down to capture every detail.
Tip 2: Wedding dresses are white
---
Yes! It's true, and it has been that way for over a century now. In this case, a professional photographer will need good positive exposure compensation for the dress to stay white and not gray or blurred. This is because the light meter in your camera will see the white dress and translate it as bright. Instead, the camera will tend to offset this large "bright" image and make the exposure of the dress too dark. Only positive exposure compensation can fix this.
Tip 3: Rent a second camera
---
This is a big one! You can just imagine the horror of a critical machine failure while shooting a high-dollar event. It does not only bring embarrassment and loss of steady income but the loss of one of the most important virtues of "trust". The small price of renting a camera for the event is a huge benefit
Tip 4: Use a wide aperture
---
For a narrow depth of field, the use of the widest aperture that your lens permits can create a very prepossessing effect for wedding photography. This helps to keep the subject in focus while keeping the background blurred. To make the most of the ambient lighting when using flash, try a shutter speed that is as slow as possible; 1/15 to 1/25.
Tip 5: Get out of the way
---
You have to keep in mind that the day is about them and not about you. Wedding couples want a photographer who is respectful, passionate and cheerful. It is possible to be everywhere and invisible at the same time. This is especially true for the toast and the ceremony. To get the job done here, throw on a longer lens and give them some space. A high-end camera is recommended here for the long shots.
Tip 6: Make friends with the organizers
---
The organizers are the guys who planned the entire event. They know what's actually happening as opposed to what should be happening. They can tip you off about who is going to be where and when so that you can capture everything and be at the right place and at the right time.
Tip 7: Shoot landscape of the venue before the event
---
Show up early before the event and take some nice shots of the venue. The couple chose the venue because they like it and it's imperative that you capture the dazzling landscape beautified with the wedding flowers and balloons to be included in the album. The butterfly effect these little things can make a huge difference, you can share some of the photos with the venue owner and you might end up getting more referrals.
Tip 8: Use the wind
---
Be wise, if it's windy face the people and get lots of movement without blur. The bride's dress, in particular, can look so arresting when there is a breeze. Its pattern and lines will hover steadily with the movement of the air. However, be careful here especially when changing the lens on a DSLR as dirt may blow into the camera body.
Tip 9: Keep an eye for the little, unexpected moments
---
Unexpected moments are always the most fantastic in photography. At the wedding, brides love it when you photograph her sharing special moments with her parents or husband. Capture those moments when she smiles or walks like a model. Capture that moment when her nephews are dancing secretly or that moment when the kids are replicating the bride's part.
Tip 10: Avoid shooting when people are eating
---
Don't take pictures of people eating. They look awkward and no one will ever thank you for it. You can take some nice shots of the food, snacks refreshments but pause when they start eating. Save the memory here, you can even park your camera and enjoy the food as you wait for the speeches which provide good opportunities for nice shots.
3 Common Mistakes every Photographer must avoid:
Mistake 1: Poor exposure
---
The white dress is one of the most important aspects and one that gives photographers a headache! Why so? Overexposing it turns it into a uniform mass of bright white with no pattern or detail, underexposing it makes it look grubby. Setting a good positive exposure helps reduce noise and capture every detail.
Mistake 2: Avoid messy background
---
As a professional, it is your duty to ensure that the photograph is as stunning as possible. You should always identify a clean background that will be impactful on the photo. A dirty background can make a huge difference to a shot and make it less appealing.
Mistake 3: Forgetting a shot
---
One of the key reasons that the couple chose you is because they trust in you, or your reputation led them to you. It's, therefore, imperative that you capture all the details and go the extra mile. Capture the ring, speak to them first and gather a list of guests to be photographed, etc.
Best lenses for wedding photography:
Don't use one prime lens only!:
Always I am using Sigma 24-70 mm in wedding photography, but sometimes I use prime lenses as of its wide aperture compared to the 24-70 mm and also because of its lightweight, so if you are going to use prime lens don't take one only either to take with it the 24-70 or take 2 prime lenses with different focal length for example you can combine both the 85 mm & 35 mm or  if you need a prime lens on budget you can use the Canon 24 mm f/2.8 in replacement of the 35 mm as it is less expensive than it.




Walk through this video to sum things up
Related Posts
Thanks for reading, if you have any questions just post below & I will be glad to answer you.
You automatically support us if you order anything through our recommended Amazon links, and we highly recommend them because of their low prices, fast delivery and, the top support, especially when it comes to camera equipment.
As an Amazon Associate, the site earns from qualifying Purchase, Most of the "product" links are affiliate links, and you are welcome to check our affiliate Disclosure statement.
If you enjoy the site, don't forget to subscribe, we will only inform you when a new article is posted.
Save
Save
Save
Save