Adobe has announced new features of Photoshop 2022. Every year, Adobe drops the biggest update to most of its CC products. Photoshop, Camera Raw, and Lightroom are definitely a big part of that. The new features include an auto object selection tool, new neural filters, enhanced sharing and commenting more integration with other Adobe products (Illustrator), and more plugins.
In this tutorial, we are going to discuss these new updates, let us begin!
Auto-masking Object Selection Tool
Object Selection Tool (Object finder)

The Object Selection Tool has been significantly improved. Now, just hover over the object you want to select in the image and a single click will select it. the tool can detect most objects within an image. Adobe is constantly improving the Sensei AI machine learning models to detect additional categories of objects.
Selections made with the Object Selection Tool are now more accurate and preserve more details in the edges of the selection, which means you spend less time getting those perfect selections.
If any objects are not detected or only partially detected, you can simply click and drag a marquee over any of the areas you'd like to select. (This is how the tool worked previously, but now you can also just hover to click what you want).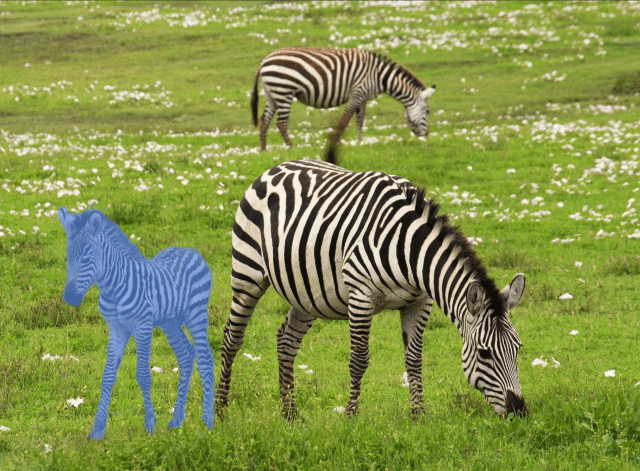 Photo by Pixabay
Masks All Objects in a Layer
Adobe has added a new menu item to Layers that leverages the smarts of the Object Selection Tool.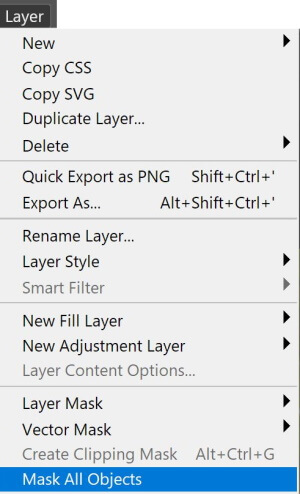 Choose Layer>Mask All Objects to easily generate masks for all the objects detected within your layer with just a single click, and in separate layers.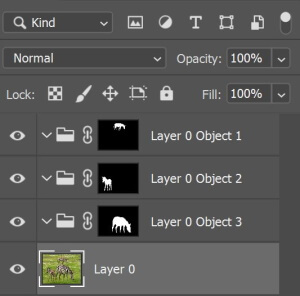 The Neural Filters feature are released last year. Neural Filters is a workspace inside Photoshop that introduces new non-destructive filters that use Sensei AI machine learning to help you explore creative ideas in seconds. You can discover a rapidly growing and improving library of artistic and restorative filters in this workspace, which will speed parts of your workflow.
Harmonization filter (Matching photos automatically)
One of the time-consuming editing workflows is to match the colors and luminosity of two photos when you are doing a compositing project of two photos.
The new harmonization filter can match the color and tone of an element on one layer to another layer using the machine learning magic of Adobe Sensei. The Harmonization Neural Filter saves time in creating flawless, realistic composites by intelligently adjusting the hue and luminosity for the look you want.
You can access the filter by clicking Filter > Neural filter > Harmonization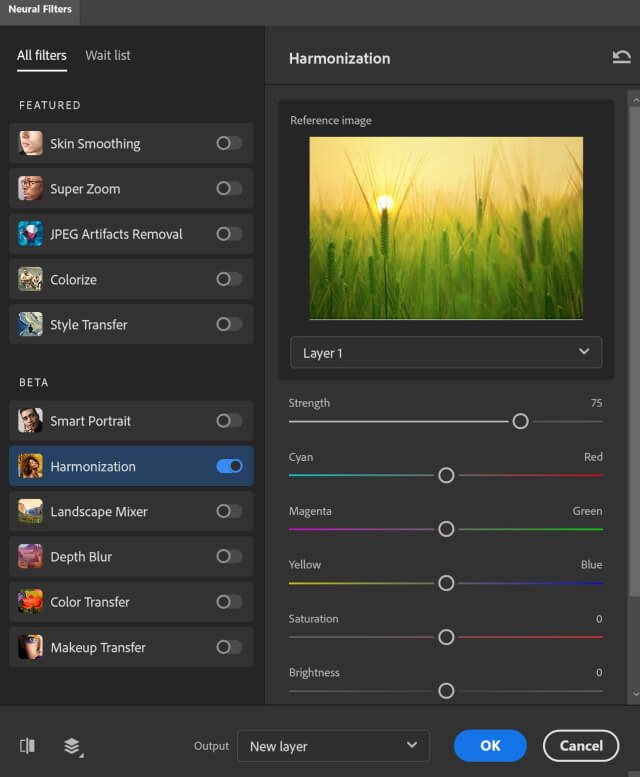 In the following two examples, we use a photo of a subject (the girl), separate her from her background, and use another photo as a new background. Finally, we apply the harmonization filter to match the subject with its new background.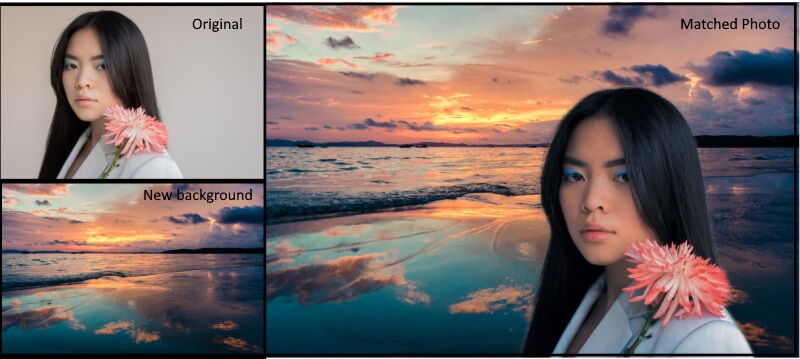 The original photo by Monstera from Pexels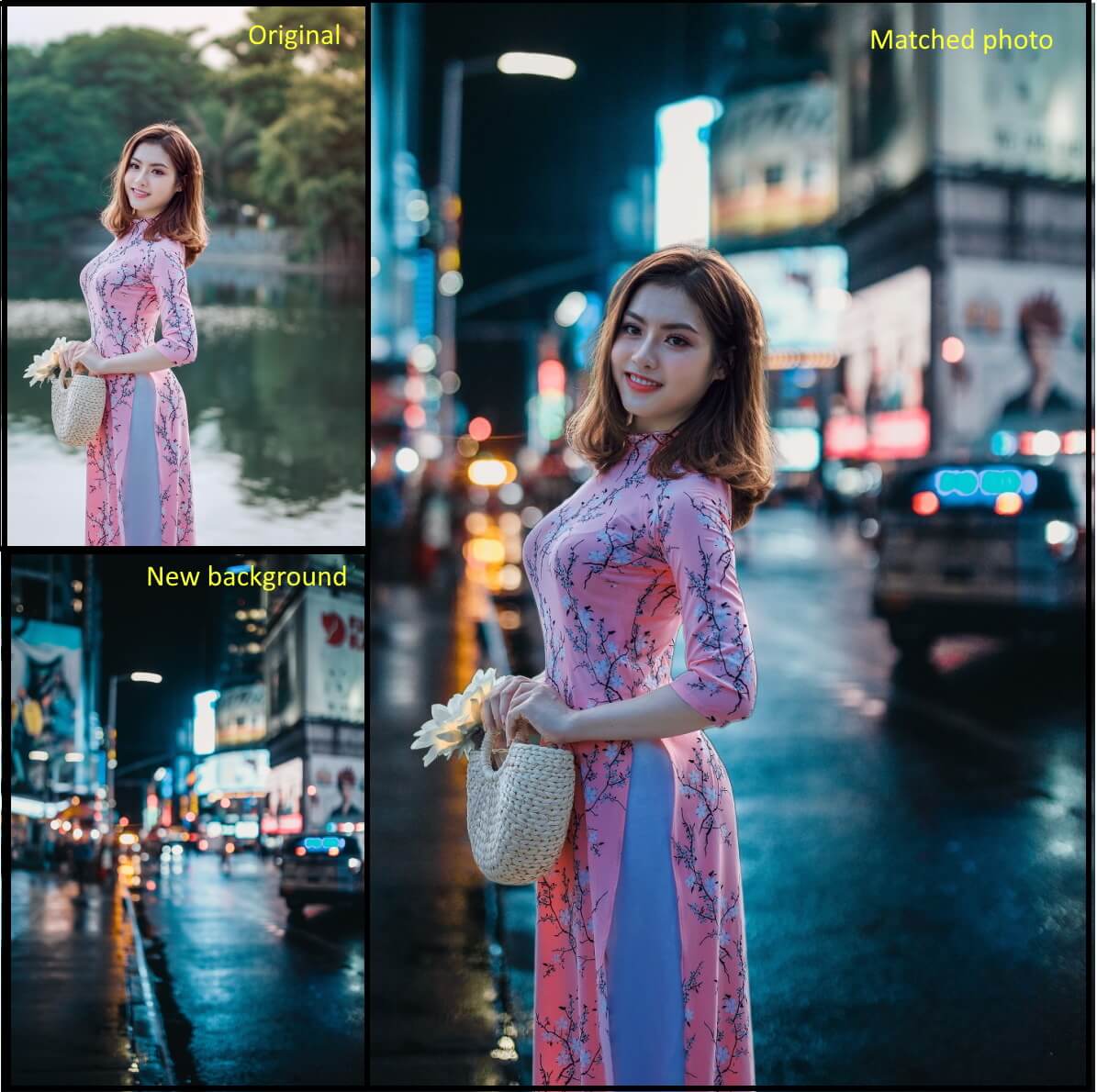 The original photo by Tuấn Kiệt Jr. from Pexels,
Color transfer
Sometimes you find an image that had great color or tone and needs to achieve a similar look in your photo. The color filter can quickly make the color of one image look like a reference image by transferring the color from the reference to the original.
Color Transfer takes the color palette of an image and makes it easy to apply it to a different image. This is a major timesaver for a very common workflow.
Perhaps you may have used color or gradient overlays, or even gradient Maps these are really good tools for color grading images. Color transfer filter takes this to a different level.
You can access the filter by clicking Filter > Neural filter > Color Transfer
Example 1
The original photo is shown below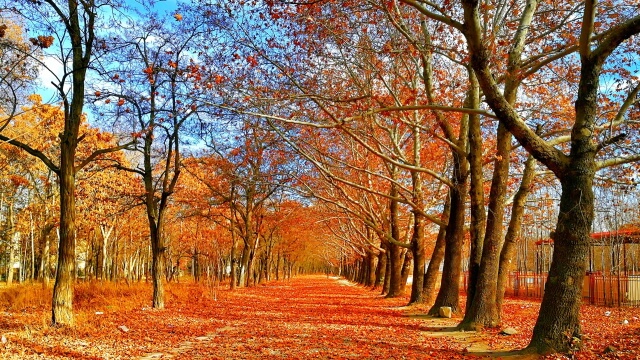 Photo by Ali Yasser Arwand from Pexels
The edited photos and their reference photos are shown below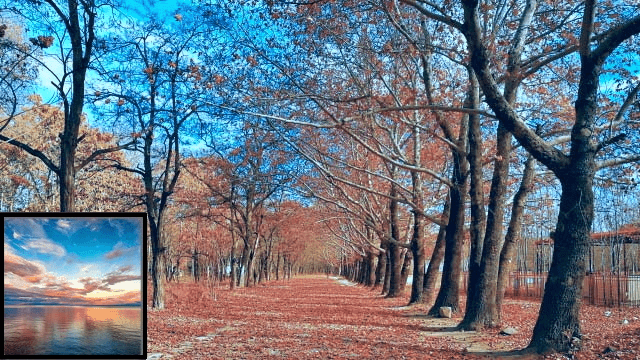 Landscape Mixer
Landscape Mixer (beta) allows you to create entirely new scenes, and concepts. It can change the attributes like the time of the day or the season in just a moment.  The filter changes the season of a scene by creating a winter scape from a sunny summer day or changing the leaves on trees from summery green to autumn colors. This Neural Filter makes it nearly automatic and takes just a moment. You may use photo presets available in the filter or use your own photo.
Example 2 (season change)
The original photo is shown below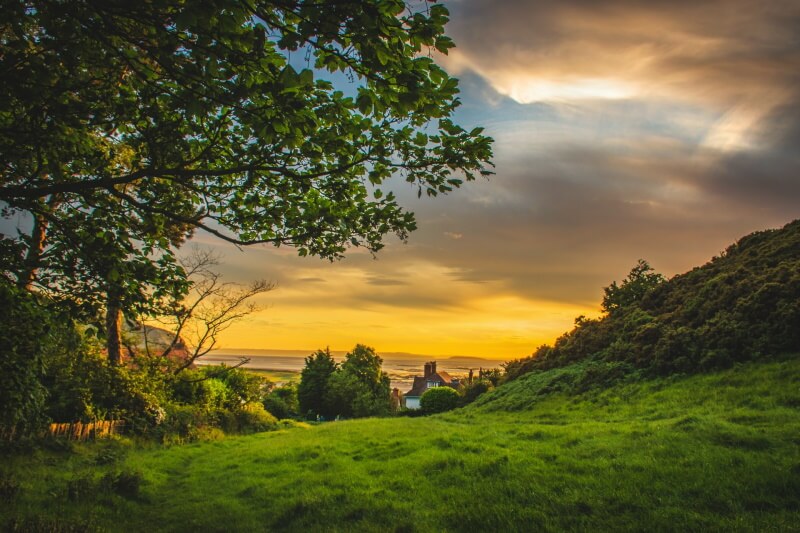 The edited photos are shown below after mixing the original photo with different presets.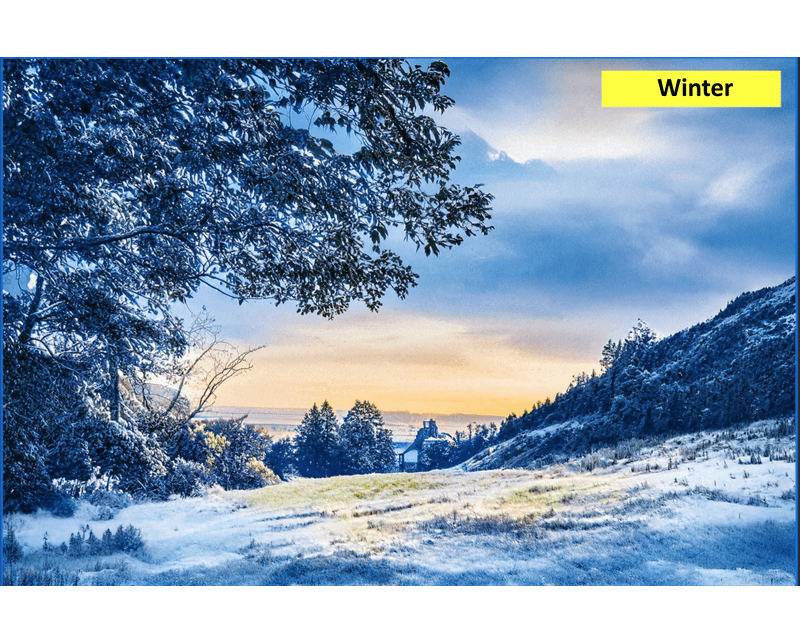 Example 3 (daytime change)
The original photo is shown below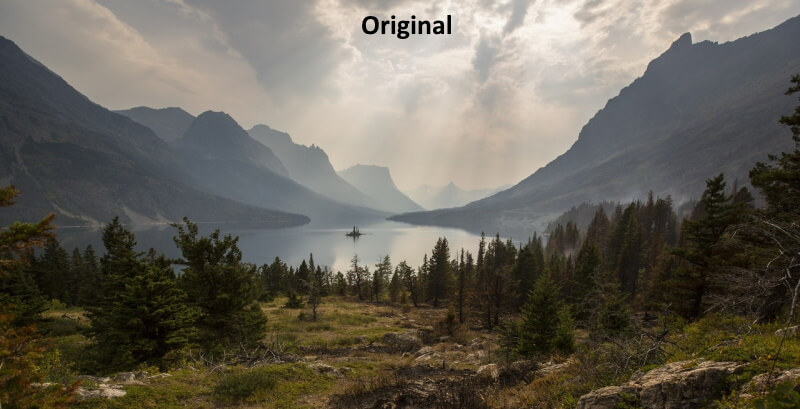 Photo by Pixabay
The reference sunset photo is shown below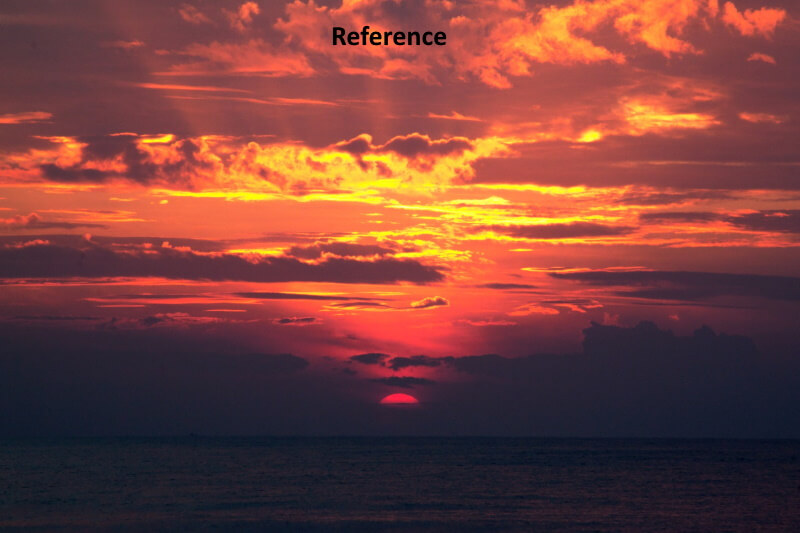 Photo by pattama choomsree from Pexels
The edited photo is shown below after combining the original photo with the sunset photo.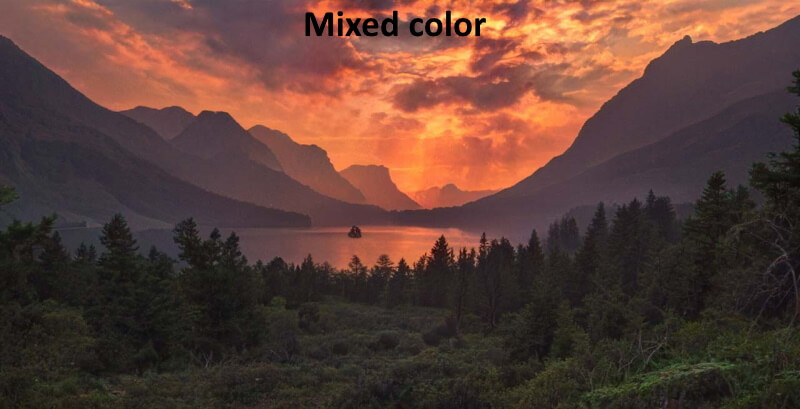 Now, you can quickly share your designs with your fellow collaborators for viewing and receiving feedback right within Photoshop without having to leave the app.​
The new share for comments feature enables you to:
Collaborate with others on your Photoshop cloud documents
Leave comments and observations for yourself to review later
Create learning journeys as educators while teaching how to use Photoshop
Share comments and feedback with others
Improved interoperability with Illustrator
Improved interoperability between your favorite apps — Illustrator and Photoshop, allows you to enjoy interactivity and easily bring Ai files with layers/vector shapes and paths and vector masks in Photoshop that you can continue to edit and work with.
Creative Cloud's new unified extensibility platform (UXP) is a shared technology stack providing a unified and modern JavaScript engine that is more performant, reliable, and secure. We continue to see new partners build on this new platform like Globaledit, a DAM to enable enterprise creative workflows, and Smartsheet for work collaboration.
Related Posts
What Are The Selection Tools In Photoshop?
How to Match a Subject into Any Background
How to Color Grade In Photoshop
If you are interested in reading more about post-processing tips and tricks, you may check our photography editing articles.
Thanks for reading, I hope you enjoyed the article, in case you have any questions just drop them below & I will be happy to answer you.
If you enjoy the site, don't forget to subscribe, we will only inform you when a new article is posted.