Publishing your own photos online comes with the risk that someone is going to copy or download them without your permission. Unfortunately, you can pursue him through the legal system, but this is an incredibly time and money-consuming process, and you can never guarantee success. Instead, it is much easier to take some actions to prevent someone from stealing rather than curing it. One of the obvious actions is to create a watermark for your photos, it is easy and it is free online!
How to protect your photos online?
There are some effective methods to protect your photos online. Nevertheless, you have to understand that these methods will stop many people from stealing your photos, but there are always exceptions. If someone really wants to take a photo, then there are ways around most of the barriers you can put in the way.
The following are some of the most effective ways you can protect your photos online:
Add watermarks to your photos
This is the most obvious way to deter casual image theft. Adding a small section of the text, or a logo, to the corner of a photo is a great way to stamp ownership onto your photos.
it does work to prevent a lot of opportunistic copyright infringement. For example, someone looking to include a photo in a presentation or webpage is likely to ignore those with watermarks. They probably don't want a specific image and will keep searching online until they find an appropriate choice with no watermark.
Do not share a high-resolution file
Uploading high-resolution files online to display is a very bad idea. Should someone get hold of the high-resolution file, they can pretty much do what they want with it. It also makes it harder to prove you're the original photographer, as they have the same file that you'd be using to prove you took the photo.
Compress the photos you upload
Following on from the previous step, make sure that you compress the photos you upload. Aside from the actual dimensions of the image, you can reduce the quality of the photo.
Add your copyright to the metadata
You can actually embed your copyright information straight into a JPEG file. You do this by modifying the metadata (some details and/or instructions that can be extracted from a file) using a photo-editing program.
Further reading: What Is Photo EXIF Data- How to Read and Edit Metadata
What is a Watermark?
A watermark is a logo, stamp, or signature superimposed onto an image, with a great deal of transparency. Therefore, it's still possible to visualize its presence without preventing the vision of the image that it protects. Watermarks are often used by photographers or institutions that care about the use of their digital works to protect their interests. If you need a good resource to design your own logo, visit the following site, it is free!
DesignEvo Logo Maker Online – Logo Made Easy (No Skills Requried) 
How to add a watermark
When creating a watermark on your photo, you have to make sure a watermark isn't too intrusive and distracting.  In addition, do not forget that the goal is not to obliterate your photo with your name stamped all over it. Instead, do something subtle and neat. Reducing the opacity also helps to negate the negative effect it can have on the appearance of your photo.
There are many ways to add watermarks to your photos, if you are one of the Adobe Creative Cloud users, you can do it one by one in Photoshop, or easily and uniformly watermark a whole batch of photos in Adobe Lightroom.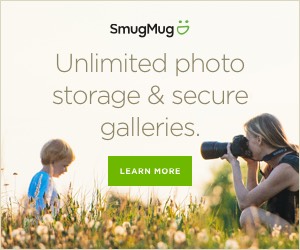 Create Watermark Online Free
Otherwise, many free online services allow you to add watermarks to your images. The following list includes some of them: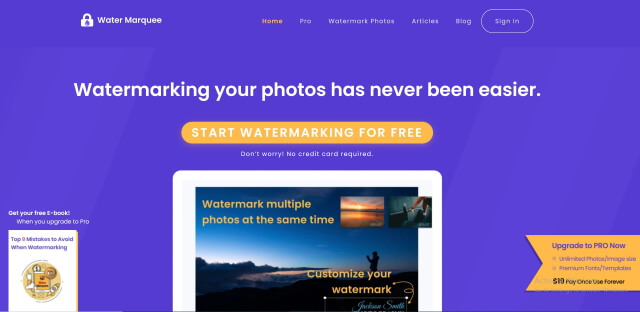 This online watermarking tool enables you to create your own watermarks or use fully customizable templates to protect your images. The process of adding a watermark to a photo with Water Marquee is remarkably simple, as you just have to upload a photo to the platform and click on the Add Text, Add Logo or Use Template option. You can then proceed to insert the text, select its size, color or font and decide if you want to use a solid or transparent background. When done, simply click on the Save icon and choose the destination folder on your hard drive in which the watermarked photo is going to be stored.

FotoJet makes it possible for anyone who wants to create a watermark for photos with ease! Tons of resources are preset to help you watermark images and protect your copyrights with a few works. You can add the following watermarks to your photos:
It is the easiest way to add text to photos to create a watermark for photos! Different fonts can be customized to different watermarks. Once you choose a font, you just need to type the words and adjust the color, size, and text style to create your watermarks. And then place it to the right place of your photo.
Reduce Watermark's Opacity
Watermarks usually can be seen but cannot be noticeable! So, you should never ignore the step of reducing the opacity of the text. Adjust the "Opacity" slider slightly until the text is perfectly transparent on your image to create a perfect watermark for your images.
You can do it in a more creative way by adjusting the outline and glow. The outline allows you to add a color line that surrounds your text; the glow will give the text a shading effect in different colors.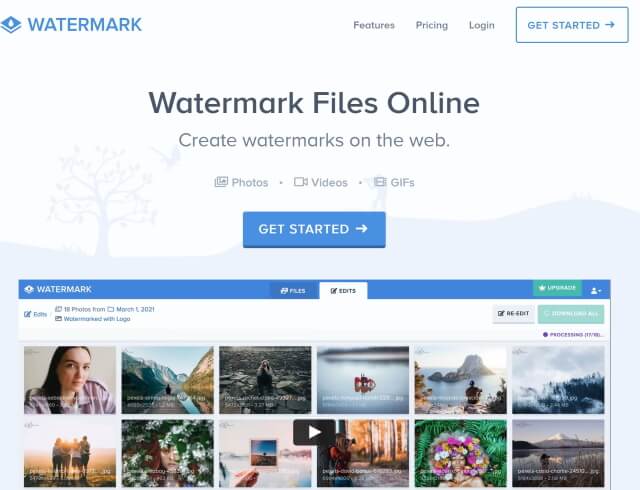 You need to create a new account and log in to start using the tool. After uploading your photo file you can edit (crop, resize, rotate, and add effect) your photo.
You can add text or logo watermarks, and you can customize both of them. There are some additional fonts and other functions that are restricted to the premium users ($6.99/mo):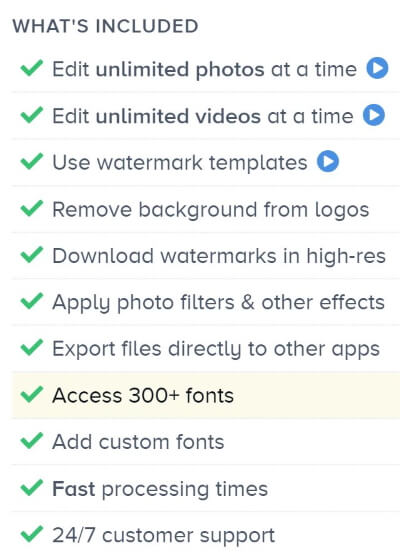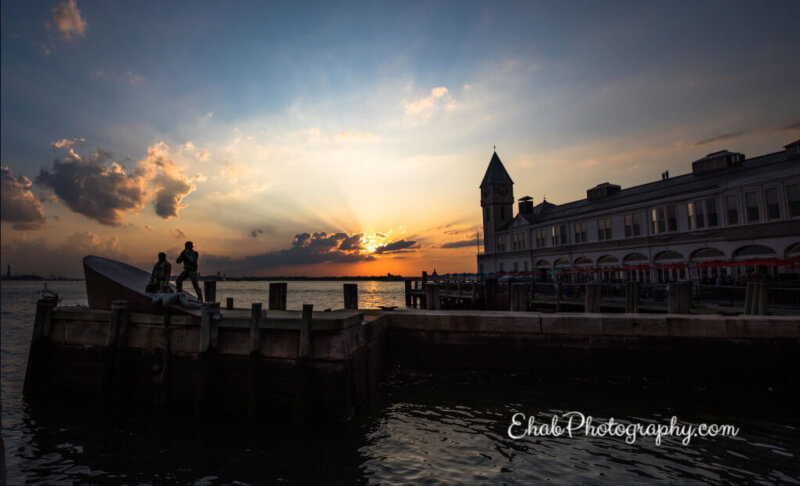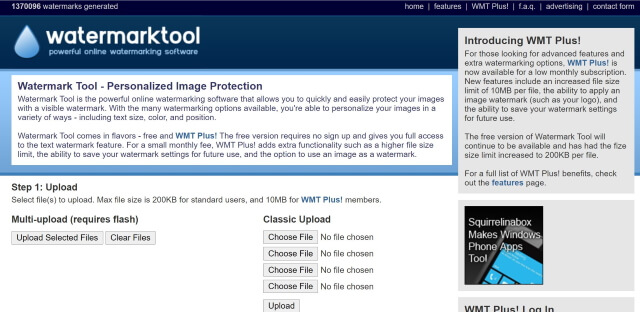 Watermark Tool is the powerful online watermarking software that allows you to quickly and easily protect your images with a visible watermark. With the many watermarking options available, you're able to personalize your images in a variety of ways – including text size, color, and position.
Watermark Tool comes in flavors – free and WMT Plus! The free version requires no sign-up and gives you full access to the text watermark feature. For a small monthly fee, WMT Plus! adds extra functionality such as a higher file size limit, the ability to save your watermark settings for future use, and the option to use an image as a watermark.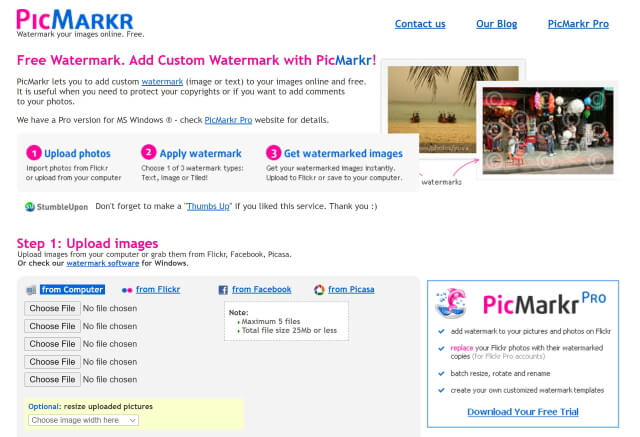 PicMarkr lets you to add custom watermark (image or text) to your images online and for free.
It is useful when you need to protect your copyrights or if you want to add comments to your photos.
PicMarker Features
Upload files from computer or grab them from your Flickr, Facebook, or Picasa account
Batch image processing
Add text watermark, image watermark, or tiled watermark
Easy to use: minimum settings, no need to download or install anything
It is free (You can buy a Pro version if you need more features)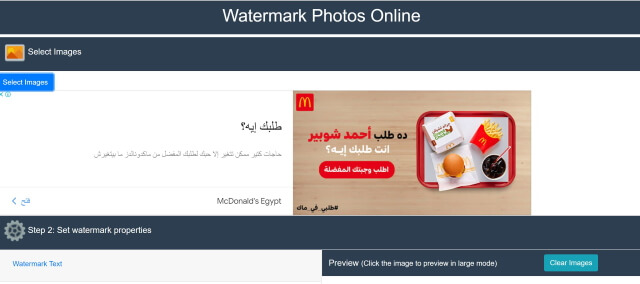 This is a unique application to batch watermark your images online. You can use this application to batch watermark your images. You can select the font, position, and other options from the menu on the left. Watermark multiple images and download them at once. Add nice-looking custom watermarks to your images.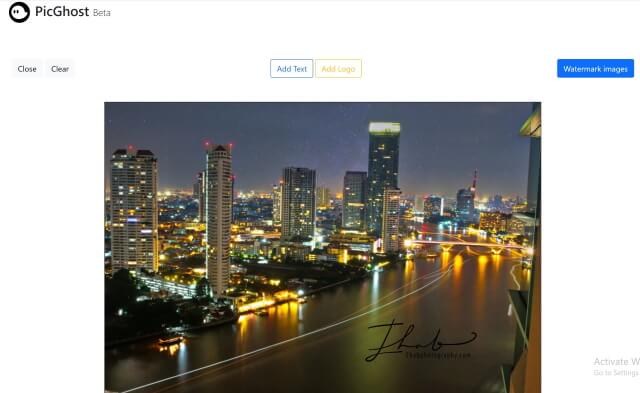 PicGhost batch image editor resizes and adds visible watermarks easily and automatically online FREE! Upload up to 20 images at once, select as many images from the opened dialog, or enter an external image URL.
Protecting your images against unauthorized use or distribution. A Sign or watermark your pictures with text or images, use logotypes or tiled watermarks and place one or many watermarks onto a single picture.
Your watermark can be anything, including text, logos, images, and even photographs. You control the font size, placement, and look of your watermarks by adjusting their fonts, position, and colors. PicGhost makes batch jobs quick and convenient.
You can download your images after editing in a zipped folder after you sign in FREE.
PicGhost features
Upload multiple images at once (max 20).
Select images to upload from your computer or website.
Apply effects on some or all of your images.
Process multiple images at the same time.
Re-size your images using very simple settings.
Protect your images by adding text and watermarks.
Preview all images after upload and before download.
Download all images at once in a zipped file.
Process images from any computer, no software needed.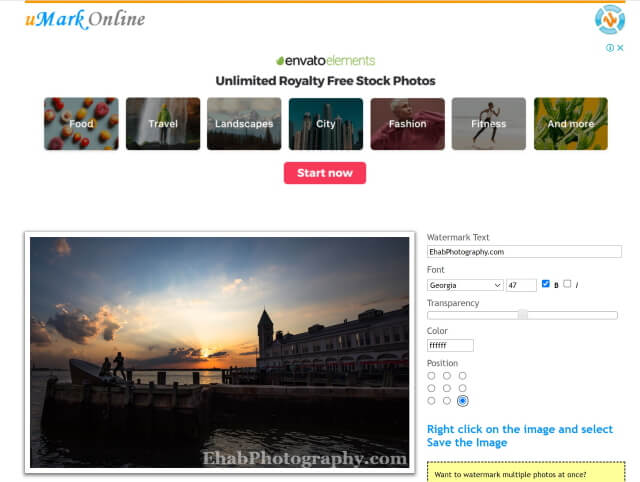 Add text watermark to photos online free without installing any software
Are you looking for Photo editing resources or editing Services?
Some photographers are struggling to learn and master editing software like Lightroom or Photoshop, they found the editing process is taking too much of their time. Therefore, assigning the editing tasks to an editing service may be the answer.
On the other hand, some others are looking for editing resources like actions, overlays, and textures to help them. For those I highly recommend paying a visit to my store, it has amazing professional photo editing tools.
Related posts
How to Get Free Stock Photos – Top Royalty Free Stock Photos
What Is Photo EXIF Data- How to Read and Edit Metadata
Thanks for reading, I hope you enjoyed the article, in case you have any questions just drop them below & I will be happy to answer you.
If you enjoy the site, don't forget to subscribe, we will only inform you when a new article is posted.