Close-up lenses are optical elements that screw into the filter thread at the front of a camera lens, sometimes they are called close-up filters, but actually, they do not filter light that is why this naming is not strictly correct. At other times you will see them referred to as supplementary lenses because they are used in addition to another lens. The close-up lens is used in macro photography and is a good option when you want to shoot macro photos and you couldn't afford an expensive macro lens.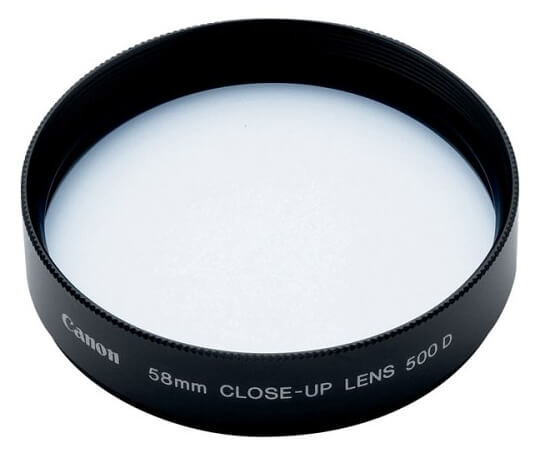 A close-up lens works by decreasing the effective focal length of whatever lens they're used on. This decrease in focal length means that the extension has to increase correspondingly — which ends up magnifying the image.
A close-up lens is usually specified in terms of "diopters," which is a measure of their magnifying power. Higher numbers yield more relative magnification on a given lens, but image quality also tends to decrease correspondingly, typical values range from +2 to +5 diopters.
The diopter power is obtained by dividing 1000 by the focal length of the close-up lens. This means that the Type 500 lens has a power of +2 diopters, while the Type 250 lenses are twice as powerful at +4 diopters.
General guidance, Type 250 is designed for camera lenses with focal lengths from 35mm to 135mm. Type 500 is more suited to lenses with focal lengths from 70mm to 300mm.

Close-up lens types
There are two designs of a close-up lens: a single element and a double element.
Single element close-up lens
Single element close-up lenses are built with one optical element. This keeps the price down and they are ideal if you're on a budget and maybe adequate for occasional use. However, the image quality isn't great. They suffer from a lack of edge sharpness and chromatic aberrations.
Double element close-up lenses
Double element close-up lenses contain two optical elements. The second element corrects the aberrations resulting from using only one element; they can produce excellent image quality across the frame and minimal chromatic aberration. The double element items are commonly identified by the letter 'D' in its designation. They are cheaper than buying a macro lens, but they can be relatively more expensive than single element close-up lenses. Canon is the only major camera manufacturer producing double element close-up lenses. The 250D (+4 diopter) and 500D (+2 diopter) are available and can be used with any camera brand provided that you choose the right size to match the filter thread on your lens.
There are four focal lengths available in the market: 240mm, 250mm, 450mm, and 500mm − that affect the magnification. They also come in different mount sizes to suit your lens filter thread. There are four filter mount sizes: 52mm, 58mm, 72mm, and 77mm.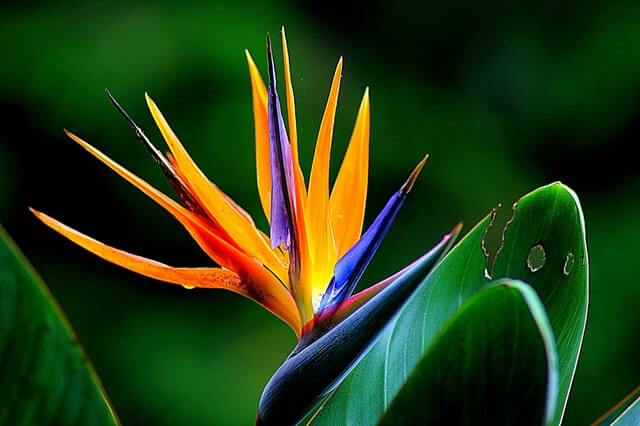 Magnification
The size of the image compared to the size of the subject is called the magnification, when fitting a close-up lens to a camera lens it increases the maximum size of the image that can be produced. For example, if the image is one-tenth of the size of the subject, the magnification is 0.1x.  If the image is one-half of the size of the subject, the magnification is 0.5x. When the image and the subject have the same size, the magnification is 1x.
The following table gives you some idea of how the magnification and the focal length changes when using a close-up lens.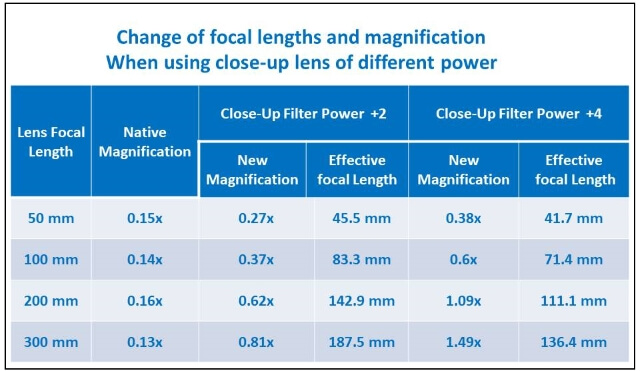 From the above table, you can note how the close-up lens increases magnification much more when used with long focal length lenses. For example, a 50 mm lens with a close-up lens of +4 diopters would achieve a magnification gain of just 0.38X, whereas a 200 mm lens with the same close-up lens would achieve a magnification of 1.09x. Conversely, a given close-up lens might be too powerful (and decrease image quality too much) when used on a 200 mm telephoto lens, but might be just right on an 80 mm lens.
PROS & CONS OF CLOSE-UP LENSES
Pros:
The close-up lens provides good magnification, especially when used with telephoto lenses.
It doesn't require removing the lens from the camera body.
Cons:
It provides a minimal magnification gain when used with focal lengths less than ~80 mm.
It Decreases the working distance for a given amount of magnification (the distance between the subject and the front of your lens)
It Places additional glass between your camera and the subject, which may decrease image quality. However, double element close-up lenses minimize most of this quality loss.
Close-up lenses are also unavailable in filter sizes greater than 77 mm.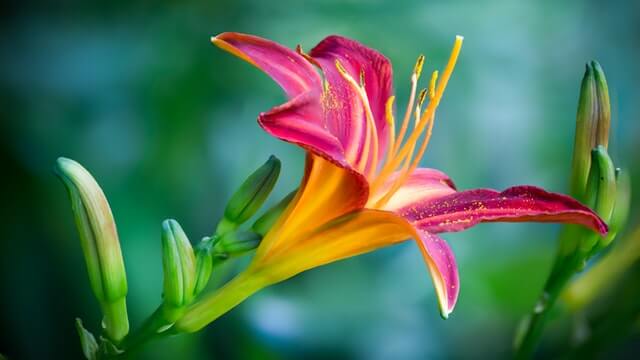 Using close-up lenses
Using a close-up lens is easy. Just screw it into the front of your lens, and your camera will take care of exposure and auto-focus. For maximum magnification, use manual focus and set the lens to its minimum focusing distance. Move the camera closer to the subject until it's in focus.
As I said earlier, close-up lenses work better with telephoto lenses than shorter focal lengths. The longer the focal length of your lens, the more magnification you will gain by attaching a close-up filter. That why Canon makes the 500D close-up lens in 72mm and 77mm sizes to match the filter threads of its telephoto lenses.
Conclusion
If you have a long telephoto zoom, you can make good use of a close-up lens and, in practical terms, it is a better option than using extension tubes, I will discuss the extension tube in another post. Also, if you have a macro lens, you can make good use of a close-up lens to bring about even larger magnifications. The best combination for this is the EF 180mm macro in combination with the Type 500D close-up lens.
My Recommended close-up lenses:
The following are links for the two series 250D and 500D, from my recommended retailer. Look for a filter that fits your lens. Check the thread size of your lens by looking for the symbol for the Greek letter phi and the numbers immediately before or after it will be the size you need (look inside the back of your lens cap). Common sizes are 52, 55, 58, 72,77mm, but depending on your individual lens it could be quite different so make sure to find the size that fits your lens before you buy any filters.
Canon 250D 52MM Close Up Lens
Canon 250D 58mm Close-up Lens
Canon 500D 52mm Close up Lens
Canon  500D 58mm Close-Up Lens
Canon 500D 72mm Close Up Lens
Canon 500D 77mm Close Up Lens
The close-up lenses are available also in kits by other manufacturers, for example: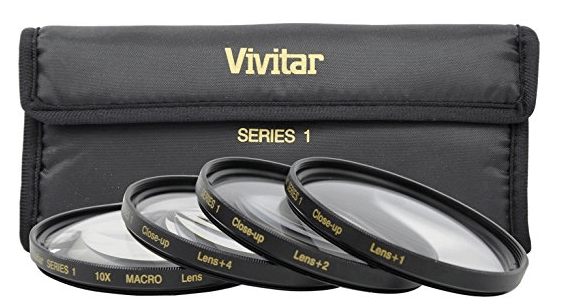 Product highlights
Includes a +1, +2, +4, and +10 close up lenses
Can be used individually or in combination, for maximum effect
Includes wallet-style carrying case
Related posts
The Macro Lenses Explained – Samples & Recommendations
Macro Photography Tips And Tricks – Guidelines & Examples
Using Of Extension Tubes In Macro Photography – Your Full Guide!
An overview of the Reverse Lens Technique for Macro photography
Thanks for reading, I hope you enjoyed the article if you have any questions just post them below & I will be happy to answer you.
If you enjoy the site, don't forget to subscribe, we will only inform you when a new article is posted.