Full-frame mirrorless cameras are definitely a hot topic right now, with nearly every major manufacturer looking to get a piece of the full-frame pie. Sony was first in the race with its A7 line which has proven to be immensely popular. While Fujifilm and Olympus are sticking to their crop sensor/medium format designs, Canon, Nikon, and Panasonic are all looking to try and steal market share from Sony. This Canon EOS R review centers around whether Canon's offering is a worthy competitor or not.
Looking Over the Canon EOS R
The Canon EOS R might be Canon's truly serious first attempt at a mirrorless camera. The M series was immensely disappointing for many mirrorless lovers, with the same 18 MP sensor as the T4i rehashed into a rather lackluster body with little lens selection and an adapter for M/EF-S that was prohibitively expensive for this price tier of the consumer. The EOS-R does still require an EOS R adapter to remain compatible with your Canon EF/EF-S lenses but for the prosumer market it's tailored to make it less of a prohibitive choice and more of a feature.
30.3 MP Full-frame sensor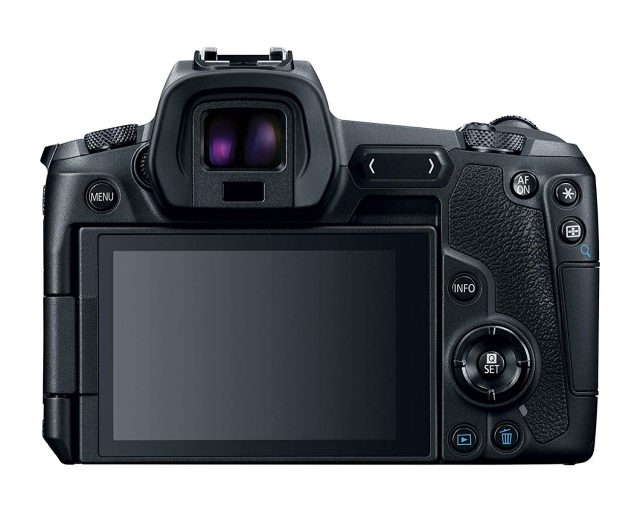 Let's be clear here; the resolution of the Canon EOS R is at a great spot. 30 megapixels is a smart decision because it ensures users that want high-resolution files and good low light performance will be happy. The 40+ megapixel sensors of the Z7, D850, and other higher-resolution full-frame sensors means the low light performance can be impacted by the relatively smaller pixels. With a pixel area of
28.69µm (vs 18.88µm2 for the Nikon Z7) the relatively large pixels of the EOS R improves low light performance without being strictly a low light shooter like the Sony A7SII.
With an astounding 5,655 autofocus points, the EOS-R creates an incredibly flexible composition experience with 100% vertical coverage and 88% horizontal. The burst rate is a very modest 8 frames per second (5 fps using continuous drive), which to be fair, isn't really a strength of full-frame cameras compared to crop sensors due to readout speeds over the larger sensor. But it does remain the slowest of all the full-frame mirrorless on the market considering the Nikon Z6 clocks in at 12 fps and Sony A7III at 10 fps.
EF-EOS R Mount Adapter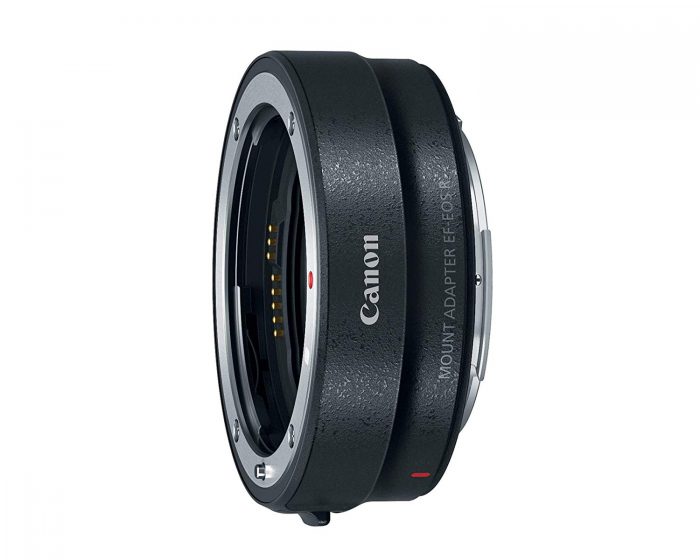 One definite plus is that despite the lack of lenses for the new mount the optional EF-EOS R adapter gives you full compatibility with Canon's huge line of EF/EF-S lenses. The EOS-R works at an acceptable 16 MP crop when paired with an APS-C EF-S lens and at full resolution with full-frame EF lenses, and can use Canon's in-lens IS systems as normal. With only 4 RF lenses currently available as of early 2019 (the RF 28-70mm f/2L, RF 35mm f/1.8 IS Macro STM, RF 50mm f/2L USM, and RF 24-105mm f/4 L IS USM) and at very high prices relative to the rest of Canon's lens design, you're going to either have a large selection of Canon EF/EF-S lenses to get you started or are willing to wait for Canon to flesh out the RF line further.
There are actually three mount adapters available, with the basic mount adapter providing EF-EOS R compatibility. The Control Ring Mount Adapter allows you to control your non-EF lenses with a mounted Control Ring that implements the same settings that you can pre-program into RF lenses. And the Drop-in Filter Mount Adapter allows you to slide in Neutral Density and Polarizing filters in between the lens and camera body rather than in front of the lens. This works especially well for lenses that have different filter diameters (and thus would normally require separate filters) or tilt-shift/ultra-wide-angle lenses, some of which can't accept filters at all.
No IBIS
One rather disappointing omission that nearly every Canon EOS R review out there is criticizing Canon for is the lack of in-body image stabilization. IBIS is immensely useful for controlling motion blur while shooting handheld in moderate to low light. Even in good lighting, high-resolution sensors can show motion blur due to the tiny pixels being more susceptible to the effect.
For their part, Canon claims that lens-based image stabilization is the best choice as the IS systems are tailored for every possible shooting situation. But with every major manufacturer offering sensor IS models at this point, including all of the full-frame mirrorless competitors to the EOS R, it's hard to justify their reasoning. The Nikon Z6/7, Sony A7III/RIII, and Panasonic S1/S1R all come with approximately 5.5 stops of stabilization regardless of lens choice. Sensor stabilization also works in tandem with lens-based IS for every other system as well. A second generation EOS R will almost certainly come with IBIS but it's a pretty big lack for the current EOS R.
Videography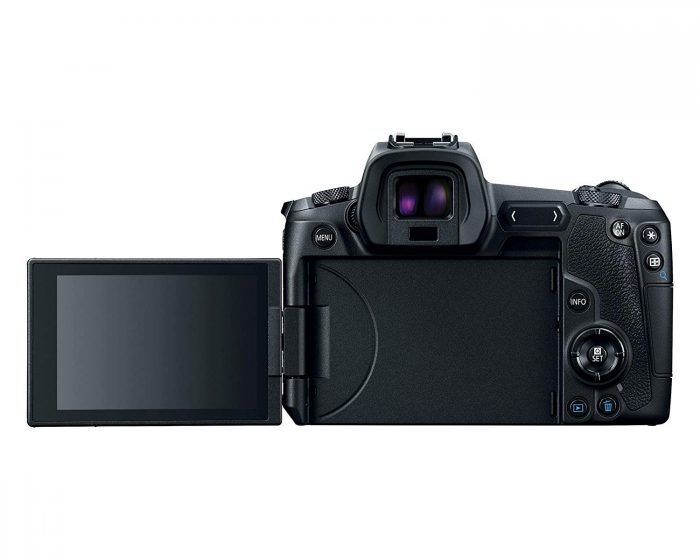 Canon is not truly a video-centric brand and the EOS R continues the trend. 4K UHD is great but comes at a 1.8x crop, giving a cropped field of view whereas its main competitors the Nikon Z6 and Z7 manage the full-frame field of view 4K. The Nikon models do use line-skipping, however, which makes the final image less sharp compared to cropped 4K. Built-in C-Log recording as well as full Dual Pixel Autofocus capacity helps take the sting out of the cropped Canon 4K as well.
Video frame rates are modest, with 4K maxing out at 30 fps and Full HD at 60 fps. If you want to shoot 120 fps slow-motion you have to go all the way down to HD (720p) resolution.
Pros:
Medium-high resolution sensor

Deep grip with rugged, weatherized body

Optional compatibility with mature EF/EF-S line of lenses
Cons:
First-generation release

Cropped 4K (1.8x) at a max of 30 fps, 120 fps slow-motion only available at HD resolution

Only 4 native RF lenses currently available; EF-EOS-R adapter relatively inexpensive but not free

Single SD card slot

No IBIS
Sample Photos
Final Thoughts
The battery life is acceptable if not impressive. At 370 shots per charge (CIPA rating) it edges out the Nikon Z7 (330 shots per charge), matches the Panasonic S1 (360), but falls flat in the face of the Sony A7III (710 shots per charge). As expected of a pro-tier camera the EOS R is weather-sealed to keep dust and moisture from making problems during a day shoot and makes it a fine companion for Canon's weatherized L-series lenses.
Canon and the rest are going to be playing catch-up to Sony for a few years. Sony's A7 line is far more mature, with most of the first release bugs having been smoothed out and various features like battery life and ergonomics improved way beyond the initial A7. On the other hand, this is Canon's first full-frame mirrorless camera and it still has a ways to go before it can match the A7III in many ways.
Overall, the EOS R is a great choice for a wide range of photography styles. The resolution is high enough to make large portrait and landscape prints but the frame rate is not nearly as speedy as one would like for sports and action photography. It's not a stellar videography camera but has something to offer the vast majority of videographers already invested in the Canon line of lenses. While not necessarily stand out in any particular way it's also hard to find true fault with Canon's first full-frame mirrorless camera. It's a great generalist shooter and any current Canon user will definitely find lots to like with the EOS-R. Though whether it's worth upgrading from a full-frame Canon DLSR like the 6D Mark II is less clear.
Bringing this Canon EOS R review to a close, we have to mention that it does lag behind Nikon's Z6/7 in a number of ways. The lack of IBIS is hard to forgive as is the 4K crop. Nikon's Z line also uses a BSI (back-sensor illuminated) sensor design that improves the sensor's low light performance by preventing the sensor wiring elements from blocking light from striking the photocathode layer. With Sony and Nikon both piling onto the full-frame BSI train it's a shame Canon hasn't decided to include it with its initial release. But this EOS R review has determined that this Canon offering remains a great first-generation release and a Mark II model may include this and much more.
My Overall Rating (Out of 10)
Build Quality: 9
Low light performance: 7.5
Screen & Viewfinder: 9.5
Handling: 7
Price/Quality ratio: 7
Thanks for reading, I hope you enjoyed the article if you have any questions just post them below & I will be happy to answer you.
If you enjoy the site, don't forget to subscribe, we will only inform you when a new article is posted.