Tilt-shift lenses are a versatile tool that isn't as intuitive as other kinds of lenses. But if you're a fan of architecture, landscapes, and product photography, knowing how to use a tilt-shift lens is an essential skill to master! They offer creative possibilities that no other lens can provide.
What is a Tilt-Shift Lens?
A tilt-shift lens has a much more complex appearance than a standard interchangeable lens. But it's fairly straightforward once you understand how the lens operates. There are two main features to master: the tilt and shift functions. By using the knobs located all around the lens barrel, you can lock, unlock, and make precise adjustments that let you adjust the image circle and plane of focus relative to the sensor.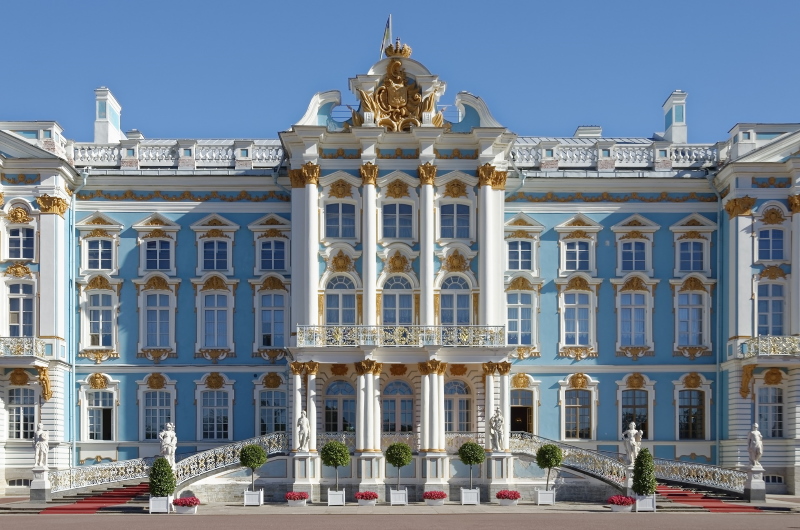 Tilt Function
The knobs marked T allow you to tilt the image focal plane relative to the sensor. With a normal camera lens, the plane of focus is always parallel to the sensor. If you have two subjects at different distances from the camera, you have two choices. You can either choose one or try stopping the lens aperture down (make the f/stop larger) enough to get them both in focus.
The tilt function also gives you a selective focus option that creates an ultra-shallow depth of field at a distance. You can create images that have two distinct out-of-focus zones for a miniaturization effect when shooting subjects. This creates a quasi-macro effect without the magnification that a real macro lens would provide.
Shift Function
Second, we have the shift function of the lens. By twisting the knobs marked S, we can adjust the lens so that it captures a slightly different framing of the scene. When you first see this in action, you might be wondering how this is possible, considering the camera doesn't move at all.
All tilt-shift lenses create a significantly larger image circle than the camera sensor normally needs. This is a major reason why these lenses tend to be both larger and more expensive; they require far larger glass elements to function than a traditional full-frame or APS-C lens.
The exact amount of extra range depends on the lens in question; for the Canon TS-E 17L, you get 12mm of distance on each side. And being a wide-angle perspective, 12mm is quite a lot of room!
Normally when shooting a wide-angle scene, you might capture it by tilting your camera upwards. This creates the illusion of a wide base and narrowing perspective towards the top of the image.
But by shifting the lens itself but keeping the camera's sensor level, you can correct for the perspective distortion that occurs when straight lines are viewed from ground level. The shift allows you to correctly capture the lines in architecture and landscape scenes without having to rely on software correction in post, which can rob you of resolution and edge details. Photoshop, Capture One, and other processing engines do a very good job of retaining detail. But for the highest quality jobs, a tilt-shift lens ensures you retain all of the original sensor data.
You can also create wide-angle panoramas using the shift function without having to move the sensor's plane of focus at all. This means that the final stitched image is going to have much less distortion evident in the lines and subjects. If you try this using a typical normal or wide lens, you're going to have more work to do in post to correct for this effect.
Also, remember that the lens can be rotated to shift both vertically and horizontally, opening up your panorama options substantially!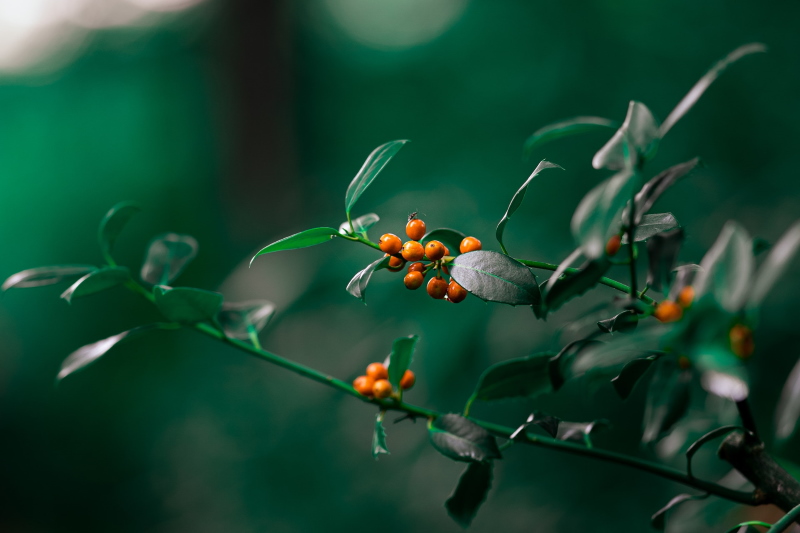 Photo by Omar Ramadan from Pexels
Uses for Tilt-Shift Lenses
So now that we understand how to use a tilt-shift lens let's discuss what applications they are most effective with.
Architecture Photography
Tilt-shift lenses are a mandatory addition to the architectural photographer's toolkit. The shift function carries a lot of use here because it allows you to keep straight lines straight without having to correct for perspective distortion in post. You might be thinking that perspective distortion correction in the post isn't a very big deal.
But remember that you're losing significant amounts of edge coverage, cropping the final image into something smaller than you actually captured. Plus, you're losing sensor detail because the software has to stretch, adjust, and then recreate the new file, which it never does perfectly. Many professional architecture job listings will specifically require a tilt-shift lens or three in the photographer's arsenal.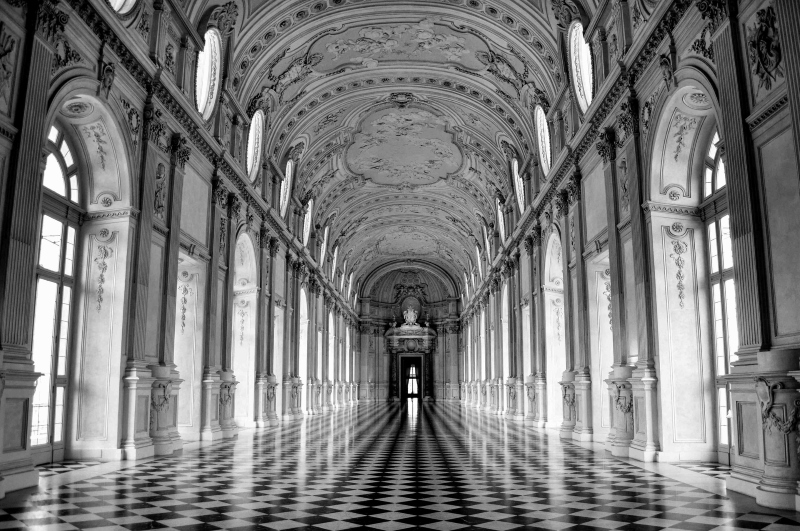 Image by loveombra from Pixabay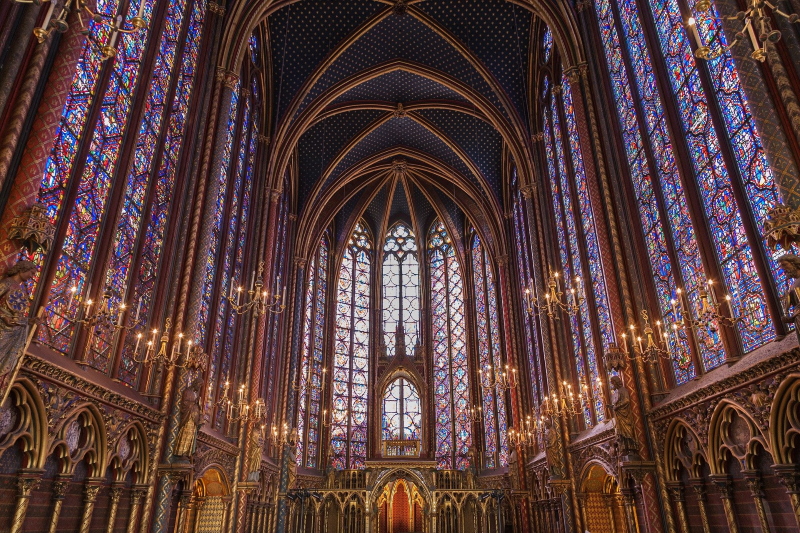 Image by ian kelsall from Pixabay
Landscape Photography
The shift function allows you to create ultra-high-resolution panoramas suitable for large format prints and other purposes. Remember that each frame you take in the panorama is using the full resolution of your camera's sensor. And since the camera's sensor isn't being moved, you preserve the perspective that you're viewing the scene with.
By selecting new focus points for each frame of the panorama you also get an effect similar to a focus-stacked image when shooting scenes that have more depth than the aperture could normally capture! If I'm shooting a photograph of a bridge that goes off into the distance, I can use a tilt-shift lens here.
My first image closest to me might be at f/8. And then I can capture a second in the middle of the bridge and a third in the far distance, all using f/8. Once I combine the three frames in the post, I'll have a single fully corrected distortion image that's razor-sharp from foreground to background!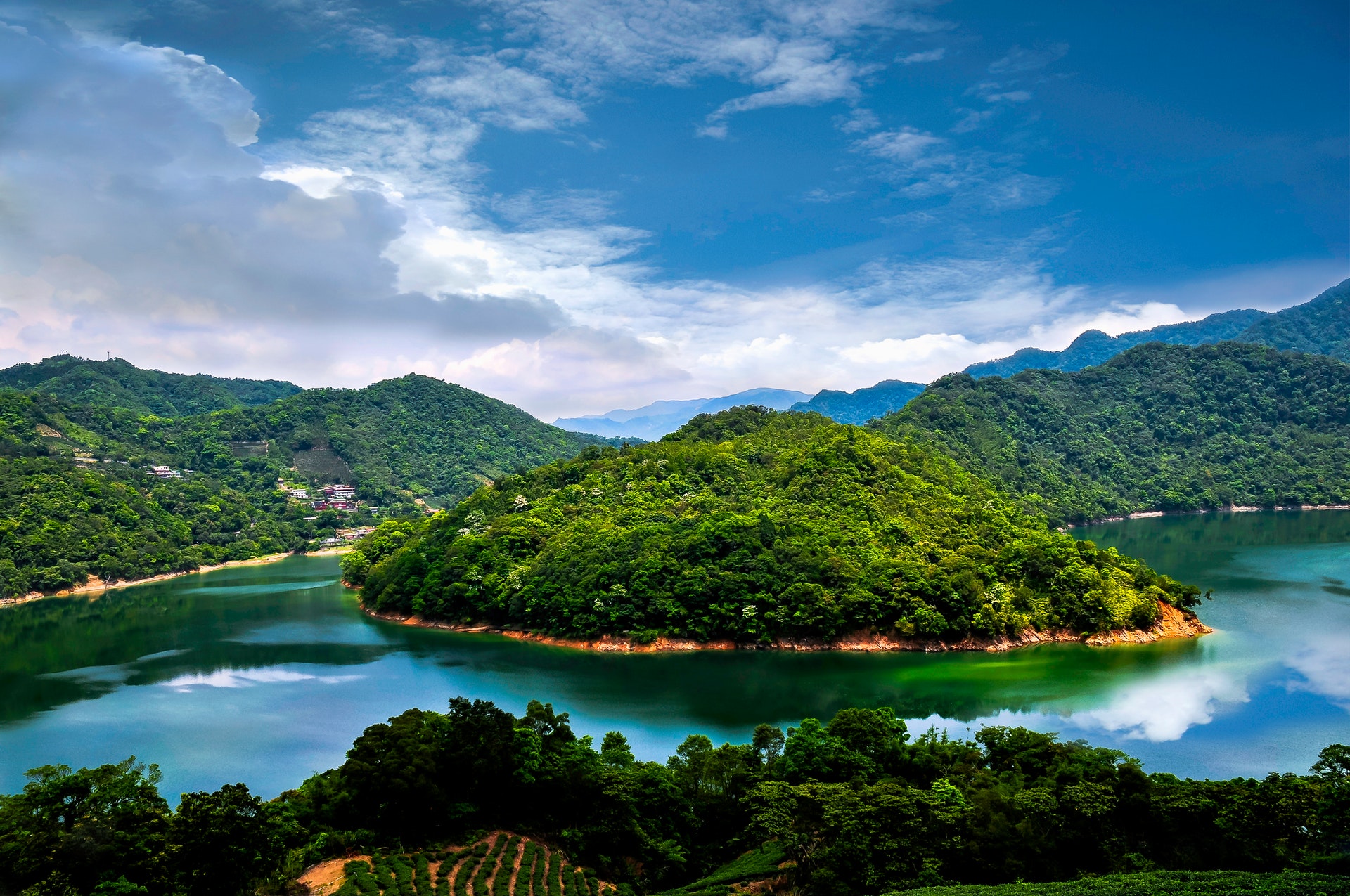 Photo by Arnie Chou from Pexels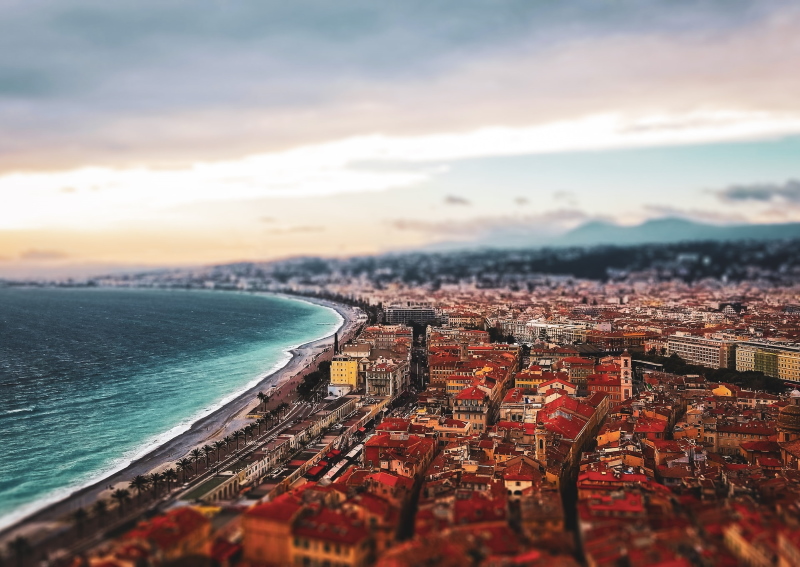 Photo by Sobolev Maksim on Unsplash
Product Photography
Tilt-shift lenses are especially useful in product photography. The tilt feature of the focal plane allows you to capture a group of items all at once in clear focus, even though they all will vary in distance from the camera.
But where tilt-shift lenses shine most strongly is in food photography! By using the selective focus of the tilt function, you can highlight portions of a dish in a semi-macro manner while still preserving the wide-angle perspective that these lenses can offer!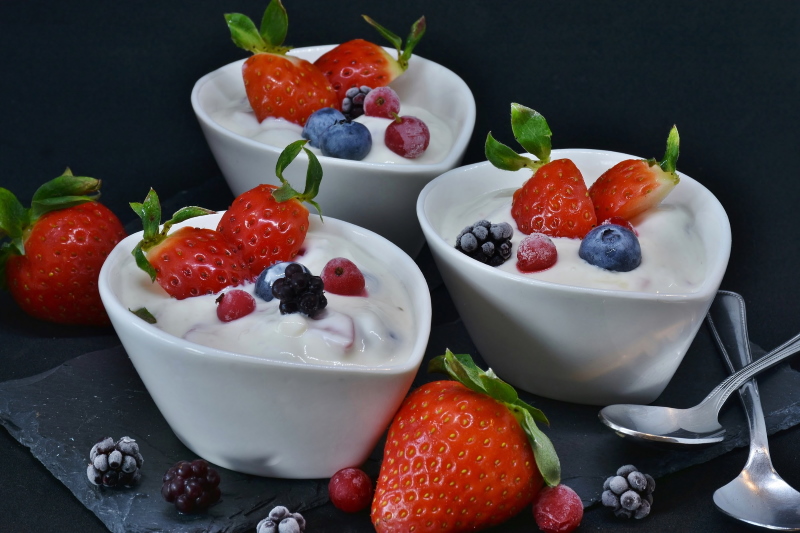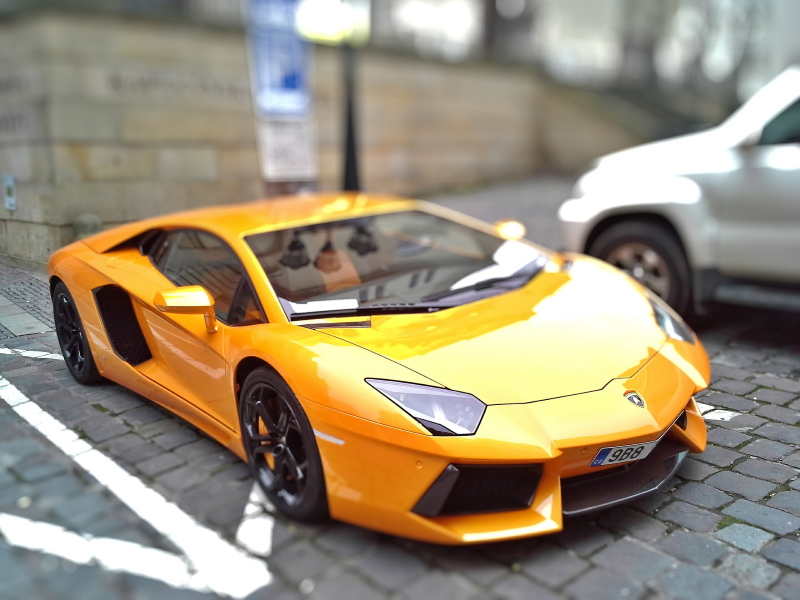 Image by Jiří Rotrekl from Pixabay
Recommended Tilt-Shift lenses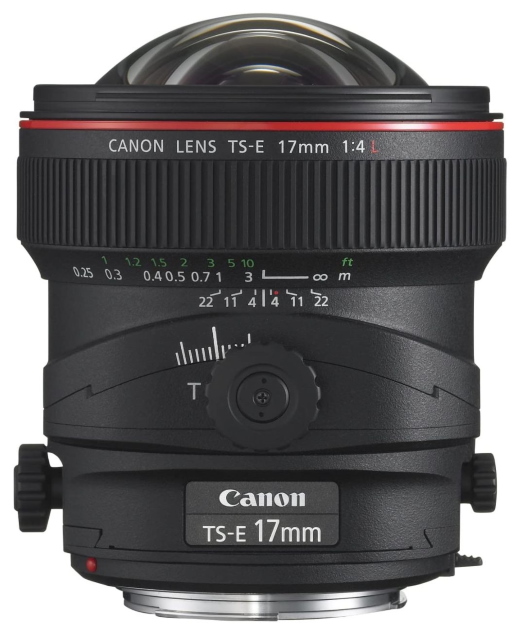 The super-wide viewing angle enabled by this 17mm lens makes it a top choice for shooting skyscrapers from nearby city streets, where you physically can't get as far back from the building as you might like. The same holds true for shooting architectural interiors, where space can be even more limited.
Product highlights
Mount: Canon EF
Tilt: +/-6.5 degrees
Shift: +/-12 degrees
Rotation: +/-90 degrees
Min focus distance: 0.25m
Max magnification ratio: 0.14x
Filter thread: None
Dimensions (W x L): 89x107mm
Weight: 820g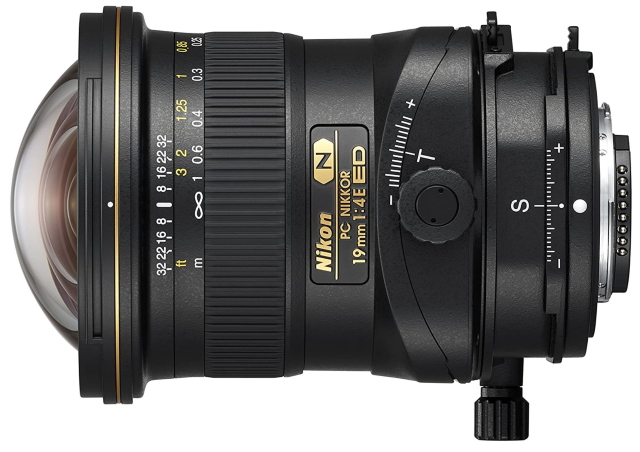 Nikon's super-wide-angle 19mm is the top lens in the Perspective Control lens line-up. It enables you to alter the axis of the tilt function relative to the shift function on the fly, without needing to send the lens away to a Nikon service center to be reconfigured. In this respect, the new PC lens is comparable to Canon's TS-E lenses.  The 19mm focal length allows you to shoot tall buildings from a close distance and is also perfect for cramped architectural interiors.
Product highlights
Mount: Nikon F (FX)
Tilt: +/-7.5 degrees
Shift: +/-12 degrees
Rotation: +/-90 degrees
Min focus distance: 0.25m
Max magnification ratio: 0.18x
Filter thread: None
Dimensions (W x L): 89x124mm
Weight: 885g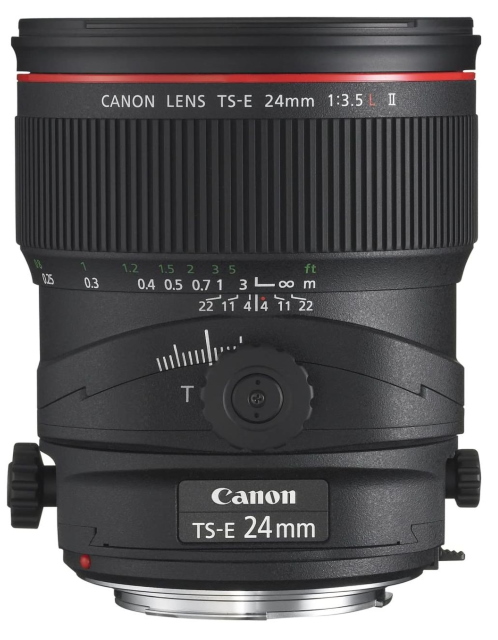 The 24mm focal length of this lens works well for most architectural photography. The viewing angle is less than in the sibling TS-E 17mm but should prove sufficient even for shooting large buildings from a close distance. The amount of shift on hand should prove ample for correcting perspective, while the tilt range is a little more generous than in the 17mm lens.
Product highlights
Mount: Canon EF
Tilt: +/-8.5 degrees
Shift: +/-12 degrees
Rotation: +/-90 degrees
Min focus distance: 0.21m
Max magnification ratio: 0.34x
Filter thread: 82mm
Dimensions (W x L): 89x107mm
Weight: 780g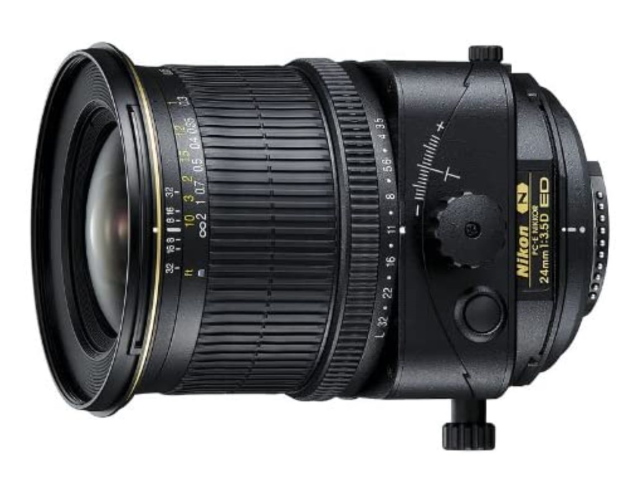 The viewing angle of a 24mm wide-angle lens is ideal for architectural photography from a natural distance, while the shift facility of this lens enables you to correct perspective and stop vertical edges from appearing to lean inwards.
Product highlights
Mount: Nikon F (FX)
Tilt : +/-8.5 degrees
Shift: +/-11.5 degrees
Rotation: +/-90 degrees
Min focus distance: 0.21m
Max magnification ratio: 0.37x
Filter thread: 77mm
Dimensions (W x L): 83x108mm
Weight: 730g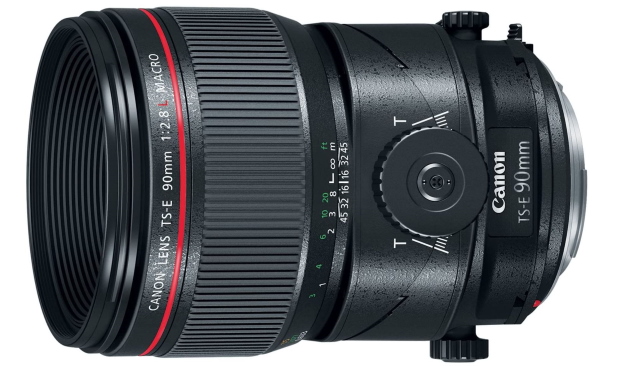 A focal length of around 90mm to 100mm is usually ideal for macro photography, as it enables a natural working distance of around 30cm between the focal plane and the subject. That distance extends to 39cm in this case, as the lens delivers a maximum magnification ratio of 0.5x instead of a full 1.0x, at its closest focus setting. Even so, that enables massive enlargements of tiny objects in close-up photography with tilt-shift enhancements capabilities.
Product highlights
Mount: Canon EF
Tilt : +/-10 degrees
Shift: +/-12 degrees
Rotation: +/-90 degrees
Min focus distance: 0.39m
Max magnification ratio: 0.5x
Filter thread: 77mm
Dimensions (W x L): 87x117mm
Weight: 915g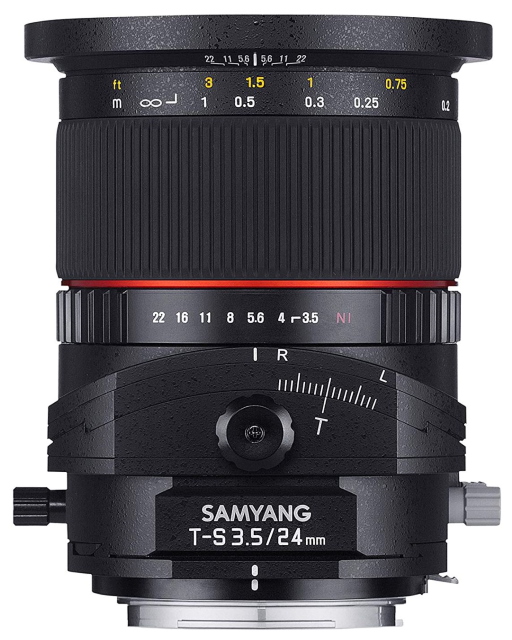 Product highlights
16 Glass elements in 11 Groups
Aperture Range: F3.5-22
Filter Size: 82mm
Minimum Focusing Distance: 7.87" (0.2m)
Maximum Diameter: 3.39" (86mm)
Maximum Tilt: +/– 8.5mm
Maximum Shift: +/– 12mm
Mount Rotation: 90° Right with 30° click stops (Tilt and & shift combined)
Tilt Rotation: 90° Left with 30 click-stops
Dimensions (W x L): 86×107-139mm
Weight: 646-749g
Conclusion
Knowing how to use a tilt-shift lens opens up a vast array of creative possibilities that are difficult to impossible to achieve with a normal lens. While these are large and expensive additions to your bag, to me, they are very worth the investment. Because they offer something that can help your photography stand out from the rest of the pack!
On Budget?
Most tilt-shift Camera Lenses can be very expensive for a lot of people. However, Keh is a great option to get a used one at a reasonable price. Read the full review here.
Related posts
What Is The Tilt Shift Lens – Your Ultimate Guide
Thanks for reading, I hope you enjoyed the article, in case you have any questions just drop them below & I will be happy to answer you.
If you enjoy the site, don't forget to subscribe, we will only inform you when a new article is posted.