Whether you're planning for a weekend trip or a vacation many months long, having a camera on hand is indispensable. You never know what kind of moments may lead to memories that you want to forever savor. Fortunately, travel cameras have become incredibly good thanks to all of the competition out there! And I've found that these are by far the best travel photography cameras for just about any kind of wanderer!
Best Travel Photography Cameras
Sony A7C
Sony Cyber-shot DSC-RX100 VII
Fujifilm X100V
Nikon D3500
Olympus OM-D E-M10 IV
Let's Talk about each camera in depth.
1) Sony A7C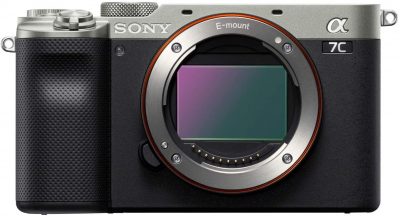 Sometimes even when we're on vacation we want the best possible image quality in case we find a moment worthy of a portfolio photo. The Sony A7C is the best travel photography camera for photographers who never want to settle. The 24 megapixel BSI (backside illuminated) sensor is on par with the sensors in the slightly larger A7 mirrorless series.
While the Sigma FP is still the smallest full-frame camera currently the A7C is a close second. It's also fully weather sealed and has image stabilization to prevent hand shake from spoiling images with slow shutter speeds. And unlike the Sigma FP the A7C uses the latest Sony autofocus algorithms, which are currently the best in the camera world.
Full-frame lenses tend to be chunky, which negates some of the advantages this tiny camera offers. However Sony and Sigma have recently come out with several smaller prime and zoom lenses specifically for the A7C and future models!
Read here about the best Sony FE lenses.
2) Sony Cyber-shot DSC-RX100 VII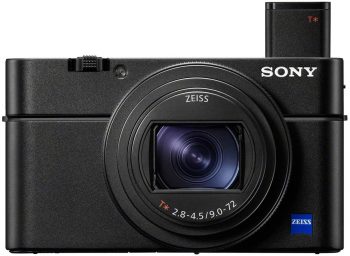 Sony describes the Cyber-shot RX100 VII as having "the power of the A9 in your pocket." They are referring to the incredible burst rate both cameras have; up to 20 frames per second with full autofocus and an astounding 90 fps single burst mode! This makes the RX100 VII perfect for travelers looking to capture rapid bursts of action, such as a dance, cars, or birds in flight.
Choosing the right lenses can also be a hassle as situations change rapidly when traveling. But the 24-200mm equivalent lens fixed to this camera means you can capture everything from moderate wide-angle to distant telephoto views. Landscapes, portraits, wildlife, action…There is little this camera can't capture.
While the sensor isn't as large as a full-frame or even a Micro 4/3rds camera, the 1″ sensor is still effective even in low light conditions, and more so than the majority of phone cameras.
3) Fujifilm X100V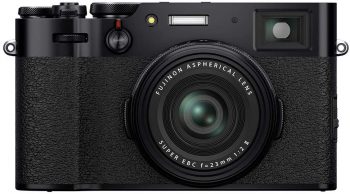 The Fujifilm X100 is in many ways the opposite of the Sony RX100 series. Rather than a zoom lens you get a fixed 35mm equivalent prime lens with a maximum f2 aperture. 35mm was the classic focal length for decades because it's versatile enough for nearly any subject.
The X100V uses Fujifilm's retro handling as well, with a combined aperture/ISO dial alongside a lens aperture ring for full manual exposure controls. The sensor is significantly larger than most compacts as well, using a BSI APS-C-sized sensor that's the exact same as the one in their professional X-T4 model.
This means full phase detection coverage across the sensor, ensuring instant subject tracking. What's more, the X100V has a hybrid viewfinder, combining the best features of a mirrorless electronic viewfinder and a DSLR optical viewfinder. The V is also the first X100 body to be fully weather sealed and includes an updated sharper lens. While it's slightly too large for a pocket but much smaller than any interchangeable lens model!
Read here about The best Fujifilm cameras & The best Fujifilm camera accessories.
4) Nikon D3500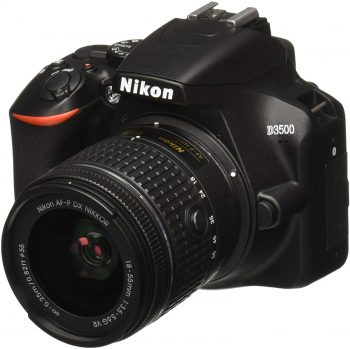 Traveling photographers who want a beginner-oriented interchangeable lens system often start with the Nikon D3xxx line. And the D3500 is the latest and most refined of this series. For a very reasonable price, you can also get the excellent 18-55mm or 18-55mm+70-300mm combination kit, ensuring every subject, both wide and distant, is within your reach.
As an entry-level DSLR, you don't have the features that other cameras may have. The autofocus system uses just 11 focus points for basic point-and-shoot compositions. But if you're looking for an inexpensive, no-frills camera that still lets you experiment with interchangeable lenses, this is the camera for you. 
In fact, the Nikon D3xxx is some of the most popular cameras in the world for this reason! The APS-C sensor provides plenty of detail in low light environments as well as a very shallow depth of field when paired with a lens with a wide maximum aperture!
5) Olympus OM-D E-M10 IV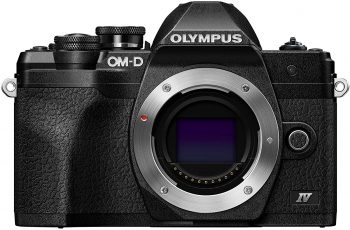 Micro 4/3rds cameras come highly rated by travel, landscape, and wildlife photographers who value both image quality and portability. The smaller sensors of these cameras allow the lenses to remain extremely compact and the OM-D E-M10 IV is no exception.
You do give up weather sealing, which the E-M5 and E-M1 lines provide. But in exchange, you get an even smaller camera that offers in-body image stabilization mated to Olympus's latest 20-megapixel sensor. It also includes a selfie and vlogger-friendly LCD that flips back to face the subject when shooting.
Videographers take note: the E-M10 IV also shoots 4K at up to 30 frames per second. And for action photography, the 20 frames per second burst rate, coupled with the 2.0x crop factor, gives this camera both reach and snappy responsiveness when capturing fast-paced scenes. 
Micro 4/3rds also has one of the most complete interchangeable lens systems around, with hundreds of first and third-party options that are both extremely sharp and very lightweight. This combination of size and affordability makes the system excellent when searching for the best travel photography cameras!
Read here about different types of camera sensors.
Can't afford a brand-new Sony Lens?

Sometimes, Lenses can be very expensive for many people. However, Keh is a great option to get a used one at a reasonable price. Read the full review here.
Up To 40% Off Regular Priced Used Photography Equipment
Thanks for reading, I hope you enjoyed the article, in case you have any questions just drop them below & I will be happy to answer you.
The featured Photo by Smarter Travel.
Related Articles
If you enjoy the site, don't forget to subscribe, we will only inform you when a new article is posted.