There are some different ways to sell your own photos online, the first way is selling digital images and prints directly from your website. The second one is selling your own photos as stock photos via a stock agency.
In this tutorial, I will explain to you how to sell your own photos on your website and via stock agencies, and I will make a list of well-known stock websites.
Photos and videos are used widely in website designs, blog articles, posters, flyers, book jackets, company reports, newsletters, and many other uses. Therefore, the demand for high-quality, stock photography is high and continuously increasing. This situation is good for photographers because they can sell their photos and generate a decent side income.
How to Sell Your Own Photos online 
You can sell your photos directly from your own website. Selling photos from your own site can be profitable once you build up a large collection, and have enough traffic to display your work.
If your website is set up on WordPress, there is a large selection of plugins and themes designed specifically for selling stock images. A plugin can be installed and set up easily, allowing you to start selling your images immediately. You can take online payments, protect your images with a password and watermark, and sell them with a variety of license options. Some plugins also offer you the option to sell photo prints through your website. You may check this page.
How to Sell Your Own Photos as Stock Photography
One of the ways for photographers to get started selling their own photos is by subscribing to a good stock photography website. You simply upload some of your photos and submit them for approval. If some of your photographs are accepted and someone spots one of your photos and wants to buy it, or at least a license to use it.  Then you will get a percentage of the sales value from the stock photography website.
Stock photography sites are significant in two ways. First, they manage the marketing and selling activities of your photos for you. Once you upload the photos, all you have to do is wait and watch your profits grow. In addition, they provide information on current trends and give you some ideas and hints on what images have a higher chance of selling.
To enhance the online visibility of your photos, leverage social media platforms, your personal website, and other digital channels to share your listings or posts. Utilizing these outlets can broaden your reach and attract potential buyers. 
Additionally, consider creating video content showcasing your photography skills and the process of capturing the best shots. This not only provides valuable insight into your creative process but also serves as a promotional tool, engaging your audience and potentially attracting more attention to your work.
When you have a strong online presence, clients will contact you. These people include those interested in customizing gifts, decors, and giveaways and love personalized wall calendars and merchandise items. Corporate clients usually order in bulk for advertising and content marketing purposes.
Of course, there are some disadvantages to selling your photos via a stock company. these sites have a huge amount of photos, which means your photos will be competing with millions of other options on the internet. Stock photo websites also have strict guidelines when selling photos online. You need to follow plenty of rules around the quality and information needed for every image. You have to pay a large commission on each sale for every image that you sell, most sites offer between 20% and 60% royalty to the photographer per sale. You do not have control over the selling price of your photo.
The easiest way to make your photographs available as stock images for sale is by using stock agencies. They do all the marketing for you and manage the selling process. The following is a list of some stock websites that you can choose from: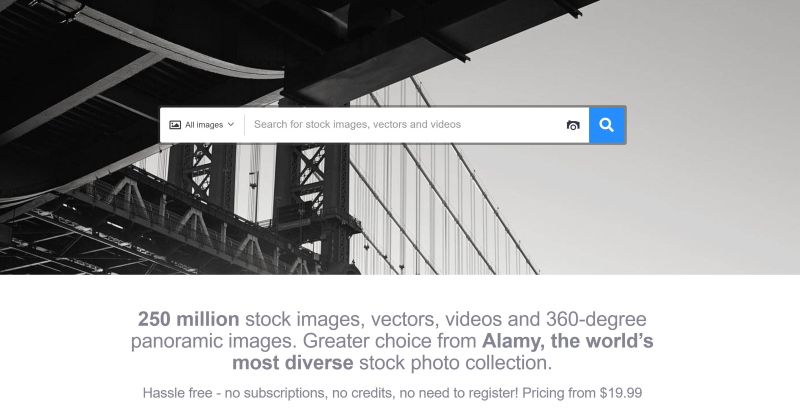 Alamy is considered the biggest stock website, it sells photos, footage, vectors, illustrations, reportage, and archival imagery to over 100,000 customers worldwide. Alamy adds over 100,000 new images every day, sourced from photographers and photo agencies in 173 countries.
The average image license fee on Alamy is $90; they deal with a variety of clients so the prices do vary in different industries and countries. Some examples of the average prices:
Advert $500
Book cover $150
Online $20
To sell your photos to Alamy, you need to sign a contract with Alamy with the following main terms:
You are responsible for the content you upload, and you must be the copyright holder or have their permission, you will caption and keyword your images
Prices are determined by Alamy
Alamy will pay you 50% of a direct sale for images Exclusive to Alamy
Alamy will pay you 40% of a direct sale for images not Exclusive to Alamy
We'll pay you every month if your balance is over $50
You can quit with just 45 day's notice
For smartphone photographers, there is an app called Stockimo, which can help them make some money and showcase their work to a global audience.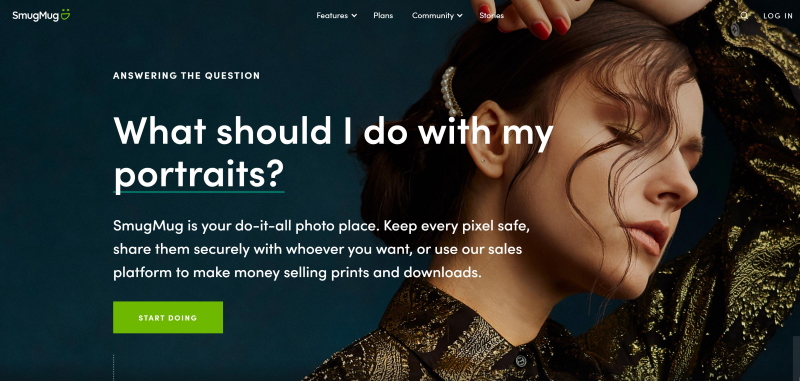 It takes only Fifteen minutes with SmugMug and you can start making money from your passion. The following are the main features of the site:
SmugMug's sales tools handle and support your selling process, from payments and orders to fulfillment and delivery. You can collect profits via EFT or Paypal.
You can easily manage all your pricing using the pricelist tool. Choose your print partner, profit margin, and the photos or gallery you'd like to sell, and you're in business.
SmugMug has also two other features besides selling your photos. The first one, you can store your photos in a secure, reliable place with no compression, and easy automatic uploading from your computer or phone. The second is showing off your photos or portfolio. They offer many website templates with Drag-and-drop customization, pass-protected galleries, and organization tools.
SmugMug has four subscription plans starting from $7/month up to $42/month. They also offer a free trial for 14 days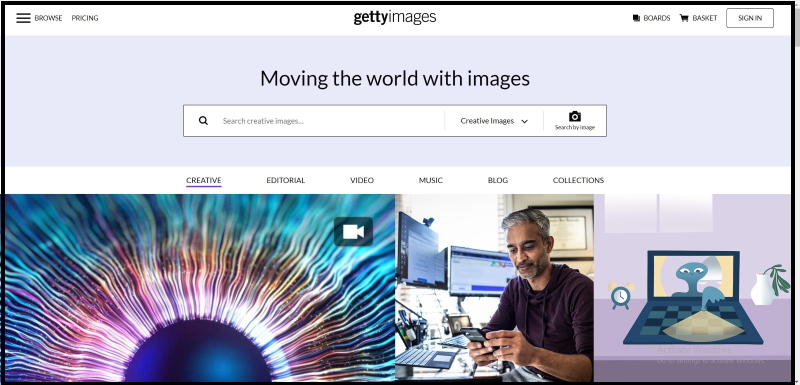 Getty Images pays around 15% of an image's sales price but promises a bigger cut if you make the pic exclusive to the site. Single images cost £50 to buy, but the type of license or subscription plan the customer buys determines how your slice is calculated.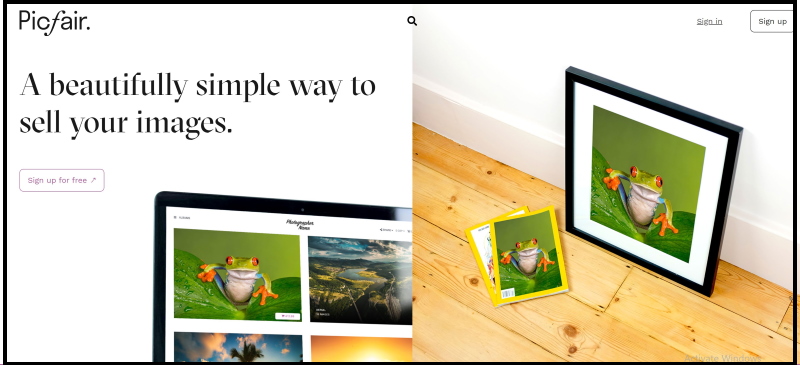 Picfair is a photo marketplace that helps amateur and professional photographers sell their work through personal online stores and a central marketplace. It was founded in 2013.
When you join Picfair you'll get your own personal, beautiful photography store to sell your images as prints and digital downloads. Every image you upload also becomes part of Picfair's central marketplace – separate from your personal store – which is used by image buyers around the world. That's two ways to sell, all managed from one simple dashboard. And all this is free. Picfair handles all logistics and licensing processes of your sails.
Picfair follows another way of selling policy; you decide how much your images sell for. Of course, you may set a lower price for your photos to get more people to buy your images. However, if you have some top-quality photos, and you think they deserve top prices, you are free to set them up. Picfair adds 20% on top for their cut, but the sales price you set is what you get if your image sells.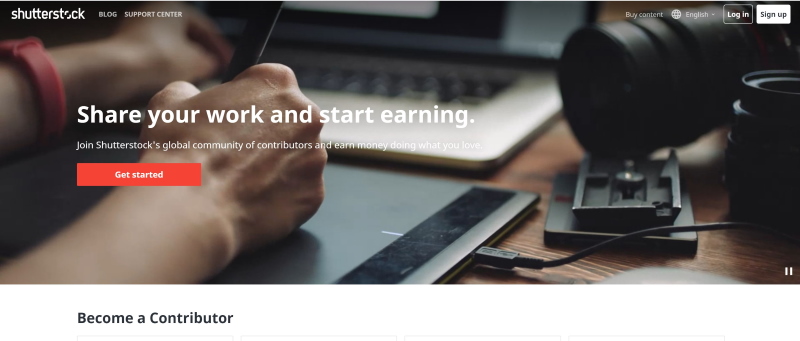 Shutterstock is one of the best-known stock image sites where you can sell your photos. Your earning depends on the license or subscription type, as well as the total amount you have earned on Shutterstock.
You will earn a percentage of the price Shutterstock receives for licensing their images, ranging from 15% up to 40% across 6 levels. As a contributor, you graduate through the levels based on your download count in a calendar year.
500px is a global online photo-sharing platform that is a subsidiary of Visual China Group. It was founded on October 31, 2009. 500px continues to pay the highest rate in the industry back to photographers, so selling even a single print can earn up to $130 in revenue for a photographer. There are thousands of photos sold monthly through 500px, 500px Art, and 500px Prime, our newest marketplace that offers unique premium royalty-free photos. 500px only stores high-resolution images for licensing, and you cannot upload RAW files.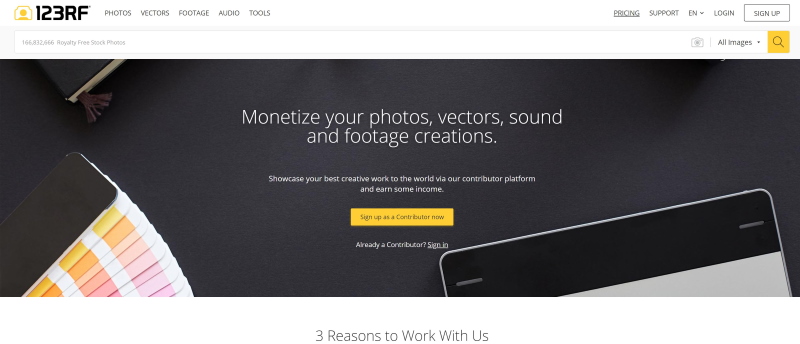 123RF is a stock content agency founded in 2005 that sells royalty-free images. In the past few years, 123RF expanded its portfolio to serve the growing market of the web-based content industry. Earn between 30% – 60% commissions from each license sold. Over 5 million ready buyers are waiting to license your portfolio. You are free to upload content to other platforms too; you will always be the copyright owner of your own creations.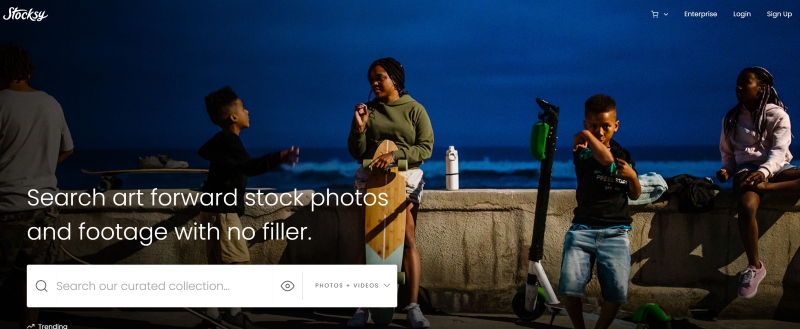 Stocksy United, also referred to as Stocksy or Stocksy United Photography is a Victoria, British Columbia-based platform cooperative that accepts and provides royalty-free stock photography and stock video. Stocksy uses a curated editing approach to select useful and authentic photos.
Stocksy's content is 100% exclusive. They have some technical requirements for the photos: Jpeg format with a minimum file size of 6 megapixels, and without any logos or trademarks.

Depositphotos is a royalty-free content marketplace with headquarters in New York, USA. You need to upload a few of your best files for examination before accepting them as a contribution. Then you'll be able to upload your files to the site for sale.
The number of Contributor's files sold on our website determines your Level. The more sales you have, the higher your Contributor's Level. (There are five levels). If a photo or vector image is purchased, your royalty rate depends solely upon your Contributor's Level, and it is ranging from 30% to 38%.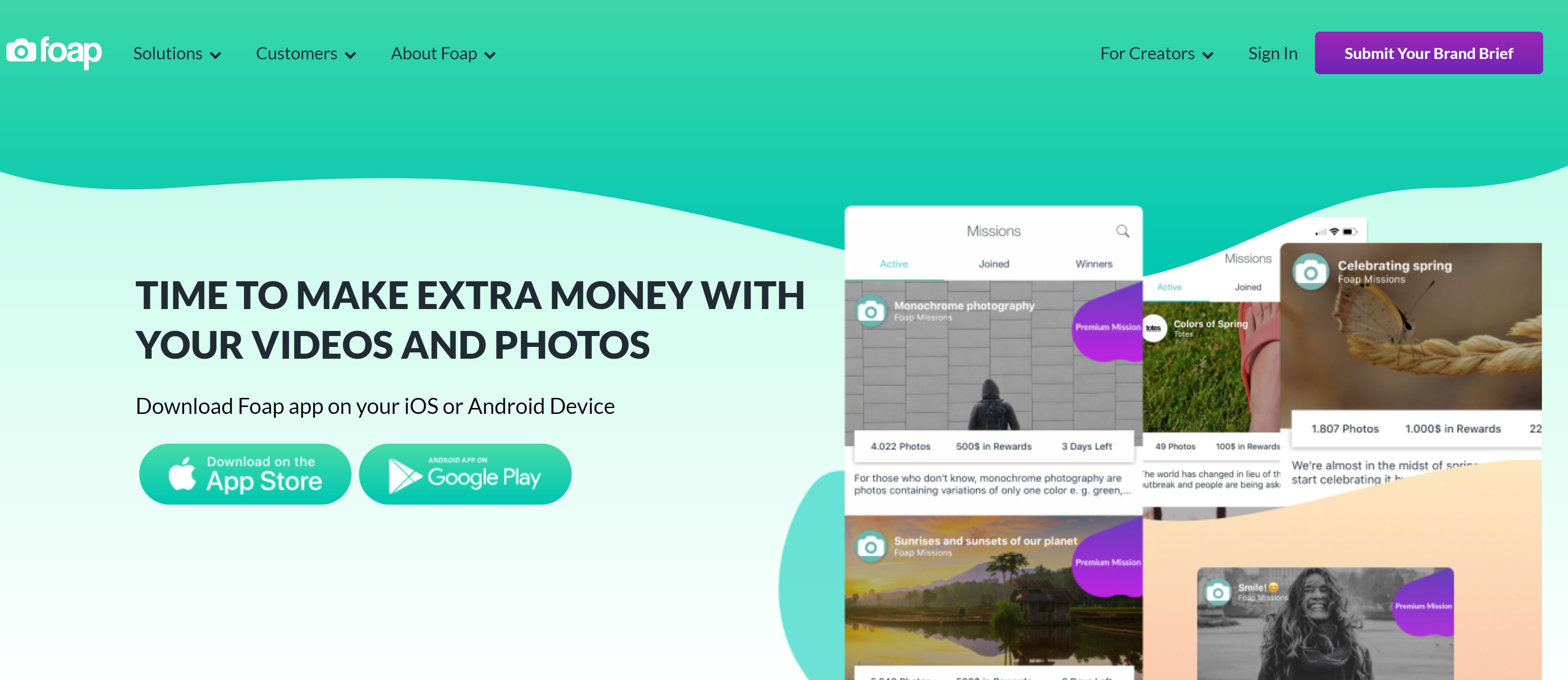 Foap is designed for smartphone photographers, with everything handled through the app (free on Android and App Store). Foap sells photos for around £8 and splits it 50/50 after reductions of any taxes and dues.
They also run monthly Missions, where you can submit photos on a theme to be in with a chance of winning extra money.
Quick Tips for using the stock website
Read carefully the terms and conditions before selling photos to stock image sites. Check how much and when you'll be paid, and in what currency for your photo. Also, find out what happens to your photos if you want to cancel your account later on.
Sign up for contributor newsletters for insights into what pictures are in demand.
Upload quality images to multiple stock photo sites. In addition, use relevant keywords and tags when uploading photos to stock image sites as this will help more people find them.
When you have people in your photos, remember to sign a model release form, your stock website has template forms to use.
Related posts
How To Get Free Stock Photos – Top Royalty Free Stock Photos
Best Photo Hosting Sites – 15 Websites Listed!
Thanks for reading, I hope you enjoyed the article, in case you have any questions just drop them below & I will be happy to answer you.
The feature Photo by Paul IJsendoorn from Pexels
If you enjoy the site, don't forget to subscribe, we will only inform you when a new article is posted.