Nowadays, learning photography has never been easier. Thanks to today's fast and unlimited access to online education, newbie photographers can learn the craft, and professional photographers can take their skills to a much higher level, they only need a computer and access to the internet.
I've rounded up some of the best online photography courses that will teach you everything you need to know—from image composition and camera settings to lighting and photo editing techniques, and camera & lenses recommendation and reviews. No matter how your skill level is, you will find your needs. The list is divided into five categories:
Learning Resources for Beginners
Manufacturers Learning Websites
Photography Classes & Courses
Self-Learning Photography websites
Useful photography tools
Learning Resources For Beginners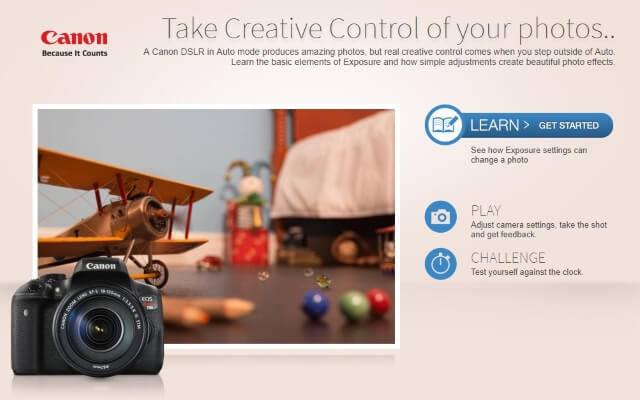 Learn the basic elements of Exposure and how simple adjustments create beautiful photo effects.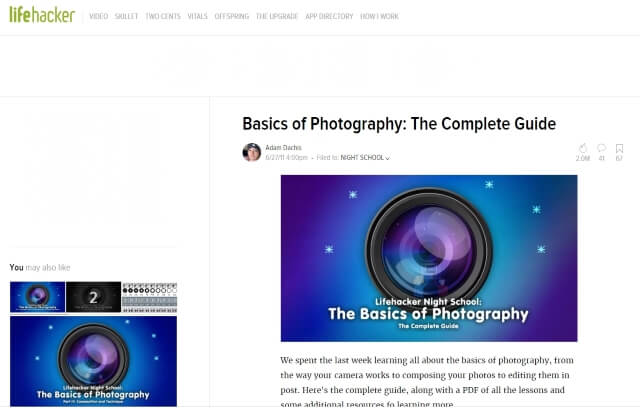 A comprehensive resource for beginning photographers. It Starts by explaining how a digital camera works and goes on to explain image composition, technique, and editing. Mostly in text format, interspersed with a few explanatory videos.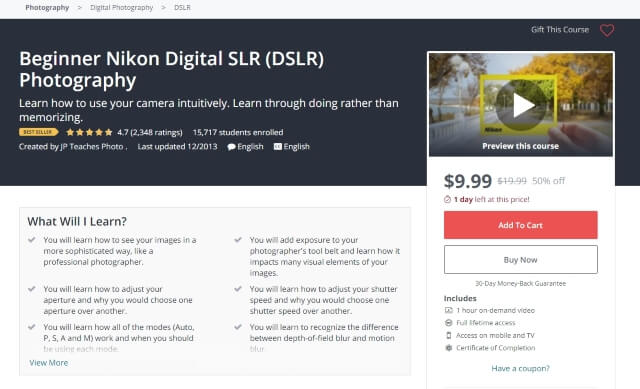 This highly-rated course teaches you how to use all the buttons and dials on your camera (e.g. exposure, aperture, shutter speed, and the mode dial) by doing rather than memorizing.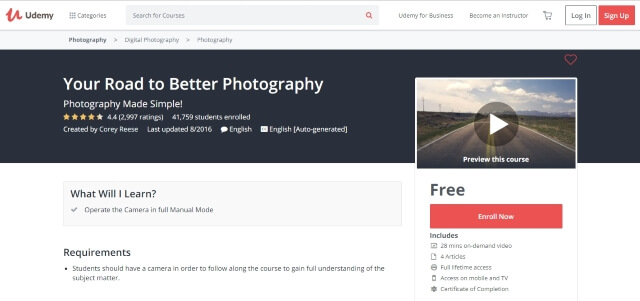 This Udemy course aims to make photography "simple" with 10 lectures and a total of 31 minutes of instructional videos. Celebrity photographer and cinematographer Corey Reese provides in-depth information about shooting in natural light and understanding manual camera settings (like aperture and shutter speed) for a wide range of photography applications.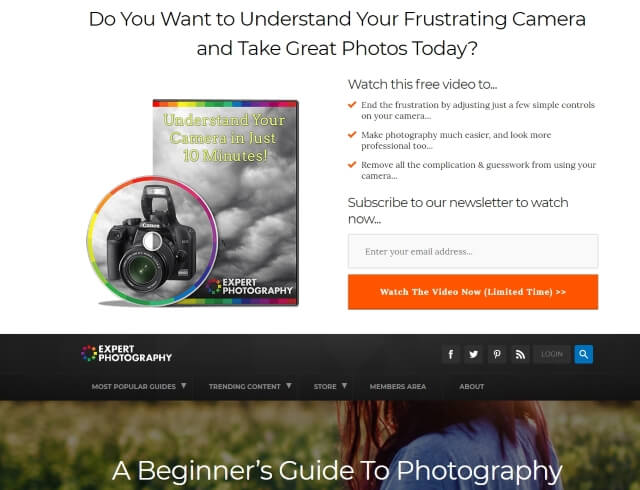 Manufacturers Learning Websites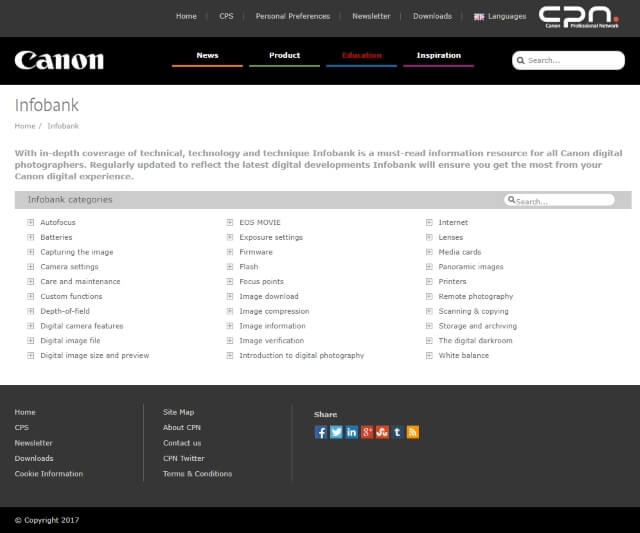 Canon Infobank is a must-read information resource for all Canon digital photographers. Regularly updated to reflect the latest digital developments Infobank will ensure you get the most from your Canon digital experience. It has in-depth coverage of most technical, technology and technique of digital cameras, lenses, and accessories.
The site offers technical advice and tutorials for Canon users.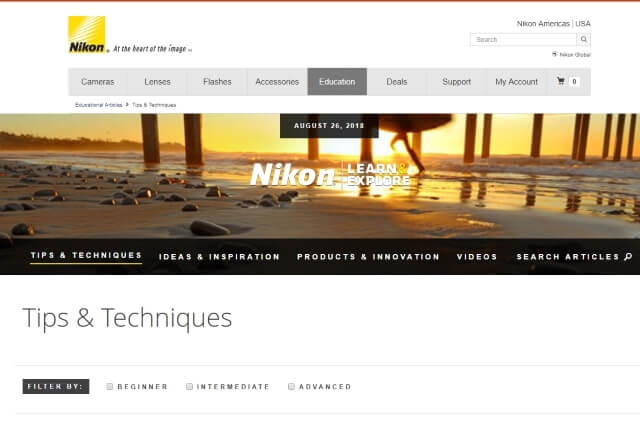 This is the official site of Nikon, it contains many learning resources and it is suitable for both beginner and professional photographers.
photography Classes & Courses
There are some premium online photography classes & Courses from internationally renowned professional photographers, the following is a list of some interesting sites: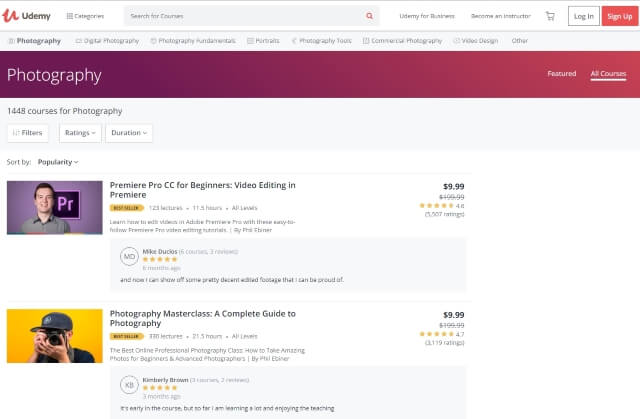 Udemy is a global marketplace for learning and teaching online where students are mastering new skills and achieving their goals by learning from an extensive library of over 80,000 courses taught by expert instructors. You can join millions of students and instructors in the world's largest online learning marketplace. The site has a special category for photography that includes more than 1500 courses. Although the site courses are not free, still you can also find some free courses like: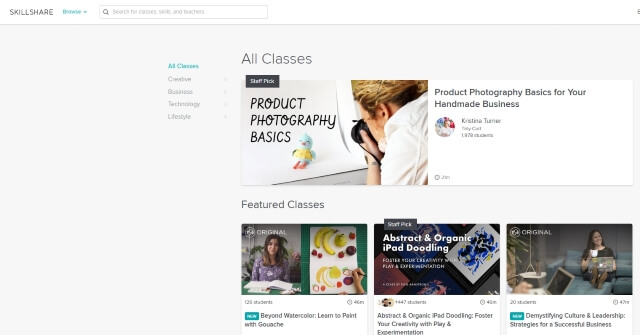 Skillshare is an online learning community with thousands of classes in design, business, tech, and more. Anyone can join the millions of members in our community to learn cutting-edge skills, network with peers and discover new opportunities.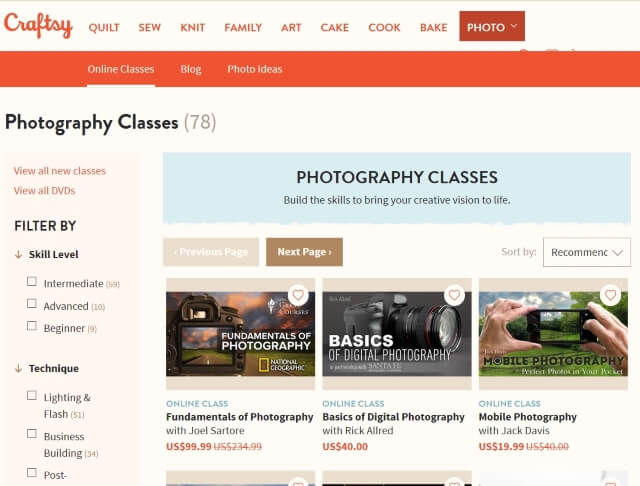 Whether you're a crafting newbie or a seasoned professional, come and make yourself at home. Try a class, start a new project or just look around if you're curious. Either way, we're pretty sure you'll find a friend.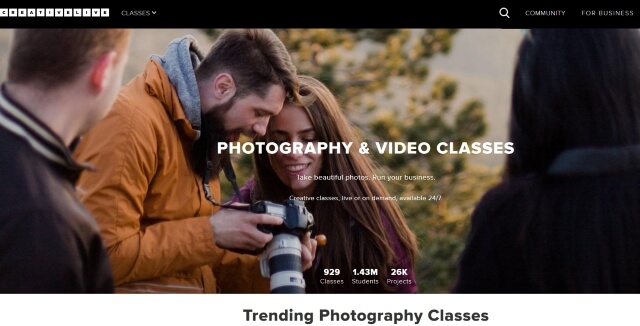 Whether you want to be a photographer or just love taking pictures, learn what you need with our in-depth courses in photography: how to shoot photos that tell a story, choose the right gear, create a photo book, and more. Get tips on photo editing, studio photography, and lighting, too.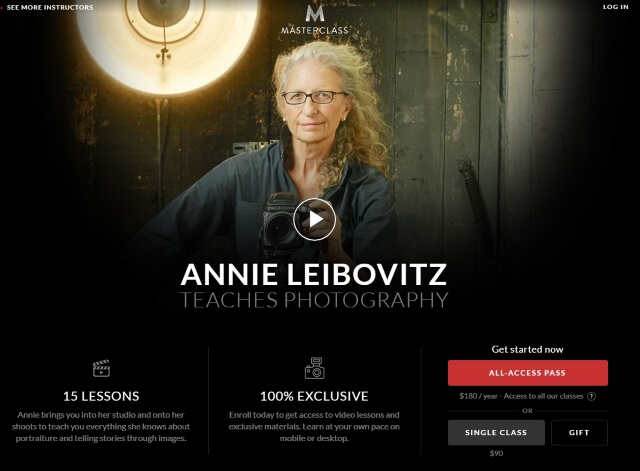 Annie was the first woman to be named chief photographer at Rolling Stone and the last person to take a portrait of John Lennon. In her first online class, Annie shows us that what makes a picture stunning isn't the gear or technology—it's the story. Annie teaches you her philosophy on photography—how to develop concepts, work with subjects, shoot with natural light, and bring images to life in post-production.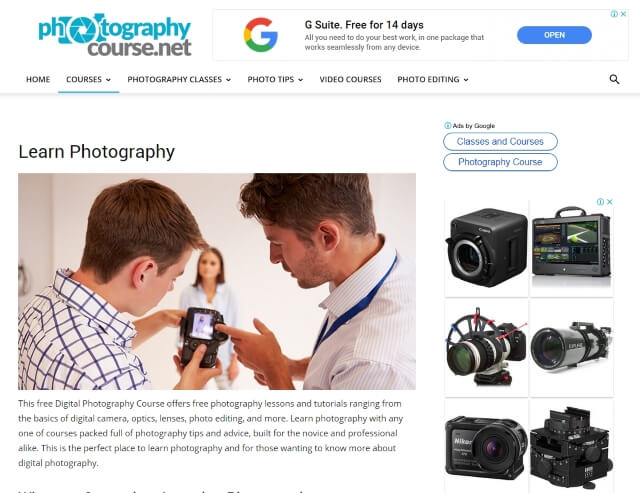 This free Digital Photography Course offers free photography lessons and tutorials ranging from the basics of the digital camera, optics, lenses, photo editing, and more. Learn photography with anyone of courses packed full of photography tips and advice, built for the novice and professional alike. This is the perfect place to learn photography and for those wanting to know more about digital photography.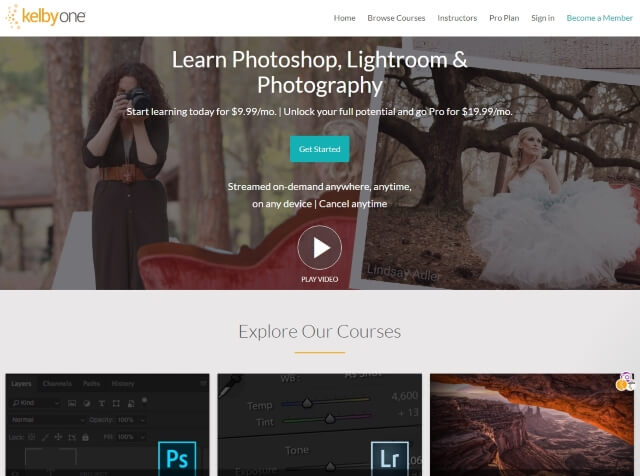 Kelby has long been an educator and author about Photoshop. This website is a sister site to his membership site but offers plenty of great tips and tutorials about post-processing, lighting and making great images.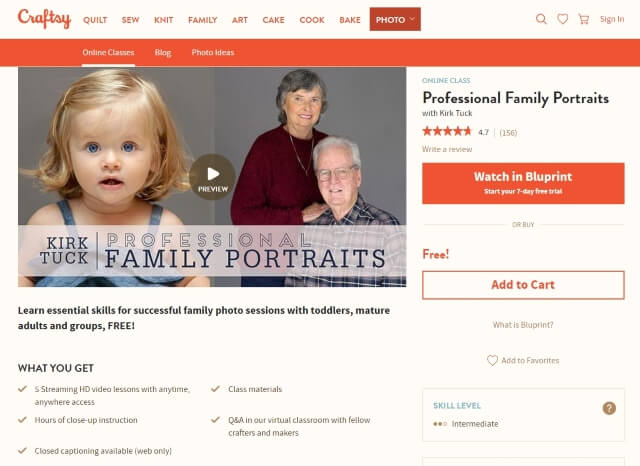 The course offers advanced yet very doable strategies for taking flattering portraits as well as tips on how you can make your subjects (young and old) behave in front of the camera. However, you'll need to have a pretty good understanding of how cameras work in order to understand other lessons on image composition, exposure techniques, lighting equipment, and post-processing. The goal is for you to have a very good idea of how you can execute a pictorial—whether indoor or outdoor—for an entire family.
Self Learning Photography websites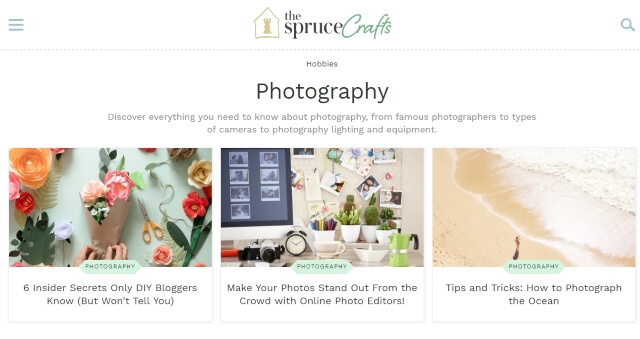 Discover everything you need to know about photography, from famous photographers to types of cameras to photography lighting and equipment.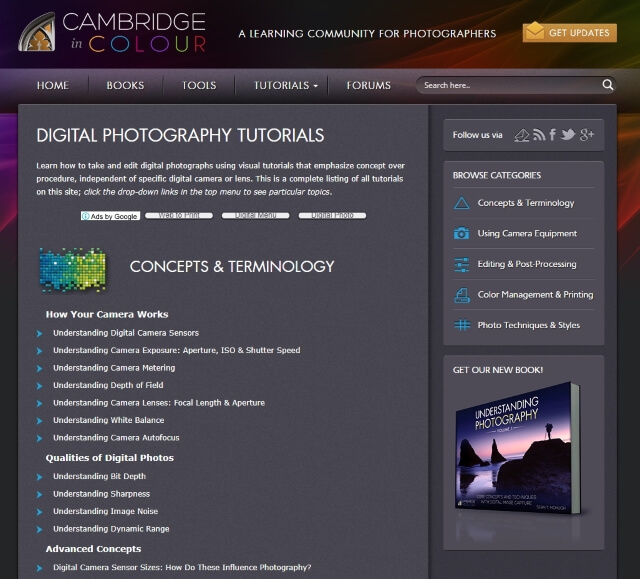 Cambridge in Color is an online learning environment where photographers can come to improve their skills. Since its founding in 2005, it has grown substantially both in content and in the number of visitors it attracts. On any given day, over 20,000 different people are learning about photography and contributing to the forums community. Thank you to all those who have helped spread the word.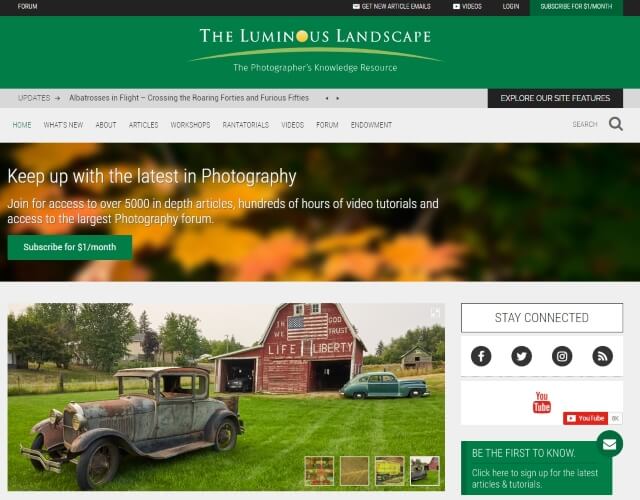 It is one of the oldest and most prestigious photography websites around. It is a website with a comprehensive series of technical articles.

The site is suitable for new and advanced photographers. If you want to improve your photography skills and learn new cool tricks about shooting, processing and getting inspired.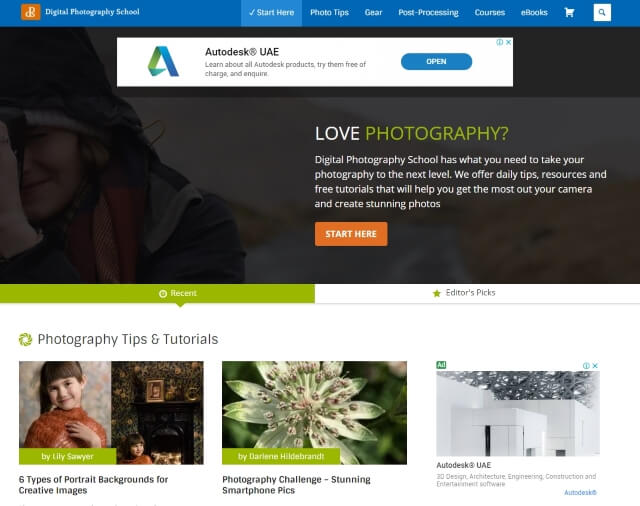 It is a very comprehensive photography resource. There are Lots of inspirational and informative articles.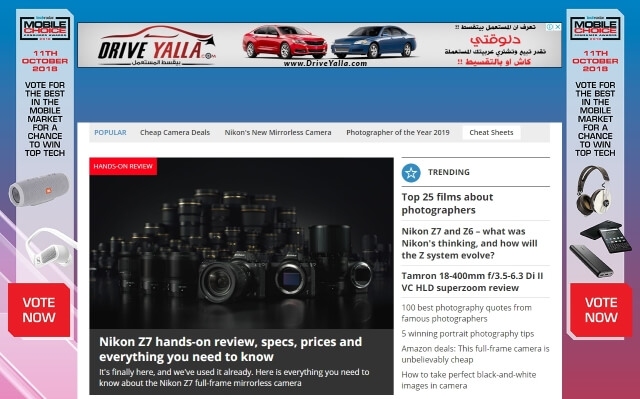 Digital Camera World is the world's fastest-growing photography website, covering every aspect of image-making, from DSLRs and photo editing to mobile photography and drones. Through informative tutorials, no-nonsense reviews, and in-depth buying guides, DCW helps photographers find the best gear and shows them how to use it. Full disclosure: it's one of our sister titles, also made by Future Publishing.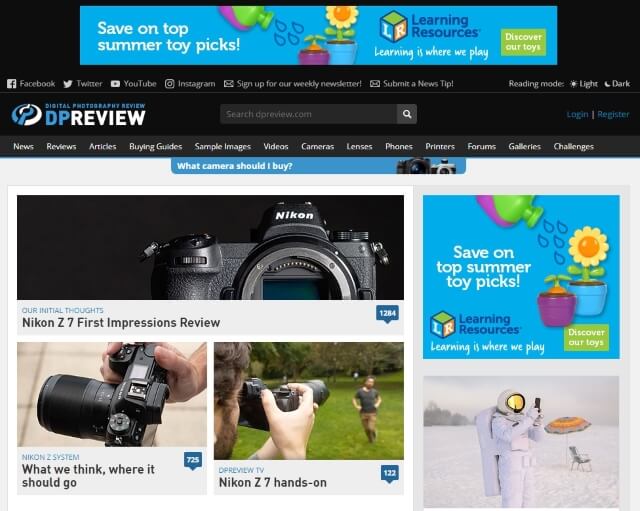 Comprehensive reviews on just about every new piece of digital photography equipment released over the last few years. The first stop for anyone interested in purchasing new gear or understanding more about the features of what they already own.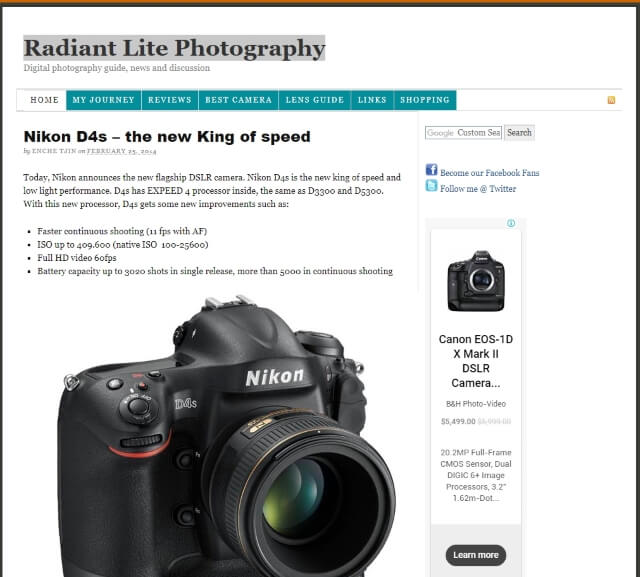 Cameras, lenses, and equipment reviews.
Started in 2006 as a place for gear-lusting photographers, DIY Photography is a great place to pick up expert advice and read about the latest kit. Again written by photographers for photographers, it's heavy on the tutorials with hundreds of useful how-to articles online, plus a whole load of DIY articles that'll help you build your own gear rather than splashing out on an expensive kit.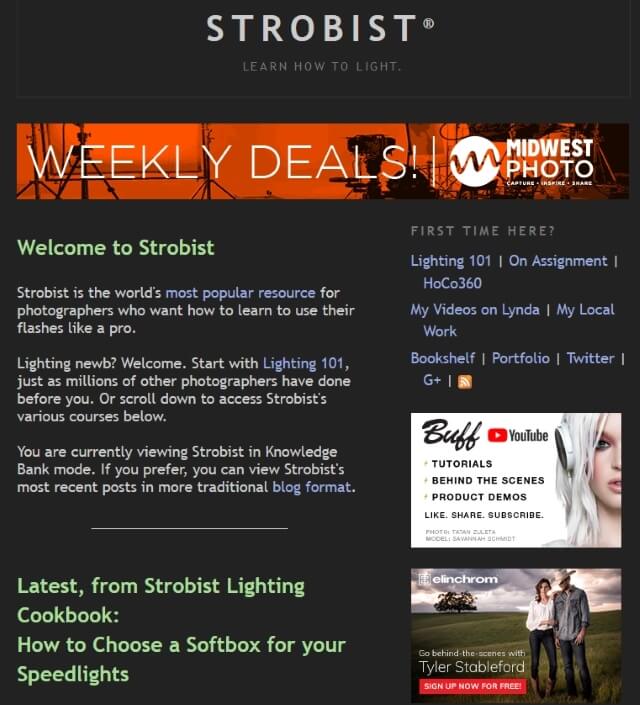 Strobist is the world's most popular resource for photographers who want how to learn to use their flashes like a pro.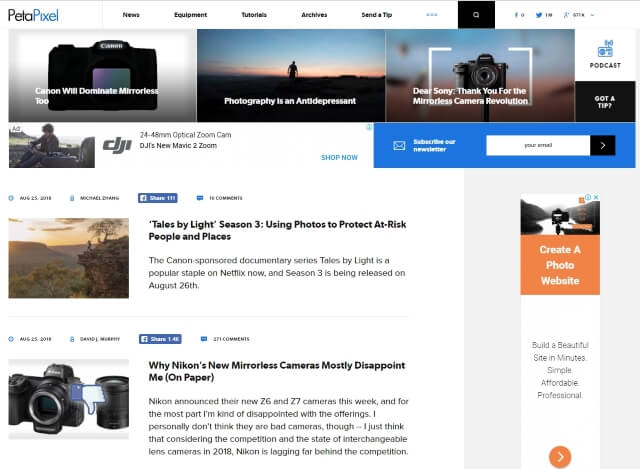 PetaPixel is a website offering tutorials, news and kit. The tutorials are imaginative and practical, offering videos and screen grabs to guide you through each step. Equipment covers the new camera, lens, and other photography kit announcements, but doesn't include reviews (you'll need to look elsewhere for those). The news covers all sorts of interesting developments in the photography world – both hilarious and informative.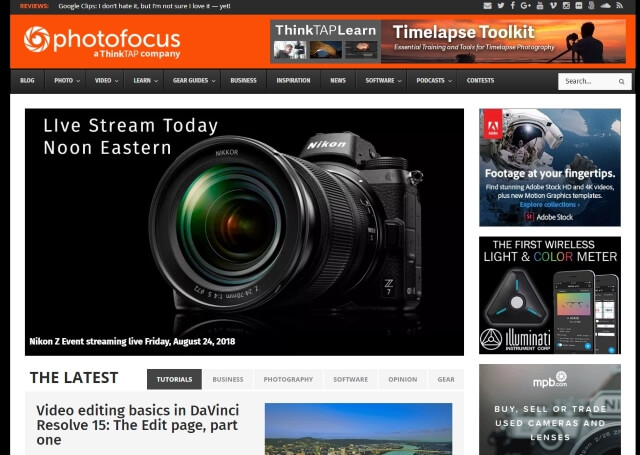 This site has some of the best tutorials and tips available free of charge. The site is structured into wonderful learning centers and has a very intuitive look and feel to it.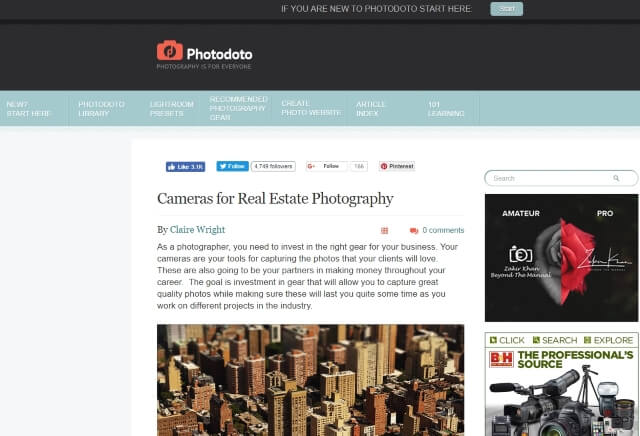 Features guest bloggers writing about tutorials, gear, marketing for photographers and smart-phone photography.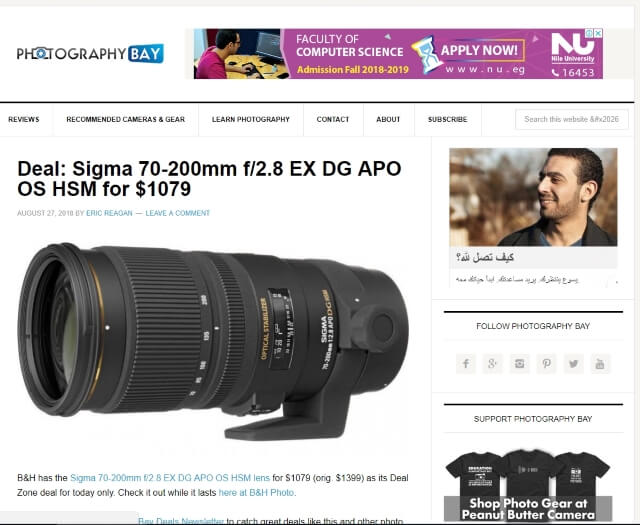 This site is very geared intensive with the latest news and some reviews. Features good educational material but the main focus of the site is on the latest and greatest in digital photography gear.
Useful photography tools

Find the perfect lens to capture what you love with your EOS camera. Our lens selector recommends and lets you compare Canon lenses that best match your interest, including macro, portrait, landscape, action or everyday photography. The recommended lenses will be from the whole range and will appear in order of relevance and budget.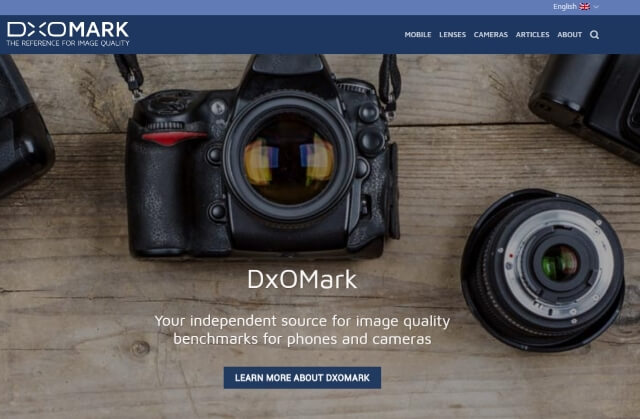 The DxOMark is a very good site that provides camera and lenses evaluation and reviews. You can simply compare different types of lenses and camera bodies with respect to their performances. Established in 2008, DxOMark is an independent benchmark that scientifically assesses image quality of smartphones, lenses, and cameras. The result of a rigorous scientific protocol using industry-grade lab tools, the DxOMark score sums up our assessment of a devices' photo and video quality. The higher the score, the better the image quality is.
DxOMark tests camera sensor, lens, and mobile device in a dedicated camera testing lab that is equipped with test targets, lighting systems, light-boxes, light-meters, telemeters, spectrometers, and other specialized equipment. DxOMark has carefully designed all test protocols to be bias-free and to ensure repeatability of measurements. Below you can find brief summaries of DxOMark camera sensor, and lens test protocols.
Conclusion
Although I have tried hard to make a full list of online courses and useful photography websites, I feel that there are more and more resources to cover. My final conclusion is that it all depends on your continuous desire to learn and excel in photography.
Related Posts
YouTube Photography Tutorials- Improve your Photography Skills
Best Photography EBooks – Top 10 To Inspire Your Photograph
Thanks for reading, I hope you enjoyed the article if you have any questions just post them below & I will be happy to answer you.
If you enjoy the site, don't forget to subscribe, we will only inform you when a new article is posted.