There are many options available to anyone with a camera, and you need to try some of them before you settle on the best photo editing for your purposes. Remember to look at a tool that can easily import pictures from your cameras. Whether you are a power user aiming to batch-process a thousand photos or a neophyte looking to do the basic editing functions there's a tool on this list that will do exactly what you need.
Online Photo Editors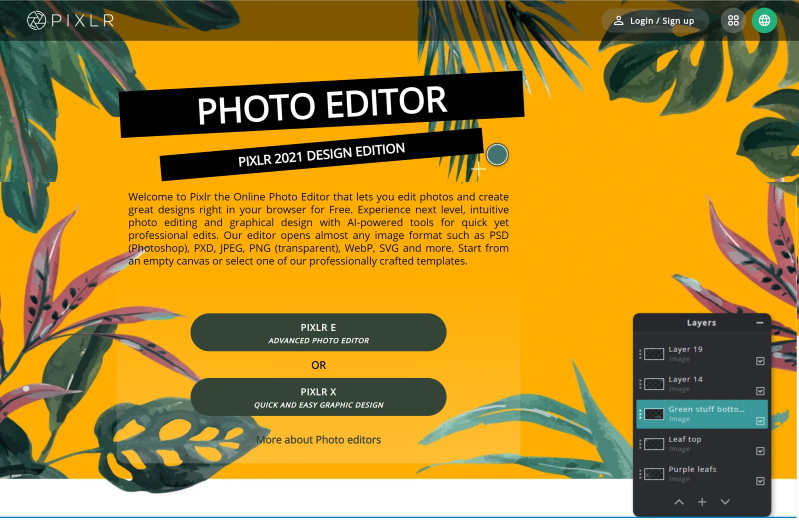 If you are looking to apply quick edits and changes to your photos with simple steps, you come to the right place. You can easily import your pictures into Pixlr and just start editing.
There are three versions of Pixlr:
Pixlr X: It is a free basic online photo editor
Pixlr E: It is the advanced version of Pixlr for detailed photo editing and templet design.
Pixlr Premium: It gives you access to more assets, templets, fonts, and more automatic tools
This online photo editor is available via your browser, the iPhone, and Android platforms, and provides several simple one-click functions and a relatively robust toolset. Perhaps the best feature of this app is just how easy it is to use.
it contains tutorials to guide you through the more complicated features and can be mastered very quickly. If you are familiar with photo editing apps, then this is a fantastic choice for you.
While this app is free to use, some of the best features are locked behind a paywall. You'll need to go premium if you intend to take advantage of the more advanced functionality. Even so, it remains one of the most popular iPhone photo editors in the world.
Pros
Photos can be edited very quickly through the browser.
Best for beginners, quick and simple image processing projects.
It has many ready-pre-built beautiful templates.
It Offers editing features available in advanced software versions
Cons
Missing Curves Tool, it doesn't support BMP and Tiff format.
Some tools like heal can be very slow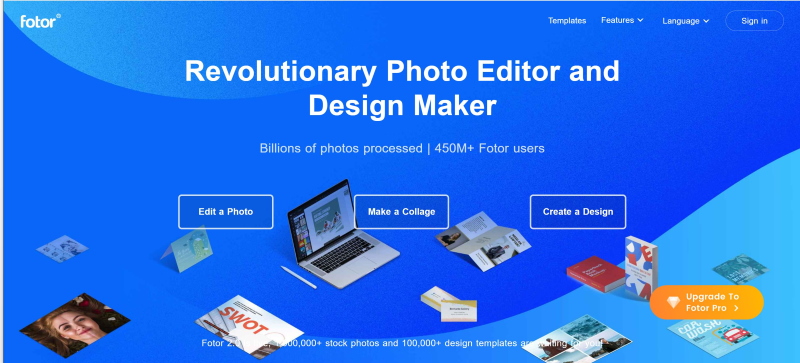 the free photo editor Fotor is for Windows or web browsers. It is an excellent tool with an extremely easy-to-understand UI that makes it simple to use.
It has three sections:
a-Edit photo:
Fotor's online picture editor is fundamentally Photoshop online. you can easily adjust color, size, light, and more. We also provide HDR effects for advanced editing needs. A large selection of photo filters can give you the magic touch to edit your photos the way you want. The amazing beauty features can give your subject a makeover, add highlights, increase radiance, etc. Thousands of beautiful and professionally designed templates to meet any of your design needs!
It has preset templates, they are ranging from social media designs including Facebook covers, posters, photo cards, YouTube banner ads, and much, much more! You can easily create all kinds of designs in just a few clicks!
You have access to a large selection of fonts that span multiple styles to match the design you envision. Manage easily with a range of text options. Also, it has countless Pretty Stickers.
b- Photo Collage Tool
You can easily create a classic, artistic, funky, and photo stitching collage
c- Create a design
You can design your graphics for Facebook posts, YouTube thumbnail, Instagram story, Poster, and logo.
Fotor can handle RAW files without much issue. Fotor also allows some limited design functionality which should be useful to bloggers and digital marketers.
While Fotor is not suitable for high-end effects, it does what it does very well and is good for general photo editing for those who don't need advanced functions.
Pros
Best for hobbyists and beginners, social media influencers, and digital marketers.
It is a simple to use and straightforward app
It has a great series of filters
Cons
It does not accept Arabic writing
Lack of a photo library that can be used in the design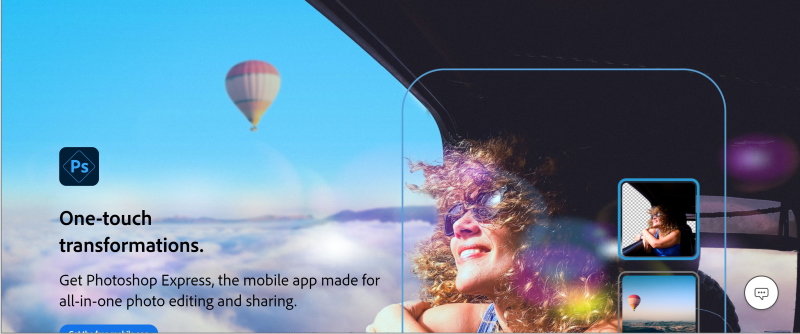 Adobe Photoshop Express is An excellent browser-based online photo editor for making quick, powerful, and easy photo edits and creating collages. Apply instant filters called Looks, choose from an array of adjustment and correction options to touch up your photos, and instantly share them on social media.
This free photo editing app is available for mobile, web, and desktop platforms. Express features Adobe's renowned imaging smarts, with a deep supply of tools for correcting and embellishing your photos. Far from being the basic, stripped-down photo editor, it was when it launched, Express has many features, most of them aimed to share online. You need to pay if you want to use many of its best features.
The app's simple interface has three main buttons across the top: Edit, Collage, and Mix. The first two are self-explanatory; Mix includes more advanced tools such as subject selection, local edits, and blending multiple photos in layers. One thing I especially like about the interface is that every effect shows your photo in a thumbnail that illustrates what it does, and the Undo arrows are things I consider essential for any editing app.
Everything is immediately accessible regardless of your previous experience. Another bonus: no plugins are required so long as you have Flash installed, and you can simply drag and drop your images onto to start working.
Pros
Best for on-the-fly editing via any browser.
It has Lots of photo editing and embellishment features
You can open photos from not only your camera roll, but also from Facebook, Google Photos, or Dropbox
Cons
Only supports JPG files
You need to pay if you want to use many of its best features.
Many features require a Creative Cloud subscription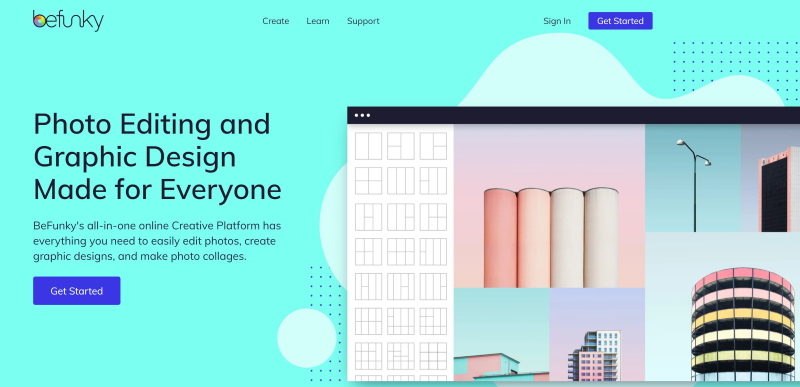 BeFunky's all-in-one online Creative Platform has everything you need to easily edit photos, create graphic designs, and make photo collages. Befunky is simple, intuitive, and one of the best options for performance on this list.
You can load images from your computer, Facebook, Google Drive, Google Photos, and many more sites. Befunky features a variety of awesome elements to boost your image quality as well as a nice and simple collage feature. Like Fotor above, Befunky also contains many design elements that allow you to create lovely postcards, brochures, posters, slides for PowerPoint presentations, and invitations with only a few simple steps.
Pros
Very simple interface that supports drag and drops feature
It is designed for Bloggers and people looking to create social media assets.
You can upload several photos simultaneously
You can share your collage after image editing
Cons
Too much advertising
Many of the functions are not free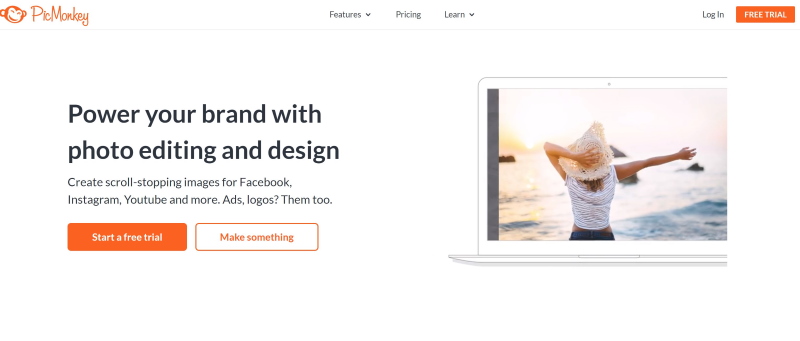 It's straightforward and the UI is friendly and intuitive. Featuring a great collage maker that outshines most other simple photo editors, PicMonkey is accessible to everyone.
It also has all sorts of useful templates that help speed up your workflow as well as facilitate the creation of headers and banners for blogs, websites, and marketing materials. Create a logo, business card, and make amazing collages. Watermark your images. Stash your logo, fonts, and colors in a brand kit for easy access. Your one-stop-shop for branding has it all. While PicMonkey can only process one file at a time, it is still a great option for an online photo editor app.
PicMonkey has additional features hidden behind a paywall. You can still ride out a 7-day free trial to access the added functionality but are required to select a billing option to do so.
Pros
PicMonkey is easy to learn and it is very user-friendly.
Best for: Web designers and bloggers.
It offers many "auto" options, which makes the process fast and smooth
Cons
Lake of Tutorials and instructions/tips
Lose some good features if you don't have Pro.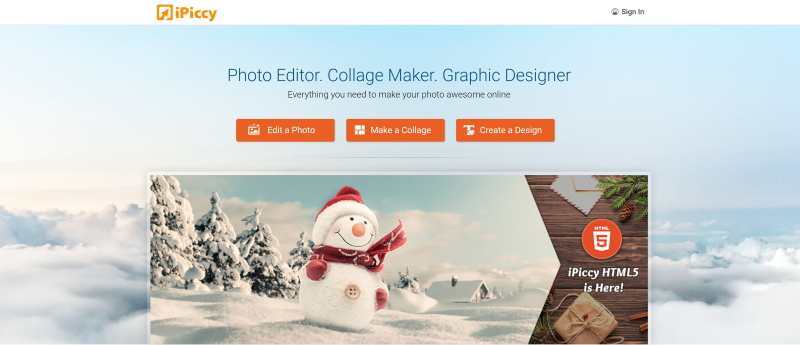 It is one of the easiest-to-use interfaces of any editor on this list, iPiccy is a good choice for anyone looking for a free photo editor without learning a complicated interface. iPiccy has many powerful and easy-to-use photo editing tools right in your browser. Auto adjust photos in one click, crop, rotate, and resize images in no time. Over 100+ photo effects and PRO-level photo enhancements, facial retouching, and frames. With many one-click tools and a fantastic zoom feature, you'll certainly be able to create compelling final photographs with minimal time invested.
There are some advanced features; with curve adjustments, clone tools, background erasers, and other options, there is more than enough here to satisfy pros and novices alike.
You can easily create stunning photo collages with iPiccy innovative collage maker. Numerous templates and adjustments make the creating process easy. Change collage template, background color, size, cell roundness, and much more to build a true masterpiece in seconds!
One of the best and easiest online graphic design tools you can get. Add text, overlays, and stickers, apply vector masks and stunning text effects to create the most unique designs for any purpose.
While iPiccy has limited options for saving your files (JPG and PNG only) and limits sharing only to Facebook, the ability to upload multiple files simultaneously and the WYSIWYG interface will keep your productivity high.
Pros
Best for: Novices and intermediates looking for robust features.
It the ability to upload multiple files simultaneously
You can preview results automatically when doing image edits
Edited images can be downloaded and shared
Cons
It limits sharing only to Facebook
Customized collage layout cannot be created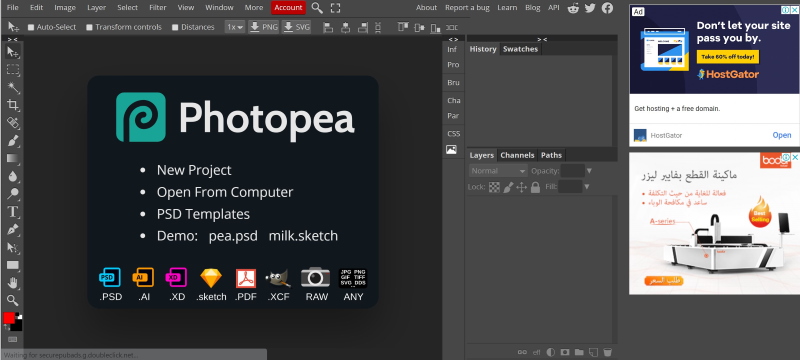 Photopea is a free online photo editor that can run without any plugins. Photopea supports most major image formats including JPG, PNG, SVG, PSD (Photoshop), RAW, and even Sketch. It is important to note that it is all contained and run locally on your system. Your images are never uploaded to a server for processing. Whether you're looking to make simple illustrations, create a sketch, or resize images this online photo editing tool allows you to edit images, add filters, apply different effects, crop, and process photographs easily.
If you are familiar with Photoshop, using Photopea for quick edits is a very intuitive transition. The available tools function similarly to those same tools in Photoshop. Layers, masks, brushes, selections, etc., all are incredibly familiar, and they work incredibly well.
If you're looking for a tool to do basic graphics and images for vector and raster graphics, or to design social media banners this tool would be a great choice. It is quite comparable to Adobe Photoshop Express, however, for enthusiasts that are seeking something more advanced for complex projects, you may need a more professional image software.
Pros
Always available from any computer with a web browser
Account not required
Can work with PSD and Sketch files
Cons
Does not provide the level of functionality for advanced users
Best for: Casual users for small editing and design projects.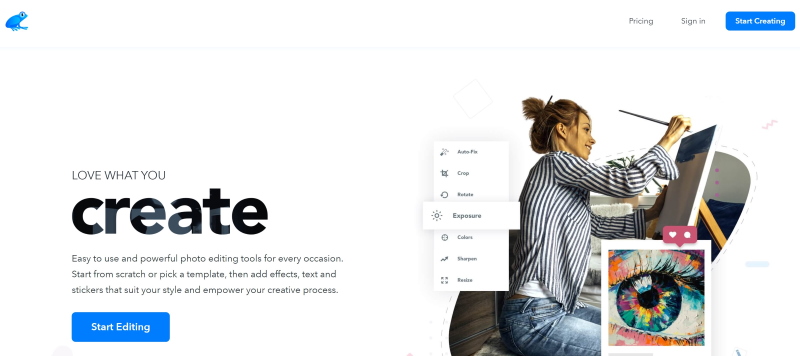 Ribbet's main strength is in how easy it is to use. Even the unskilled novice can master Ribbet quickly thanks to the fantastic UI and attention to great user experience. You can do the basic editing functions: Crop, resize, rotate & apply basic edits with ease. Also, you access over 2.7 million free stock photos without leaving Ribbet.
Like other options on this list, it contains a collage feature: you can drag & drop photos to quickly create grids and collages for anything from family albums to engaging social media posts as well as a variety of different tools allowing you to add over 70 different fonts, create stickers, and so much more.
Featuring great sharing options as well as free cloud storage to help save and sort your photographs so they are available at all times, you really cannot go wrong with Ribbet. It is a solid package that is pleasant to look at and can only get better as time passes.
Using some advanced features of Ribbet required an upgrade to the Premium version. Despite this, you have access to the bulk of the program features with the free option. Available for iPhone and iPad and with an Android build launching soon, you can take it anywhere you go.
Pros
Best for Casual and professional users.
Add text with many different and very exotic text sources by default
It has great templets
Cons
Some tools are for premium users
you have to register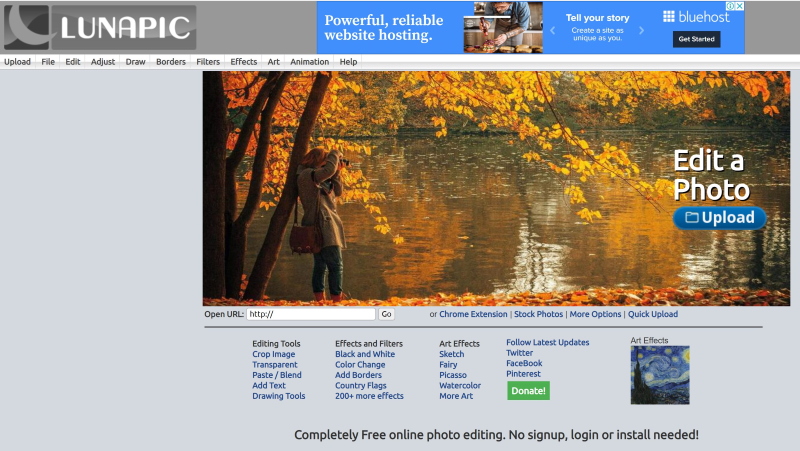 LunaPic Lunapic is a web-based photo editing tool, it is a free, secure open-source program that allows users to upload, edit, and share their images. It provides handy tools to manipulate images. The beauty of Lunapic is that it doesn't require you to install any plugin, like java, flash, etc. to run unlike other such services like Photoshop Express. In addition, it is web-based, so you won't have to download or install any software install anything on your device. Simply visit its online portal and start editing your photo.
The photo editor is made to let you edit, crop, apply effects and filters, and other artistic effects to edit your images, create slideshows and collages, convert videos to GIFs, and make simple animations.
As a free photo editing tool, LunaPic doesn't require any sign-ups or installation. The website also provides an extensive help section with over 200 FAQs to help solve any technical issues or designing problems you might encounter with their tool.
While LunaPic is packed with animations and effects, the app is quite limited in terms of canvas size. The image size can only be a maximum of 1,000 x 1,000 pixels, which can be extremely limiting for those with larger images to resize.
Pros
Best for: Creating animation and adding effects.
You don't need to signup or register to Lunapic for editing your photos
Variety of effects and filters.
Animated effects and text overlays.
Cons
Restriction on the maximum size of the image.
A large number of page refreshes.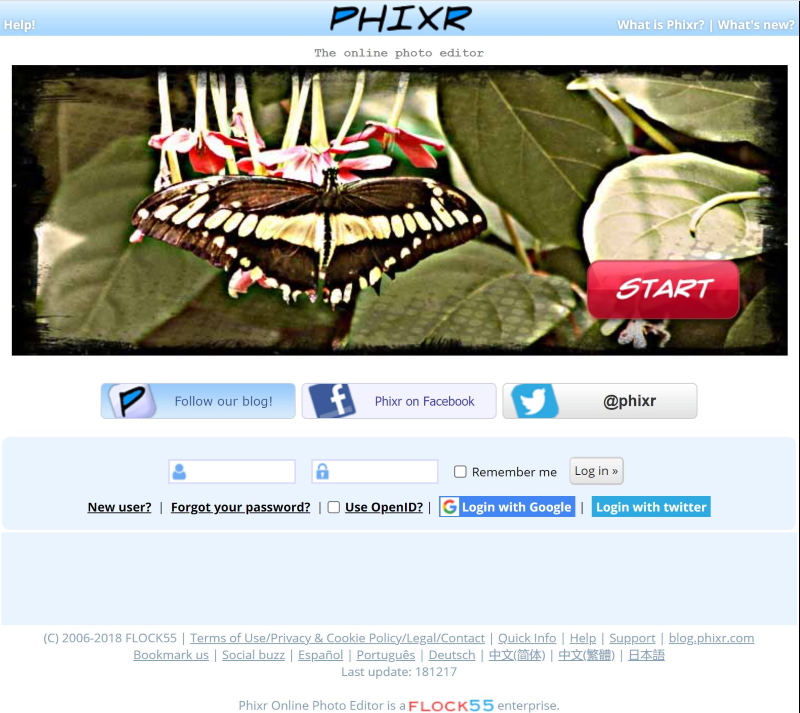 Phixr is a simple photo editor that allows you to edit images in a browser window. Regardless of the image format, you can easily open one of your pictures and edit it directly on your desired browser. While the tool is simple, it is still super functional and effective.
Editing photos is made easy with over 200+ photo filters and effects. Phixr allows you to effectively make edits, crop avatars, tune colors, make edits to images like teeth whitening and remove stray hair for portraits. You can make use of their paint effects to stylize your images as well. In addition, the tool also supports social media websites and other photo sites, allowing you to easily upload and send images. The tool also works with other third-party websites like Dropbox, Flickr, Twitter, Photobucket, and more.
Pros
Best for: Image editing with extensive filters.
Compatible with Facebook, MySpace, Twitter, Flickr, and many more.
Merge two or more photos into one picture.
The final image can be saved in JPEG, PDF, PNG, or GIF formats.
Cons
Related posts
Pixlr – Free Online Photo Editor
What Is The Best Online Photo Editing Services
The Free Photo Editing Software- The Best 7 Software Packages
What Is The Best Photo Editing App For Android?
Thanks for reading, I hope you enjoyed the article, in case you have any questions just drop them below & I will be happy to answer you.
The featured Photo by Spartan Xozz on Unsplash
If you enjoy the site, don't forget to subscribe, we will only inform you when a new article is posted.