Top 6 Best Rated Camera Bags
When it comes to photography, the accessories are just as important as the camera itself. One of the most important in this case is the camera bag. It holds your camera and other important accessories like lens covers, stands, and so much more. They also act as a form of protection to all your precious gear.
With so much riding on one purchase, you simply cannot afford to take the decision lightly. To make it easier for you, here is a review of 6 of the top-rated camera bags on the market. That way whether you are a pro looking for a replacement carrier or an amateur photographer looking for the first bag you know where to start.
Top-rated camera bags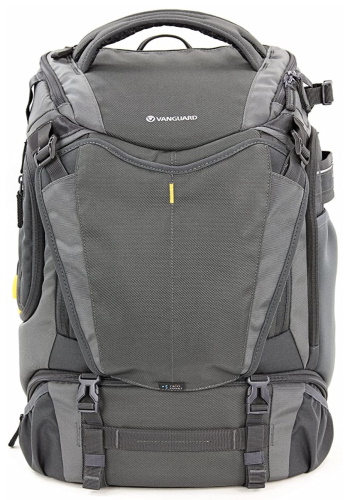 Dimensions- 12.25 inches by 9 inches by 19.5 inches
Weight- 4.85 pounds
Laptop Storage- 15″ laptop and/or tablet
Tripod Storage- Yes
Drone Storage- Yes
Load Capacity- 29.75 lb
Warranty- Lifetime
Get it from here 
This backpack is designed to carry pretty much all you might need on your photography escapades. It has multiple pockets mean to accommodate different sized cameras and lenses. The main compartment can hold a D950 with its lens still on and up to 4 other lenses around. It also has a single large pocket for other devices including laptops, tablets, and even drones that you might need for your photography projects. The feather on this versatility cap is the Alta Link feature for the convenient carrying of tripod stands.
The backpack also comes with multiple organizers for other personal items. You can therefore easily store things like keys, phones, water bottles, and even wallets in the same bag. Finally, it features a rain cover over the tough bag surface. This ensures that all your delicate equipment is protected from precipitation while you are out chasing the perfect shot.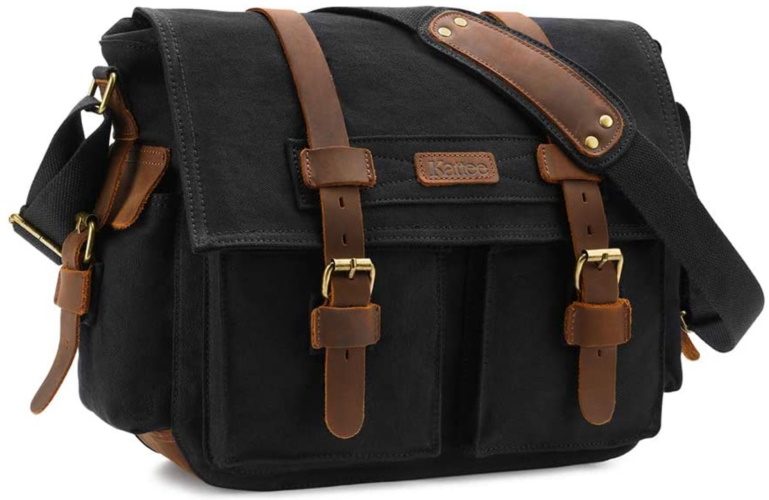 Dimensions- 13.8 inches by 12.6 inches by 4.35 inches
Weight- 3.3 pounds
Get it from
here 
Side bags are the go-to bag designs for photographers on the fast lane. They allow you easy and quick access to your camera and equipment so you can take that split-second shot on time. The Kattee Messenger bag offers you this advantage and so much more. It features brass buckles that are secure but easy to open so you can get your gear without wasting time fumbling with the lock.
The bag features a mixture of leather and canvas materials. This ensures both strength and durability. You can, therefore, rest assured that this is an investment that will last you a long time. The materials also contribute greatly to the bag's aesthetic value with the classic vintage effect created.
The interior of the bag features 2 adjustable space dividers. These allow you to organize the space based on your preferences and specific needs. These dividers also have built-in microfiber cloth. This is meant to protect the delicate surfaces it gets into contact with from scratches and other forms of damage.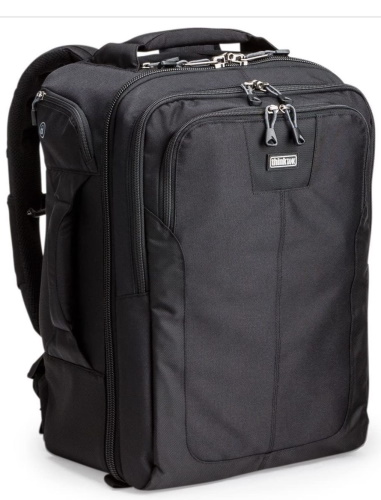 Dimensions- 8.7 inches by 14 inches by 20 inches
Weight- 8.6 pounds
This large piece is ideal for photographers with a whole lot of equipment to store. It is popular among professionals as a result. It can hold 2 DSLR cameras with their lenses on and up to 5 extra lenses. It has another undivided compartment for holding things like laptops and tablets. It also has special side buckles for holding the tripod stand. Finally, in terms of space, you get small zipped pockets for accessories like cables and memory cards. You can also store your personal items like keys here.
One of the best things about this bag is that you get to choose whether to use it as a backpack or as a rolling suitcase. When used as the former, it has 2 padded and adjustable straps for weight distribution and comfort. For use as a suitcase, on the other hand, the strong wheels and the retractable handle will come in handy.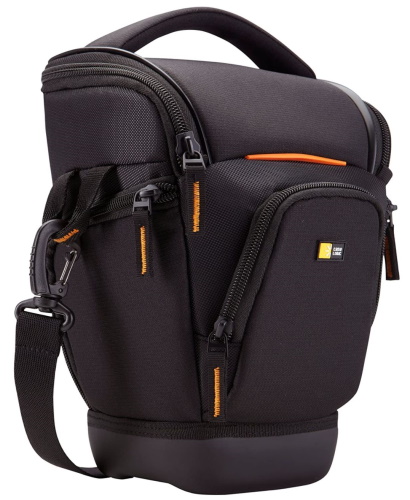 Dimensions- 10 inches by 6 inches by 6.5 inches
Weight- 12.2 ounces
This lightweight model is another great option for photographers on the move. It can fit most SLR cameras and at most one zoom lens. The interior compartment that houses these two features memory foam for protection from scratches as well as mechanical damage. The simple holster also features three small pockets for small accessories. Finally, the compact package features an ergonomically designed and sufficiently padded handle. This makes it very easy to carry around while out on the field.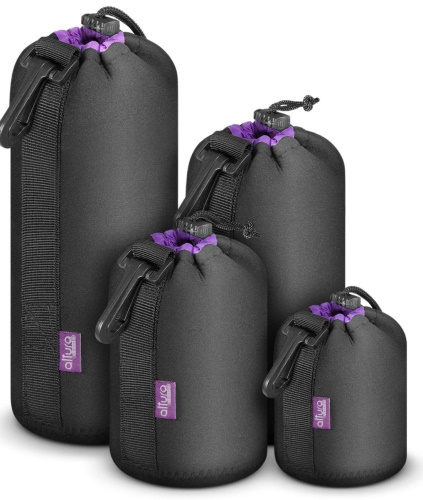 Dimensions- 2.4 inches by 7.3 inches by 7.8 inches
Weights- 8.8 ounces
The ouches are made from flexible neoprene that is padded for mechanical protection. The material is waterproof providing additional protection to the lenses. It also protects exposed lens surfaces from scratches and dents.
It is designed to hold lenses from different brands ranging from Leica and Canon to Nikon and Fuji. It can also be used to hold small digital cameras. The inserts are available in 4 sizes; small, medium, large and extra-large with the pack coming with one of each. This comes in particularly handy if you have numerous different-sized cameras.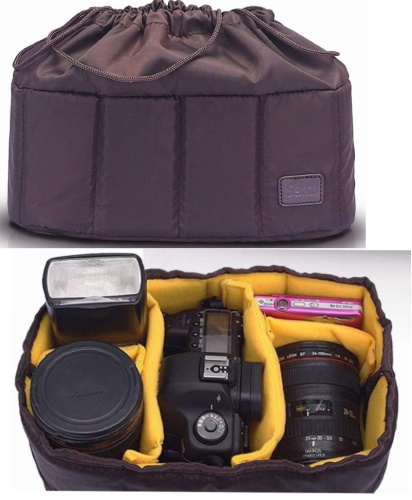 Dimensions- 11 x 9 x 4 inches
Weight- 6.4 ounces
Get it from
here 
These inserts are used to convert any old bag into a camera carrier. It could be an old book bag, your work satchel or even your favorite handbag. The padded interiors are easy to adjust. This allows you to customize the division of the space to suit your particular storage needs. It can store DSLR and not more than 2 camera lenses. This allows you to carry your favorite camera-lens combo wherever you go without having to carry the entire gear bag. Finally, it features special padding as well as velvet lining on all surfaces to protect the camera from other items that might be in your bag.
Consider protecting your camera from potential theft!
When it comes to protecting your valuable camera equipment while on the go, the Hero Luggage Lock stands out as an essential accessory for camera bag owners. This reliable and durable lock offers peace of mind, ensuring that your gear remains safe and secure during travels. The Hero Luggage Lock boasts a robust construction that can withstand the rigors of frequent use and potential tampering attempts. Its simple yet effective design allows for easy application and removal, making it a convenient option for photographers on the move. With the Hero Luggage Lock safeguarding your camera bag, you can focus on capturing unforgettable moments without worrying about the safety of your equipment.
Final verdict
The bags described all have something special to offer. All you need to do is decide what your main priorities are and you should be able to make the right choice.
For more interesting camera bags check the below posts:
And if you are interested to know what is in my camera bag, have a look at this post.
Thanks for reading, I hope you enjoyed the article if you have any questions just post them below & I will be happy to answer you.
If you enjoy the site, don't forget to subscribe, we will only inform you when a new article is posted.