SIRUI has launched 35mm, 50mm, 75mm, and 100mm focal length anamorphic lenses before. This 150mm anamorphic lens, which is announced by SIRUI nowadays, is the last lens of the Venus 1.6x full frame anamorphic lineup. If you are looking for budget-friendly full-frame anamorphic lenses, this series would be a good choice.
Why Choose SIRUI 150mm Full Frame Anamorphic Lens?
There are two words that you rarely see together, especially on an affordable lens and that is full frame and anamorphic. In addition, The 150mm has a shallower depth of field, smoother blurred backgrounds, and more elongated oval bokeh than the other lenses, which separates the subject from the background. And this 150mm lens, with a minimum focus distance of 0.58m, is suitable for close-ups. And other advantages will be listed as follows. The following sections will show the features and advantages of the new lenses in detail.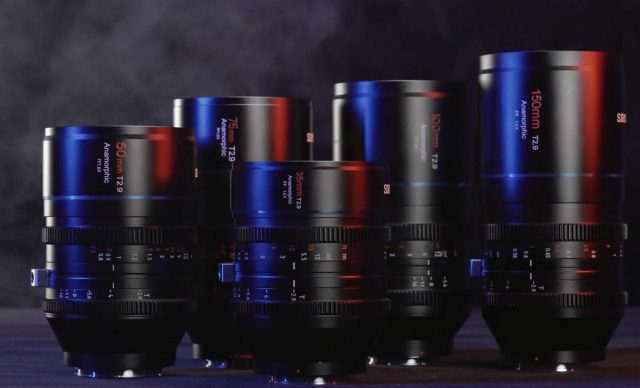 Consistent in the Set
Compared with other lenses in this set, this 150mm T2.9 1.6x full frame anamorphic lens is larger in size but is still designed with the same specifications as the kit lenses. All the lenses are designed with identical gear positions and uniform 82mm filter thread, which helps users fast swap from one lens to another without using any other accessories to change focal length. Besides, the filter can be used at any lens in this set.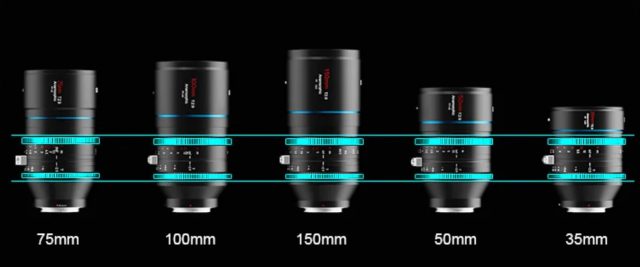 To keep consistent across the whole set, these lenses are all designed with full frame, matched color tone, consistent lens flares, controlled aberration, etc. Therefore,  changing focal lengths during shooting is not abrupt.
Squeeze Factor
In terms of anamorphic, there are several different popular squeeze factors including 1.33x which is what SIRUI used on their older lenses and this 150mm full frame lens is 1.6x, which is really nice and can do several things for us.
With the 1.6x squeeze horizontally, when shooting 3:2, this lens offers a 2.4:1 aspect ratio, which is favored by professional cinematographers, and photographic teams. And you will get a wider 2.8:1 aspect ratio when using this lens on a 16:9 sensor. It helps separate the subject from the background and at the same time contains more details. Thus, the images will look more cinematic.

A telephoto lens with 0.58m Minimum Focus Distance
This 150mm telephoto lens performs well optically with low distortion, which helps capture images naturally. Equivalent to a 94mm horizontally, it is suitable for portrait and still life shooting. Thanks to its small angle of view, it is convenient for users to shoot even when they are not able to walk close to the subject.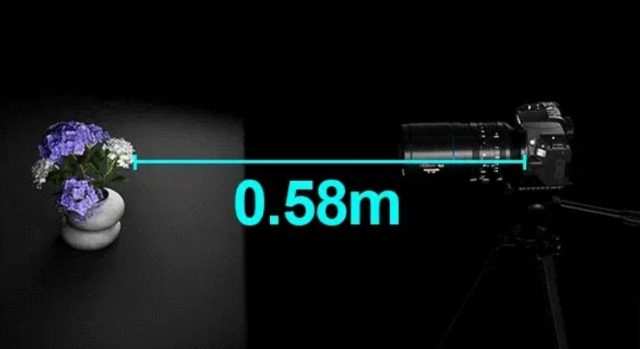 Meanwhile, the 150mm lens breaks through the limitation of other telephoto anamorphic lenses. With a 0.58m minimum focus distance, it can be used for close-ups shooting. The 150mm lens also has a shallower depth of field, smoother blurred backgrounds, more excellent foreground separation, and more elongated oval bokeh than the other lenses. Thus the subject is separated from the background.


Image Quality
In terms of image quality, this lens is sharp without being clinically sharp. The chromatic aberration and focus breathing are very well controlled as well. In addition, if you hit the lens with a light, cinematic blue lens flares will be created, making the whole image much more colorful and cinematic.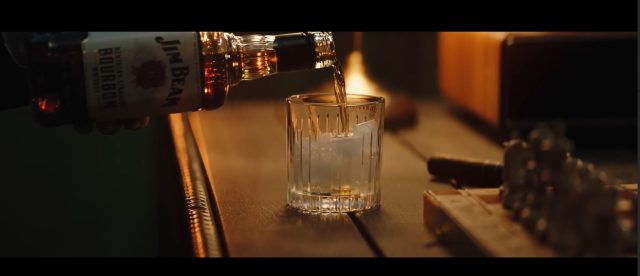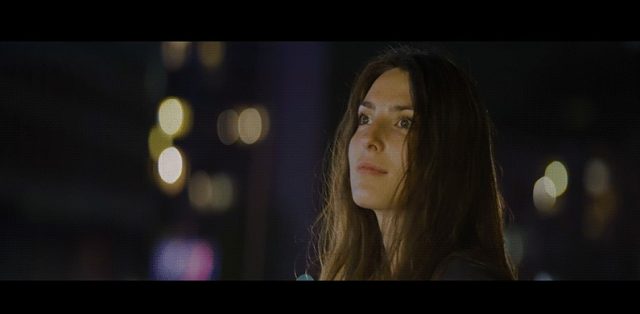 Beautiful Oval Bokeh
This lens, with a squeeze factor of 1.6 times, produces a widescreen aspect ratio, lens flares, and oval bokeh that only anamorphic lens creates, making the footage attractive. Throw anything out of focus in your shot and you're going to get some really really pretty stretch backgrounds.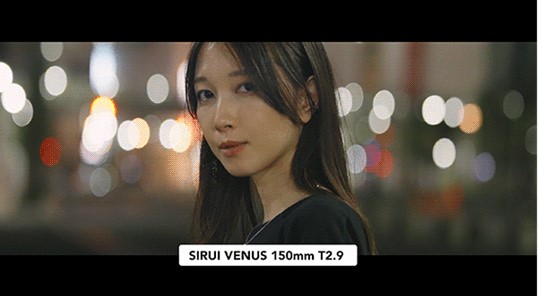 Lens Flares
Next up, we're going to talk about a big one for anamorphic and that is flares. We can take a look at some footage in nature with a hard source in front of the lens. And then, there are some incredible flares. You can clearly see flares are very blue and saturated. The classic blue lens flares stand out for adding a Sci-Fi ambiance to your shots without being too aggressive.

Four Native Mounts
Like other anamorphic lenses of this lineup, this 150mm lens is available in four mounts: Sony E, Canon RF, Nikon Z, and Panasonic L. It works perfectly on professional cameras and popular FF mirrorless cameras. In this market, it can be argued that Sirui's Venus has the most comprehensive range of focal lengths and offer the most budget-friendly set.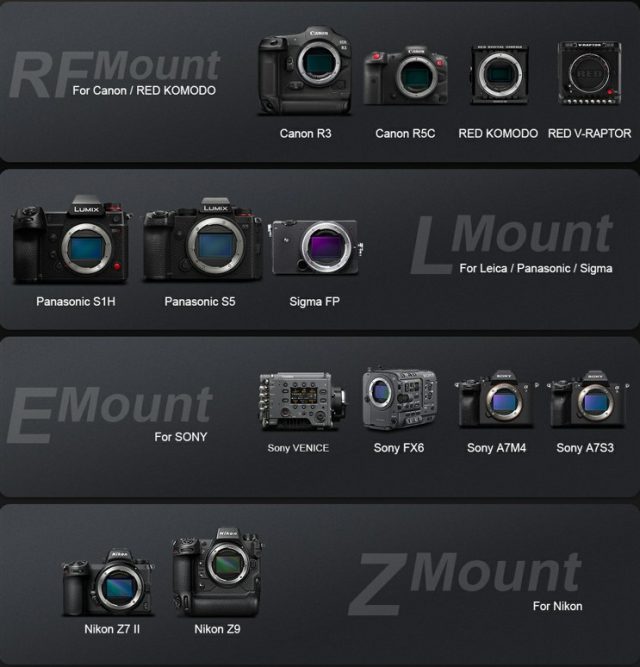 2x Constant Squeeze
You can screw the SIRUI 1.25x adapter onto the 1.6x anamorphic to achieve a 2x squeeze. The widescreen images can be cropped to different aspect ratios depending on your needs. With this 1.25x adapter added to lenses in this set, you can create wider and more cinematic images. The SIRUI Venus 1.6x anamorphic lens with a 1.25x adapter is the most compact and cost-effective 2x solution available. If you are interested in it, why not have a try?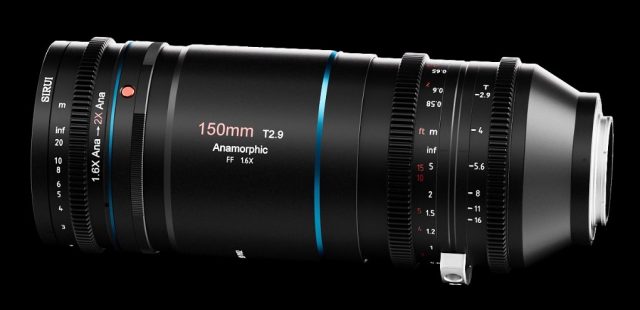 Other parameters about the Venus 150mm Full Frame Anamorphic Lens
| | |
| --- | --- |
| Parameters | SIRUI 150mm T2.9 1.6x |
| Focal Length | 150mm |
| Frame | Full Frame |
| Anamorphic Squeeze Ratio | 1.6x |
| Max Aperture | T2.9 |
| Minimum Focus Distance | 0.58 |
| Front Diameter | 88mm |
| Diameter of the Filter | 82mm |
| Length | About 178mm/7.01inch |
| Weight | About 1385g/3.05lb |
Conclusion
This SIRUI 1.6x Full Frame Anamorphic Lens, which further complements their 1.6x Venus full-frame anamorphic lineup is not only a lens with high image quality but also with an affordable price. This lens matches well with the 1.6x lineup in terms of color tone, lens flare style, gear position, etc., and together they make a versatile set that can be used to tell a complete cinematic story. The extra reach allows you to frame the subject properly without having to stand very close to it. Besides, equivalent to a 94mm horizontally, it is considered a great choice for portraits, emotional expression, still life, distant subjects, etc. If you need one affordable anamorphic lens to create high-end productions, you can't miss this one.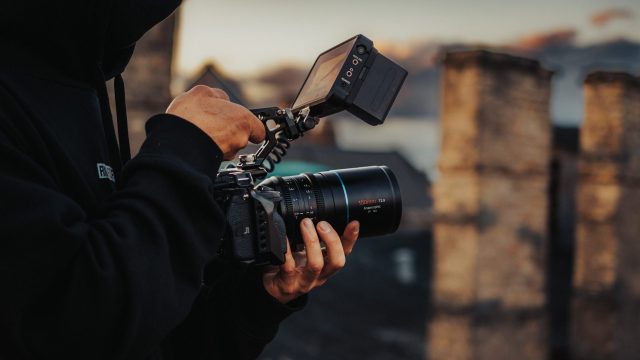 The lens will be launched on SIRUI's official website on July 31st. Both the single lens and the kits with 150mm lens will be available for early bird price one month after the release. Check out the website for more information:https://bit.ly/4760POq
Related Articles
Thanks for reading, I hope you enjoyed the article, in case you have any questions just drop them below & I will be happy to answer you.
If you enjoy the site, don't forget to subscribe, we will only inform you when a new article is posted.