Real estate photography is extremely dependent on the gear, the right camera, the right lens and expertise in lighting and post-processing techniques; everything matters. One of the famous real estate photographers said: "You don't capture great real estate photos, you make them". And to do that you have to have superb knowledge of the gear and the process. In this article, I'm limited by the scope of finding the best cameras for real estate photography, and I'm going to discuss some important aspects that your camera should have in order to make great real estate photos.
Sensor Size & Sharpness
You can shoot real estate photos with any sensor size, but a larger sensor size and specifically a full-frame sensor is the optimum choice for several reasons. Because it allows you to take full advantage of any wide-angle lens that you might be using and will allow you to get better exposure in low light situations. For the image sharpness, you may look for a camera with the Image Stabilization feature. Also, you may consider checking your camera and lens to make sure that the focusing system is performing right (no back or front focusing). The sharpness issue is also important when considering printing large prints.
Low Light Performance
Basically, you need a low noise signature and a great dynamic range when shooting in low light. Low noise signature will assist in pushing the shadows when post-processing your images and that will prevent the image from getting noisy. The good low light performance also includes a good dynamic range for those occasions when you have to shoot in high ISO.
Dynamic Range
You need a camera that is capable of capture an image with a low noise threshold. You will need to shot both indoors and outdoors photos. Sure you would be thinking in terms of Photoshop to balance the exposure in post. But that can only be achieved if your camera has a good dynamic range. To the extent that the camera is practically noise-free, regardless of how much you push the shadows in post.
For the sake of honest reviews, I prefer to include in my camera recommendations the DxOMark scores as an independent opinion. DxOMark is a trusted industry standard for camera and lens image quality measurements and ratings. I think it is worthy to quickly go through their system of ranking and rating cameras, the ranking system is based on the following scores:
Sensor Overall Score
The Sensor Overall Score is an average of the three use case scores shown below: the Portrait Score based on color depth, the Landscape Score based on dynamic range, and the Sports Score based on low-light ISO. The Sensor Overall Score shows a camera's:
Sensor quality in terms of noise
Ability to render high contrast
The threshold for the formation of colored noise
Ability to shoot in low light
Portrait score: Color Depth
What matters most when shooting products or portraits is a rich color rendition and color depth. The best image quality metric that correlates with color depth is color sensitivity, which indicates to what degree of subtlety color nuances can be distinguished from one another (and often means a hit or a miss on a Pantone palette). Maximum color sensitivity reports in bits the number of colors that the sensor is able to distinguish.
The higher the color sensitivity, the more color nuances can be distinguished. Color sensitivity of 22bits is excellent, and differences below 1 bit are barely noticeable.
Landscape score: Maximum Dynamic Range
Photographers will often aim for detail in high-contrast settings, juxtaposing a bright sky with shadowy foliage or mountain ranges. Ideally, the dynamic range of the camera should be greater than the dynamic range of the scene, otherwise, details in shadows are lost or highlights are burned.
Dynamic range corresponds to the ratio between the highest brightness a camera can capture (saturation) and the lowest brightness it can capture. A value of 12 EV is excellent, with differences below 0.5 EV usually not noticeable. The dynamic range is an open scale.
Sports & action score: Low-Light ISO
To compensate for the low light situation, photographers have to increase the ISO setting, which results in a decreased signal-to-noise ratio (SNR). How far can ISO be increased while maintaining decent image quality? The low-light ISO metric will give you this information. The scale defines low-light ISO as the highest ISO setting for a camera that allows it to achieve an SNR of 30dB while keeping a good dynamic range of 9 EVs and a color depth of 18bits. A difference in low-light ISO of 25% equals 1/3 EV and is only slightly noticeable. Low-light ISO is an open scale.
Camera recommendations:
Here are the best cameras for real estate photography, I have made two lists, the first one is the top-level cameras that are suitable for the professional photographers, and the second one is the entry-level cameras list that is more oriented for the beginner's photographers who starting their journey in real estate photography:
Professional camera List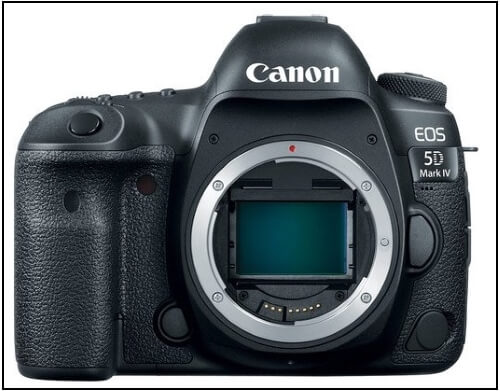 Product Highlights
4MP Full-Frame CMOS Sensor
DIGIC 6+ Image Processor
2″ 1.62m-Dot Touchscreen LCD Monitor
DCI 4K Video at 30 fps; 8.8MP Still Grab
61-Point High-Density Reticular AF
Native ISO 32000, Expanded to ISO 102400
Dual Pixel RAW; AF Area Select Button
Dual Pixel CMOS AF and Movie Servo AF
7 fps Shooting; CF & SD Card Slots
Built-In GPS and Wi-Fi with NFC
Overall image sensor performance

Carefully balancing resolution, features and body design, the 5D Mark IV sits nicely in the current Canon DSLR range between the 14fps / 20.3Mp EOS 1D X Mark II professional sports camera and the super high-resolution 50Mp 5DS / 5DS R models. What's more, the significant sensor improvements over its predecessor in both resolution and dynamic range makes the new 5D Mark IV look an attractive upgrade for Mark III owners shooting weddings, events, landscapes, editorial, and advertising work, as well as for photographers stepping up to their first full-frame camera. With an initial $3500 price tag (body only), it's a little more expensive compared to the $2,800 Nikon D810 or the $3150 Sony A7R II competition, but that's less significant if you've already invested heavily in Canon EF lenses.


---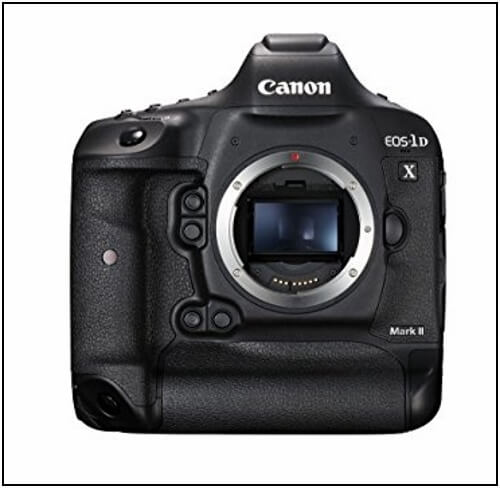 Product Highlights
2MP Full-Frame CMOS Sensor
Dual DIGIC 6+ Image Processors
2″ 1.62m-Dot Touchscreen LCD Monitor
DCI 4K Video at 60 fps, 8.8MP Still Grab
61-Point High-Density Reticular AF II
Native ISO 51200, Expanded to ISO 409600
14 fps Shooting, 16 fps in Live View
Dual Pixel CMOS AF and Movie Servo AF
Built-In GPS, CFast & CF Card Slots
Overall image sensor performance

This is a well-deserved result for Canon, and this versatile sensor should prove attractive to a wide range of photographers, including those that work in multiple disciplines. The wide dynamic range at low ISOs should appeal to all photographers, but especially those using it for landscapes, and the low noise at high ISOs will also appeal to action and sports photographers.


---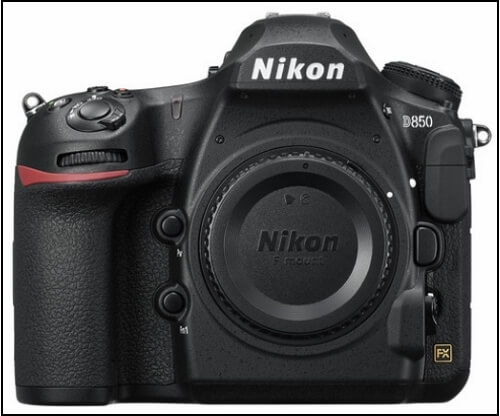 Product Highlights
7MP FX-Format BSI CMOS Sensor
EXPEED 5 Image Processor
2″ 2.36m-Dot Tilting Touchscreen LCD
4K UHD Video Recording at 30 fps
Multi-CAM 20K 153-Point AF System
Native ISO: 64-25600,Extended: 32-102400
7 fps Shooting for 51 Frames with AE/AF
8K Time-Lapse, Negative Digitizer Mode
180k-Pixel RGB Sensor, Focus Shift Mode
SnapBridge Bluetooth and Wi-Fi
Overall image sensor performance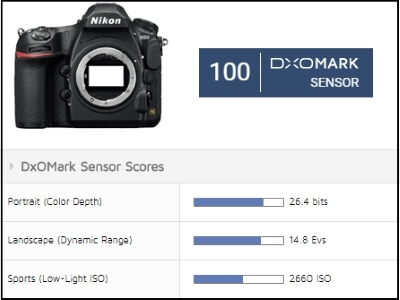 The introduction of the first BSI sensor in a full-frame Nikon DSLR with a super-high 45.7Mp resolution puts the Nikon D850's image quality on par with, and often better than, medium-format cameras. The first DSLR to hit 100 points — rather apt for Nikon's hundredth anniversary year — puts the Nikon D850 in a class of its own for image quality. At base ISO, it's unrivaled for color in the DSLR class, and its headline dynamic range score is outstanding, too. Against the competitor high-resolution options from Sony and Canon, the D850 offers either better or close to comparable image quality throughout the ISO range. Although its headline ISO score doesn't quite achieve the same lofty heights overall, it's still a very capable performer at high ISO sensitivities, too. So if you're looking for the best image quality at low ISOs, at significantly less cost than a digital medium-format camera, the Nikon D850 looks like the camera you've been waiting for.


---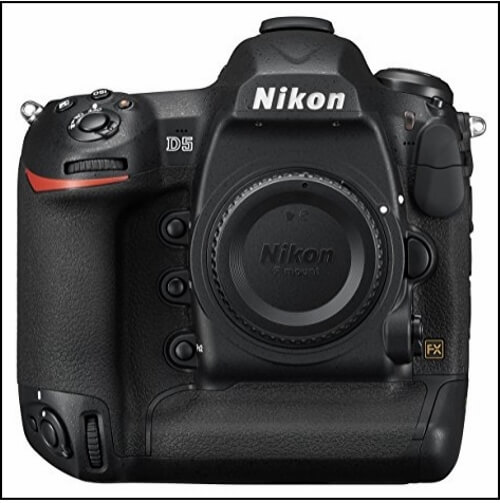 Product Highlights
8MP FX-Format CMOS Sensor
EXPEED 5 Image Processor
2″ 2.36m-Dot Touchscreen LCD Monitor
4K UHD Video Recording at 30 fps
Multi-CAM 20K 153-Point AF System
Native ISO: 100-102400, Extended: 50-3280000
12 fps Shooting for 200 Shots with AE/AF
180k-Pixel RGB Sensor and Group Area AF
14-Bit Raw Files and 12-Bit Raw S Format
1000 Base-T Gigabit Wired LAN Support
Overall image sensor performance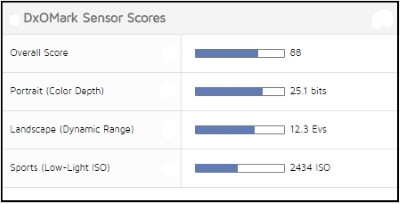 In terms of sensor resolution, the Nikon D5 now matches the admittedly aging Canon EOS 1Ds Mk II, a camera still widely used for magazine features (think double-page spreads) as well as commercial photography. While it's true that models such as the Nikon D810 (and the Canon EOS 5DS and SR) are arguably more suited now for that kind of work, the Nikon D5 nonetheless represents a tipping point in all-around capability. With its excellent sensor performance, phenomenal AF system, impressive burst rate, and durable build. The Nikon D5 is clearly optimized to appeal to those targeted by the company's marketing department, yet its capabilities should also entice other kinds of photographers, whether they own a Nikon D810 or not.


---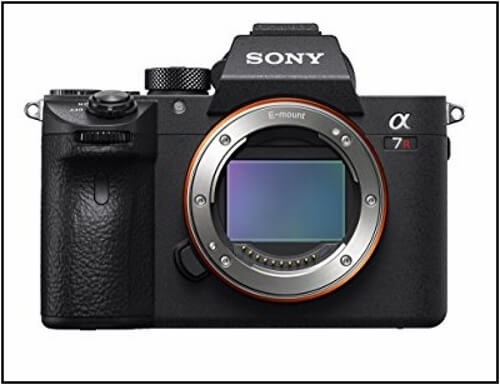 Product Highlights
42MP Full-Frame Exmor R BSI CMOS Sensor
BIONZ X Image Processor & Front-End LSI
399-Point AF System & 10 fps Shooting
UHD 4K30p Video with HLG & S-Log3 Gammas
69m-Dot Tru-Finder OLED EVF
0″ 1.44m-Dot Tilting Touchscreen LCD
5-Axis SteadyShot INSIDE Stabilization
ISO 102400 & Pixel Shift Multi Shooting
Built-In Wi-Fi/Bluetooth, Dual SD Slots
USB 3.1 Gen 1 Type-C Port & PC Sync Port
Overall image sensor performance

The Sony A7R III achieves an overall DxOMark sensor score of 100 points, the same as the Nikon D850. This makes it the highest-scoring mirrorless system camera to date, beating the A7R II by two points. Naturally, this means that the sub-scores are also very good, and the sensor can indeed capture a wide dynamic range with good color, but it's the Sports (Low-Light ISO) score that particularly impresses at ISO 3523. This is the fourth-highest value we've ever recorded — beaten only by the sensors in the medium-format Hasselblad X1D-50C and Pentax 645Z, and by the 12Mp full-frame Sony A7S II. The size and pixel count of these sensors means that the photoreceptors are in principle significantly bigger than those in the 42Mp A7R III, which gives them an advantage for light gathering and noise control.


---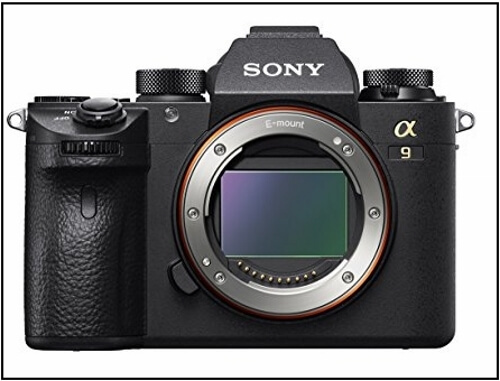 Product Highlights
2MP Full-Frame Stacked CMOS Sensor
BIONZ X Image Processor & Front-End LSI
693-Point AF System & 20 fps Shooting
Blackout-Free Quad-VGA 3.7m-Dot OLED EVF
Internal UHD 4K Video Recording
5-Axis SteadyShot INSIDE Stabilization
0″ 1.44m-Dot Tilting Touchscreen LCD
ISO 204,800, Silent Electronic Shutter
Built-In Wi-Fi/Bluetooth, Dual SD Slots
Integrated LAN and PC Sync Terminals
Overall image sensor performance

The Sony a9's sensor ranks as one of the best we've tested at base ISO, with consistently good scores for dynamic range and color depth, and exceptional results for noise. At those crucial mid to high ISO sensitivities for action photographers, image quality is also excellent and on par with flagship Nikon and Canon sports DSLRs.


---
Entry-Level Camera list: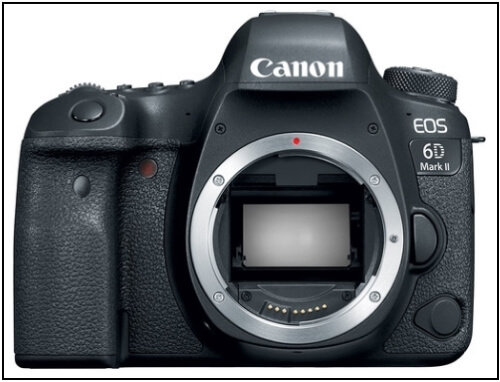 Product Highlights
2MP Full-Frame CMOS Sensor
DIGIC 7 Image Processor
45-Point All-Cross Type AF System
Full HD Video at 60 fps; Digital IS
3″ 1.04m-Dot Vari-Angle Touchscreen LCD
Dual Pixel CMOS AF and Movie Servo AF
Native ISO 40000, Expanded to ISO 102400
5 fps Shooting; Time-Lapse & HDR Movie
Built-In GPS, Bluetooth & Wi-Fi with NFC
Dust and Water-Resistant; SD Card Slot
Overall image sensor performance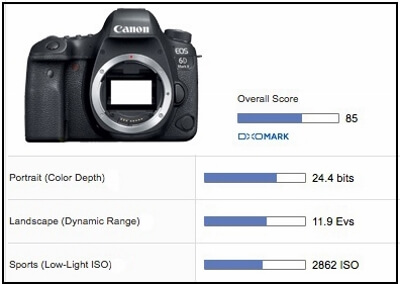 Canon's 6D proved a popular and affordable DSLR for serious-enthusiasts looking to step up to full-frame or pros after an affordable second body. Its sensor performance continues the upward trend for Canon chips too, although it doesn't quite hit the dizzy heights of Canon's best sensor to date in the 5D Mark IV. This is a result of notably lower dynamic range recorded by the 6D Mark II at base ISO, which is a concern for photographers after the best image quality in a good light. From ISO 800, dynamic range is much closer to the performance of semi-pro rivals such as the Nikon D750 and Sony A7 II, however, and with good color sensitivity at all settings and well-controlled noise the 6D Mark II lends itself better to low light photography.


---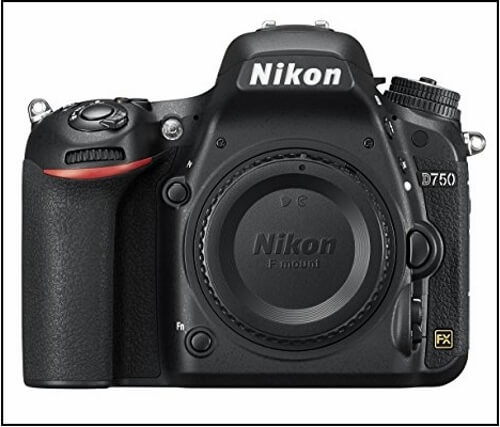 Product Highlights
3MP FX-Format CMOS Sensor
EXPEED 4 Image Processor
2″ 1,229k-Dot RGBW Tilting LCD Monitor
Full HD 1080p Video Recording at 60 fps
Multi-CAM 3500FX II 51-Point AF Sensor
Native ISO 12800, Extended to ISO 51200
Continuous Shooting Up to 6.5 fps
91k-Pixel RGB Sensor and Group Area AF
Built-In Wi-Fi Connectivity
Time Lapse Shooting & Exposure Smoothing
Related Posts
Best Lenses for Real Estate Photography
Be Prepared to Take Great Real Estate Photos – Essential Equipment
Thanks for reading, I hope you enjoyed the article if you have any questions just post below & I will be happy to answer you.
You automatically support us if you order anything through our recommended Amazon links, and we highly recommend them because of their low prices, fast delivery and, the top support, especially when it comes to camera equipment.
As an Amazon Associate, the site earns from qualifying Purchase, Most of the "product" links are affiliate links, and you are welcome to check our affiliate Disclosure statement.
If you enjoy the site, don't forget to subscribe, we will only inform you when a new article is posted.