The Speedlite 470EX-AI from Canon is a unique on-camera flash featuring Auto Intelligent Bounce technology. This function measures the room you are working in, along with the set focus distance, in order to automatically tilt and rotate the flash head to produce even, diffuse, and clean bounce flash results. This function can be used in full-auto mode, where the flash automatically determines all settings, or in semi-auto mode, where you can set the angle of the flash and it will automatically rotate depending on the specific camera position or orientation in use.  This product is scheduled to be available in the market in April 2018, and it will cost around $400.
What is bouncing flash?
Bouncing flash simply means reflecting the light off a nearby surface (walls, ceiling), which (depending upon the surface texture) diffuses it so it falls more evenly and softly on the subject. Finding the right angle needs experience as well as trial and error, as well as manually rotating the head if you switch between vertical and horizontal.
The following videos take you to the new world of Canon auto intelligent Bounce flash; they are presented by Canon USA.
How does Canon's AI Bounce Full-auto mode work?
First, it fires a preflash to calculate the distance from the flash to the subject, then points the flash head up to determine ceiling height up to 23 feet. Using this information, the Speedlite 470EX-AI determines the optimal bounce angle and exposure parameters before moving itself into an ideal position to capture just the right amount of illumination. It has some limitations, though. For instance, you can't bounce off a wall. That's where semi-AI mode comes in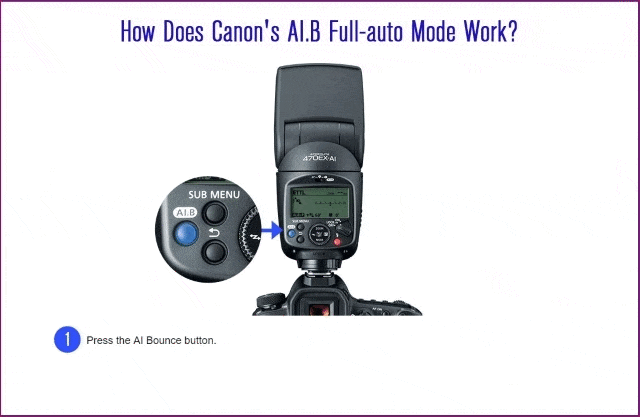 Canon Speedlite 470EX-AI can maintain the specified bounce angle when the camera's orientation is changed.
For seasoned flash photographers, the AI.B Semi-auto mode can maintain the specified bounce angle when the camera's orientation is changed. This means you can store the bounce angle you've defined in the flash's memory and can direct the flash to recreate that angle when switching between vertical and horizontal compositions. Registered bounce settings are then easily restored by simply pressing the shutter button twice. Just two steps:
Press the angle set button to store the angle.
Switch your camera between horizontal and vertical orientation, the Speedlite 470EX-AI will compensate to maintain the same optimal angle.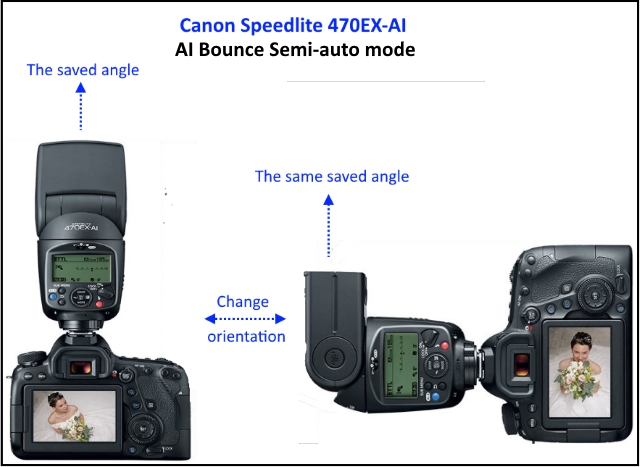 AI.B Semi-auto can be a huge time saver, enabling you to focus on your subject and composition without having to return to flash settings every time the camera's orientation changes. It also lets you experiment with creative lightings, such as bouncing the flash off the wall, while still providing beautifully natural results.
AI Bounce Supported Cameras
The Speedlite 470EX-AI's Auto Intelligent Bounce function can be utilized with a number of Canon cameras. Find out which cameras fully support AI.B Full-auto and/or AI. B Semi-auto by reviewing the following link.
You can pre-order the flash from the following link; it will be available in April 2018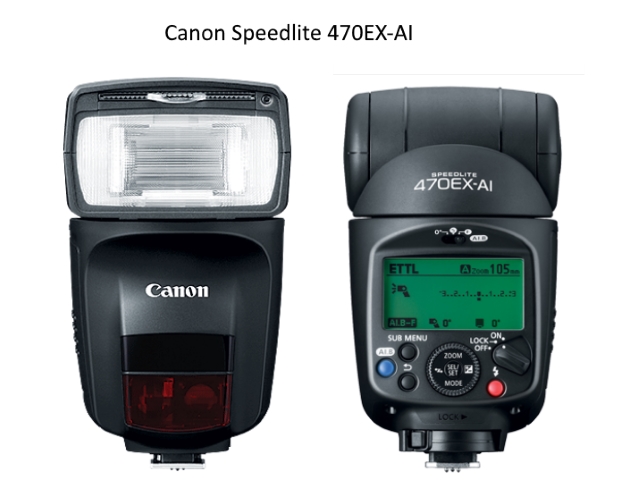 Product highlights
World's First Flash Equipped with an AI Bounce Function. Automatically calculating the distance from the flash to the subject along with the wall or ceiling, the Speedlite 470EX-AI determines the optimal bounce angle and swivels into position to capture the appropriate camera exposure and flash output. It can maintain the same bounce angle even when the camera orientation is switched between vertical and horizontal.
B Full-auto Mode and AI.B Semi-auto Mode Settings. With AI.B Full-auto mode, the flash can choose the optimal flash angle and exposure parameters, delivering natural lighting effects with ease. With AI.B Semi-auto mode, users can determine their own bounce settings and the flash can automatically maintain its angle even when the photographer changes between horizontal and vertical camera orientation.
Maximum Guide Number of 47 (154 ft. /47m) at ISO 100.
The Speedlite 470EX-AI is designed to help achieve sharp focus, especially in situations where the camera's AF system may experience difficulties.

Infrared Beam System: When you need to be more discreet, using the infrared beam can ensure a sharp focus by emitting a steady infrared beam toward the subject, even during bounce shooting.
Intermittent Flash: The Speedlite 470EX-AI emits a small series of flashes. Since illumination reaches the entire picture area, this AF-assist beam mode is effective when a peripheral AF frame is chosen.

The Speedlite 470EX-AI has a flexible bounce range and is capable of angles up to 120° upward and 180° horizontally.
you can change the balance of light between subject and background to your liking, the Speedlite 470EX-AI's exposure is adjustable within a range of ±3 stops in 1/3 or 1/2 step increments
the Speedlite 470EX-AI, can serve as a receiver unit as part of an optical wireless flash set up at distances of up to 49.2 ft./15m (indoors).
The LCD panel on the rear for viewing and changing settings
Accepts four AA batteries as its power source
Finally, I think this new flash will help both beginners and professionals photographers. For beginners, the flash can introduce them to bouncing flash photography.  For professionals who need to capture portraits quickly and accurately such as wedding photographers and photojournalists, Canon Speedlite 470EX-AI will be of great help.
Thanks for reading, I hope you enjoyed the article if you have any questions just post them below & I will be happy to answer you.
If you enjoy the site, don't forget to subscribe, we will only inform you when a new article is posted.