Photo editing activities became essential for both amateur and professional photographers, and nowadays using photo-editing software like Photoshop [popup_anything id="9359″] is considered common practice. Because using the brush tool with a mouse as an input device is not easy, Photoshop developers introduce pin pressure options to facilitate using the brush tools and many other tools that use the brush like dodge, burn, erase, blue, etc.  By pin pressure technology you can control the brush size and its opacity very easily. Besides using a pen or a stylus gives you more control than your computer mouse. Obviosity having a graphic drawing tablet can improve your skill and make your job much easier.
In this article, we will explain what is the graphic tablet and their types. We will also mention our recommendation list of graphic tablets with and without display.
Graphic Drawing Tablets
A graphic tablet is not a standalone device; it needs to be connected to a computer or laptop. It consists of a flat surface upon which the user may "draw" or trace an image using the attached stylus, a pen-like drawing apparatus. The image is shown on the computer monitor. It mainly works as a replacement for the computer mouse as the primary pointing and navigation device for desktop and laptop computers
Drawing Tablets with Screen
The drawing tablet with a screen, also known as a pen display tablet, is a tablet that has the obvious benefit of seeing what you create on the screen. Many drawing tablets have sensitive screens that can detect pen pressure; others have a smooth matte screen, this feature makes it feel like you're drawing with pen and paper.
What to look for when choosing graphic tablets
The pressure sensitivity of drawing tablets rages from 300 to 3,000 levels. the harder you press on the stylus, the greater the pressure level identified and the thicker the line.
Beginners should look for a tablet that has at least 1,024 pressure levels.
Resolution refers to how many lines per inch (LPI) the tablet's display has & how much it can detect from the stylus. The higher the LPI, the more detail you can add to your drawings.
Responsiveness refers to the speed at which the lines that you're drawing show up on the screen. In most cases this is instantaneous. But it all depends on the tablet's drivers and your computer's specs (CPU, GPU, RAM).
Before you purchase a drawing tablet investigate what type of software it has and check out customer reviews. This will help to make sure you won't run into any problems with lag.
Battery-powered styluses are usually thicker so that they can accommodate the battery, which can make them feel too large for small hands.
Rechargeable styluses need charging like your phone or laptop.
EMR styluses employ an innovative electromagnetic frequency that transfers power to the pen wirelessly right from the tablet, so there's no need to charge it.
Just make sure the tablet you choose has a comfortable stylus that fits well in your hand.
Most drawing tablets enable you to customize buttons on the tablet and on the stylus to perform certain actions. This can be a huge time-saver, especially when you need to frequently switch back and forth between tasks.
Best Graphics Tablet for Photo Editing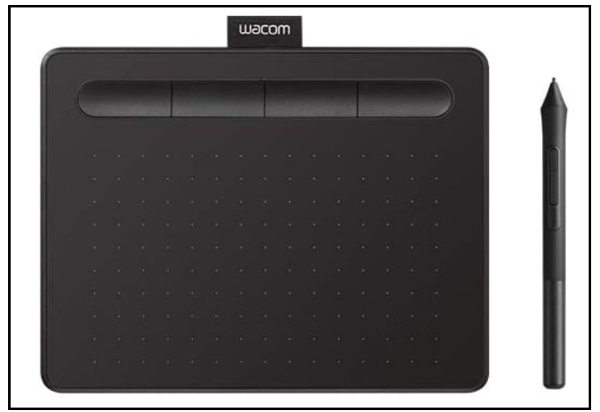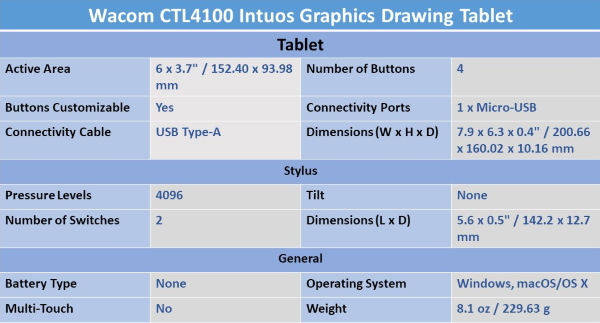 With the Intuos Creative Pen Tablet from Wacom, you can bring your designs, ideas, and artwork into the digital realm. It features a 6.0 x 3.7″ drawing area, ideal for space-limited desktops, and is compatible with both left- and right-handed users. Located at the top are four customizable ExpressKeys that place frequently used commands such as copy, paste, and undo right at your fingertips. Moreover, it comes with a pressure-sensitive stylus for the control and precision you need in creative software.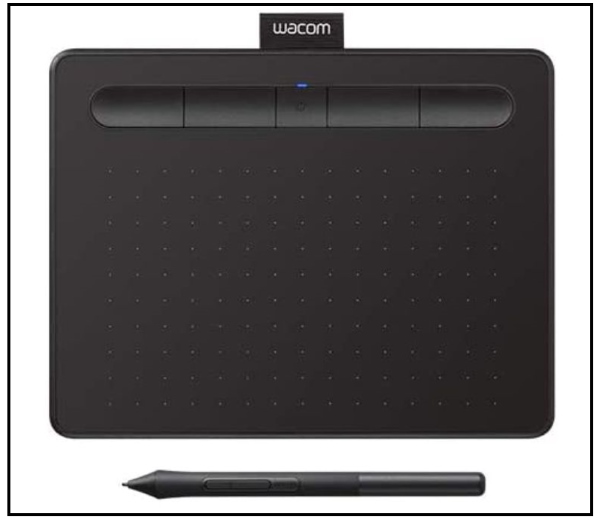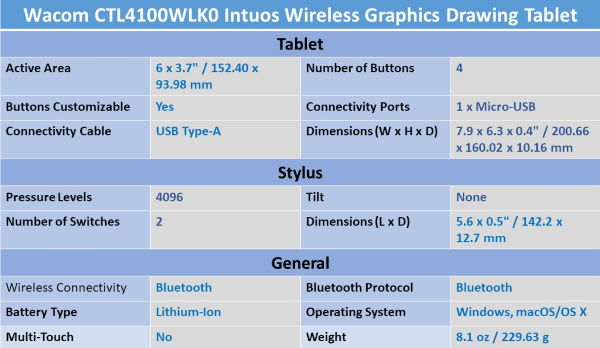 It features a 6.0 x 3.7″ drawing area, ideal for space-limited desktops, and is compatible with both left- and right-handed users. Located at the top are four customizable ExpressKeys that place frequently used commands such as copy, paste, and undo right at your fingertips. Moreover, it comes with a pressure-sensitive stylus for the control and precision you need in creative software. Thanks to a built-in battery and Bluetooth connectivity on the tablet, you'll be able to use it where and how you see fit.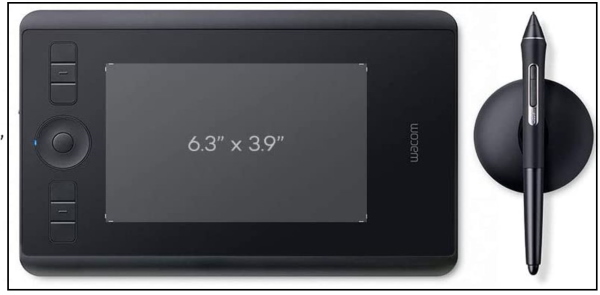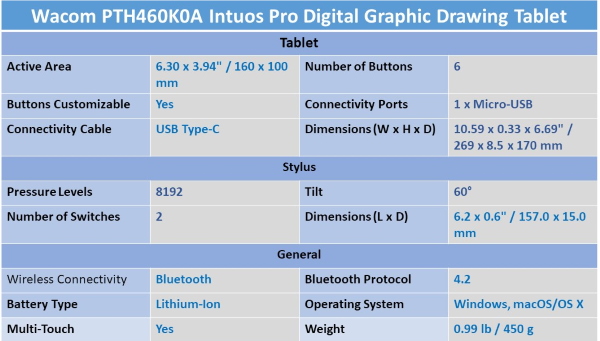 The Intuos Pro Creative Pen Tablet from Wacom is a flexible graphical tablet that can be used to digitize your work, and by flexible, we don't mean bendable. By itself, the Intuos Pro is a standard drawing tablet that connects to your system via USB or Bluetooth. It has customizable ExpressKeys and a Touch Ring to assist you with your workflow and comes with the Wacom Pro Pen 2, which has 8192 levels of pressure sensitivity. When combined with the separately sold Paper Clip, Fine tip Pen, and paper, the Intuos Pro becomes the Intuos Pro Paper Edition, allowing you to sketch on paper and store your work without having to be online or connected to a computer. To share your sketches right away, you can connect to iOS or Android devices using Bluetooth.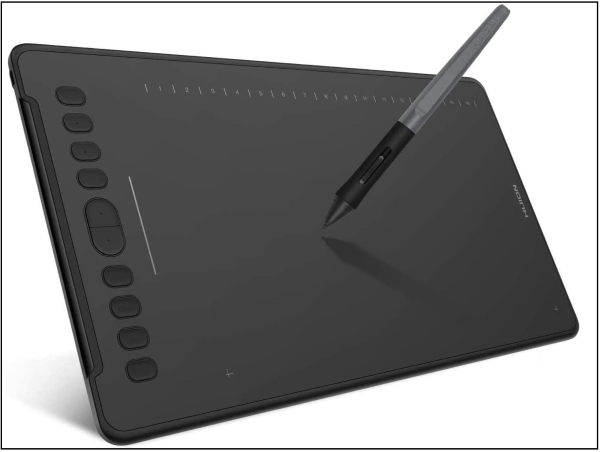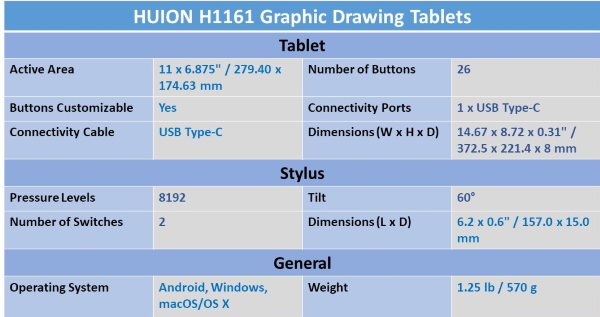 The Inspiroy H1161 Graphic Tablet from Huion features a thin and light design, so you can easily take it with you and create on-the-go. It has an 11 x 6.875″ active area and 26 customizable express keys consisting of 10 press keys and 16 soft keys. Moreover, thanks to USB Type-C connectivity, it's compatible with Android devices as well. Included with this graphic tablet is a battery-free stylus that has 8192 levels of pressure sensitivity with tilt support, a silicone grip, and a durable pen nib.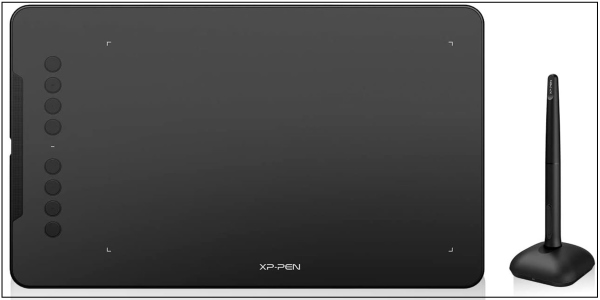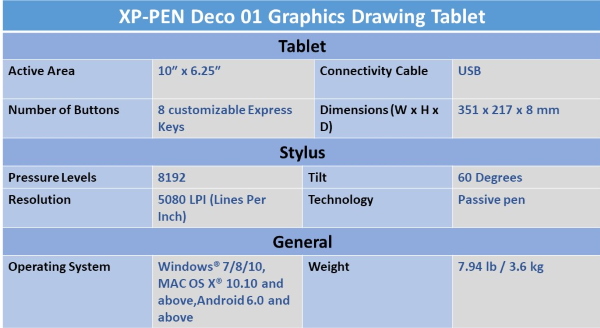 Deco 01 V2 comes with a 10 x 6.25-inch working area so you have more space to create and get work done, but at only 8mm thick, you can take it anywhere without the burden of lugging around a heavy tablet.
Ideal for digital drawing, designing, animation, online teaching & online video Conferencing
The stylus supports up to 60 degrees of tilt brush effect and delivers smoother and more natural lines and strokes, while also giving you the ability to add shading to your creation and offering a more natural writing and drawing experience.
Deco 01 V2 is compatible with Smartphones and Tabs with an Android version of 6.0 and above.
Deco 01 V2 features eight, round, customizable express keys that fit easily to your fingertips. With its blind spot reduction design, you can find the position of your express keys efficiently and the shortcut keys can be programmed to many different software programs.
Deco 01 V2 supports rotation of 0, 90, 180, and 270 degrees which makes it comfortable to use for both left-hand & right-hand users
The Deco 01 V2 lights up at the ends of the drawing area and comes with adjustable brightness levels, so you can work and create in your preferred lighting environment.
The stylus works just like a real pen, no battery and no charging required! It comes with 8,192 levels of pressure sensitivity, giving it the intelligence to modify, navigate and create with a full pallet of brush and pens.
Compatible with Windows® 10/8/7, Mac OS X® 10.10 and above, Android 6.0 and above.
Deco 01 V2 is also compatible with many major designer software such as Photoshop®, SAI®, Painter®, Illustrator®, etc as well as online teaching software like Zoom, Microsoft Teams, WebEx, etc 
Tablets with screen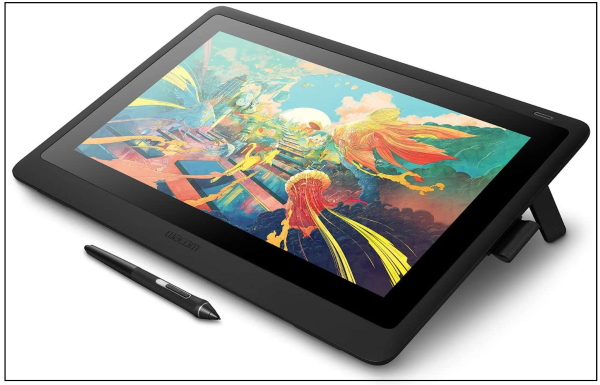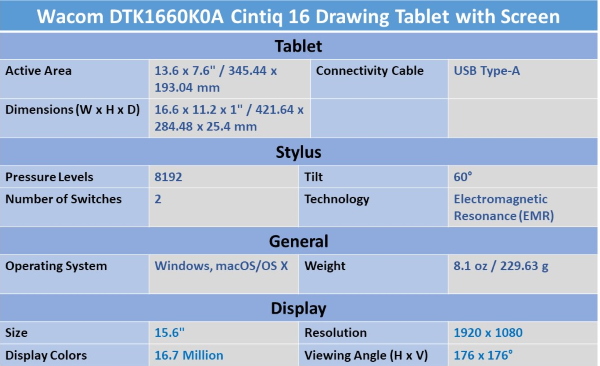 The Cintiq 16 Creative Pen Display from Wacom is designed for casual artists and professionals alike who want a medium-sized drawing tablet. Measuring 15.6″, its display has a 1920 x 1080 Full HD resolution for clear details as well as an anti-glare coating with reduced parallax to help minimize distractions and replicate a pen-to-paper-like feel. Specs-wise, its display has a 210 cd/m² brightness rating, a 1000:1 static contrast ratio, wide 176° viewing angles, and support for up to 16.7 million colors with 72% NTSC color coverage. For a more comfortable drawing experience, the Cintiq 16 has foldable built-in legs. A custom-designed 3-in-1 cable is included to connect the display to your computer's HDMI and USB Type-A ports and to an AC power source such as a wall outlet for operation.
Apart from the tablet, the Cintiq 16 comes with a Wacom Pro Pen 2, a natural and precise stylus that has four times the pressure sensitivity (8192 pressure levels) and accuracy compared to its previous iteration. Furthermore, there's virtually no lag or batteries and recharging required. With tilt support, you'll be able to draw naturally as you would with a pencil or brush. For additional features and functionality, you can pick up an optional ExpressKey Remote to help boost your productivity. Registering your Cintiq 16 allows you to receive bonus creative software including Clip Studio Paint EX and Substance Suite.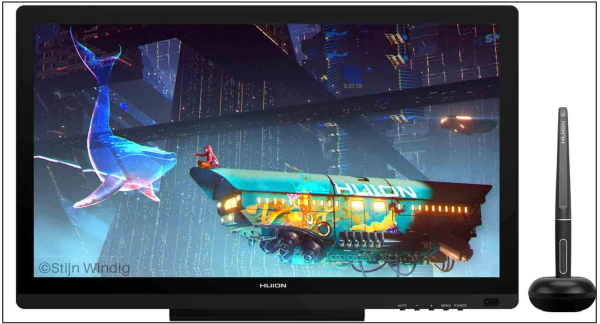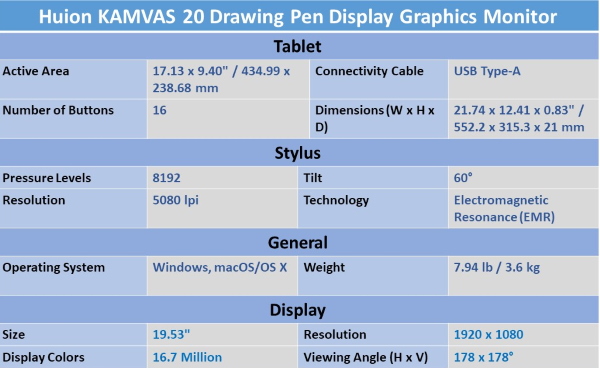 Fit for desktop use, the HUION Kamvas Pro 20 Pen Display lets users create comfortably thanks to its built-in stand. Featuring a 19.53″ display with a 17.12 x 9.4″ active area, it's built with an IPS panel, which provides users with vivid colors and wide 178° viewing angles. Furthermore, the display has an anti-glare coating and is laminated for reduced parallax. Its sixteen express keys can be programmed for a variety of functions, and a touch bar enables even more. The Canvas Pro 20 is compatible with both Mac and Windows systems and comes with a stand and stylus to help you get started.
The PW507 digital pen has 8192 levels of pressure sensitivity as well as tilt support, so users can draw and sketch naturally as they would with a pen or pencil.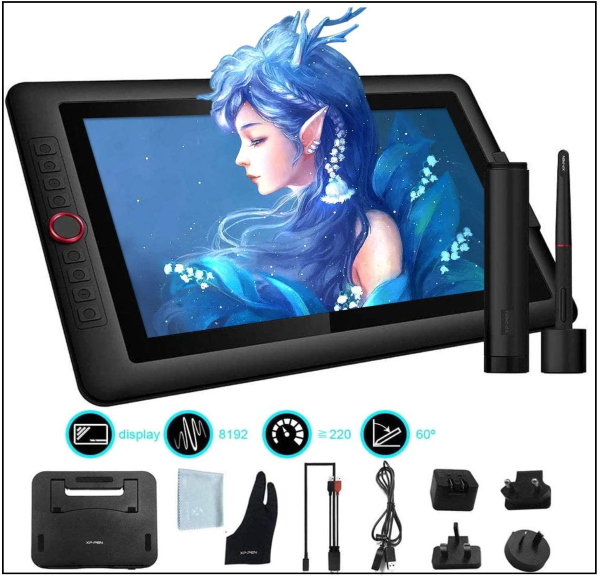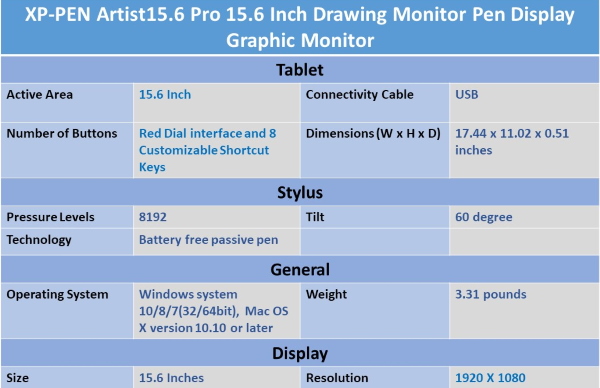 Functions allow users to sketch, paint, design, and edit directly from the tablet screen. Your work function will flow naturally and intuitively. Enjoy the high-quality glass design which gives you high precision and prevents dust build-up
The latest Passive Pen design! Our Passive stylus technology provides 8192 levels of instant pen pressure sensitivity―Providing you with groundbreaking control and fluidity to expand your creative output. No charging required
6" 1920×1080 IPS 16:9 Display with 178° degree of visual angle delivers lifelike colors, greater contrast, sharper, and vivid images. The Artist 15.6 driver can support 4k displays. Now you can enjoy every sharp detail
Features USB Type-C input design, easy to plug in and out. Features come with an 11mm thin design, 3 in 1 cable, and a new brightness adjustment button. 6 fully customizable express keys create a highly ergonomic and convenient work platform. The one-click toggle allows you to switch between Pen and Eraser instantly
We've adopted the newest F900 High Tech IC, to make lines flow smoother and perform better. Compatible with Windows system 10/8/7(32/64bit), Mac OS X version 10.10 or later, and compatible with Photoshop, Painter, Illustrator, Clip Studio, and more.
On Budget?
Sometimes, Photography gear can be very expensive for a lot of people. However, Keh is a great option to get a used one for a reasonable price. Read the full review here.
Thanks for reading, I hope you enjoyed the article if you have any questions just post them below & I will be happy to answer you.
The featured image by Lukas Bieri from Pixabay
If you enjoy the site, don't forget to subscribe, we will only inform you when a new article is posted.