Telephoto superzooms are specialized pieces of glass for photographers in need of reach during sports, events, and even shy wildlife encounters. While Canon, Nikon, and Tamron have some really attractive lenses to offer the Sigma 100-400mm  f/5-6.3 DG OS HSM Contemporary is a competitive choice I think you should get to know better!
Base Specifications:
Minimum Focusing Distance: 6m
Maximum Aperture: f/5.0
Focusing Motor: Sigma Hyper Sonic motor
Reproduction Ratio:26x
Weather-Sealed: No
Image Stabilization: Yes
Available Mounts: Canon, Nikon, Sigma
Weight: 1160 g.
Price: Check on Amazon 

Lens Breakdown
Build Quality:
There's no question that the Sigma 100-400mm F/5-6.3 DG OS HSM C is well designed regardless of the price point – we're getting 21 glass elements in 15 groups. Four elements are SLD glass (Special Low Dispersion) that help maintain sharpness and contrast and prevent chromatic aberration.
The ring-type HSM (Hyper Sonic Motor) is a Sigma classic and powers the speedy autofocus acquisition. I love how quickly the lens shifts from 100 to 400mm; a 90-degree turn of the barrel is all that's needed. At 100mm a locking switch helps keep the lens in place so lens creep doesn't accidentally extend the barrel.
Two more switches are in place: one for autofocus, manual focus, and manual overdrive mode (hybrid mode combining autofocus with manual correction). And the last switch that limits the autofocus range, speeding up focus acquisition if you know your subject won't be in a given distance from the camera.
Interestingly this lens also includes a USB dock that allows you to add firmware upgrades from Sigma over time. You can also access lens settings, including changing the focusing acquisition from Standard to Fast.
The 9 rounded aperture blades are excellent for smooth, attractive bokeh in out of focus areas. While the lens is relatively slow the telephoto focal length allows you to create a shallow depth of field in many situations. And while this is hardly a macro lens the .26x reproduction ratio is pretty good for a telephoto zoom and lets you bring out plenty of detail in nearby subjects!
While made entirely out of plastic the construction helps keep weight down and makes the Sigma 100-400 one of the lightest super-telephoto zooms available for the Canon and Nikon ecosystems. While not entirely weather-sealed there is a gasket on the lens mount to help prevent dust and moisture from penetrating but this isn't something you'd want to rely on.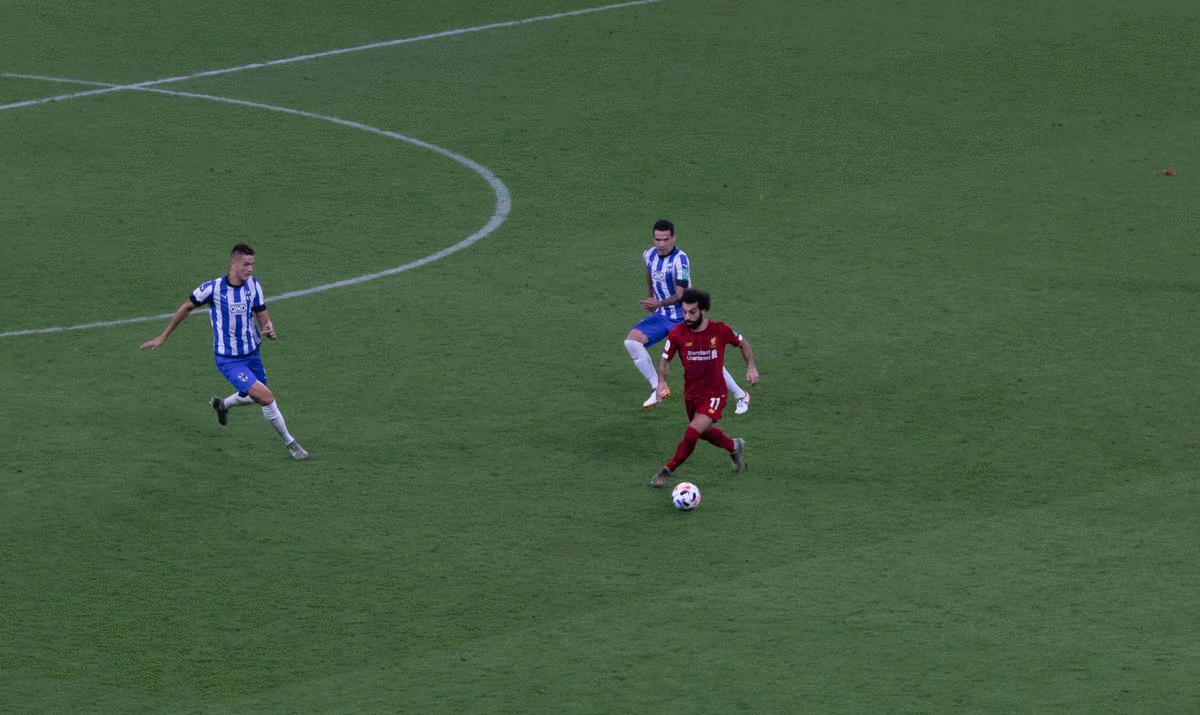 10 Still photos were taken by Sigma 100-400mm F/4.5-5.6
Optical Image Stabilization:
The OS system is impressive – while not to the standards of some other brands the Sigma 100-400mm achieves between 3 and 4 stops of correction, helping to make up for the narrow aperture and long focal length.
You're still going to want to use a tripod and monopod in many situations, particularly when shooting with the longest focal lengths in challenging light – f/6.3 just isn't enough in many cases.
Sharpness:
Sharpness tests show that this lens is moderate but not excellent in terms of center sharpness, with noticeable falloff as you reach the far corners. Given the extremes in focal length, low price point, and variable aperture, this isn't too surprising but it may deter you from going with this lens. F/5.6 & F/8 are the sweet spots but the corners never really sharpen up to match the center no matter how far you stop down this lens.
It's worth mentioning that the Sigma Contemporary also has a Sports version that's twice as heavy and nearly three times as expensive ($1,700 via Amazon)[popup_anything id="9340″]
. The Sports version has better corner sharpness; edge to edge performance is critical for professional sports photographers, whereas the Contemporary version is mostly sharp in the center but has some slight falloff in the corners.
Below is the MTF chart for illustration. Read more about MTF charts from here.
Note: 30 LPMM always considered the average result of a decent resolution. Higher than 30 you get a more sharp image, lower than 30 sharpness decreases.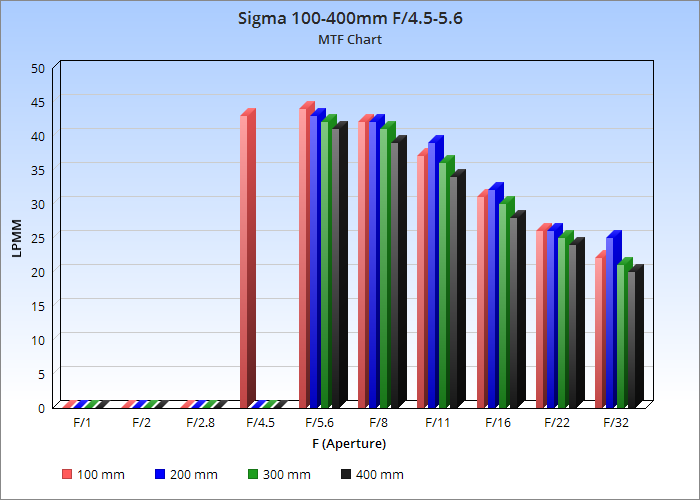 Distortion and Vignetting:
Very well corrected. It only manifests between 1.1% and 1.4% pincushion distortion throughout the focal range. At 150mm we see some noticeable vignetting around the borders (~1.4EV) that disappears entirely once stopped down to f/8.
Even closing the aperture by a single stop reduces the vignetting from 0.4 to 0.8EV, all excellent values for a lens this versatile. Given that this is mostly nature, sports, and event lens the vignetting and corner performance, in general, is usually not going to be a concern.
Chromatic Aberration:
Almost entirely non-existent. Between the Super Multi-Layer coatings and the slow maximum aperture, this isn't too surprising but I'm happy to see these results in such an affordable lens!
Moon Shots:
Sports Shots:
Other Thoughts:
The Sigma 100-400mm f/5-6.3 DG OS HSM C is a good alternative to the Canon EF 100-400mm f/4.5-5.6L USM IS II[popup_anything id="9340″]($1,779) and the Nikon 80-400mm f/4.5-5.6G AF-S VR[popup_anything id="9340″]($2,096). The Canon is significantly sharper while the Sigma competes favorably with the Nikon model.
Unfortunately, it's hard-pressed by another third party offering: the Tamron 100-400mm f/4.5-6.3 Di VC USD.[popup_anything id="9340″]
The Tamron is not only similar in price and slightly faster in maximum aperture but weather sealed as well. In sharpness tests, the Tamron also fares better in the center than the Sigma 100-400mm but has even weaker corner performance.
Overall there is very little to complain about. The Sigma 100-400mm f/5-6.3 is one of the best super-telephoto zooms on the market right now for the Canon and Nikon ecosystems. While it's not as sharp as the native zooms it is also a fraction of the price.
If you need the absolute best in weather sealing and image quality and aren't put off by the weight the Canon EF 100-400mm f/4.5-5.6L USM IS II or Nikon 80-400mm f/4.5-5.6G AF-S VR are the obvious choices. But if you're looking for a budget entry into the same focal length and can give up some sharpness and half a stop of aperture, the Sigma 100-400mm f/5-6.3 DG OS HSM C may be just the right lens for you!
My Overall Rating (Out of 10)
Build Quality: 8
Auto Focus: 10
Distortion Handling: 9.5
Sharpness: 7
Price/Quality ratio: 9
Thanks for reading, I hope you enjoyed the article if you have any questions just post below & I will be happy to answer you.
If you enjoy the site, don't forget to subscribe, we will only inform you when a new article is posted.