Nowadays there is a dizzying array of products available for discerning photographers. So much so that it can be a hassle to choose which item is just right for you. Lenses, memory cards, and even tripods offer thousands of different options. But not all of them are that good. That's why I decided to discuss how to choose a good tripod. And from there, you can browse this list of the best tripods in 2023 for your photography needs!
Choosing a Tripod Material
When selecting the best tripods in 2021 you should have a good idea of what material will best meet your needs. Plastic, aluminum, and carbon fiber are the three most common construction materials and each has distinct advantages and disadvantages.
Plastic Tripods
Plastic is often looked down upon as cheap and basic. While it is inexpensive modern thermoplastics are anything but basic. Plastic is resistant to short drops and while it may scratch it's tough enough to avoid breaking. Plastic is also significantly lighter than either aluminum or carbon fiber, making it a fine choice for a lightweight camera setup.
Aluminum Tripods
Aluminum is one of the most popular tripod materials for very good reasons. It is quite rigid and very durable for the price. It's not as hard as steel or other metals and more likely to dent if it takes an especially sharp impact. But it's very unlikely to break.
Aluminum tripods can also be difficult to work with in extremely cold or hot weather conditions. Being metal, heat is conducted quickly into and out of the material.
Carbon Fiber Tripods
Carbon fiber is considered the ideal material for tripods. It's lighter than aluminum and other metals yet stronger in weight. It also won't corrode over time when water hits it nor will it get extremely hot or cold quickly. The only real downside is that it's much more expensive to produce compared to plastic or aluminum. Also if weight is your primary concern, plastic is still lighter (and significantly cheaper).
Maximum Load Capacity
I've chosen a variety of tripods that will work for nearly any camera setup. But you'll need to take into account how much your camera plus lens weighs when choosing the right tripod for you. A compact camera or smartphone camera photographer has very different needs from a full-frame DSLR user.
Features
Added features like a detachable monopod, stabilizer hook, twist lock vs snapping leg joints, and other options will come in handy. If you're using a heavier camera rig then a hook affixed to the central column allows you to add weight (such as your camera bag) to keep the tripod from toppling.
A detachable monopod also gives you a quick bit of stability without you having to spend time setting up all of the tripod legs for a quick snapshot.
Best Tripods in 2023
Here are the best tripods in 2021 for any sort of photographer!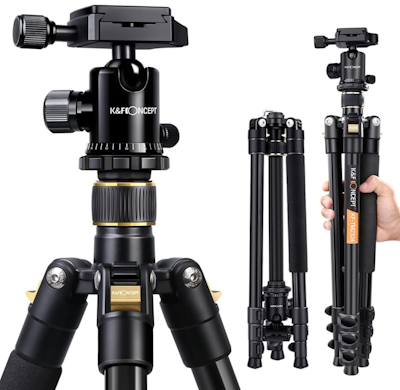 If I had to choose a single tripod that incorporates everything you could ever want in a 2023 model at an affordable price it would be this one. The K&F 64-inch is one of the tallest tripods yet at 1.35kg it's also extremely light for its size.
The addition of magnesium adds corrosion resistance and durability to the somewhat fragile and easily dented aluminum base metal. And it's capable of handling up to 8kg of weight, ideal for heavy full-frame setups with telephoto lenses and other bulky, imbalanced equipment. And when no longer needed it collapses down to a convenient 47cm in height.
2) Peak Design 5-Section Carbon Fiber Tripod
Peak Design is well known for its thoughtful, premium products and their 5-section carbon fiber tripod is no different. This tripod seems hard to justify being 3x or more of the price compared to many other excellent models.
However for the price you get the highest weight capacity (9kg), an excellent degree of compactness (down to 39cm stowed away), excellent minimum and maximum heights, and the best carbon fiber construction on the market.
A low-profile ball head helps save additional space and there's even a cell phone holder on the central column. This model is also available as an aluminum tripod for significantly less money as well ($349.95).
3) AmazonBasics 60-Inch Lightweight Tripod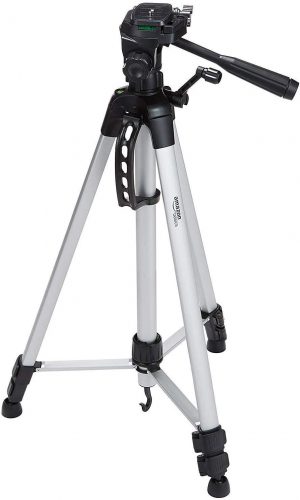 Sometimes all you're really looking for is a tripod that's inexpensive, light, and dependable. If you're not looking for anything beyond plastic construction and plenty of height, the AmazonBasics model is an excellent choice.
At up to 60 inches in height, it's one of the tallest tripods around yet it only weighs 1.2kg. The weight limit is lower than some of the sturdier aluminum and carbon fiber tripods. But 3kg will still support any modern mirrorless camera setup as well as nearly any DSLR that isn't using a telephoto prime lens.
4) Manfrotto PIXI Evo Mini Tripod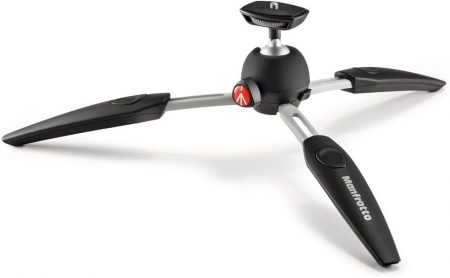 Manfrotto tripods are some of the best in the industry as the company has been in business for decades. The PIXI is a departure from their typically large, rugged tripods. However, the respectable carrying capacity of 2.5kg ensures it's sturdy enough even for a full-frame mirrorless camera plus lens.
While its compactness is a benefit it also means that the height doesn't adjust very much. You have 10 centimeters of play, making this a good tripod for scenes where you aren't shooting above barriers and don't mind crouching to adjust the camera. It can also be set up on walls and other raised platforms.
But despite how low it is to the ground the Manfrotto PIXI can tilt a full 90 degrees sideways, making it ideal for portrait orientation shots.
5) 3 Legged Thing Punks Corey Mag Alloy Tripod Kit w/AirHed Neo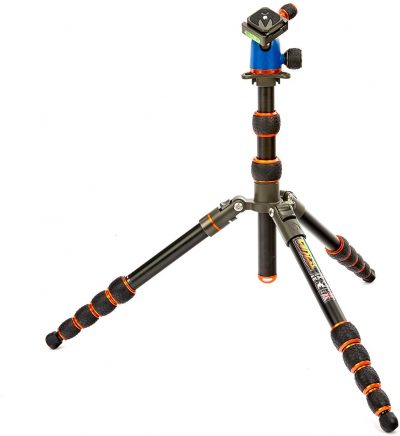 3 Legged Thing tripods are mid-tier in price but some of the most fully featured models on the market. Most of them use aluminum or carbon fiber construction. However, the Punks Corey uses magnesium alloy, an interesting choice for a tripod. It adds corrosion resistance and extreme durability on par with carbon fiber.
Another fine feature is the option of foot pads or spikes if you prefer digging the footings into soft earth or sand. But considering the Punks Corey has both hooks for added stabilizing weights and a weight limit of 10kg, this tripod is going to be rock-solid.
A fully detachable monopod also offers you stability without needing to fully extend and lock the legs for brief photo opportunities.
Conclusion
Tripods aren't created equally. So take some time to carefully consider which of the best tripods in 2021 meets your needs as a photographer. If you found this list helpful, feel free to drop me a comment with which tripod you ended up buying!
Related Articles
Digital Camera Tripod – How To Choose The Right One!
Manfrotto 190 Mt190xpro3 Review
Thanks for reading, I hope you enjoyed the article if you have any questions just post them below & I will be happy to answer you.
If you enjoy the site, don't forget to subscribe, we will only inform you when a new article is posted.