Photographers shoot in different conditions with different types of camera and lenses (light and heavy gear), their needs and requirements of using tripods can also be very different. In the following article we will learn all about digital camera tripod and its characteristics, and hopefully, in the end, you will be able to answer the tricky question "how to choose the right one you actually need".
For example, when a photographer uses a heavy camera and long telephoto lens, he needs a sturdy one that can support the heavy gear. While traveler photography may be interested at light tripod that can easily accompany him in his travel. I think that is why there are so many different types of tripods. But how do you know which one is the best to buy for your camera? Whether you're on a budget or looking for a high-end stand, we've found the best tripods that will help take your photography to the next level. So let us start.
Tripod characteristics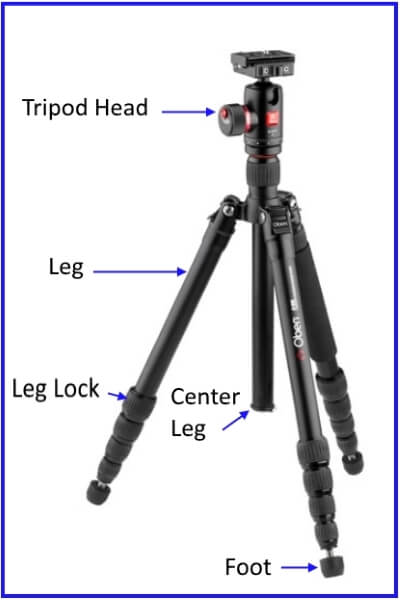 There are eight characteristics common to all tripods:
Folded Length
Folded Length is the length of a tripod measures with everything folded up. This is important especially if you are traveling and need to pack the 'pod in a bag. This number will let you know if it'll fit.
Max Height
The max height is the measure of the tall of the tripod when every leg is extended and the center post (a tube that the camera sits on, usually adjustable) is raised as far as it will go.
Load Capacity
The Load Capacity is the weight of heaviest camera and lens combination that the tripod can handle. If you put a camera that's heavier than the Maximum Load Capacity on a tripod, you run the risk of a piece breaking or collapsing, causing damage to both the tripod and the camera.
Weight
It is the overall weight of the tripod
Feet type
Feet come in rubber non-slip (suitable for indoor shooting); spike (best for outdoor shooting), the spikes hold the tripod firmly in the ground.
Leg Locks
Leg locks are available in Twist (twist the leg to pull it out, twist it in reverse to lock it in position), Lever (open a lever to pull a leg out, close it to lock it) and custom options.
Tripod Material
The material used in manufacturing a tripod can be plastic, or aluminum, or carbon fiber.
The plastic material is the least inexpensive, but it's not very durable. Aluminum is also inexpensive and most commonly used, but in heavy-duty tripods can add a lot of weight.
Carbon fiber is durable, lightweight, and flexible. It is ideal for most users, but it'll cost more than aluminum.
Special features
A tripod has a mounting screw to enable the attachment of a camera by screwing it into a hole found at the bottom of your camera. A tripod with a quick-release mounting platform comes with a plate to attach to the bottom of your camera. This lets you quickly attach or detach the camera. Quick-release plates are also known as QR plates, or simply tripod plates. They're small plates, usually made from metal, that are attached to the base of a camera using the tripod screw mount. The ARCA-Swiss type [popup_anything id="9340″]of quick release plate is a universal plate that will fit many tripods by a lot of manufacturers.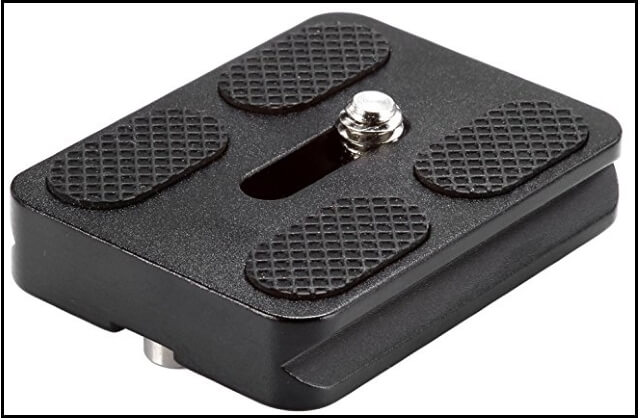 A built-in level helps keep photos straight when shooting scenes with horizons and other horizontal or vertical lines.
Tripod Head Types
There are many different types of tripod heads Here's a breakdown of the most popular types of tripod heads.
Ball Head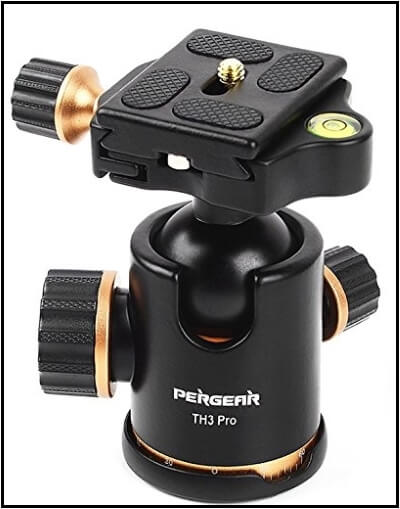 It is a small device that is mounted to the top of your tripod, and to the bottom of your camera. It is called a ball head because there is a large ball that is adjusted so that your camera can be moved around in 360 degrees with total precision. You simply point the camera where you want it and lock the ball to keep it there. A quality ball head will lock and unlock with a single twist of this knob, and the camera will stay exactly where you lock it, with no drooping or settling even with a heavy lens.
Pan & Tilt Head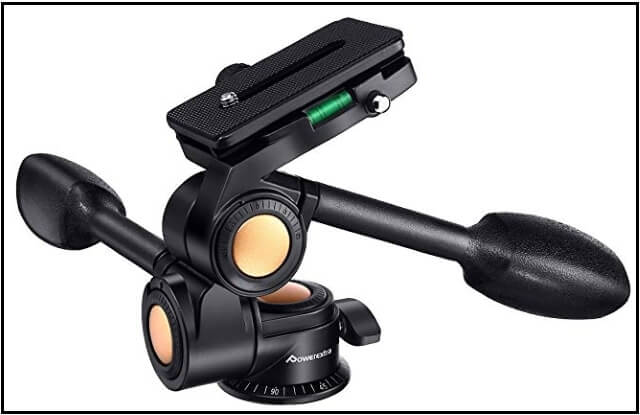 A pan head, also called pan and tilt head, allows independent rotation of the camera about two perpendicular axes. Typical pan heads have lockable levers for each axis, a scale marked in degrees at least for the vertical axis, and one or more spirit levels.
Pan heads can be used for panoramas, but suffer from the deficiency that the axes of rotation normally do not go through the entrance pupil of the lens and thus can give rise to problems with parallax. A better choice for panoramas is a custom-built panoramic tripod head.
Gimbal Head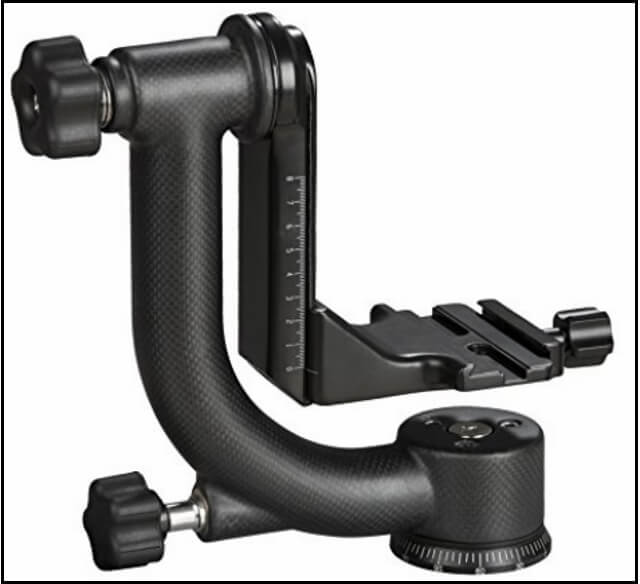 Gimbal heads are designed mainly for long, heavy telephoto lenses, and are often used for wildlife or sports photography. Their primary feature is the ability to balance the camera and lens within the tripod head and use tension controls to simulate a "weightlessness", where the camera can be moved freely, but stays in place when not being moved. They allow for easy tracking along the vertical and horizontal axis, but generally, do not offer the ability to make precise angular movements along either. A gimbal head excels at tracking a fast-moving subject and allowing large, cumbersome camera setups to be used with more agility than nearly any other support system.
Fluid Drag Head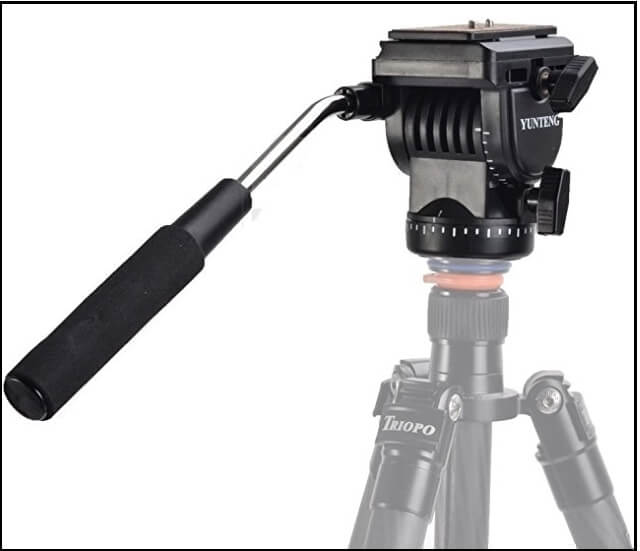 Fluid heads are the dominant tripod heads used in the motion picture industry. They provide extremely smooth free movement, even with heavy video cameras. The fluid reduces the risk of the camera operator introducing any jerkiness or vibration to the shot during a pan or tilt through dampening and also reduces the friction between moving parts of the head.
Whether you're using a dedicated video camera or your standard digital camera in video mode, a well-built fluid head will allow you to achieve the smoothest of movements. You'll get clean stopping and starting, and be able to do smooth pans without any jerkiness.
Pistol Grip Head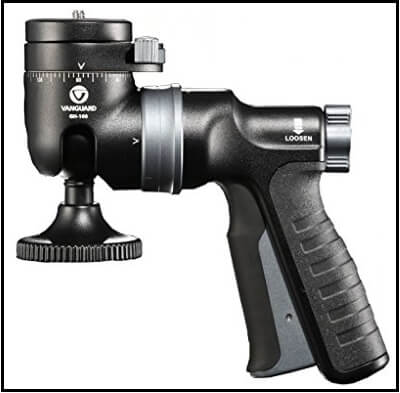 A pistol grip head is very similar to a ball head. Instead of having to use a knob to loosen the ball, you'll use a pistol grip. Some photographers like how quick and easy it is to reposition the camera without fumbling with the tripod head. I personally don't like pistol grips because they can loosen over time, unlike a traditional ball head.
Types of Tripods
The following table shows the general specification of the different types of tripods, and we will go through it in some details.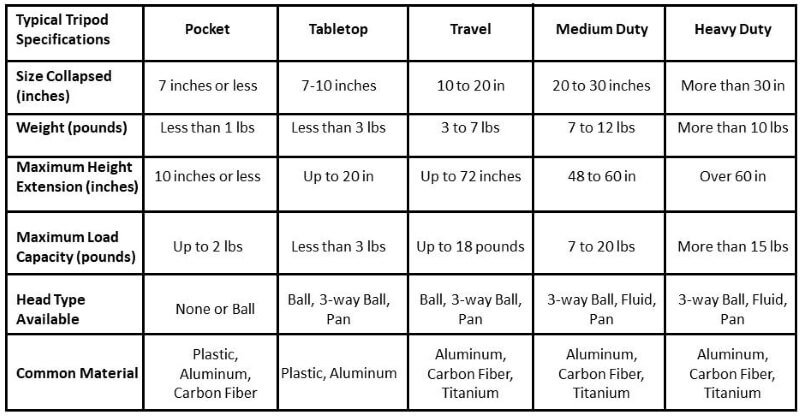 All-in-One
All-in-one tripod is a tripod that has the legs and heads permanently connected. They are the least expensive and are the right choice for most people's first tripods. They are suitable for beginner photographers with their compact and lightweight gear and let them learn and practice.
Amazon Basics 60-Inch Lightweight Tripod with Bag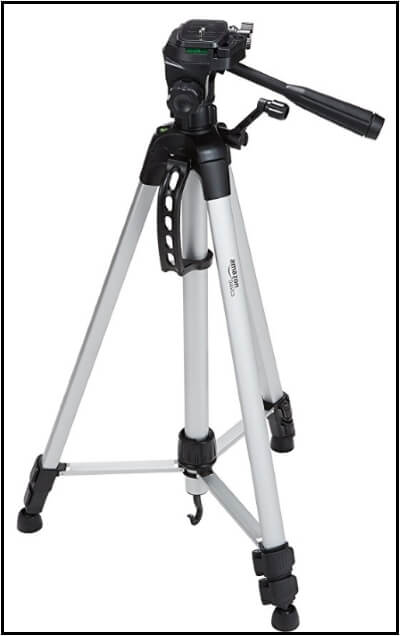 Product highlights:
A lightweight tripod with adjustable-height legs and rubber feet
Compatible with most video cameras, digital cameras, still cameras, GoPro devices, smartphone adapters (not included), and scopes.
The recommended max load weight is 6.6 lbs (3kg) for optimal performance
Weighs 3 lbs; Extends from 25 inches to 60 inches when center post is fully extended; Carrying case included
Two built-in bubble view levels and a 3-way head to allow for tilt and swivel motion; portrait or landscape options
The quick-release mounting plate helps ensure fast transitions between shots
Pocket Tripod
Typically they are measuring less than five inches collapsed, can slip easily into a bag or waist-pack, and are very handy at parties, restaurants, and other places where you may not want lug something bigger. Because they're so low, they're not designed for standing on the ground, you'll need to find a table you can rest them on. They also don't extend vertically, so how high or low your camera is held will be determined entirely by where you rest the tripod. They'll support the weight of a compact digital camera. There are even small tripods that will hold your cell phone camera steady! They can be used in shooting Self-portraits, Party pictures, and Group shots
Manfrotto MTPIXI-B PIXI Mini Tripod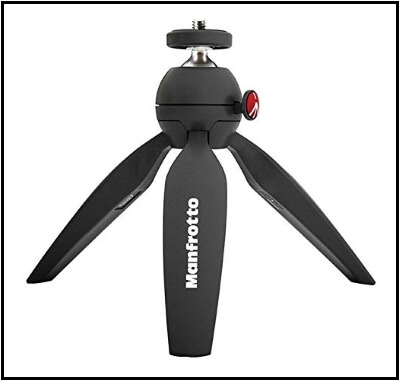 Product highlights
Lightweight and portable design
Rapid push-button lock system for head adjustment
Solid construction
Tabletop tripod
They're light, small, and easy to pack so they're perfect for travel. Put it on a table, set the self-timer, and you can include yourself in the shot. They are excellent for group pictures and other situations where the camera can be positioned on a flat surface other than the ground. They can also be used in Macro/close-up photography.
SLIK Mini Pro III Table Top Tripod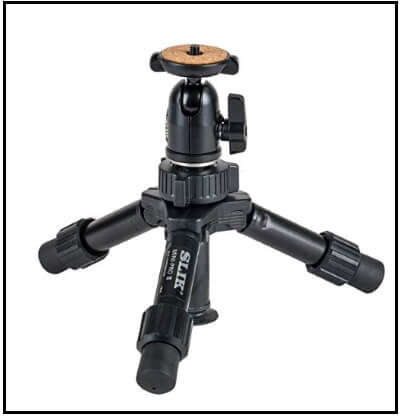 Product highlights
Comes supplied with a compact ball head which allows the camera to be positioned at almost any angle
For vertical photos, the camera platform can be tilted 90 degrees in any direction
Maximum height: 8.46″ / Minimum Height: 5.78″
Load Capacity: 2.75 lb
Weight: 11.64 oz
Travel Tripod
Travel Tripod can bring your camera well off the ground, and can also collapse to an easy-to-carry size. Travel Tripod will support a digital SLR with a kit lens, or even a modest zoom lens. Compact video cameras can also be used on these tripods. Portable tripods that collapse down to 22 inches or shorter will fit in airline carry-on luggage.
Manfrotto MKBFRA4-BH BeFree Compact Aluminum Travel Tripod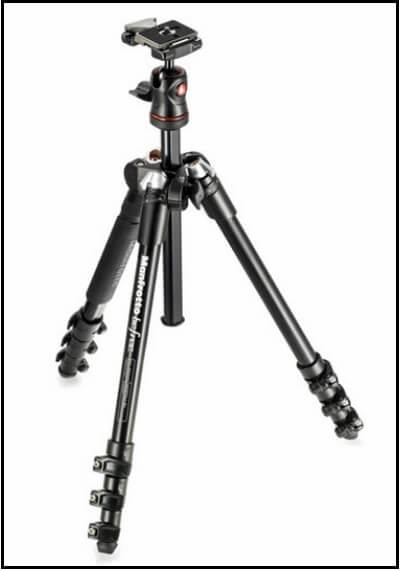 Product Highlights
Load Capacity: 8.8 lb
Maximum height: 56.7″
Min height: 13.4″
Folded Length: 15.75″
Leg Sections: 4
Weight: 3 lb
Independent Leg Angle Selector
Quick Release Ball Head
QR Plate Included
Fitted Case
Medium & heavy duty tripods
This is the domain of professional photographers who generally buy a specific type of tripod to fit a specific need. They are big, sometimes immovable and nearly always used with a specialized head. They are designed to handle medium- and large-format cameras.
They can be used for nature photography, portrait set-ups, and studio work. The advantage over portable pods is that most models to eye level or higher, are heavier and are therefore even sturdier–better when image sharpness is critical.
While many come with heads, you can buy some models without a head and then create a custom configuration by buying the head separately.
Manfrotto MT190XPRO3 3 Section Aluminum Tripod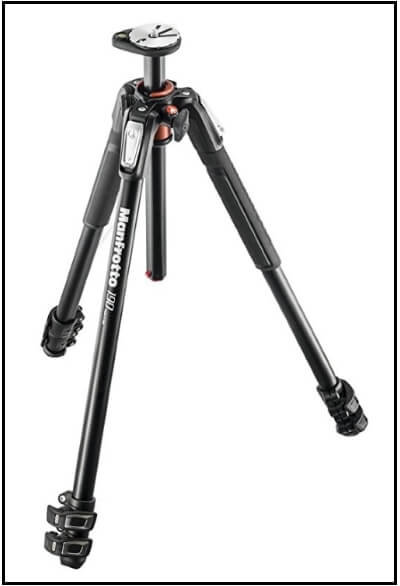 Product Highlights
Load Capacity: 15.4 lb
Max Height: 63″
Min height: 3.5″
Folded Length: 23.2″
Leg Sections: 3
Weight: 4.4 lb
90° Column Feature
(QPL) Quick Power Lock for Legs
Easy Link Plug
Rotating Bubble Level
Manfrotto MT190CXPRO4 4 Section Carbon Fiber Tripod Legs with Q90 Column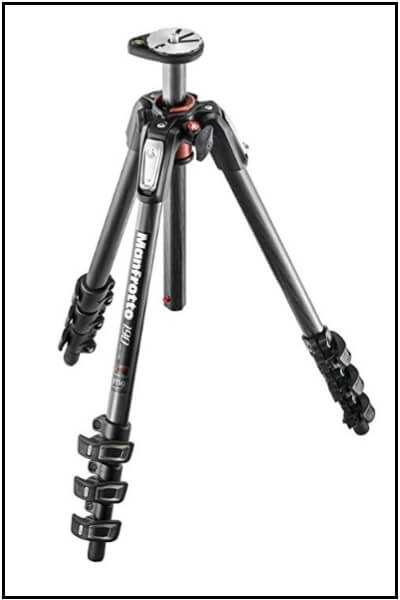 Product Highlights
Load Capacity: 15.4 lb
Max Height: 63″
Min height: 3.5″
Folded Length: 24″
Leg Sections: 3
Weight: 3.5 lb
90° Column Feature
(QPL) Quick Power Lock for Legs
Individual Leg-Angle Settings
Easy Link Plug
Manfrotto MT055CXPRO3 055 Carbon Fiber 3-Section Tripod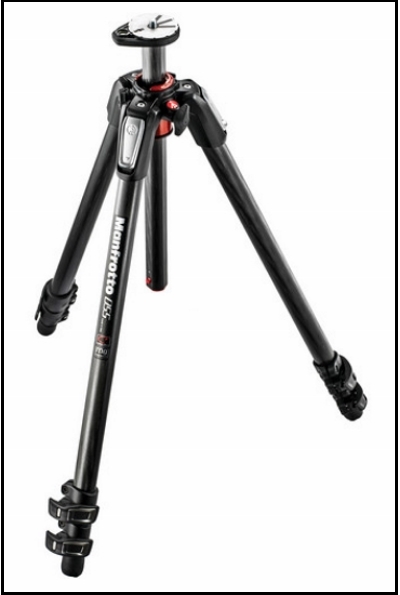 Product Highlights
Load Capacity: 19.8 lb
Max Height: 66.9″
Min height: 3.5″
Folded Length: 24″
Leg Sections: 3
Weight: 4.4 lb
Quick Power Leg Locks
90° Center Column
Easy Link Attachment
Rotating Bubble Level
Manfrotto 475B Pro Geared Tripod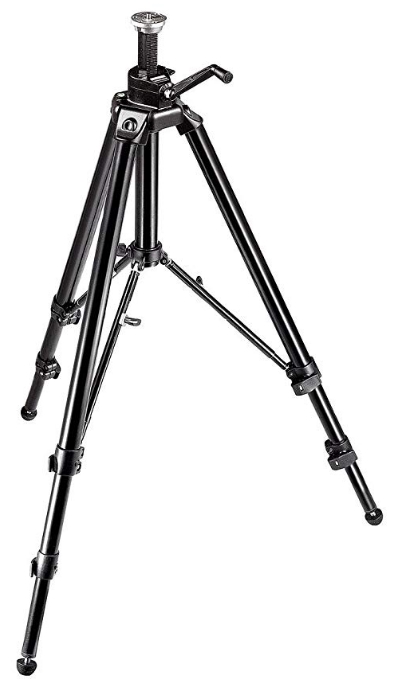 Product Highlights
Load Capacity: 26.5 lb
Max Height: 74″
Min height: 16.9″
Folded Length: 31.5″
Leg Sections: 3
Weight: 9.5 lb
Geared Center Column
Center Brace
Black Anodized Aluminum Construction
The following are tripod heads to suit the above-mentioned professional medium & heavy duty tripods.
Manfrotto MH804-3WUS 3 Way head ( Pan and Tilt)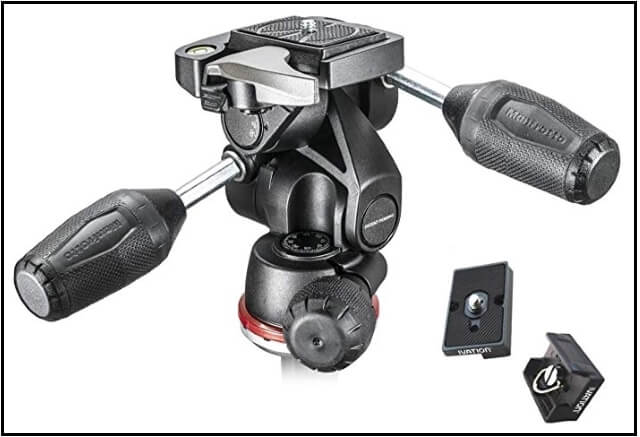 Product Highlights
Load Capacity: 8.8 lb
3 Independent Movements with Locks
90° Forwards and 30° Backwards Tilt
Up to 90° Portrait Angle Tilt
360° Rotation, Built-In Bubble Level
Retractable Handles for Tilt Movements
RC2 Quick Release Cam Lock
Durable and Lightweight Construction
200LT-PL Quick Release Plate
1/4″-20 Mount, Non-Slip Surface
Manfrotto 496RC2 Ball Head with Quick Release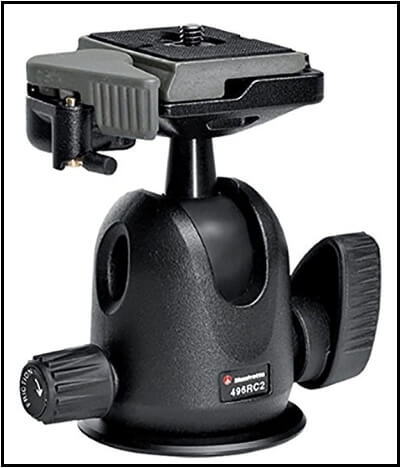 Product Highlights
Load Capacity: 13.2 lb
Height: 3.9″
Weight: 14.82 oz
Two-Sided 90° Portrait Angle Tilt
Ball-and-Socket Tension Control
RC2 Quick Release Cam Lock
200PL-14 Quick Release Plate
1/4″-20 Mount, Non-Slip Surface
Manfrotto 502 Video Head MVH502AH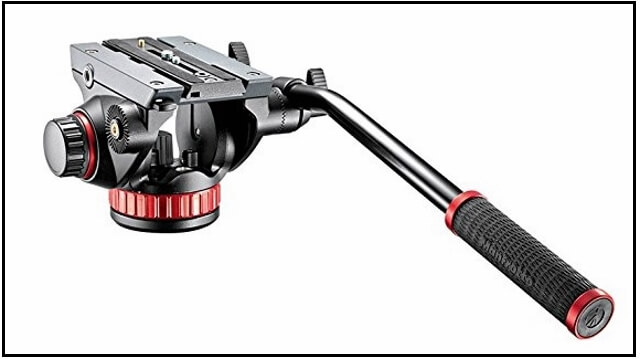 Product Highlights
4 lb Weight Capacity
Counterbalance Supports 8.8 lb
Bridging Technology
Spring-Loaded Counter Balance
Continuously Adjustable Pan/Tilt Drag
Pan Bar & Sliding Plate Included 
Monopods
For some photography situations, it doesn't make sense to set up a tripod for the shot. Monopods are a good alternative to tripods. Perhaps, a sports photographer may prefer to use monopods rather than gimbal heads to support his long lenses as they chase the action. Also, a Wedding photographer might use a monopod to stabilize his camera gear as he has to move around a venue to get different shots and angles.
Manfrotto MM290C4US 290 Carbon Fiber Monopod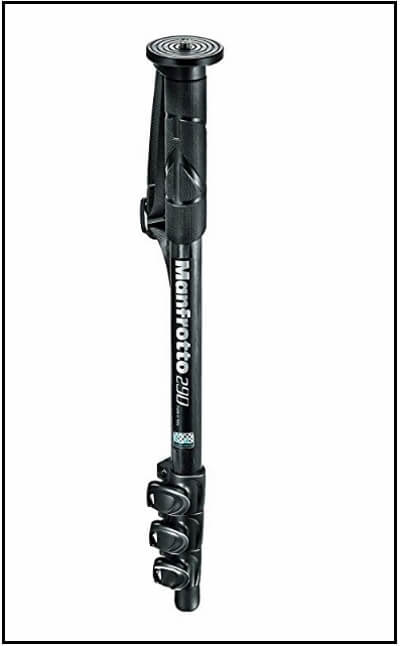 Product Highlights
Load Capacity: 11 lb
Max Height: 59.4″
Closed Length: 19.3″
Sections: 4
Weight: 1.1 lb
D-Shaped Tubing
Rubber Grip
Wrist Strap
Related Posts
Thanks for reading, I hope you enjoyed the article if you have any questions just post them below & I will be happy to answer you.
If you enjoy the site, don't forget to subscribe, we will only inform you when a new article is posted.