Are you in the market for a new tripod? When shopping for one you'll need to take into account not only the price but the material construction and special features it offers! 
You may be asking why I need a tripod. Depending on your genre of photography, tripods can be versatile and beneficial support. Here are some reasons why a tripod can be beneficial to your photography:
I advise you to check my post "Digital Camera Tripod- How To Choose The Right One", Tripod materials can be made of plastic, aluminum, and carbon fiber all have advantages and disadvantages, for example. Do you prefer articulating legs or ones that have twist-locks for extra security? To help with your search I've put together this list of the most reasonably priced yet feature-filled tripods for beginners in 2020!
Despite the bargain price this model has most of the features of high-end tripods, including twin bubble levels for orientation, a 3-way head design that allows you to swivel, tilt, or position the camera in portrait or landscape mode.
Being one of the lighter tripods this AmazonBasics model can't hold heavy DSLR or mirrorless kits; the recommended max load is 3kg. With a versatile 63-152 cm range, it reaches heights comfortable for most photographers. 
The legs include twist locking mechanisms to hold them in place and rubberized feet to protect against erosion from rough ground. And the standard quick-release plate ensures compatibility with nearly all cameras, including video cameras, GoPros, and smartphones with the right adapter.
Specifications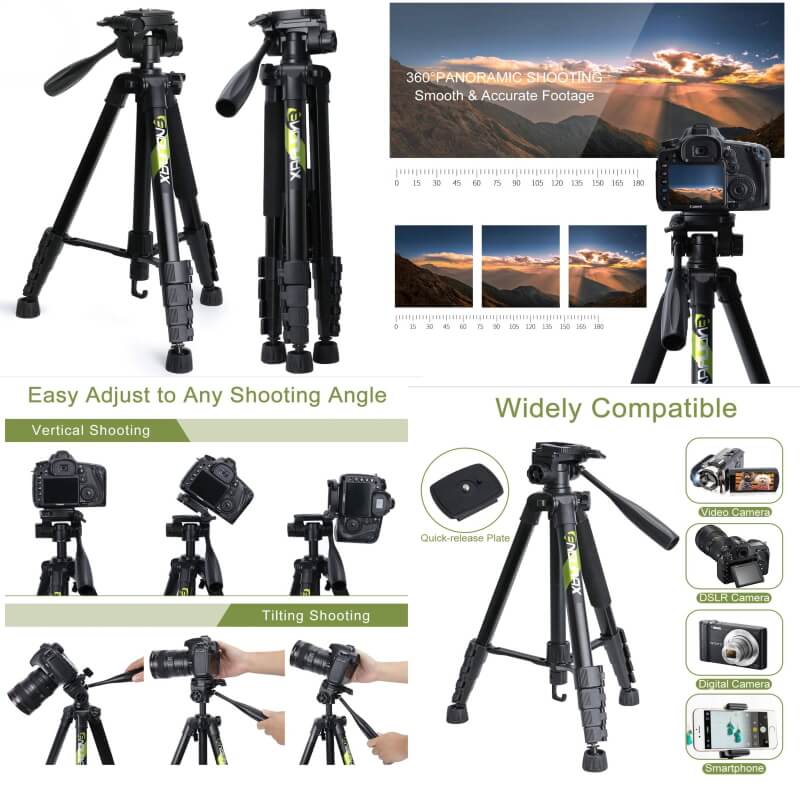 The Endurax 66 is a heavier duty model that can hold up to 4989 g of weight; more than enough for full-frame camera rigs.
Unlike budget plastic models the aluminum tubing used in constructing the Endurax 66 is tougher and resistant to sharp blows. While not as scratch-resistant as carbon fiber, aluminum is the best material for beginners looking for a slightly more durable tripod.
The weight hook attached to the center column is especially helpful for unbalanced lenses like telephoto zooms. By adding additional weight you can improve the stability of your tripod-camera setup.
And rather than twisting locks the Endurax 66 uses a flip-locking design that's faster to set and undo. This is especially handy for genres like wildlife and sports photography where you'll need to be on the move constantly!
Specifications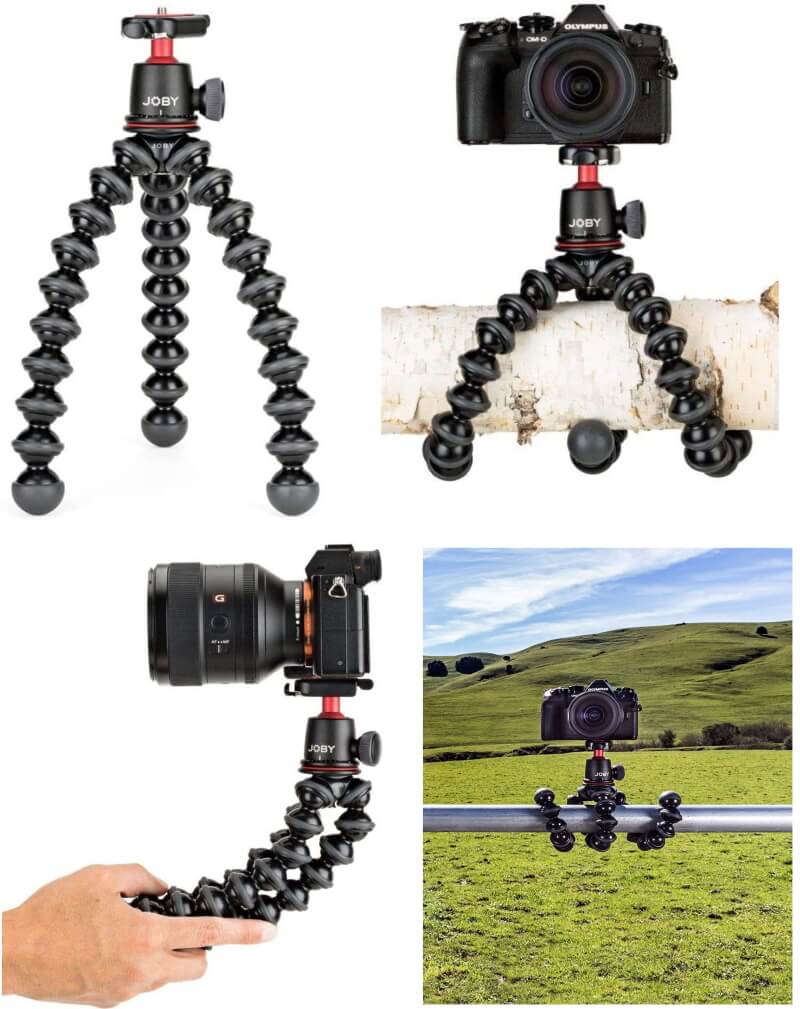 The Joby GorillaPod line is some of the most unusual tripods around yet are popular for very good reason. Despite their mostly plastic construction and complete inability to adjust in height, what makes them special is their rubberized gripping legs.
The GorillaPod 3K can be placed like a normal tripod or attached to tree branches, railings, or other makeshift places. This flexibility allows you to get the height exactly right almost anywhere and opens up an infinite number of creative possibilities, including handheld vloggers.
Since the legs don't use locks to adjust height the GorillaPod is perfect for travel and street photographers who need a light yet capable tripod that can quickly set up and break down. With its 3 kg weight limit, the GorillaPod 3K is meant for smaller camera rigs. However, the GorillaPod 5K is not only taller and extremely reasonably priced but holds up to 5 kg of camera gear.
Specifications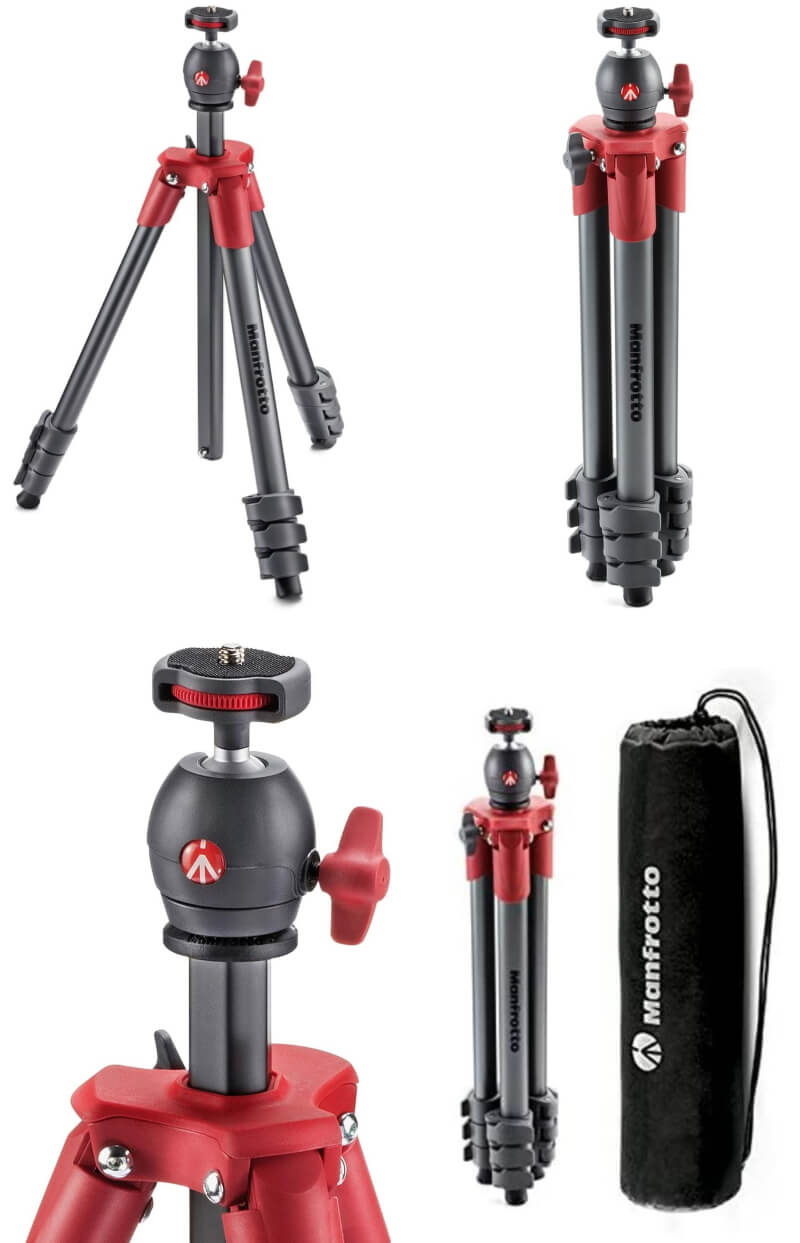 Manfrotto is an Italian line of tripods used by professionals worldwide due to their reliability and excellent build quality. Manfrotto tripods also use a unique ball head design with a single adjusting dial for orienting the camera on the quick release plate.
At 920.8 lbs this aluminum tripod is one of the lightest on this list yet durable enough for outdoor landscape and travel photography. Still, you'll want to use camera rigs no larger than 1.5 kg to ensure the tripod stays balanced.
While compact and intuitive to use the maximum height of 131 cm is on the shorter end. Photographers looking to shoot closer to eye level might prefer the Endurax 66″ model, which is also made of aluminum but has a higher weight limit.
Specifications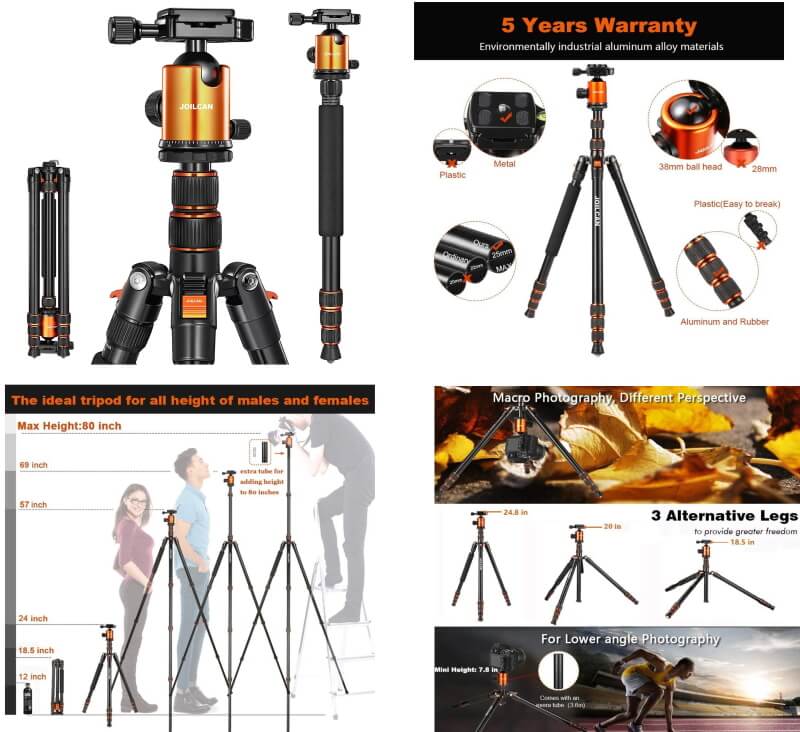 With how inexpensive high-end cameras are nowadays even beginners may have heavy full-frame rigs that need stabilizing. If you're looking for up to 8.6 kg of support Joilcan's 80-inch tripod is your best bet.
Made of aluminum for durability and lightness the Joilcan has a central pillar that can also be converted into a monopod for sports and wildlife photographers that feel encumbered by a tripod. The twist-lock leg design is more secure as well in the field where branches and rocks may snag and open flip-locks.
The ball head is also quite versatile, with a separate pan lock that allows rotation up to 360 degrees for panoramic photography and videography.
Specifications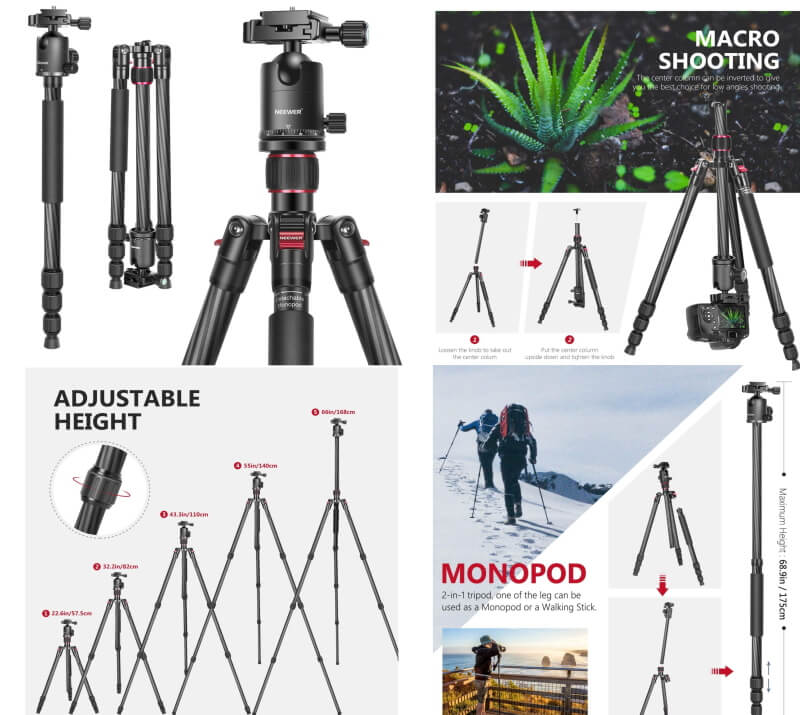 Photographers who need a strong tripod that's also light should look into the Neewer Carbon Fiber Tripod/Monopod.
This tripod is also one of the most affordable carbon fiber models out there. Carbon fiber is superior to plastic and aluminum all around. It's corrosion-resistant and lasts decades, lighter than aluminum, and more resistant to scratching and breaking. 
The degrees of rotation on the tripod head is clearly labeled for precision adjustments using the twin locking dials. While not as heavy-duty as the Joilcan the Neewer 66 inch can hold up to 12 kg, more than sufficient for even full-frame camera + lens combos.
When separated from the three main legs the central column doubles as a monopod for sports or landscape work. The central column can also be reversed for ground-level photography of flowers, insects, etc.
Specifications
Thanks for reading, I hope you enjoyed the article if you have any questions just post them below & I will be happy to answer you.
The featured Image by Photo Mix from Pixabay
If you enjoy the site, don't forget to subscribe, we will only inform you when a new article is posted.