Recent research concluded that video would account for 82% of all online traffic by 2022, and video has become the most popular form of online content. Vloggers must have the right gear to express their content, and ideas by producing amazing videos.
In this post, I will list the best video camera for serious and enthusiastic vloggers, with low-budget options in mind.
First, let us discuss the camera features you should look for when selecting a suitable camera for your video recording.
What to look for when selecting a video camera
To help you when you are selecting a camera for your video recording, the following is a list of the most important features you should look for in a vlogging camera.
You have to check the camera to figure out that it is comfortable to hold, and that the controls are easy to reach.  Check also that you can change the important settings with buttons and switches, rather than having to use menus.
Video resolution determines the details amount in your video and how clear it will appear. However, higher resolution comes with a cost: bigger storage space and more expensive. While you don't want to waste storage space by going too high, you also want to make sure your resolution is high enough for the various formats where your footage might be seen. The common resolutions are:
1080 resolution (full HD): Often referred to as "full HD," 1080 (1920 x 1080 pixels) has become the industry standard.
4K resolution (ultra HD): Called 4K and marketed often as UHD (ultra-high-definition television), this resolution is technically 3840 x 2160 pixels.
Being able to record video in 4K resolution is a bonus. 4K means more resolution, more clarity and more editing options when it comes to post-production
Framing and composing features
If your goal is shooting tutorials and educational videos, and you are recording yourself explaining something, you need a way to see how your shot is composed. If the camera you're using has a fixed LCD screen or it has no LCD screen at all, it is difficult to get a good framing of the scene. For this scenario, a camera with a fully Articulated LCD careen is a very important feature.
In addition, you may prefer the option of extending your camera's screen onto the screen of another device, like a large television or monitor.  This option is readily available in vlogging cameras through an HDMI output, or through a USB-C connection
A good vlogging camera will have the ability to continuously auto-focus while it is recording video. For example, if you're sitting down, talking to the camera in a talking-head shot, you want the camera's focus to be on your face. Assume that in the middle of your talking, you want to show your audience a closer look at a new gadget, without continuous autofocus, the item you're trying to show off will appear blurry.
Optical Image Stabilization
If you plan to capture many of your vlogs just holding up your camera with your hand, one thing you have to watch out for is shakiness. Video footage that is too shaky can be unpleasant to watch. Optical image stabilization (OIS) in your camera or lens can do wonders to make your recorded video appear more stabilized.
External Microphone Jack and Hot/Cold Shoe
If you want to upgrade the audio in your vlogs, you should look for a camera that has an external microphone input. With this option, you can get much better quality sound, all timed perfectly with your recorded video. This saves you the time of having to sync audio that has been recorded separately. Some microphones are designed to be mounted conveniently onto the top of your camera. If you want to make use of these microphones, the top of your camera will need a "hot shoe" (an electronic bracket that can trigger a flash) or a "cold shoe" (a non-electronic bracket that camera accessories can be attached to).
If you make extensive use of your camera to vlog throughout your entire day as daily vloggers do, you should also look out for a vlogging camera with good battery life. Yes, you can always buy more batteries and have them readily available when the one you're using runs out. However, you don't want to have to buy so many, especially when these individual batteries can be so expensive.
---
The Best Video Camera for Vloggers (Low Budget)
---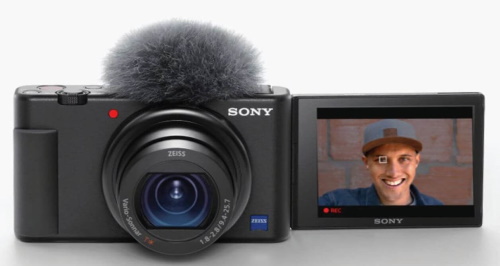 Key Features
| 20.1MP 1" Exmor RS BSI CMOS Sensor | ZEISS 24-70mm-Equiv. f/1.8-2.8 Lens |
| --- | --- |
| UHD 4K30p Video w/ HLG & S-Log3/2 Gammas | 3.0" Side Flip-Out Touchscreen LCD |
| Real-Time Tracking & Eye AF | Background Defocus & Face Priority AE |
| BIONZ X Image Processor & Front-End LSI | Directional 3-Capsule Mic & Mic Jack |
| Multi-Interface Shoe, Built-In ND Filter | Product Showcase Setting |
The Sony ZV-1 is a purpose-built compact camera; it is built for vloggers and influencers. Featuring a side flip-out 3.0″ touchscreen and a directional 3-capsule microphone that are perfect for front-facing recording, the ZV-1 also caters to this crowd with the Product Showcase Setting, Background Defocus function, Soft Skin Effect, and Face Priority Auto-Exposure.
The camera has a fixed lens; the ZEISS 24-70mm-equivalent standard zoom lens, it has a bright f/1.8-2.8 maximum aperture range and suits recording while walking. Active SteadyShot image stabilization helps to steady footage and reduce the appearance of camera shake for smoother takes.
---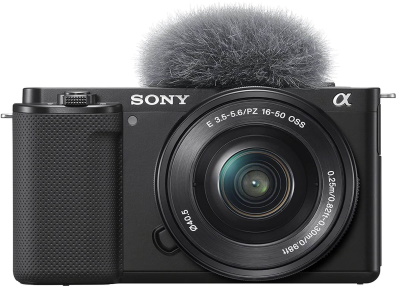 Key Features
| 24.2MP APS-C Exmor CMOS Sensor | UHD 4K30p and Full HD 120p Video |
| --- | --- |
| 3.0" Side Flip-Out Touchscreen LCD | 425-Point Fast Hybrid AF |
| Up to 11-fps Shooting, ISO 100-32000 | Real-Time Eye AF and Tracking |
| Background Defocus & Face Priority AE | Directional 3-Capsule Mic and Windscreen |
| Headphone and Microphone Ports | E PZ 16-50mm f/3.5-5.6 OSS Lens |
Perfect for vloggers, the Sony ZV-E10 pairs a large APS-C sensor and mirrorless versatility with a specialized feature set built just for content creators. the ZV-E10 is built around the concept of vlogging. It is a highly capable and portable camera but incorporates a series of design choices and shooting modes that are ideal for single-person productions.
A vari-angle screen lets you accurately frame up shots, the integrated directional mic is purpose-built for recording more accurate sound from front-facing subjects, and shooting modes like Background Defocus and Product Showcase help you highlight specific subjects with ease.
The ZV-E10 has a 24.2MP APS-C Exmor CMOS sensor, which enables UHD 4K video recording at up to 30p, Full HD recording at 120p, and stills shooting up to 11 fps. The sensor's design integrates a 425-point Fast Hybrid AF system for accurately tracking and detecting subjects.
---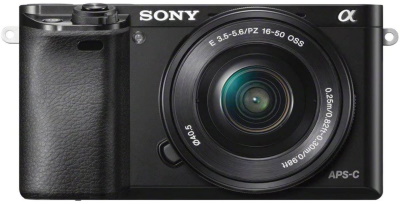 Key Features
| 24.3MP APS-C Exmor APS HD CMOS Sensor | BIONZ X Image Processor |
| --- | --- |
| Tru-Finder 1.44m-Dot OLED EVF | 3.0" 921k-Dot Xtra Fine Tilting LCD |
| Full HD 1080p XAVC S Video at 24/60 fps | Built-In Wi-Fi Connectivity with NFC |
| Fast Hybrid AF & 179 Phase-Detect Points | Up to 11 fps Shooting and ISO 25600 |
| Multi-Interface Shoe and Built-In Flash | E 16-50mm f/3.5-5.6 OSS Lens |
The Sony a6000 is a versatile APS-C mirrorless camera offering a well-balanced combination of apt stills performance and Full HD video capabilities, along with fast AF performance and intuitive handling.
Full HD 1080p video recording is supported at up to 60 fps in the high-quality 50 Mbps XAVC S codec. Complementing the video capabilities of the a6000, a built-in stereo microphone is incorporated into the design and records audio in the Linear PCM 2-channel format
This camera has a Fast Hybrid AF system, it utilizes both a 179-point phase-detection system and a 25-point contrast-detection system to achieve precise focus in as little as 0.06 sec.
The camera has a Spatial Object Detection algorithm, this AF system first employs the phase-detection AF points to quickly bring the subject into focus and then uses the contrast-detection AF points, with wide AF coverage, to fine-tune the sharpness for ensured accuracy.
This system also provides AF tracking when shooting up to 11 fps in continuous high mode and functions seamlessly when recording Full HD movies.
---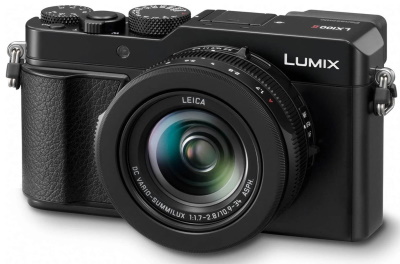 Key Features
| 17MP Four Thirds MOS Sensor | Leica DC Vario-Summilux f/1.7-2.8 Lens |
| --- | --- |
| 24-75mm (35mm Equivalent) | 2760k-dot Electronic Viewfinder |
| 3" 1240k-dot TFT LCD Touchscreen | 4K Video Recording |
| Built-In Wi-Fi & Bluetooth Connectivity | Extended ISO 100-25600 |
| Lens & Body-Mounted Exposure Controls | Includes Hot Shoe Flash |
This Lumix DC-LX100 II Digital Camera from Panasonic improves upon its predecessor while keeping many of its most beloved qualities. At the forefront is the large 17MP 4/3″ image sensor that outputs detailed still images and captures brilliant 4K videos at 24 or 30 fps.
The built-in Leica DC Vario-Summilux lens has a zoom range of 24-75mm (35mm equivalent) and a bright f/1.7-2.8 aperture range, making it more than capable of handling a variety of low-light scenarios.
Full manual control over exposure via on-camera dials allows for greater creative freedom by allowing you to keep your eyes looking through the 2760k-dot electronic viewfinder instead of flipping through menus. The 3″ LCD touchscreen can also be used to adjust settings as well as autofocus.
Full 3840 x 2160 4K video recording is possible at either 30 or 24 fps. Additionally, individual frame grabs from video recordings are done via the 4K Photo mode, which can capture full JPEG images with EXIF data from recorded 4K video.
---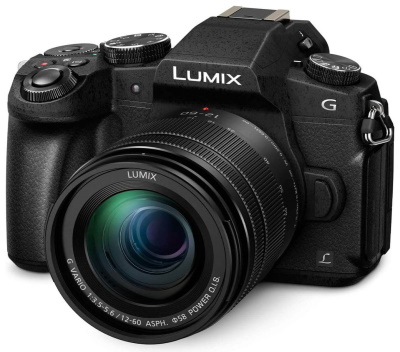 Key Features
| 16MP Live MOS Sensor | Micro Four Thirds System |
| --- | --- |
| 2.36m-Dot Electronic Viewfinder | 3.0" 1.04m-Dot Swivel LCD Touchscreen |
| UHD 4K Video Recording at 30/24 fps | Built-In Wi-Fi Connectivity |
| DFD AF System, 4K PHOTO Modes | 5-Axis Image Stabilization, Dual I.S. |
| ISO 25600 and 10 fps Shooting with AF-S | Lumix G Vario 12-60mm f/3.5-5.6 Lens |
Designed for video and stills shooters alike, the Lumix G85 from Panasonic is a versatile Micro Four Thirds camera characterized by its quick performance, flexible photo capabilities, and UHD 4K video recording.
The camera uses a 16MP MOS sensor and has a sensitivity range from ISO 200-25600 to suit working in a variety of lighting conditions. It also affords quick shooting speeds of up to 10 fps with single-shot autofocus, or 6 fps with continuous autofocus, as well as up to 40 fps when using an electronic shutter function and 30 fps at 8MP with 4K PHOTO Modes.
the G85 also supports recording UHD 4K (3840 x 2160) video with either 30p or 24p frames rates at 100 Mbps. Full HD 1080p/60 is also supported at 28 Mbps in the MP4 format, along with HD recording and Full HD in AVCHD.
A built-in stereo microphone can be used during recordings and features an integrated wind-cut filter for cleaner audio quality when shooting outdoors, or an optional external mic can be used via the 3.5mm jack.
Helping to achieve the utmost sharpness when photographing handheld, Dual I.S. combines the G85's 5-axis sensor-shift image stabilization technology with lens-based image stabilization to compensate for a broader range of movement types to render sharper, clearer imagery. Dual I.S. requires the use of compatible Lumix lenses featuring O.I.S.
---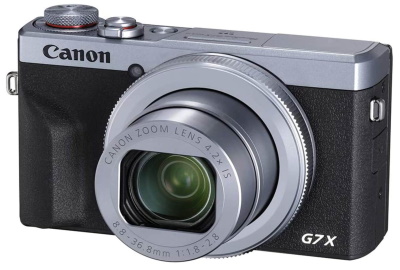 Key Features
| 20.2MP 1" Stacked CMOS Sensor | DIGIC 8 Image Processor |
| --- | --- |
| 4.2x Optical Zoom f/1.8-2.8 Lens | 24-100mm (35mm Equivalent) |
| 3.0" 1.04m-Dot Tilting Touchscreen LCD | UHD 4K30p and Full HD 120p Video |
| 20-fps Shooting, 30-fps Raw Burst Mode | Built-In Bluetooth and Wi-Fi |
| Live Streaming & Vertical Video Support | |
The Canon PowerShot G7 X Mark III is a sleek camera distinguished by its advanced sensor design and flexible imaging capabilities. Its 20.1MP 1″ CMOS sensor uses a stacked design, which pairs with the DIGIC 8 image processor to realize especially fast focusing performance, full-resolution shooting at up to 20 fps, and UHD 4K30p video recording, and Full HD 120p video recording.
This camera supports vertical video recording along with live streaming through YouTube, via a Canon iMAGE GATEWAY account, and the ability to use an external microphone and clean HDMI output further enhances recording quality.
Optically, the G7 X Mark III houses a 4.2x zoom lens, which covers a 24-100mm equivalent focal length range for wide-angle to short-telephoto fields of view.
An f/1.8-2.8 maximum aperture range suits working in difficult lighting conditions as does an Optical Image Stabilizer, which compensates for the effects of camera shake.
The camera's slim design also incorporates a 3.0″ 180° tilting touchscreen LCD and has both Bluetooth and Wi-Fi for wirelessly connecting to a mobile device.
---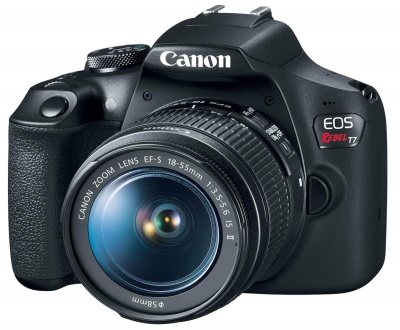 Key Features
| 24.1MP APS-C CMOS Sensor | DIGIC 4+ Image Processor |
| --- | --- |
| 3.0" 920k-Dot LCD Monitor | Full HD 1080/30p Video Recording |
| 9-Point AF with Center Cross-Type Point | ISO 100-6400, Up to 3 fps Shooting |
| Built-In Wi-Fi with NFC | Scene Intelligent Auto Mode |
| Creative Filters and Creative Auto Modes | EF-S 18-55mm f/3.5-5.6 IS II Lens |
The Canon EOS Rebel T7 is a sleek entry-level DSLR featuring versatile imaging capabilities and a helpful feature set. Incorporating a 24.1MP APS-C CMOS sensor and DIGIC 4+ image processor, the T7 produces high-resolution stills with notable clarity, reduced noise, and a flexible native sensitivity range from ISO 100-6400 for working in a variety of lighting conditions.
The sensor and processor also afford shooting continuously at up to 3 fps for photographing moving subjects, as well as Full HD 1080/30p video recording.
Benefitting shooting with the optical viewfinder, a 9-point AF system incorporates a single center cross-type AF point for increased accuracy and focusing speed, and a contrast-detection focusing system offers refined autofocus precision when recording video or photographing in live view. The rear 3.0″ 920k-dot LCD offers a bright, clear image for playback and review, and built-in Wi-Fi with NFC also offers the ability to wirelessly share imagery from your camera to a linked mobile device for instant online sharing.
---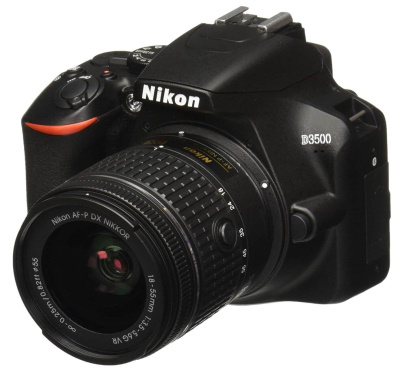 Key Features
| 24.2MP DX-Format CMOS Sensor | EXPEED 4 Image Processor |
| --- | --- |
| No Optical Low-Pass Filter | Native ISO 100-25600; 5 fps Shooting |
| 3.0" 921k-Dot LCD Monitor | Full HD 1080p Video Recording at 60 fps |
| Multi-CAM 1000 11-Point AF System | SnapBridge Bluetooth Connectivity |
| Guide Mode and Special Effects | AF-P DX 18-55mm f/3.5-5.6G VR Lens |
Compact, easy to use, and versatile are all traits of the Nikon D3500, which is designed to be as flexible and intuitive as possible, while still offering the imaging capabilities you expect from a DSLR.
Utilizing a DX-format 24.2MP CMOS sensor and EXPEED 4 image processor, the D3500 provides a native sensitivity range from ISO 100-25600 to suit working in a variety of lighting conditions, and the sensor and processor combination also provides a 5 fps continuous shooting rate as well as Full HD 1080p video recording at 60 fps.
The sensor's design also omits an optical low-pass filter in order to achieve greater sharpness and resolution from both photos and videos.
---
Can't afford a brand-new camera?
Sometimes, buying a new camera can be very expensive for many people. However, Keh is a great option to get a used one at a reasonable price. Read the full review here.
Relating posts
Best Camera For Filming YouTube Videos
How To Shoot Video With DSLR Camera
How To Shoot Videos Like A PRO In A Low Light Condition
Thanks for reading, I hope you enjoyed the article, in case you have any questions just drop them below & I will be happy to answer you.
If you enjoy the site, don't forget to subscribe, we will only inform you when a new article is posted.