One of the main goals of this site is to provide photography learning resources for our visitors. We get many questions from readers about how to improve their photography, both from a beginner and photographers that are more advanced. We already have published a couple of posts that covered many of such learning resources like:
Adding to these recommended lists, here is our list of the Best Books for Learning Photography.
Best Books for Learning Photography.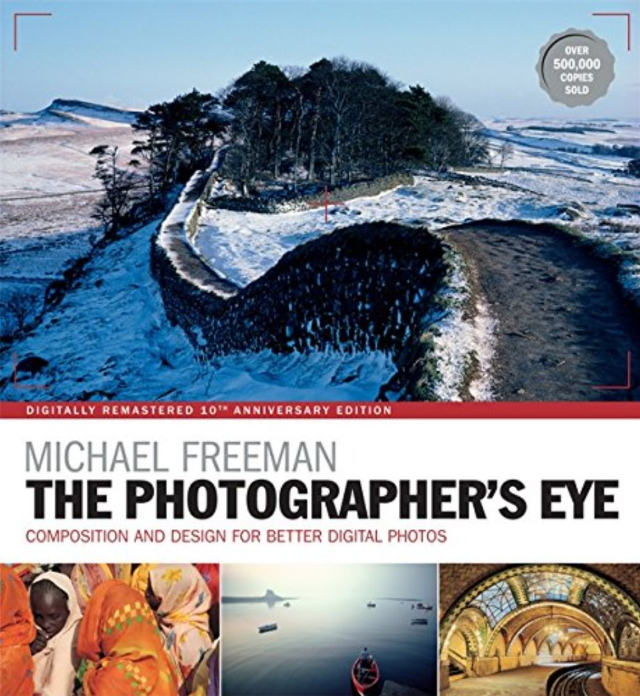 With a completely refreshed look to celebrate its tenth anniversary, Michael Freeman's iconic bestseller. The Photographer's Eye has never looked better. Design is the single most important factor in creating a successful photograph.
The ability to see the potential for a strong picture and then organize the graphic elements into an effective, compelling composition has always been one of the key skills in making photographs. Of course, digital photography has brought a new, exciting aspect to design first because the instant feedback from a digital camera allows immediate appraisal and improvement; and second, because image-editing tools make it possible to alter and enhance the design after the shutter has been pressed.
This has had a profound effect on the way digital photographers take pictures. The Photographers Eye shows how anyone can develop an eye for seeing great digital photos. The book explores all the traditional approaches to composition and design, but crucially, it also addresses the new digital technique of shooting in the knowledge that a picture will later be edited, manipulated, or montaged to result in a final image that may be very different from the one seen in the viewfinder.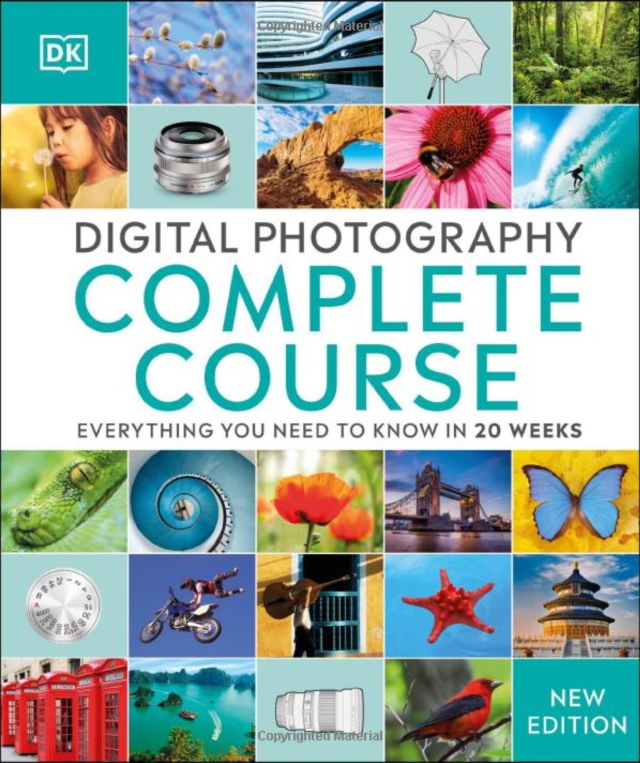 This new edition of DK Books' complete course-based guide to digital photography will help you use your digital camera to its full potential in just 20 weeks. Discover everything you need to know about photography step-by-step, week-by-week.
Now fully updated throughout to include the latest camera kit, this is the perfect one-on-one learning program for beginner photographers. Using a combination of easy-to-understand tutorials, systematic demonstrations, practical assignments, and fun Q&As, this book encourages you to put your new learning into practice straight away.
From conveying movement and using natural light to understanding how to master portrait and landscape photography, this one-on-one learning program is a great "foundation course" for people who want to take photography more seriously. Learn about the different modes on bridge and system cameras (DSLR or mirrorless), and demystify digital photography jargon such as aperture, exposure, shutter speed, and depth-of-field.
This photography book will show you how to control and understand every element of your camera. With the aid of simple text and innovative graphics, you'll explore a wide variety of photography skills and genres. Find out how to create landscapes, portraits, still life, and action shots as you discover the full range of your camera.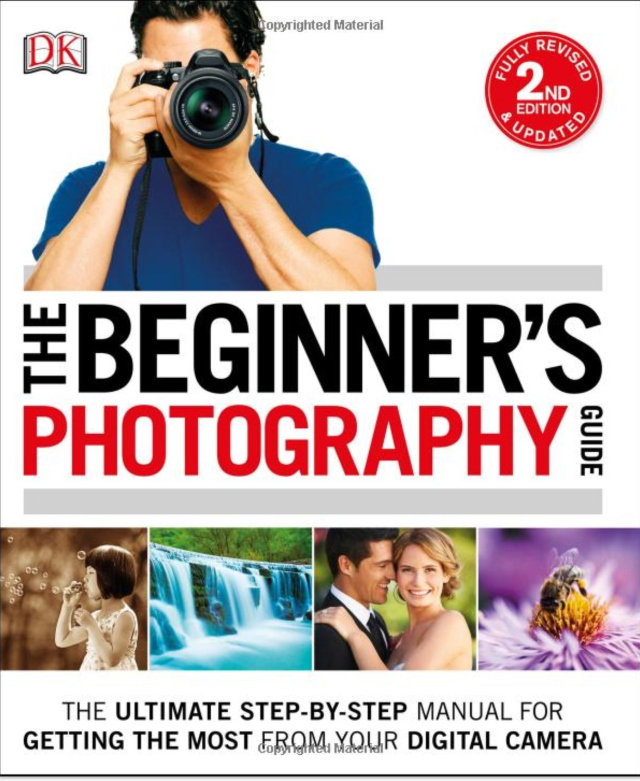 Go from Novice to Pro Photographer in a Flash
It has been fully updated to reflect all the latest developments in technology and creative trends in digital image-making. This manual will teach you all the tips and techniques you need to ensure that your memorable moments are captured perfectly every time!
The Beginner's Photography Guide will help you find your inner photographer:
Takes you through every technique you need to create stunning images.
Easy-to-follow layout and step-by-step and tutorials.
Handy checklists with a quick rundown of the equipment and camera settings.
Hundreds of inspirational images to motivate you to reach your goal.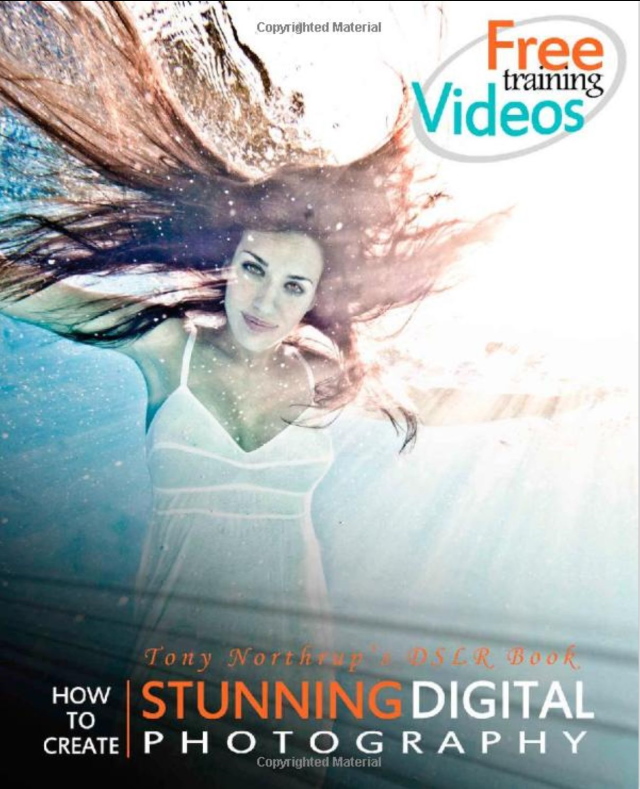 Publisher: Mason Press | Author: Tony Northrup | Pages: 233 | ISBN-10: 0988263408 | ISBN-13: 978-0988263406
This book gives you five innovations no other book offers:
-Free video training. Watch over 20 hours of fast-paced, hands-on video tutorials integrated into the book to support and reinforce the lessons. View the videos using any web browser or by scanning QR codes with your smartphone.
-Hands-on practices. Complete the practices at the end of every chapter to get the real-world experience you need.
-Practice quizzes. At the end of most chapters, you have the option of taking an online quiz to apply what you learned in the chapter and make sure you didn't miss anything important.
-Classroom support. Join an author-led private community of supportive, helpful people who also want to improve their photography.
-Free eBook with lifetime updates. When you buy the book and join the private Stunning Digital Photography readers' community, you can download the eBook and copy it to your smartphone.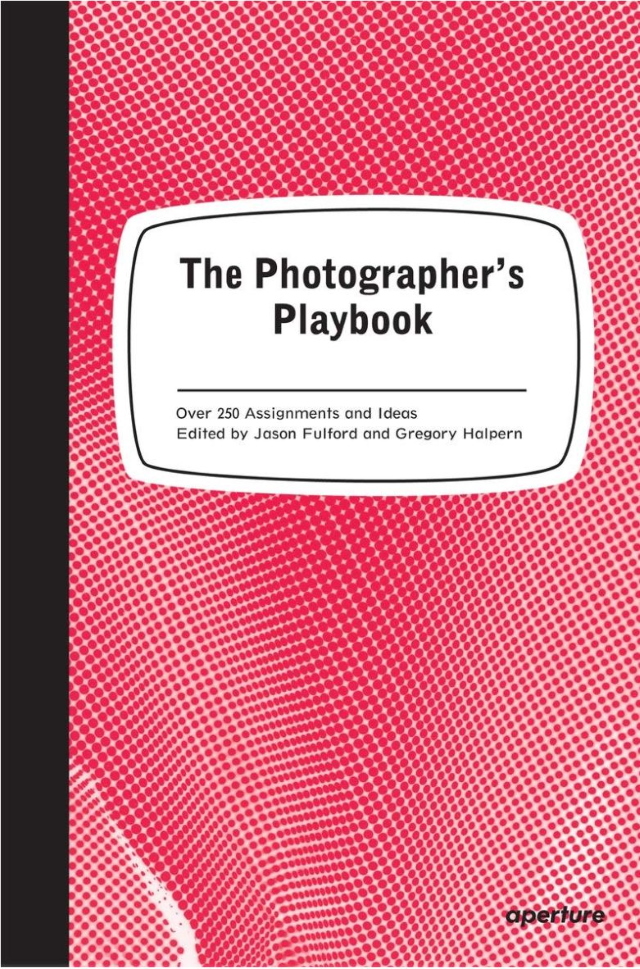 The best way to learn is by doing. The Photographer's Playbook features photography assignments, as well as ideas, stories, and anecdotes from many of the world's most talented photographers and photography professionals.
Whether you're looking for exercises to improve your craft—alone or in a group—or you're interested in learning more about the medium, this playful collection will inspire fresh ways of engaging with the photographic process. Inside you will find advice for better shooting and editing, creative ways to start new projects, games, and activities, and insight into the practices of those responsible for our most iconic photographs—John Baldessari, Tina Barney, Philip-Lorca diCorcia, Jim Goldberg, Miranda July, Susan Meiselas, Stephen Shore, Alec Soth, Tim Walker and many more.
The book also features a Polaroid alphabet by Mike Slack, which divides each chapter, and a handy subject guide. Edited by acclaimed photographers Jason Fulford and Gregory Halpern. The assignments and project ideas in this book are indispensable for teachers and students, and great fun for everyone fascinated by taking pictures.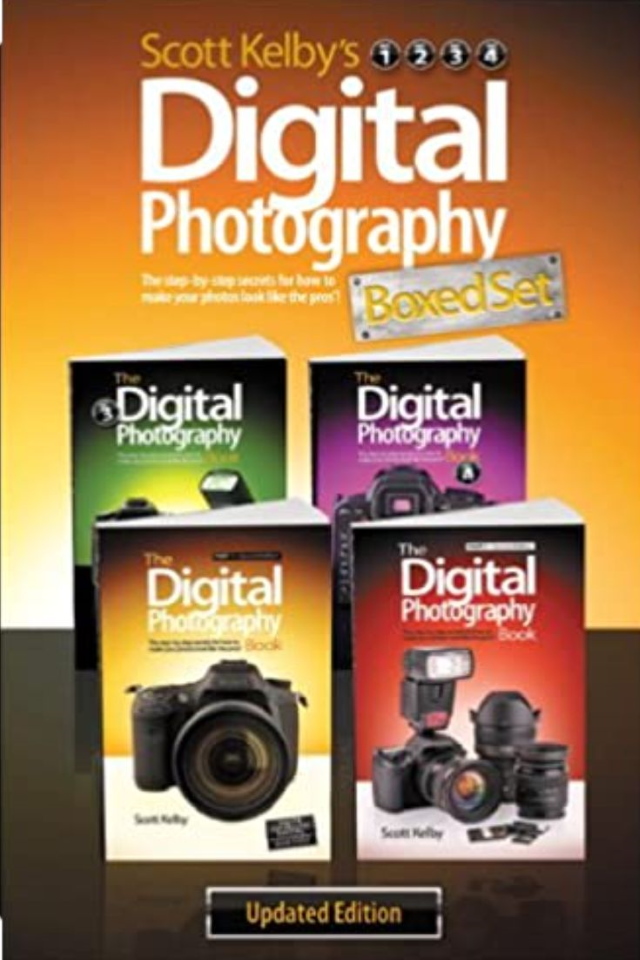 With over 800 of the most closely guarded photographic tricks of the trade, this boxed set consisting of all four parts of Scott Kelby's best-selling series, The Digital Photography Book is the ultimate resource for anyone who wants to shoot dramatically better-looking, sharper, more colorful, more professional-looking photos every time.
Camera technology advances quickly, and with this boxed set now including updated editions of Parts 1 and 2, readers will find refreshed tips and tricks to be current for today's photographer. The equipment Scott uses and recommends to the reader has been updated, as well as prices, links, and pictures. In Part 1, Scott has added a new chapter, addressing the top 10 things he wishes he would've been taught when he was just starting out in photography.
In addition, there is a whole new section in Part 2 entitled "The Seven Deadly Sins of Landscape Photography," where Scott discusses the biggest traps in landscape shots and how to avoid them in order to create breathtaking imagery.
Scott Kelby, the man who changed the digital darkroom forever with his groundbreaking, best-selling The Photoshop Book for Digital Photographers, now tackles the most important side of digital photography how to take professional-quality shots using the same tricks today's top digital pros use (and it is easier than you think).
These are not books of theory, full of confusing jargon and detailed concepts. These are books on which button to push, which setting to use, and when to use it. Each page covers a single concept on how to make your photography better.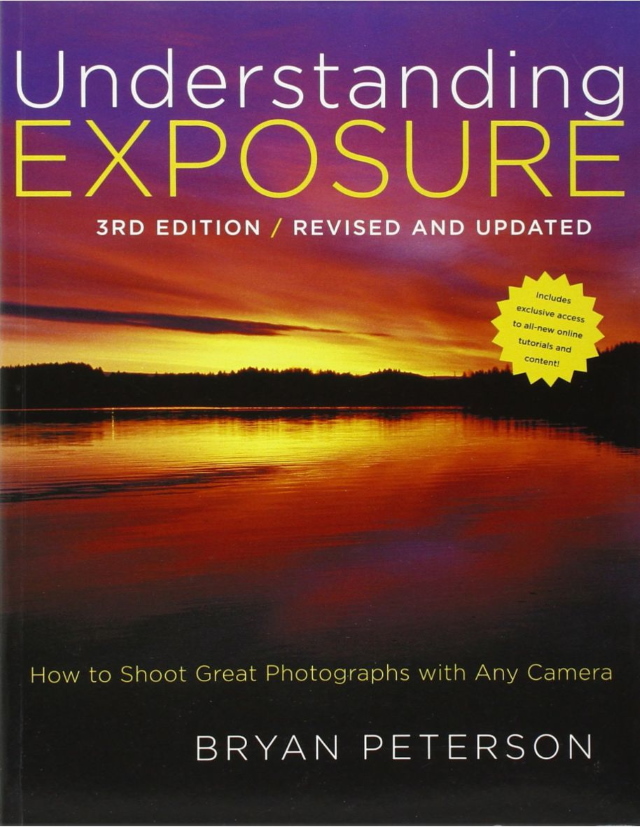 With more than 350,000 copies sold, Understanding Exposure has demystified the complex concepts of exposure for countless photographers. Now updated with current technologies, more than one hundred new images, and an all-new chapter, this new edition will inspire you more than ever to free yourself from "auto" and create the pictures you truly want.
In his trademark easy-to-understand style, author Bryan Peterson explains the relationship between aperture and shutter speed, including how to achieve successful exposures in seemingly difficult situations. You'll learn:
Which aperture gives you the greatest contrast and sharpness, and when to use it
Which apertures guarantee the background remains an out-of-focus tone
Which one aperture—when combined with the right lens—creates an area of sharpness from three feet to infinity
How to creatively use shutter speed to either freeze action or imply motion
Where to take a meter reading when shooting a sunset, snow, or a city at dusk
With new information on white balance, flash, HDR, and more, this updated classic will inspire you to stop guessing and take control of your settings for better photos anytime, anywhere, and with any camera.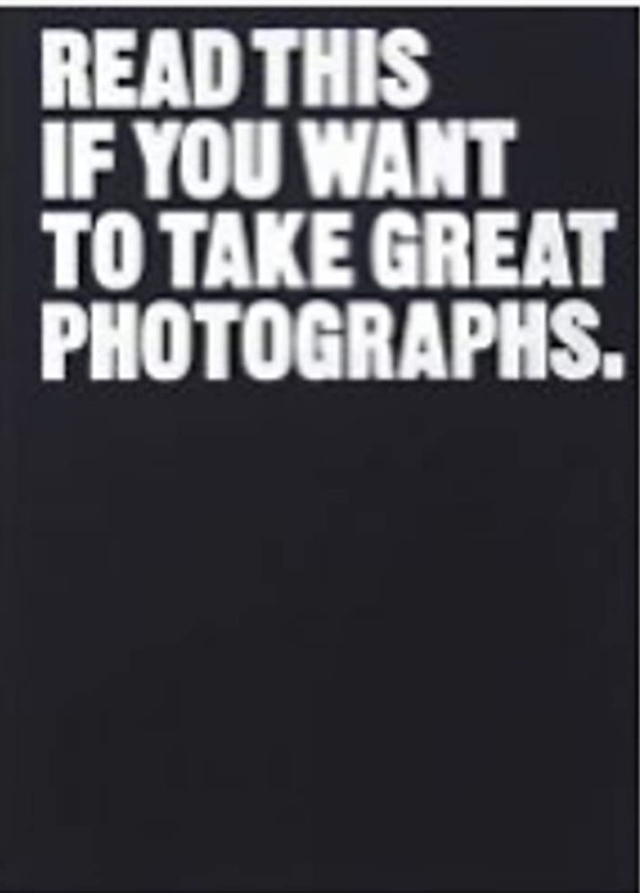 Publisher: Laurence King Publishing | Author: Henry Carroll | Pages: 128 | ISBN-10: 1780673353 | ISBN-13: 978-1780673356
Read this if You Want to Take Great Photographs is ideal for the new wave of snapshooters using DSLR, compact system, and bridge cameras, looking for top photography tips.
A bestselling photography book with over 300,000 copies sold!
Learn top photography tips from 50 famous photographers
A must-have guide for amateur photographers and professional photographers
Read this if You Want to Take Great Photographs contains no graphs, no techie diagrams, and no camera–club jargon. Instead, it inspires readers through iconic images and playful copy, packed with hands-on tips.
Split into five sections, the book covers composition, exposure, light, lenses, and the art of seeing. Masterpieces by acclaimed photographers – including Henri Cartier–Bresson, Sebastião Salgado, Fay Godwin, Nadav Kander, Daido Moriyama, and Martin Parr – serve to illustrate points and encourage readers to try out new ideas.
Today's aspiring photographers want immediacy and see photography as an affordable way of expressing themselves quickly and creatively. This handbook meets their needs, teaching them how to take photographs using professional techniques.
Read This If You Want to Take Great Photographs is part of the internationally–bestselling 'Read this' series, which has sold over half–a–million books worldwide and has been translated into over 20 languages.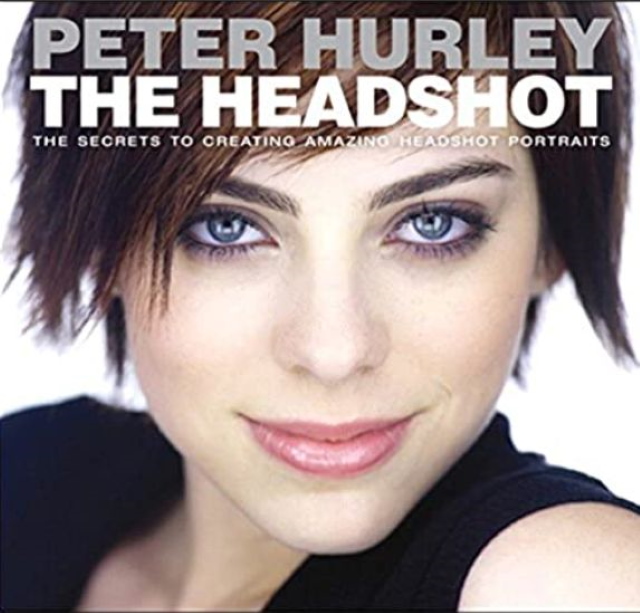 Publisher: New Riders | Author: Peter Hurley | Pages: 240 | ISBN-10: 0133928519 | ISBN-13: 978-0133928518
It used to be that the only people that needed professional-looking headshots were actors and models, but now thanks to Facebook, Twitter, Linked In, and social media in general, headshots are hot! They've never been more in demand than they are today, and Peter Hurley's unique headshot style and trademark look have made him the most sought-after headshot photographer in the world today. Here's your chance to learn exactly how to create "the look" that everybody's after.
This is bankable stuff! If you're not adding headshots to what you offer as a photographer, you're leaving a lot of money on the table. Peter knows first-hand the secrets to not only lighting your headshots like a pro (there's a whole chapter on that alone), but in this book he reveals, in the very same fashion that made him a famous name with photographers everywhere, how he gets authentic expressions and incredibly flattering positioning that will make your clients look better than they ever have in any photo.
It's all here: he shows you his positioning techniques, his secrets for getting genuine smiles and images that look so natural you won't believe they're posed (but of course, they are), and you'll learn the very same techniques that Peter uses to create amazing headshots for everyone from execs at top Fortune 500 companies, to Silicon Valley startups, to actors and public figures who know all too well how important a great-looking headshot really is.
Peter doesn't hold anything back. He reveals all his tricks of the trade, from his trademark lighting look, to how to create good-looking backgrounds on location, to positioning tricks you won't hear anywhere else, and it's all written in Peter's fun, quirky, inspiring style that lets you know, right from the beginning, you can do this, and you can do this big!
These are the techniques that Peter has created from years in front of the lens, as a model for top brands like Abercrombie & Fitch and Guess, and years behind the lens, giving him an insight few photographers will ever possess, and he is willing to share every bit of it.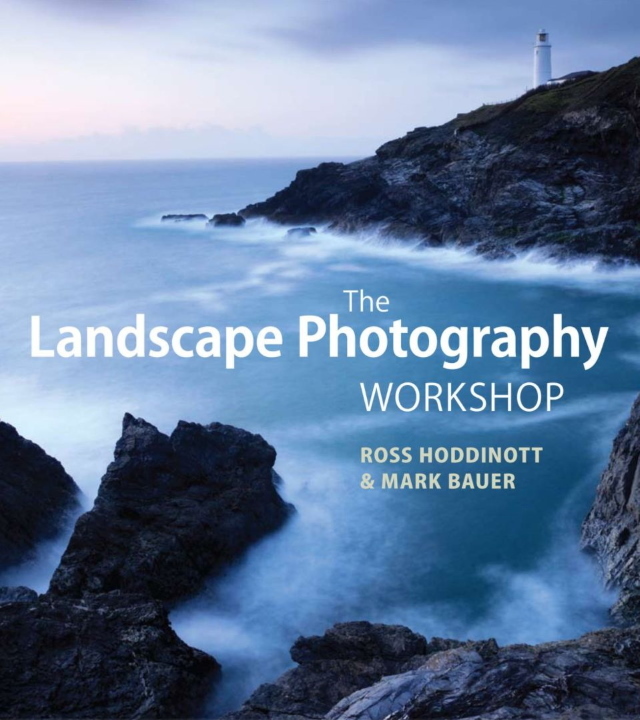 Publisher: Pepin Press | Author: Ross Hoddinott and Mark Bauer | Pages: 176 | ISBN-10: 1907708979 | ISBN-13: 978-1907708978
Learn the art of capturing awe-inspiring landscape shots with this workshop within a book
Two leading landscape photographers come together to share their wealth of experience and teaching skills in this new title. This book aims to take the reader from the very basics of equipment and exposure through to advanced techniques.
Landscape essentials, such as composition and filtration, are covered in-depth and explained in a precise yet easy-to-understand manner. This book also has chapters dedicated to post-processing and printing, enabling the reader to go successfully from camera to print, plus a number of practical assignments to encourage development.
Frequently asked questions are answered in an informal, jargon-free tone, and numerous color photographs, simple practical exercises, and tips and techniques round out this essential tome on landscape photography best practices.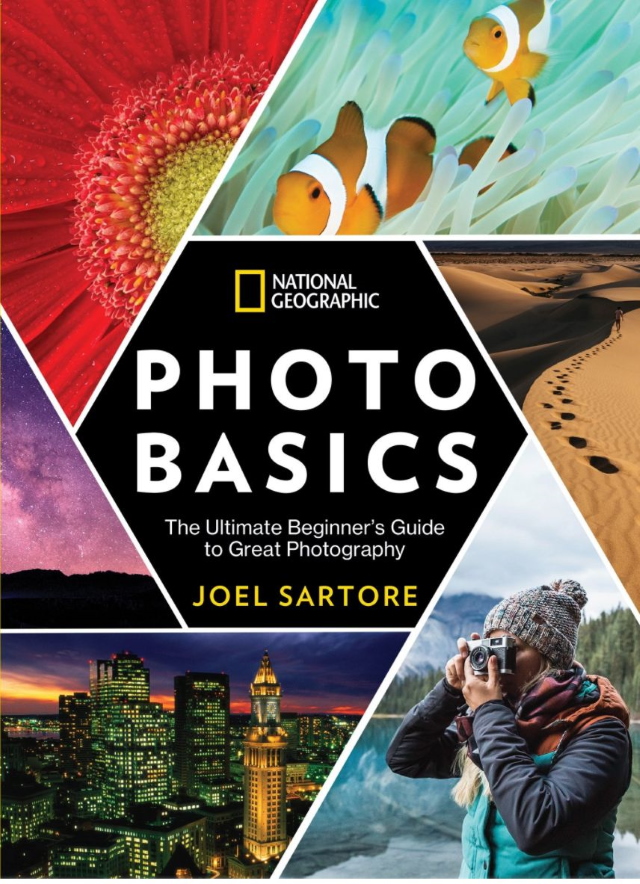 For digital camera and smartphone users, this easy how-to guide, written by an experienced National Geographic photographer.  Imparts the essentials of taking great pictures.
This entertaining book from beloved National Geographic photographer and Photo Ark founder Joel Sartore shows aspiring photographers how to take great pictures, from framing and F-stops to editing and archiving.
Whether you're using your phone or a DSLR camera, you'll learn the fundamentals of photography–and how to put them to work every day.
In a series of short lessons, Sartore explains the basics, from choosing a camera and gear to understanding focus, exposure, composition, and lighting. Using examples from his own work, he applies the basic rules of photography to family, pet, travel, nature, and street photos, and how to get a great shot with the camera on your smartphone.
Throughout the book, you'll find pro tips, quick assignments, and the behind-the-camera stories of great photographs; helpful notes clarify how to use every piece of advice with your smartphone camera.
Fun and informative, this practical book will be your gateway to taking great pictures.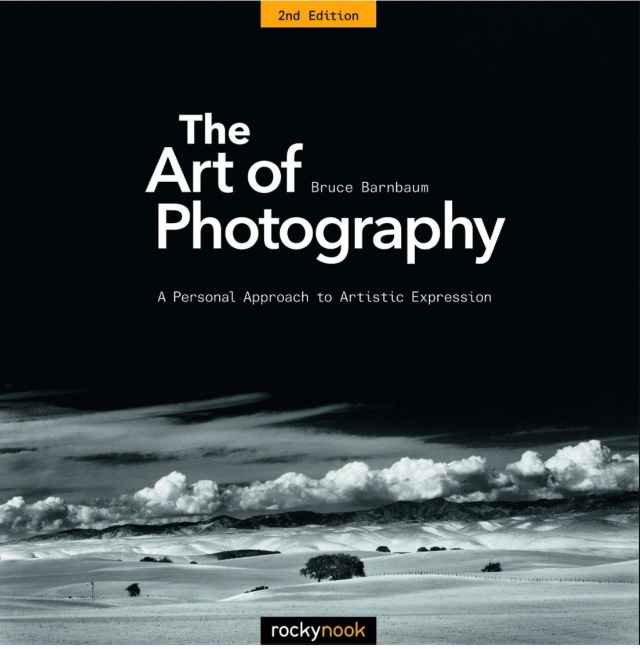 This is an updated and newly revised edition of the classic book The Art of Photography: An Approach to Personal Expression. Originally published in 1994 and first revised in 2010, The Art of Photography has sold well over 100,000 copies and has firmly established itself as the most readable, understandable, and complete textbook on photography.
Featuring nearly 200 beautiful photographs in both black-and-white and color, as well as numerous charts, graphs, and tables, this book presents the world of photography to beginner, intermediate, and advanced photographers who seek to make a personal statement through the medium of photography.
Without talking down to anyone or talking over anyone's head, renowned photographer, teacher, and author Bruce Barnbaum presents how-to techniques for both traditional and digital approaches. In this newest edition of the book, Barnbaum has included many new images and has completely revised the text, with a particular focus on two crucial chapters covering digital photography: he revised a chapter covering the digital zone system, and includes a brand-new chapter on image adjustments using digital tools. There is also a new chapter discussing the concepts of "art versus technique" and "traditional versus digital" approaches to photography.
Throughout the book, Barnbaum goes well beyond the technical, as he delves deeply into the philosophical, expressive, and creative aspects of photography so often avoided in other books.
Barnbaum is recognized as one of the world's finest landscape and architectural photographers, and for decades has been considered one of the best instructors in the field of photography. This latest incarnation of his textbook, which has evolved, grown, and been refined over the past 45 years—will prove to be an ongoing, invaluable photographic reference for years to come.
It is truly the resource of choice for the thinking photographer. Topics include:
Elements of Composition
Visualization
Light and Color
Filters
Black-and-White
The Digital Zone System
The Zone System for Film
Printing and Presentation
Exploding Photographic Myths
Artistic Integrity
Realism, Abstraction, and Art
Creativity and Intuition
A Personal Philosophy
Thanks for reading, I hope you enjoyed the article, in case you have any questions just drop them below & I will be happy to answer you.
If you enjoy the site, do not forget to subscribe, we will only inform you when a new article is posted.