Whether you are a professional photographer or a newbie photographer with a bit of skill, you surely have some photos that you believe people may like and want to pay for them.
On the other hand, many websites and businesses use photos for their marketing and advertising materials. Here comes the rule of stock photos websites, they provide a platform where people can sell and buy photos.
To make it easy, I collected a list of Best websites selling photos to choose from, but before starting there are some confusing terms I would like to explain:
For more detailed information click Here.
Royalty:
Royalty-free (RF)
"Free" in this context means "free of royalties (paying each time you use an image)". It does not mean the image is free to use without purchasing a license or that the image is in the public domain Due to confusion with those definitions, the name is often considered misleading.
Pay a one-time fee to use the image multiple times for multiple purposes (with limits).
No time limit on when the buyer can use an image.
No one can have exclusive rights to a Royalty-free image (the photographer can sell the image as many times as he or she wants).
        2. Right-managed(RM)
Sometimes called "licensed images"), the value of a license is determined by the use of the image, which is generally broken down along these lines;
Usage:(e.g. Advertising, corporate or editorial)
Specific use:(e.g. Billboard, annual report, newspaper article)
Duration:(e.g. One month, two months, one year, two years etc.)
Print run:(e.g. up to 10,000, up to 1m)
Territory:(e.g.; USA, Europe, UK, Germany, or whatever combination of territories are required)
Size:(how big is the image to be used – 1/4 page, 1/2 page, full page, or double page spread)
Industry:(Industry type – e.g. consumer electronics, marine engineering, financial services)
Exclusivity:(Exclusive or non-exclusive)
The following list of Best websites selling photos has no particular order.
Best Websites Selling Photos

The site offers a commission of 50% on each photo sold, However, the selling price of images can be as little as $0.20 for each image. It allows the photographer to sell their photos elsewhere, it does not demand exclusive rights. They run a quality control check on a percentage of your submitted photos patch; if it fails the whole patch is rejected. They have a strong search engine for photos and an easy way to find the copyright owner of a certain photo. They have established sales teams in key markets (US, UK, Germany, and Australia)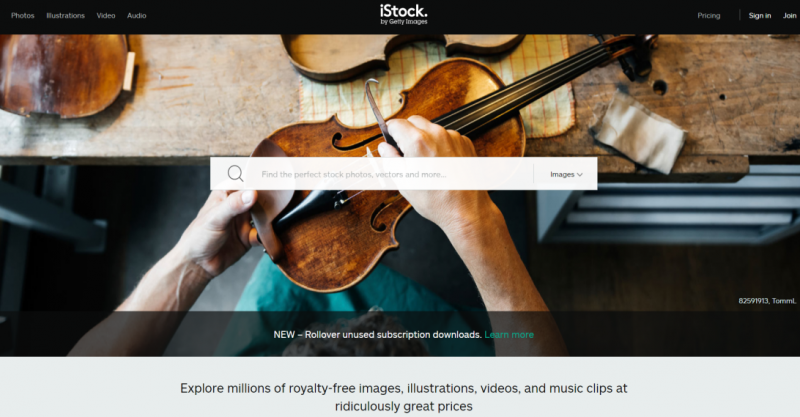 It is one of the leading microstock agencies on the internet and it is a good place to start selling photos, you need to be a member of the community then apply as a contributor. The standard royalty payout starts at 15% per download, and it can be increased up to 45% according to the popularity of the photo. But if the customer uses their iStock credits to buy, the royalty rate is 15% by default. If you decided to go to the exclusive option on iStock, the site offers 22-45% royalties. This exclusive contract can be ended after one month notice to the site.
There is a program called Vetta that contains high caliber photos which help in posting your photo sales.
The site houses over 45 million photos, has over 4 million buyers and has been in operation for over 10 years. The site offers royalties of 20-46%, it can be increased up to 60% if you choose to become an exclusive photographer with Fotolia. The royalties are deposited immediately into your account. Recently the site is integrated into several Adobe software packages including photoshop if you upload a photo to Fotolia, it automatically uploaded to Adobe stock. All images must be in JPEG format and have a minimum resolution of 2400×1600 pixels.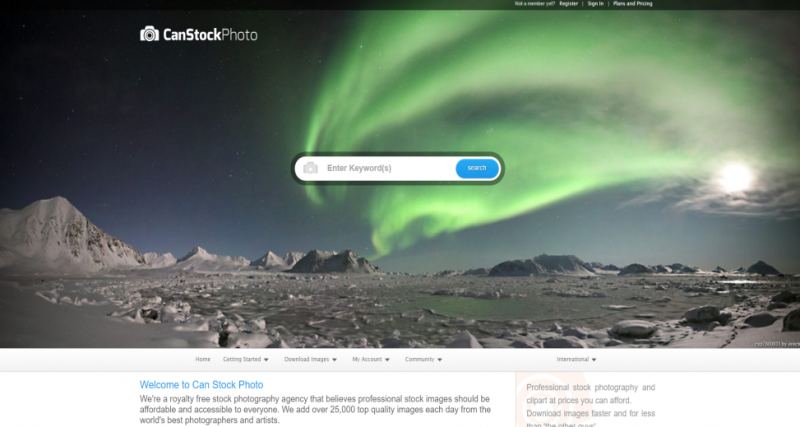 It is an easy option to sell your photos; first, you need approval from the site by submitting 3 photos and you will get the response within 24 hours. The site offers 50% commission on each direct purchase and $0.25 on each subscription download, also the exclusive option is available.
You can upload even a hundred photos at once to the site with keywords and metadata, they are read automatically. They paid by PayPal or by mailed check.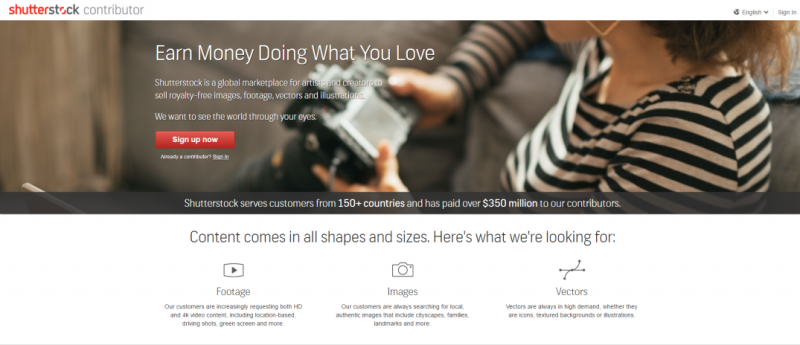 Shutter stock has paid over out $350 million to its contributors and having a stock of more than 9 million photos and growing. The site is ranked well among stock agencies. You keep your copyrights when uploading your photos and can earn up to 30% of the sales price of your photo, the rate is depending on the size of the photo. The price margin is between $0.25 and $2.85 per sale. The higher rate is reserved for photographers with exceptional photos. Your photos have to go through a tough vetting process prior to their acceptance. Payments are made monthly with a minimum of $75.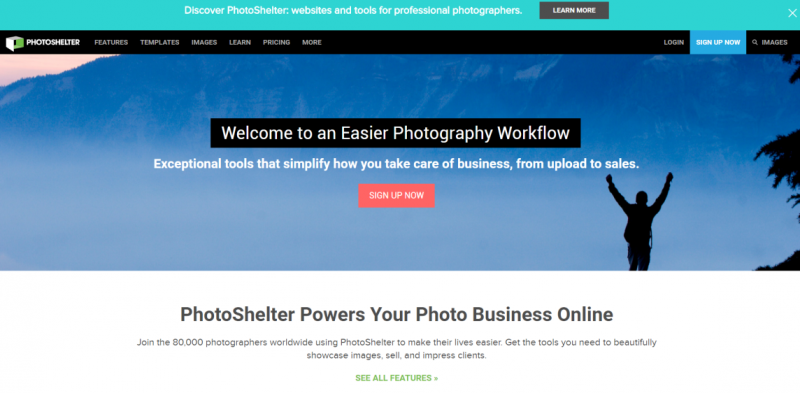 The site offers you the option of having one of their customized templates to your site, so you can make sales through your own site. It is a photography-oriented e-commerce platform that can be integrated into almost any website.  This option allows you to have full control of how your photos are displayed and can lead to earning higher prices. Plans start from $9.99 up to &49.9 per month.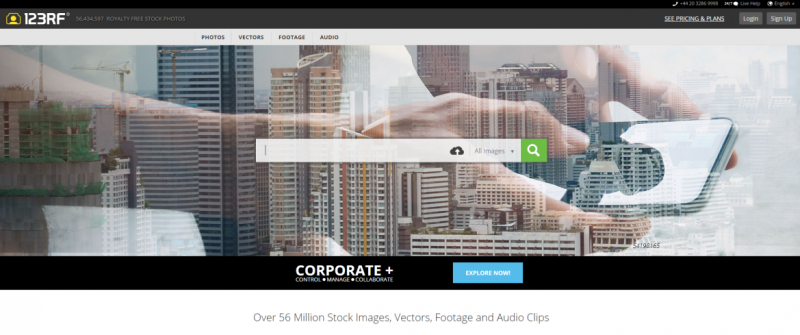 123RF is a royalty-free stock site, it has over 55 million photos on offer with almost half a million photos added weekly. They offer payable royalties that vary from 30% to 60% according to your contribution to the site, the more photos you upload the more commission you get. Uploading up to 250 photos will get you 30% royalty, which equals to $0.218 per download. If you upload 1 million photos you will get 60 %, which equals $0.432 per download. Uploading is very easy and there is a limit of 300MB per upload. This site can work well if you have a lot of photos or you have a specific niche.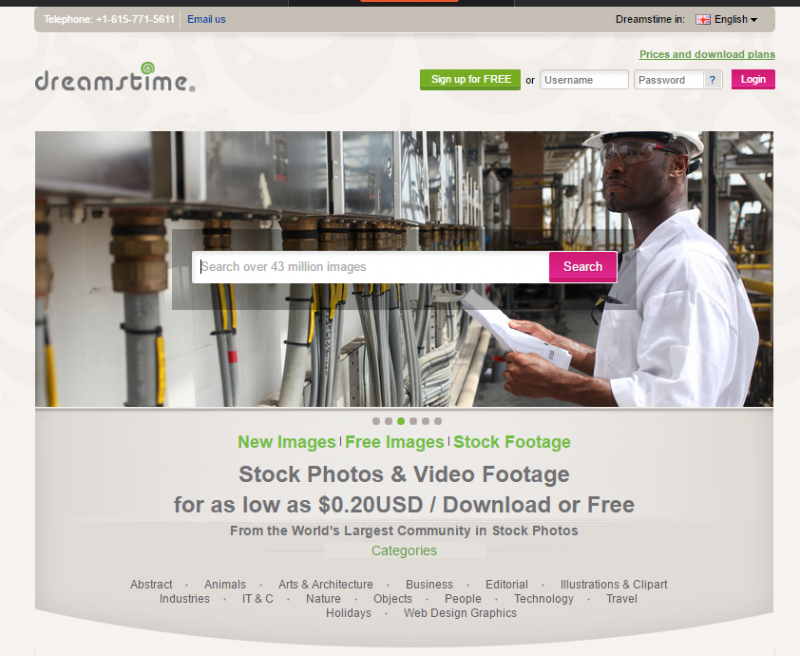 The site has over 45 million free royalty photos. The site reviews all uploaded photos to make sure that they meet their standards. You will receive a royalty of 25-50% after approval by the site.  If you sign an exclusive contract, the royalty can increase to 60% and will also receive an additional bonus of $0.2 for each approved submission. The selling price of a photo is calculated based on the number of downloads.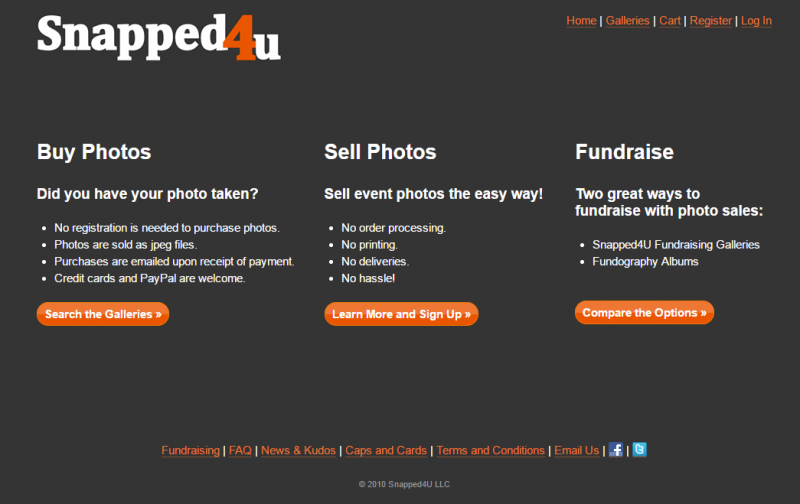 Snapped4U is a great site for selling event photos (weddings, festivals, parties, gigs.. etc..). The site sells only jpeg files; they mail the file as a link immediately after paying the price by PayPal or credit card. The seller creates a gallery, sets the photo price, and uploads the photos. The seller also is responsible for organizing, identifying, and promoting his gallery to make it user-friendly. The recommended size of the gallery is 300 photos and ha max photo file size is 8 MB.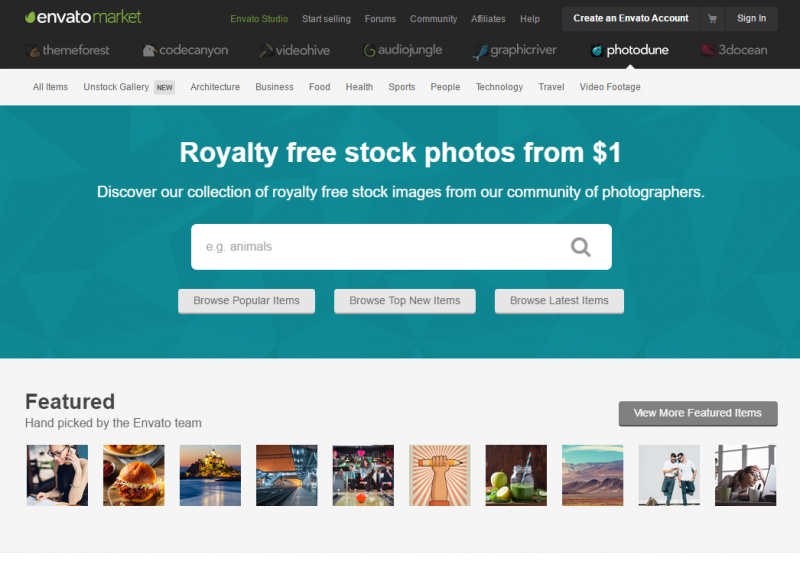 PhotoDune is the photos marketplace on Envato Market. The site offers non-exclusive authors 55% for each sale, this percentage increases if you choose an exclusive option. You can learn how to become an author and know the calculation methods for selling your photo HERE. The site has also an affiliate program. There is also an option to sell premium authentic photos.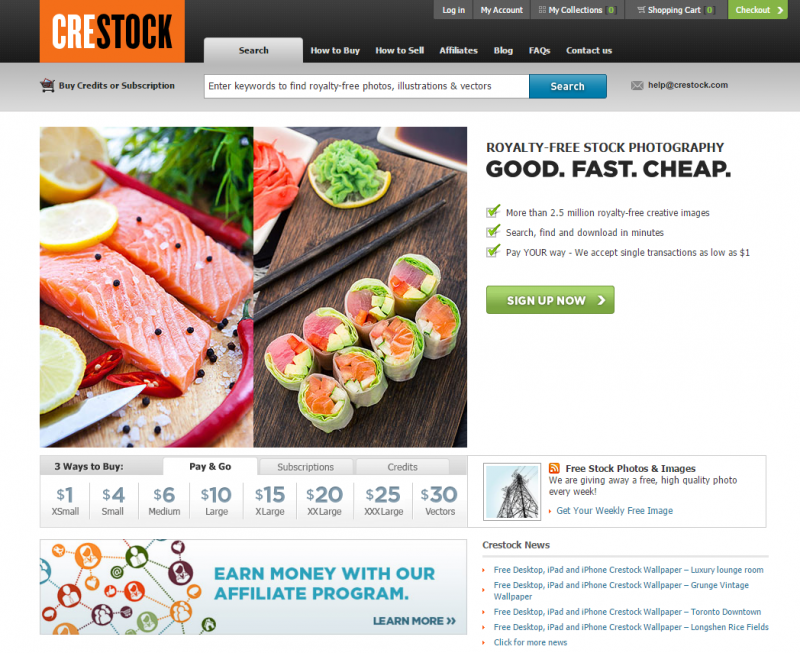 At CRESTOCK it is very easy to make a free account, upload your photos and then process your photos by defining keywords. The site editor will evaluate your uploaded photos once they are approved, they are ready for sale. The royalty rate is calculated on a progressive scale, based on the total number of your photo sales. For up to 500 sold photos, you will gain 20% royalty and earn $0.25 per download. For more than 10,000 sold photos, you will gain 40% royalty and earn $0.4 per download. They pay the earning through PayPal account with a min of $50.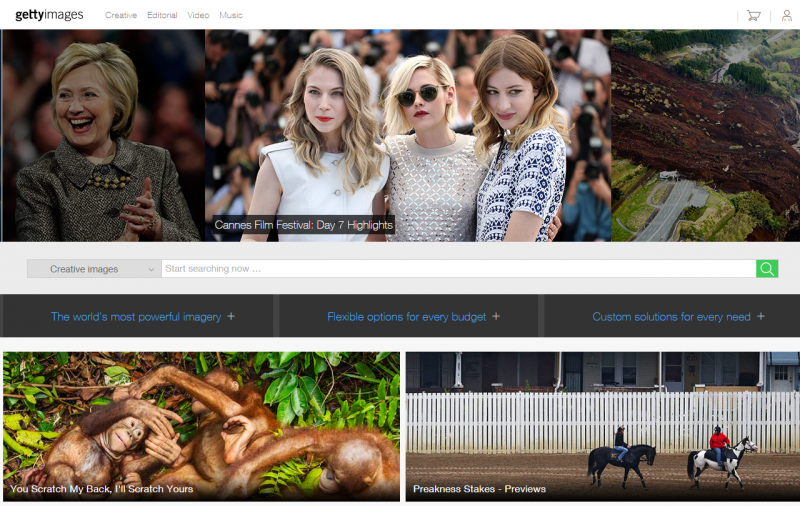 The entry process to Getty Images is different from other royalty-free stock sites because the site is seeking images that have emotional and conception aspects. You need to register and review the guidelines for submission, take a quiz and then submit a link to your finest photos, if accepted, you will be afforded an opportunity to submit photos for the site collection with a specific theme.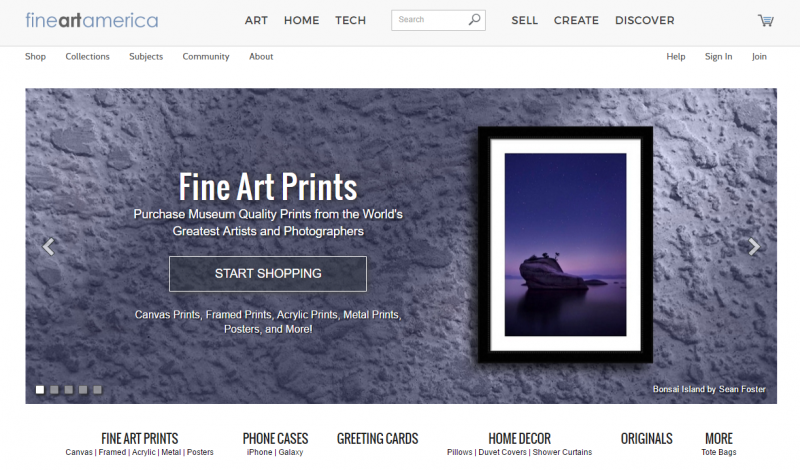 The site is the perfect place to create an amazing portfolio; You can sell your photos in many different forms of prints, such as canvas prints, poster, framed prints, metal prints, acrylic prints, and greeting cards. You can get detailed information on my Fine Art American Review. Also,
Related post:
Thanks for reading, I hope you enjoyed the article if you have any questions just post them below & I will be happy to answer you.
If you enjoy the site, don't forget to subscribe, we will only inform you when a new article is posted.