Whether you are starting a new photography business, or you are an experienced full-time photographer, managing your studio and keeping track of everything, from emails and appointments to contracts, invoices and taxes can be incredibly overwhelming.  Getting a Photography Client Management Software that could take care of and automate a large part of your tasks and responsibilities, simplify your workflow seems to be the only logical solution.
It could save you hours, and give you more time to concentrate on your photography activities. There are tons of various apps and software that can help you manage your studio activities, in this article; I will provide you with a list of the best studio management software available in the market with short reviews of their features and prices. 
Best Photography Client Management Software
Táve is a business management software app that helps you improve time management and organization. We assist you with the tasks you need to keep up with in order for your business to flourish. This cloud-based business manager is built around workflows that help you take a client from a lead to a completed job. It supports online booking, prospect questionnaires and a series of automated tools to do the work of sending invoice reminders, session and meeting reminders. You can program your own custom automation, too. Pricing for a Solo package includes support for two users and one brand, while a Boutique tier supports six users and four brands. A Studio package gets you a minimum of 10 users (and $4.99 per additional one over that) plus unlimited brands.
Software highlights:
Automation: offer a number of different tasks, which you can adapt to your needs. Some of the most common automation include:
Questionnaires for new clients
Reminders for meetings or sessions
Invoice Reminder
Follow-ups after sending quotes
Calendars: Tave provides calendars where you can note all your engagements, networking events and more. When you start using the Táve calendar, your business quickly becomes more organized.
Email Tracking & Scheduling
Lead tracking
Create Customer Questionnaires:
Date of the event
Location of the event
Contact information
Special requests
Features & Price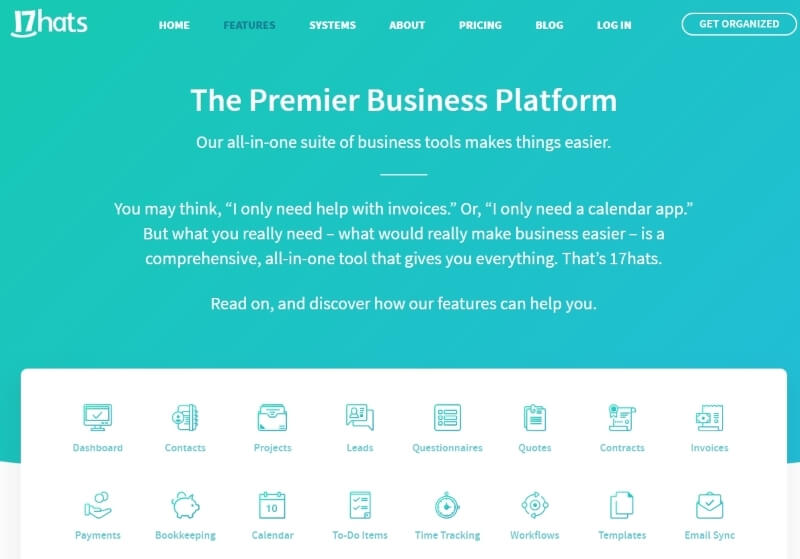 17HATS supports financial bookkeeping, contract building, time tracking, online payments, lead capture, templates and more. You can generate invoices and set up automated workflows to speed you through any administrative drudgery. The service supports questionnaires, a detailed contact database and online lead generation. Most of the browser-based capabilities of the 17hats are replicated on mobile apps, so you can get alerts and manage your business on the road.
Software highlights:
Client management & Communication: The software synchronizes with your email (Gmail, Hotmail, other popular mail providers), tracks all messages and automatically files them into the suitable project associated with that particular client.
Lead Capture Forms: These are inquiry forms that can be embedded on your site and would send the collected details straight to your Hot Lead list.
Project Management –You can organize your work with projects, tied to your contacts. Label and store tasks, to-dos, contracts, notes, emails, events, time tracking, phone logs, etc. for each project.
Workflow: 17Hats divides each of your projects into 3 phases – Pre-booking tasks, after booking tasks and After Project tasks. This ensures you provide a smooth and pleasant experience for each of your clients.
Bookkeeping, Invoices & Client Payments: Quotes are quite easy to draft. Once the client accepts it, the quote turns into an invoice that the system sends to the client when the project is finalized. You can collect e-signatures and online payments through credit cards or PayPal.
Features & Price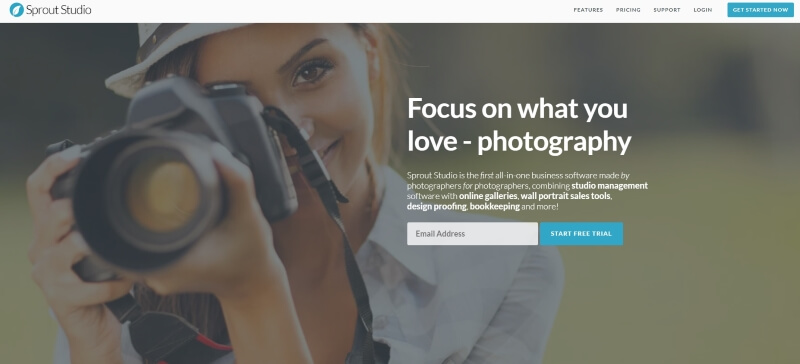 It is an all in one business software created by a team of photographers. Sprout Studio combines studio management software with online galleries, wall portrait sales tools, design proofing, bookkeeping, and many more exciting features.
Software highlights:
Client management: Embed contact forms to your site, so Sprout Social easily collects all your inquiries and keeps info organized about your leads.
Invoicing & Payment – Create orders or invoices, specify billing or shipping details, taxes, payment schedules and more. Your clients can pay with a credit card via Paypal, Stripe, Authorize.net.
Contracts & Bookkeeping – impress your clients with a whole booking experience. Send them a booking proposal, where they can easily choose a package, sing a contract, make a deposit and fill out a questioner with more info.
Feature & Price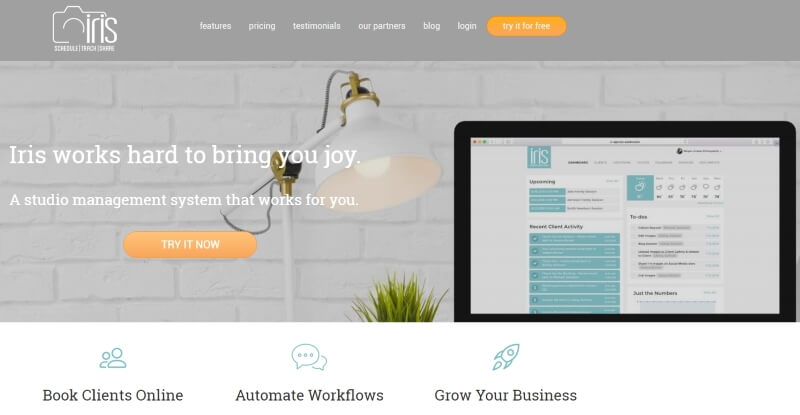 Iris Works offers photographers a simple & intuitive solution to their client & studio management needs.
Software highlights
Get More Clients: Use our Lead Page to pull in new leads from your website, Facebook and Instagram accounts. Plus, have Iris automatically follow up with your leads.
Online Booking: It allows your clients to pick an open time on your calendar for seamless scheduling.
Streamline Your Workflow: Iris send and receive your contracts, invoices, and emails. Create to-do lists with due dates so you're always organized and over-delivering for your clients.
Get Paid Faster: Combine invoice templates with our workflows to automatically request deposits and final payments. Use your Square, PayPal or Stripe account to get paid instantly.
Feature & Price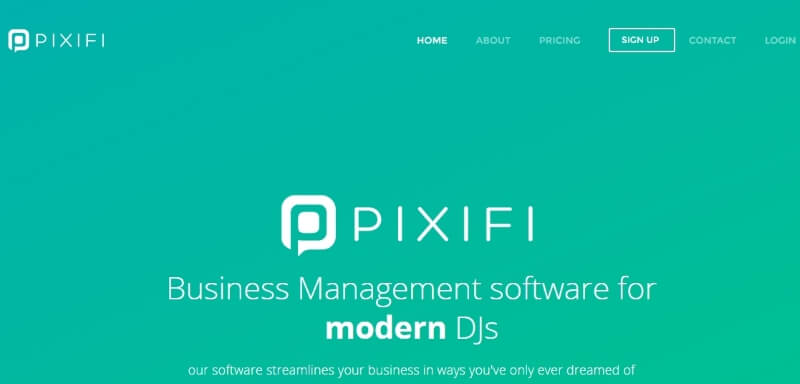 In 2008 the Pixifi beta was launched, and after testing it with hundreds of photographers and developing the product based on the collected feedback, Pixifi as you know it was launched in 2010.
Software highlights
Online booking system & Client Management: An all in one system, very flexible and can be accessed anywhere from any device. Allows your clients to book appointments, choose the type of service they are interested in. Your customers can pay directly through your booking system. You can sync it with your Google calendar; mark your available slots or working hours for a better experience.
Financials & Client Communication: Create contracts and have your clients digitally sign them instantly. You can choose from the multiple templates that Pixifi offers, or create custom layouts. Send invoices, track all your expenses and profits, keep tabs on taxes, etc.
Project management – Personalize your dashboard to get an overview on the things that matter the most for you. Set a timeline, add deadlines, reminders and to-dos. Never forget or miss out on anything.
Feature & Price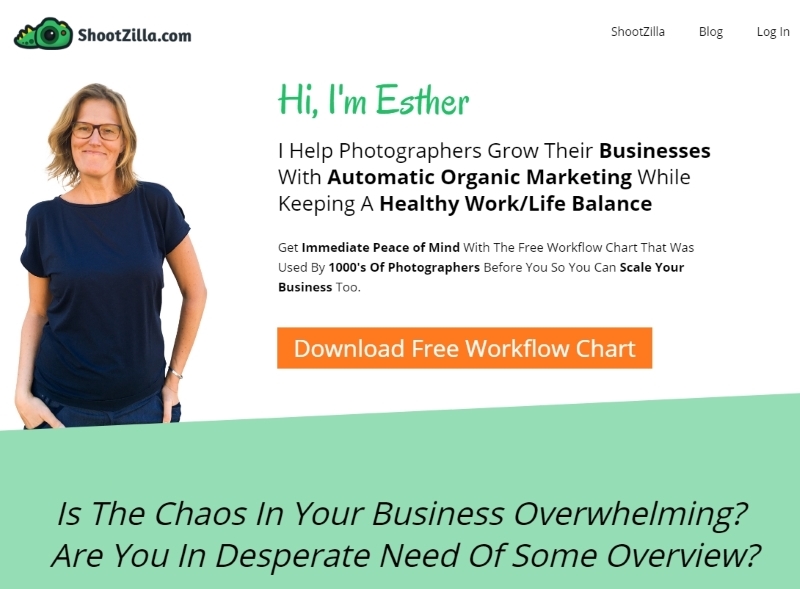 This web app gives you a series of workflow-based tools that let you capture leads, generate reminders, create contacts, and manage your calendar and more. A Starter package lets you have five active jobs while a Pro Photographer package bumps you to 80 and a Pro Package pushes it to 150. You'll save 10 percent on the monthly price if you pay for your subscription annually.
Feature & Price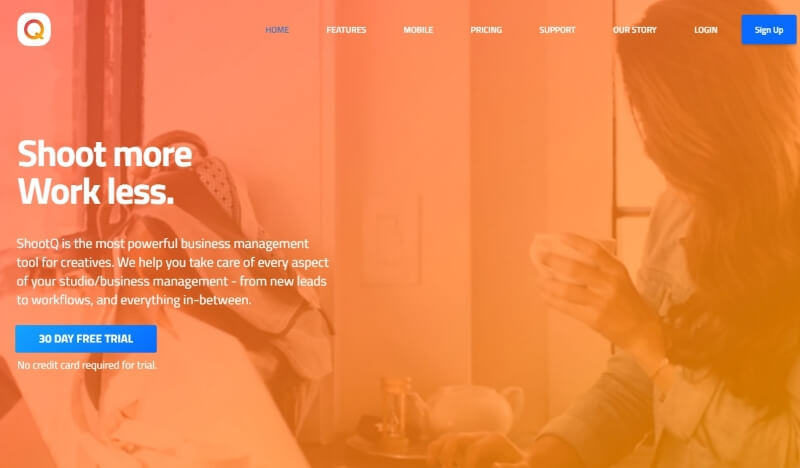 Besides the necessary features required by a photography managing software, ShootQ adds a few extras features like support for multiple currencies, integration with QuickBooks and a module for setting up photo workshops. All of the features available on the desktop version are also accessible in a mobile app, so you can keep tabs of your business from the road. You can use the service for free for up to 12 jobs a month for one user and one brand. Additional packages support more jobs, users, and brands.
Software highlights
Client Communication: Create templates and questionaries, collect useful information from clients and leads, customize and automate email templates to save time in the future. Keep track of all past and current communication; easily review clients' booking and order history, important dates and milestones.
Financials: Create elegant branded contracts and invoices, save time and boost your sales with the help of an online booking service that allows clients to review and sign contracts online. Collect payments; configure taxes and shipping costs, etc. ShootQ also allows you to share pricelists with potential customers via a link or embed on your website.
Project Management and Workflow: Never miss any deadlines, organize and filter your tasks to see what's upcoming and prioritize for the following days. Build custom reusable workflows to smoothly complete tasks that are both – in the pre-order and post-order stage. Set reminders, automatically send emails and questionnaires.
Analytics: Generate insightful reports. Manage your data; analyze your bookings, sales & referrals with the help of graphs and statistics. Know exactly how your business is performing.
Feature & Price

The developing company stats "We are only one of two Desktop Photography Studio Management Software products on the market; you do not have to be online to use it. We are $390 cheaper than that popular competitor, however! Our offline solution still keeps your entire customer-facing interactions and documents online, however. Appointment Booking, Invoicing, Contracts and Surveys are all online and did we mention THEY ARE FREE!"
Feature & Price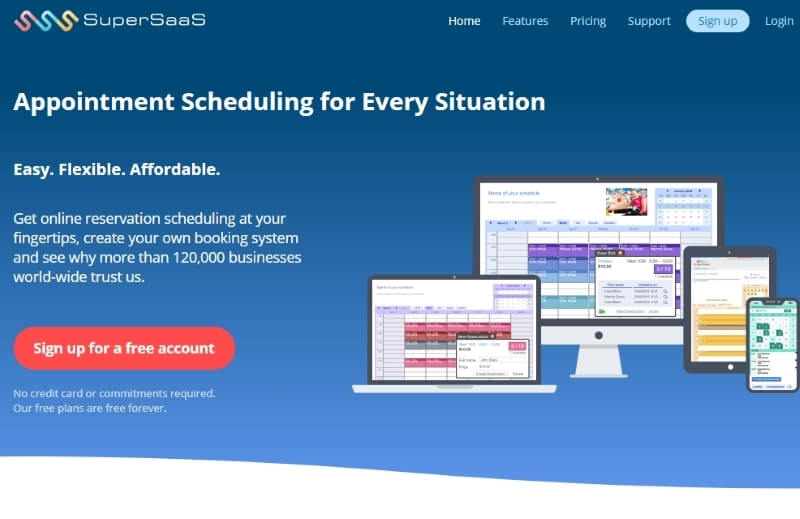 You can create your appointment schedule to perfectly fit your requirements. Some of the features of the appointment scheduling system are:
Easy step-by-step appointment scheduling
Send confirmations & reminders
Set price rules, promotions and discounts to support your pricing
Integrate direct payment via PayPal or Stripe, or handle payment yourself
Integrate SuperSaaS into your website or Facebook page with an iframe or link to the reservation calendar with a "book now" button
Link your Google Calendar so that appointments there show up as unavailable on your SuperSaaS schedule
The reporting section provides you with insights on booking activity
Feature & Price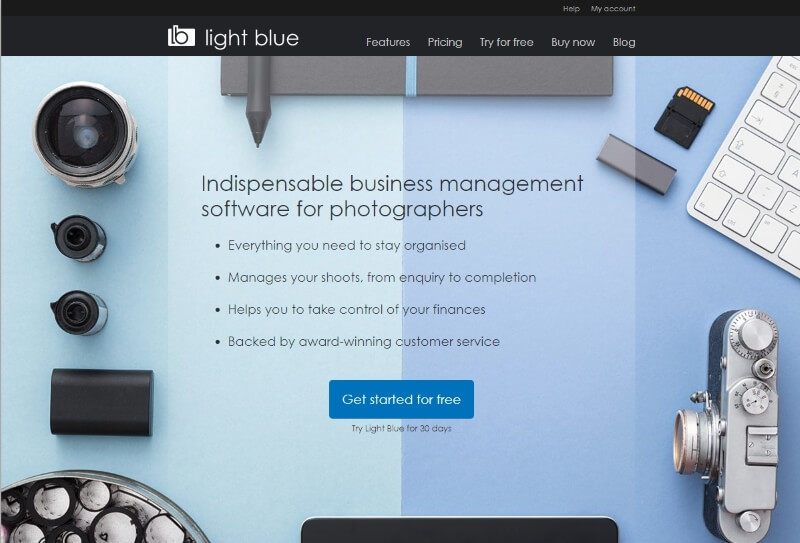 Designed for all types of photographers, from one-person businesses to studios with multiple staff, Light Blue is a flexible piece of business management software that lets you keep on top of shoots, orders, and contacts. It's bursting with clever things to help you to run a busy and successful photography business and makes it easy to manage your image files, publish them in attractive web galleries, and profit from them.
Feature & Price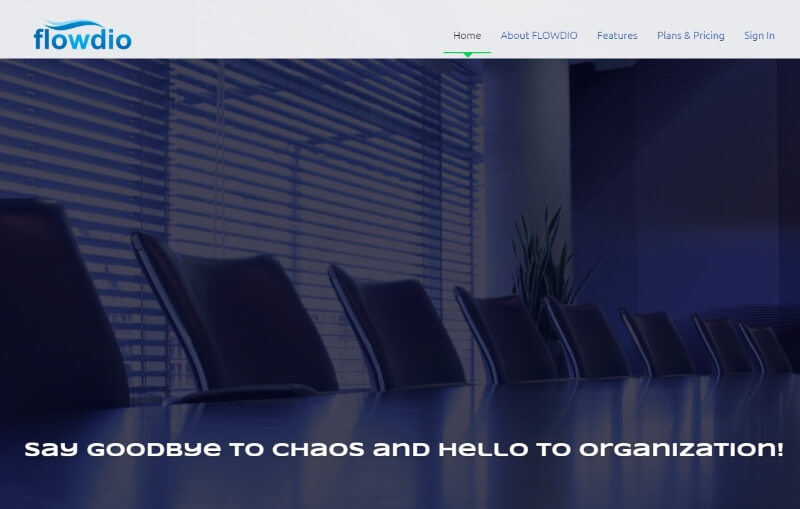 All-in-one business solution for event-based businesses and wedding professionals. From issuing invoices to tracking clients, all the way to exporting records for the accountant.
Feature & Price

Conclusion
To help you decide the appropriate software package for you, the below comparison tables summarize the features and prices of all the mentioned software.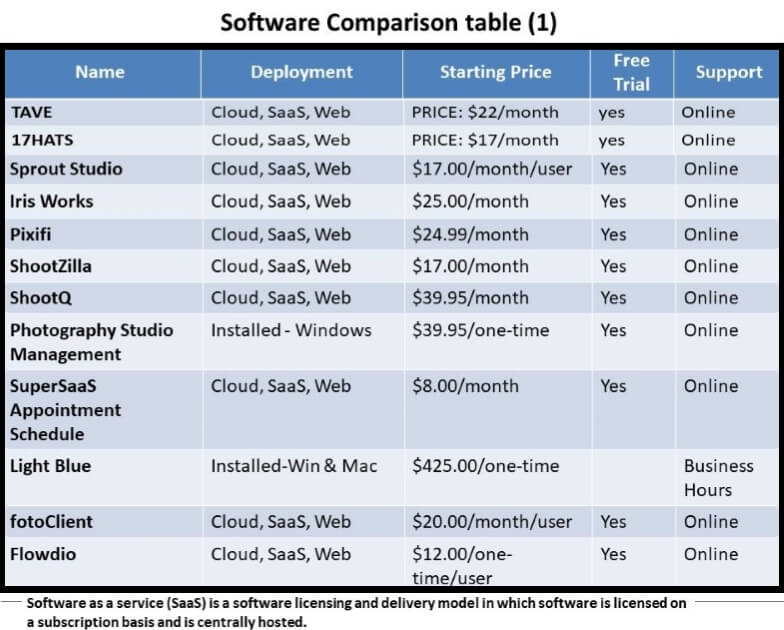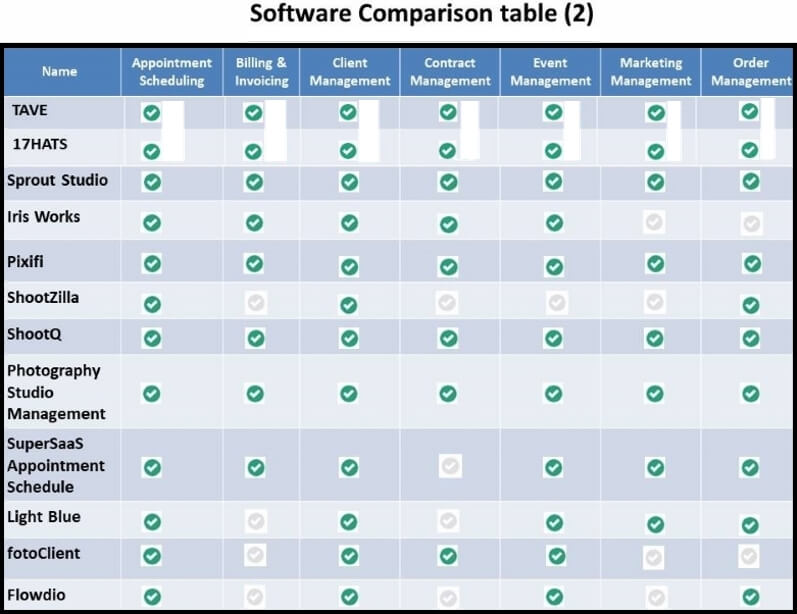 Related Posts
Starting Small Photography Business – 8 Steps To Make Money
Business Legal Forms For Photographers – Templates & Examples
Thanks for reading, I hope you enjoyed the article if you have any questions just post below & I will be happy to answer you.
If you enjoy the site, don't forget to subscribe, we will only inform you when a new article is posted.