On your wedding day, you'll experience a range of emotions, from excitement to nervousness. You'll be standing at the altar, ready to say those magical words, when something unexpected happens. Your best man's shoelace comes undone, and he does a hilarious backward slide that leaves everyone in stitches. These unexpected, funny moments are what make weddings truly unforgettable.
Wedding photography is the perfect way to capture these moments. The photos taken on your big day will capture more than just smiles; they'll capture those moments of unbridled hilarity and turn them into lasting memories. With the right photographer, you can be sure that every moment of your wedding day will be captured, from the tears of joy to the moments of laughter. So, when you look back on your wedding day, you'll be able to relive those unforgettable moments and remember the joy and laughter that made your day so special.
In this blog, we are delving into the world of "Funny Wedding Photography Ideas." We will explore how a well-timed, humorous snapshot can transform a beautiful wedding into an extraordinary one. From capturing candid moments to experimenting with creative poses, and props, we will reveal the secrets to infusing your wedding album with a touch of humor.
While the serious and romantic shots are important, it's the funny moments that will truly make you smile for years to come. These hilarious bloopers from your wedding day will be treasured and remembered as you flip through your photo album. So, get ready to laugh, be inspired, and see how "Funny Wedding Photography Ideas" can transform your special day into a heartwarming memory. Let's get started!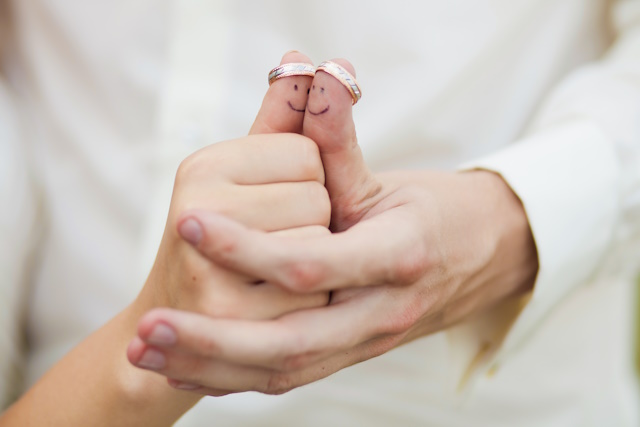 Photo by Depositphotos
The Significance of Funny Wedding Photography
Why should you add humor to your wedding photos? It's a question worth considering. Weddings are usually seen as serious events, right? Well, here's the deal: injecting some humor through funny wedding photography ideas is crucial to making your special day even more unforgettable.
Adding Humor:

Humor is like a secret ingredient that enhances the flavors of your wedding day. A well-timed funny photo can bring a playful touch to your wedding album. It's not just about laughter; it's about creating a relaxed and joyful atmosphere, allowing everyone to loosen up and enjoy the moment.

Emotional Impact:

Funny wedding photos have the ability to evoke strong emotions, just like the tear-jerking shots. Laughter is a powerful emotion that unites people, and when you revisit those genuine moments of happiness, you will experience the same warmth and joy that enveloped your wedding day. These photos can transport you back to that exact feeling, time and time again.

Reflecting Personality:

Every couple has their own unique personality, and their wedding should reflect that. Injecting humor into your photos allows your individuality to shine through. It captures the quirks, inside jokes, and shared laughter that define your relationship. When your friends and family see these photos, they'll recognize and say, "That's so them!"
So, if you're wondering why funny wedding photography ideas are important, think of it as the ingredient that transforms your wedding album from a collection of beautiful images into a masterpiece that tells a story. It's the element that keeps your memories alive, your heart light, and your personalities in the spotlight. In essence, it's the thread of humor that weaves through your love story. Ready to find out how to infuse humor into your wedding photography? Keep reading!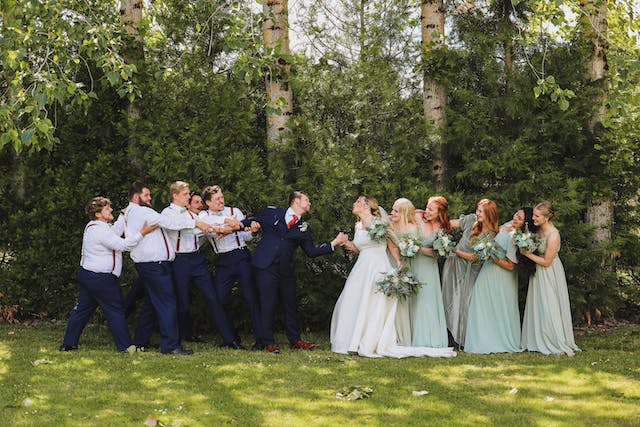 Photo by Hannah Stransky

Preparing for the Big Day
So, you've decided to sprinkle some humor into your wedding album with funny wedding photography ideas. Great choice! But, just like any good plan, it's essential to prepare for the big day to ensure those funny moments are captured beautifully.
Planning in Advance:

The first step is understanding the importance of planning ahead. Funny moments often happen spontaneously, but to ensure they don't slip through the cracks, discuss your ideas with your photographer beforehand. This will help them anticipate and be ready to snap the perfect shots when the moment strikes.

Brainstorming Funny Scenarios:

The key to successful funny wedding photography is a bit of creative brainstorming. Sit down with your partner and think about the moments, inside jokes, or playful scenarios that define your relationship. Are you both avid gamers? Maybe a photo inspired by your favorite game. Do you have a friendly rivalry? Consider a funny competition during the photoshoot. Brainstorming together can lead to unique, personalized, and laugh-out-loud ideas.

Communication with the Photographer:

Don't keep those funny ideas to yourselves; communicate with your photographer. Share your vision, your personalities, and the kind of humor you want to capture. A skilled photographer will appreciate your input and work to integrate it seamlessly into your wedding day. Make sure you're on the same page so that when the time comes, everyone knows what to expect.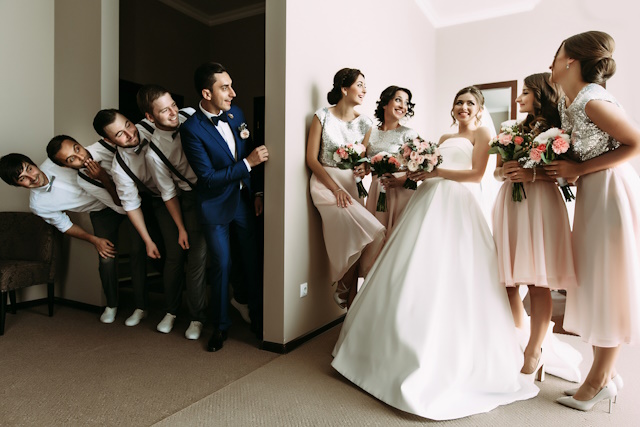 Photo by Depositphotos

Ideas for Candid Shots
Your wedding day will be filled with candid moments of laughter and joy. To infuse humor into your wedding photography, here are some funny wedding photography ideas that will add a touch of playfulness to your special day:
Have the couple sneak a cute kiss from behind a bouquet, a curtain, or even a door.
Capture the adorable moment when the bride and groom playfully exchange shoes during their ceremony.
Capture the moment of pure joy as the newlyweds twirl on the dance floor, laughing uncontrollably.
Get a cool picture of the newlyweds using huge inflatable props such as sunglasses, hats, or guitars.
As the newlyweds make their way down the aisle, give them a celebratory high-five to seal the deal!
Encourage the bridal party to snap hilarious selfies during the reception and spread the joy.
During the photoshoot, you can ask the couple to make silly faces to capture some fun and playful portraits.
Capture the bride and groom on the dance floor, dressed in fun disguises.
Encourage guests to add a touch of fun to formal shots by photobombing them with silly props or expressions.
Snapshots of guests reacting with laughter or surprise during the vows can be quite amusing.
Let's have some fun with the Escaping Balloons! Simply let go of a bunch of balloons and watch as the couple chases after them. It's sure to be a hilarious sight!
Highlight the couple as they blow bubbles during their exit, with laughter all around.
Make the first look more fun by having the bride play a prank on the groom and surprise him in a playful way.
Show the couple's expressions of shock when unexpected guests show up at the ceremony.
Include a cute little dog all dressed up as the ring bearer, which will definitely bring a smile to everyone's face.
Make the bouquet toss more fun by having the bridesmaids pretend to fight over it.
The bride and groom can make a grand entrance at the reception by showcasing their dance moves or performing a fun skit.
Get genuine responses during emotional yet humorous speeches and toasts with Speech Laughter.
Encourage a dance-off between different generations and capture the hilariousness.
Make the cake more fun with a humorous topper that showcases the couple's unique personalities.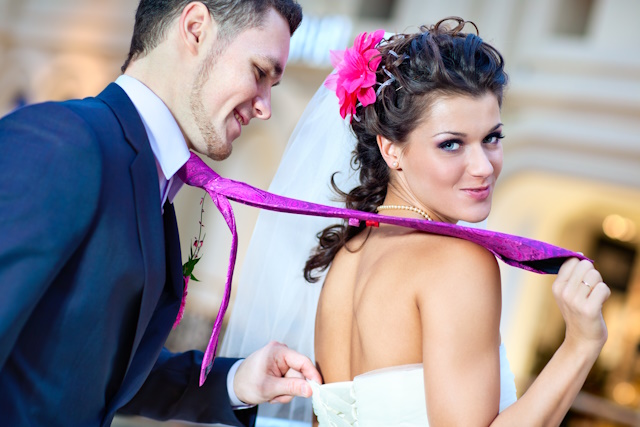 Photo by Depositphotos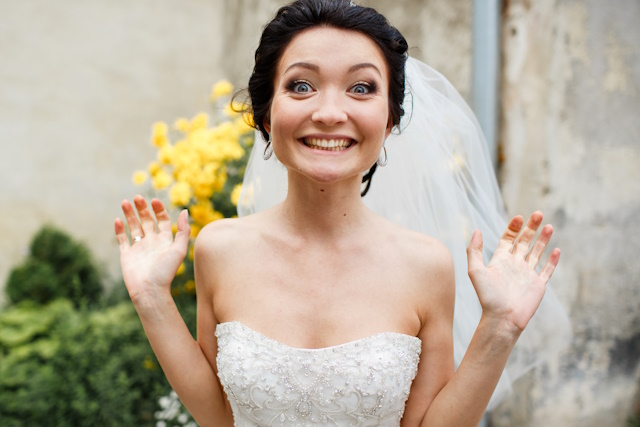 Photo by Depositphotos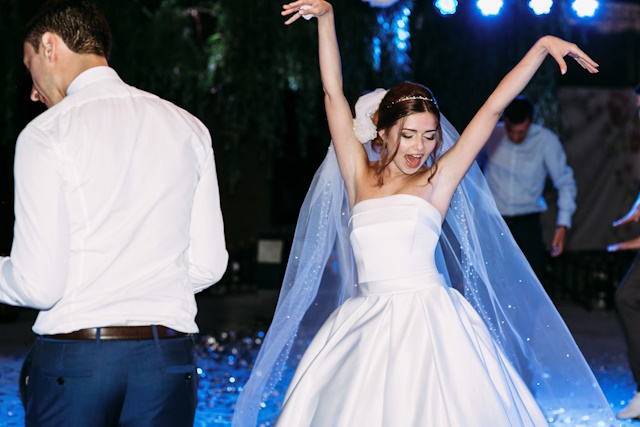 Photo by Depositphotos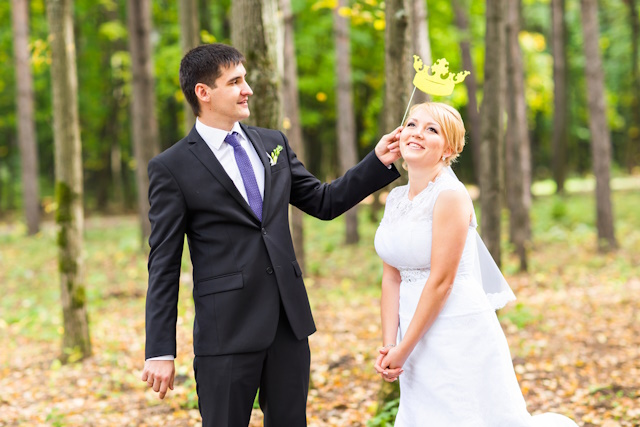 Photo by Depositphotos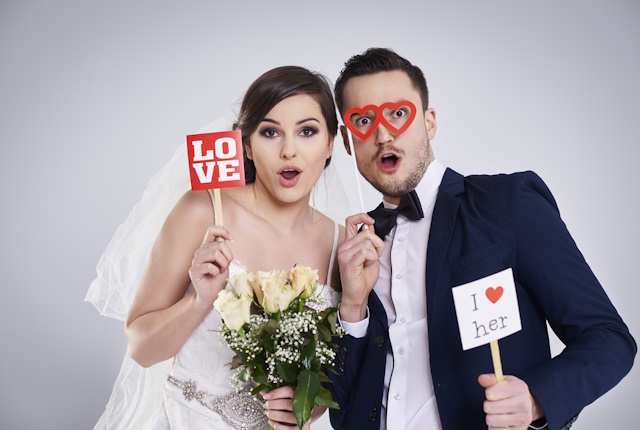 Photo by Depositphotos
Props and Accessories
Props and accessories are like the sprinkles on the cupcake of funny wedding photography. They can take your photos from heartwarming to hilariously unforgettable. Let's dive into how props add humor to your wedding photos and explore some popular options:
1- Adding Humor with Props:
Props inject a sense of playfulness into your wedding photos. They can turn ordinary moments into extraordinary ones, bringing out the joy and laughter in both you and your guests. By using props strategically, you can create lighthearted, memorable images that capture the essence of your special day.
2- Popular Props and Accessories:
Funny Signs: Large, quirky signs with phrases like "Just Married" or "Help Us!" can add a touch of humor to your photos.
Giant Sunglasses: Oversized sunglasses on the entire bridal party can make for a whimsical, stylish group shot.
Masks and Disguises: Wigs, masks, and mustaches provide endless opportunities for playful, incognito photos.
Balloons: Multicolored balloons can be used to create dynamic, lively compositions and add a sense of whimsy.
Chalkboards: Write funny or heartwarming messages on chalkboards to capture your personality.
Props Booth: Set up a photo booth with funny props like hats, boas, and oversized glasses for guests to enjoy.
Inflatable Toys: Giant inflatable pool toys or animals can create comical and unexpected moments.
Bubbles: Encourage guests to blow bubbles during the ceremony, creating a playful atmosphere.
Umbrellas: Colorful umbrellas can be used in both sunny and rainy weather for fun, vibrant shots.
Confetti Cannons: Add a burst of color and laughter with confetti cannons during the celebration.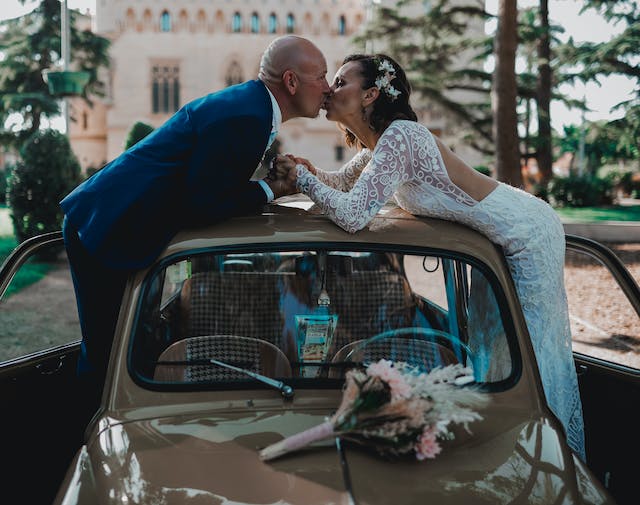 Photo by Lázaro  Revoledo

Creative Posed Shots
When it comes to wedding photography, posed shots don't have to be all serious and solemn. In fact, some of the most cherished and memorable photos are those that infuse humor and playfulness into the mix. Let's explore some funny poses for the bride and groom and discuss the vital role of the photographer in directing these shots.
1- The Role of the Photographer:
Before we dive into the poses, let's talk about the photographer's role. A skilled photographer isn't just a documenter; they are a director of your visual love story. When incorporating humor, it's essential that your photographer knows your vision. So, communicate your desire for funny wedding photography and share your ideas. Together, you can create moments that make your wedding album truly unique.
2- Examples of Funny Poses for the Bride and Groom:
The bride playfully manipulates the groom, as if she's a puppeteer pulling the strings.
The couple shares a kiss with one of them holding the other upside down.
Take a shot of the lovebirds in mid-air as they jump in sync – a Leap of Love moment.
Have the groom sneak a peek from behind a door while the bride waits.
They hold their hands in the shape of a heart, framing their faces.
SA fun showdown between the groomsmen and bridesmaids: A playful clash among the members of the bridal party.
The groom carries the bride on his back for a fun and playful moment known as a piggyback ride.
The couple playfully exchanges funny expressions with each other.
Bride Lift: The bride lifts the groom in a show of her strength.
Capture the groom playfully pushing the bride towards the altar.
The bride jumps really high when she throws the bouquet.
The groom playfully acts like he's having a hard time lifting the bride's veil.
The couple shares a romantic kiss while being surrounded by heart-shaped balloons.
Wedding Ring Puzzle: The couple holds up puzzle pieces of a wedding ring.
Flower Girl Confetti Surprise: The flower girl pretends to pour confetti over the couple.
Sneak into the background of guest photos and photobomb them, bride and groom style!
Enter the reception in style with a fun and festive balloon garland entrance.
The groom hoists his bride up on his shoulders.
The bride playfully attempts to snatch the groom's tie.
The bride cleverly uses her veil to "catch" the groom, just like a fishing net.
These poses bring a dash of humor to your wedding photography, creating moments that will make you smile for years to come. Trust your photographer's guidance, and don't be afraid to improvise, laugh, and make these poses your own. With the right mix of communication, creativity, and a touch of silliness, your wedding album will be a delightful mix of love and laughter, filled with funny wedding photography ideas.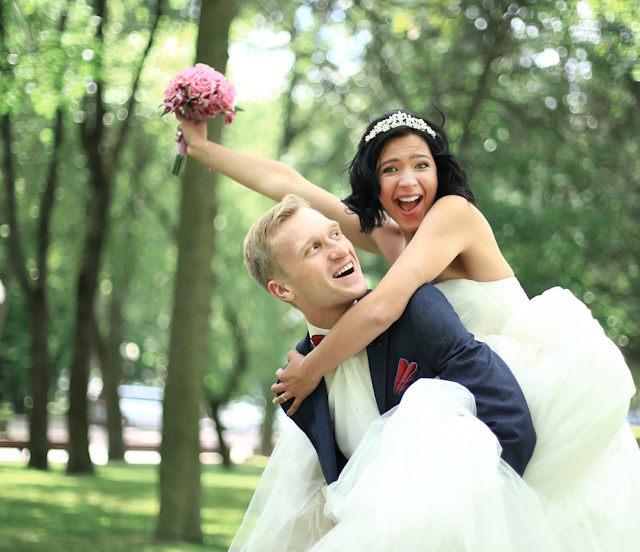 Photo by Depositphotos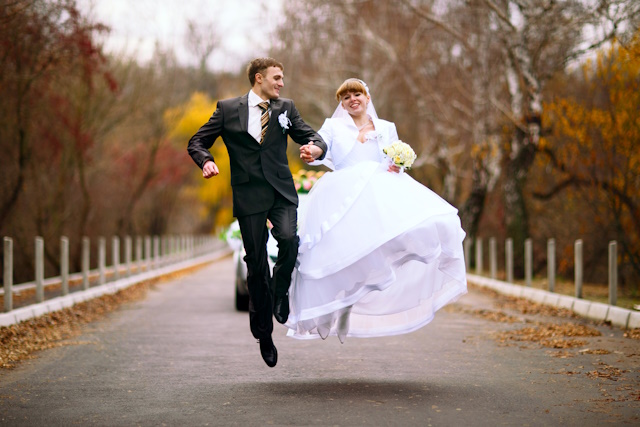 Photo by Depositphotos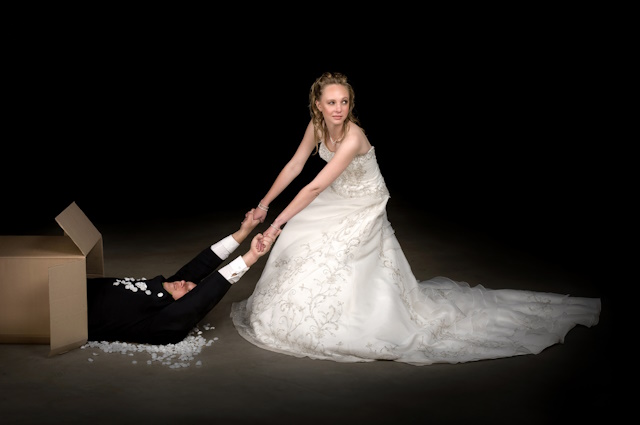 Photo by Depositphotos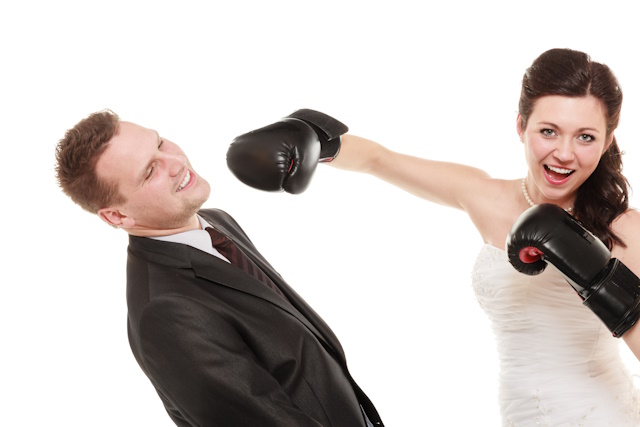 Photo by Depositphotos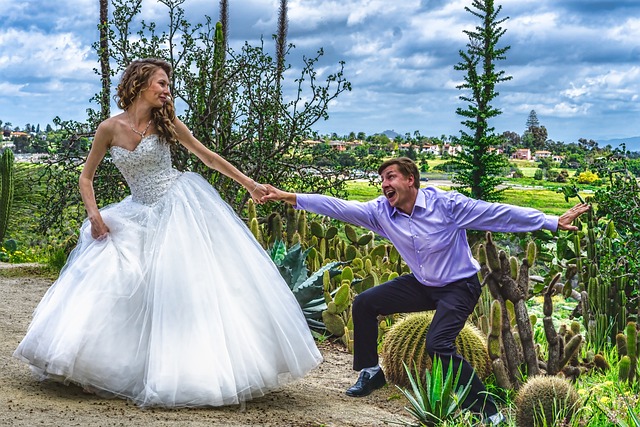 Image by Anatoliy Morozz from Pixabay 
*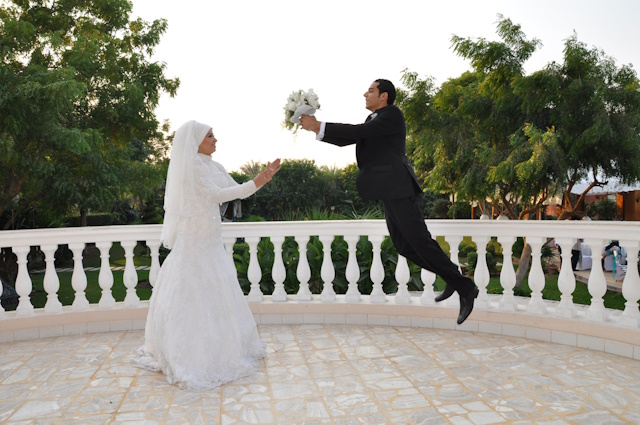 Photo by Ehab Amin
Conclusion
Make your wedding day unforgettable with hilarious photography ideas that capture the love and joy of the moment. Humor creates heartwarming memories that last a lifetime. Plan ahead, brainstorm funny scenarios, and communicate openly with your photographer to create a unique masterpiece filled with candid moments, creative poses, and playful props.
Embrace the unexpected and let laughter be the theme that runs through your special day. Infuse your wedding with humor and reflect the love and joy that defines your relationship. Cheers to a lifetime of laughter and love captured in every frame!
Related Posts
Captivating Outdoor Wedding Photography Ideas
Indoor Wedding Photography Tips-Captur The Perfect Moments
Wedding Portrait Photography Tips – 10 Essential Advice
Thanks for reading, I hope you enjoyed the article, if you have any questions just drop them below & I will be happy to answer you.
The featured Photo by Depositphotos
If you enjoy the site, don't forget to subscribe, we will only inform you when a new article is posted.