A good camera is the most important tool you have when doing landscape or nature photography. But a good camera bag is extremely important. It keeps your kit organized, and secure and generally looks pretty stylish. If you're looking for a high-quality bag to keep your gear dry and secure then here are the best camera bags for hiking in 2023!
The Best Camera Bags for Hiking
Peak Design Everyday Backpack 15L
TARION Waterproof Camera Backpack
Thule Covert DSLR Camera 3-in-1 Backpack
Peak Design Everyday Backpack 20L
Manfrotto Bumblebee-230 PL Camera Bag
Let's talk about each in depth.
1) Peak Design Everyday Backpack 15L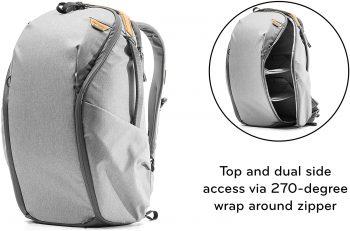 First up is the Peak Design Everyday Backpack 15L. If you use a compact mirrorless system this is the better option over the 20L version. Both backpacks feature metal clasps that allow you to rotate the back on your shoulders to access the compartments without having to take the bag off, giving it a sling-like experience!
The triple Ultra-zip design allows you far more flexibility compared to standard two-zipper backpacks. You can open the pack in two different places at once this way or simply open a single compartment.
And speaking of compartments, the highlight of using any Peak Design storage product is their Flex-fold Dividers. Rather than having to be happy with the interior layout that the manufacturer decides is best, you can place the dividers wherever you want within. And in order to accommodate lenses, camera bodies, and other equipment of varying sizes, the dividers can be folded or left flat to create tiers and compartments.
Several interior magnetic clasps help secure the compartments where you'd keep cables, batteries, and other equipment. The rear 13″ laptop compartment is also sealed using magnetic clasps!
External Dimensions: 26 x 42 x 20 cm; 2.11 kg
Features: Weatherproof nylon exterior, interior magnetic clasps, triple theft-guard YKK zippers, customizable interior layout, 13″ laptop sleeve
Price: Check on Amazon
2) TARION Waterproof Camera Backpack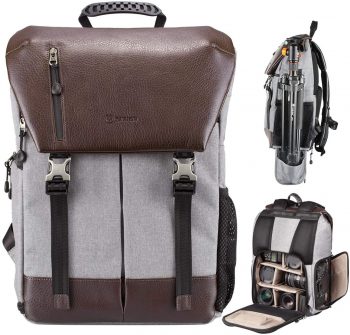 Water resistance is a feature you should expect in high-end hiking camera bags and the TARION model is one of the finest. First off, it's worth mentioning that their use of the word "waterproof" is a bit of a stretch.
That said, the TARION is absolutely more water-resistant than just about any bag on the market. Specifically, it has an IPX5 rating, meaning it can fully resist jets of low-pressure water. So a rainstorm or hose isn't going to endanger your equipment but dropping it into a lake is a different matter.
17L of internal space makes this an ideal bag for a full-frame mirrorless or DSLR kit where lenses tend to be both plentiful and chunky. You also have instant side access for your camera body, allowing you to quickly remove, shoot, and then place the camera right back into the bag if necessary. TARION also included shock-proof EPE Protective Padding to further protect the contents against accidental drops out on the trail.
External Dimensions: 29 x 16 x 45.5 cm; 1.43 kg
Features: 6″ laptop sleeve, IPX5 water resistance, 17L of interior storage space, side camera compartment access
Price: Check On Amazon
3) Thule Covert DSLR Camera 3-in-1 Backpack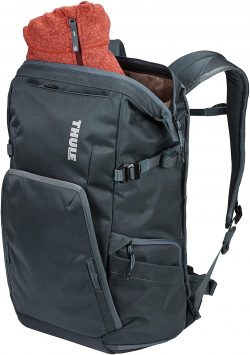 Thule has just the right camera bag for photographers looking for immense storage space in a compact, well-designed camera bag. Their DSLR bags come in both a 24L and 32L design, depending on your gear needs.
What really appeals to me is the modular design Thule uses here. Because sometimes you're going to need all of that 24 or 32L but sometimes you don't want to carry around that large of a bag. That's why the interior compartment can actually be removed and used as a day trip bag all by itself!
A bag this size also offers plenty of padding, protecting against drops and hard knocks. The padded laptop compartment can hold up to a 15.6″ laptop and an 11″ tablet at the same time. And you get not only two traditional back straps but a side handle in case you want to take the load off your shoulders while traveling.
External Dimensions: 33 x 23 x 48 cm; 1.87 kg
Features: Giant laptop/tablet sleeve, 24/32L of interior storage, modular interior design, extra exterior handles
Price: Check On Amazon (24L) or Check On Amazon (32L)
4) Peak Design Everyday Backpack 20L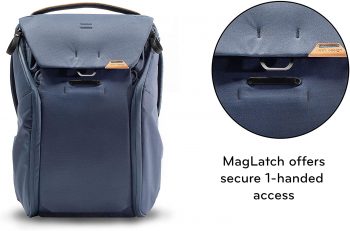 As big a fan as I am of the 15L design the Peak Design 20L offers just that little bit more for photographers with a larger kit. Rather than simply being a larger 15L, the 20L has quite a few features of its own, including top mag-latch access for the upper chamber in addition to the triple Ultra-zip design.
And if you have a larger 15-15.6 inch laptop, the mag-latching sleeve can accommodate those in the 20L. All Peak Design bags and slings use theft-deterrent zipper loops that can be secured to prevent quick access by a passing thief. And their straps use the same rugged nylon that car seat belts use, ensuring little to no chance of the strap ever wearing out on you.
Contoured shoulder straps with axial adjustments also let you flip the position of the bag when accessing the compartments from within without taking the bag off. And like the 15L you get several Flex-fold dividers that can be used to completely customize the interior layout of your bag for any camera and lens collection!
External Dimensions: 6 x 21.1 x 30 cm; 1.87 kg
Features: Weatherproof nylon exterior, interior magnetic clasps, top mag-latch access, triple theft-guard YKK zippers, customizable interior layout, 15-inch laptop sleeve
Price: Check On Amazon
5) Manfrotto Bumblebee-230 PL Camera Bag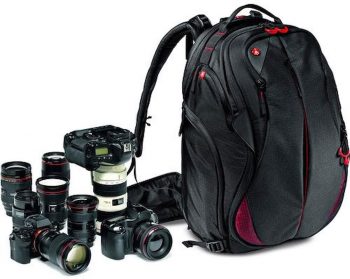 If you use a large 17-inch laptop then the Manfrotto Bumblebee is the only bag in this series that will properly house it. The fabric used where the bag connects to your back is also breathable, preventing sweat from uncomfortably accumulating. And the entire exterior is treated to be water resistant, preventing rain from ruining your photography hike.
While the interior of this bag is extremely spacious, you also get a lens pouch on the waist strap! This way, if you have a singular favorite lens that you want instant access to without having to take the bag off to open it, such as 24-70 zoom or a prime, you can reach it far faster. Manfrotto rates the interior as able to store a DSLR camera body with a 70-200mm f/2.8 attached, plus up to 10 DSLR lenses of varying sizes!
Despite being one of the pricier options, Manfrotto is a name brand in the camera industry. They are respected for designing not only the best camera bags for hiking but tripods and other accessories.
External Dimensions: 32 x 26 x 53 cm; 2.65 kg
Features: Space for the camera plus 10 lenses; external lens pouch, weather-sealed exterior, breathable rear fabric, 17-inch laptop sleeve
Price: Check On Amazon
Consider protecting your camera from potential theft!
When it comes to protecting your valuable camera equipment while on the go, the Hero Luggage Lock stands out as an essential accessory for camera bag owners. This reliable and durable lock offers peace of mind, ensuring that your gear remains safe and secure during travels. The Hero Luggage Lock boasts a robust construction that can withstand the rigors of frequent use and potential tampering attempts. Its simple yet effective design allows for easy application and removal, making it a convenient option for photographers on the move. With the Hero Luggage Lock safeguarding your camera bag, you can focus on capturing unforgettable moments without worrying about the safety of your equipment.
On Budget?
Sometimes, Photography bags can be very expensive for a lot of people. However, Keh is a great option to get a used one for a reasonable price. Read the full review here.
Related posts
Best Camera Bags For Women Photographers
Thanks for reading, I hope you enjoyed the article, in case you have any questions just drop them below & I will be happy to answer you.
If you enjoy the site, don't forget to subscribe, we will only inform you when a new article is posted.