Videography is a skill that's just as in-depth and complicated as photography…Or is it? What if there was a way to create excellent videos using a basic interface that requires no books or tutorials? If you've spent time wondering how to create videos online for free without having to break the bank or your brain, then consider using Animoto! 
How to Create Videos Online for Free 
Animoto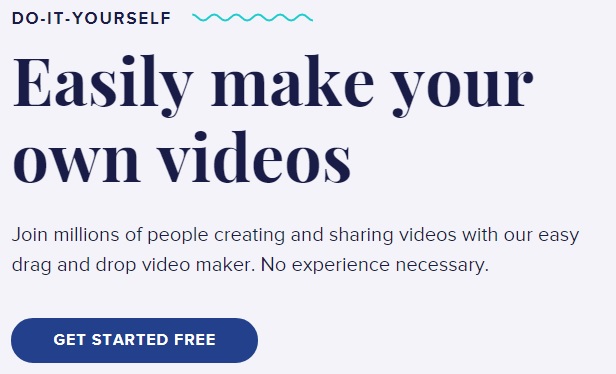 When creating an Animoto video, the first prompt you receive is choosing between creating a Memory or Marketing Video. Memory is a more casual video you might create for a birthday or special someone while a marketing video is meant for professional use.
I'll be describing the steps to creating a Marketing Video since that's the more common use case here! You'll then need to select your style, which comes grouped in categories like Popular, Kids, Wedding, Holiday, and more. 
Do note that many of these styles are reserved for the paid membership tiers. Each style is a set of effects and transitions that act as more of a loose framework to build your video around, rather than a fixed layout that you have to adhere to. Colors, fonts, music, and other elements can all be adjusted later. But by holding your mouse over the box, you can get a preview of what to expect when using each style!
Editing and Creating Your Animoto Video

Next, you're taken to a creation panel where you can upload the videos and photos that will be integrated into the final Animoto version. You have the option of pulling content from your computer's hard drive, of course. But Animoto can also sync to Facebook, Flickr, Dropbox, Smugmug, Instagram, and Lightroom for content.
While editing content you can add captions to photos by simply clicking on an image in the creation panel and typing in the relevant text. Text for the video can also be added by creating title cards. And any video content that you upload can be edited so that only the portions you wish to add to the Animoto video are captured.
But say you have an image that has details you don't want to be included. Or perhaps the focus is too soft, the lighting is poor, or there is some other issue with the file. You can edit the photo within the creation panel, add sharpening, crop the image using a custom aspect ratio or using any of the most common ratios, add red-eye reduction, and more! 
The adjustments are much more subtle than I would have expected for a free program like Animoto. For example, by clicking the Lighting tab, you can not only globally adjust the exposure but tweak just the highlights or shadows as you would in Lightroom, Darktable, or another image editor.
Once your images are edited to your liking, you can drag and drop to order them as you prefer them to be displayed. You'll notice above the series of photos and videos is a tab for your song choice. This takes you to the Animoto library of music options, whose size depends on the membership tier you've selected. And once the song is selected, you're given the option to produce your video, combining your footage with the music into a single video.
You have the option of displaying the video through a web page dedicated to it, with share options for YouTube, Facebook, Twitter, direct links, and other platforms or downloading the video yourself.
Animoto Pricing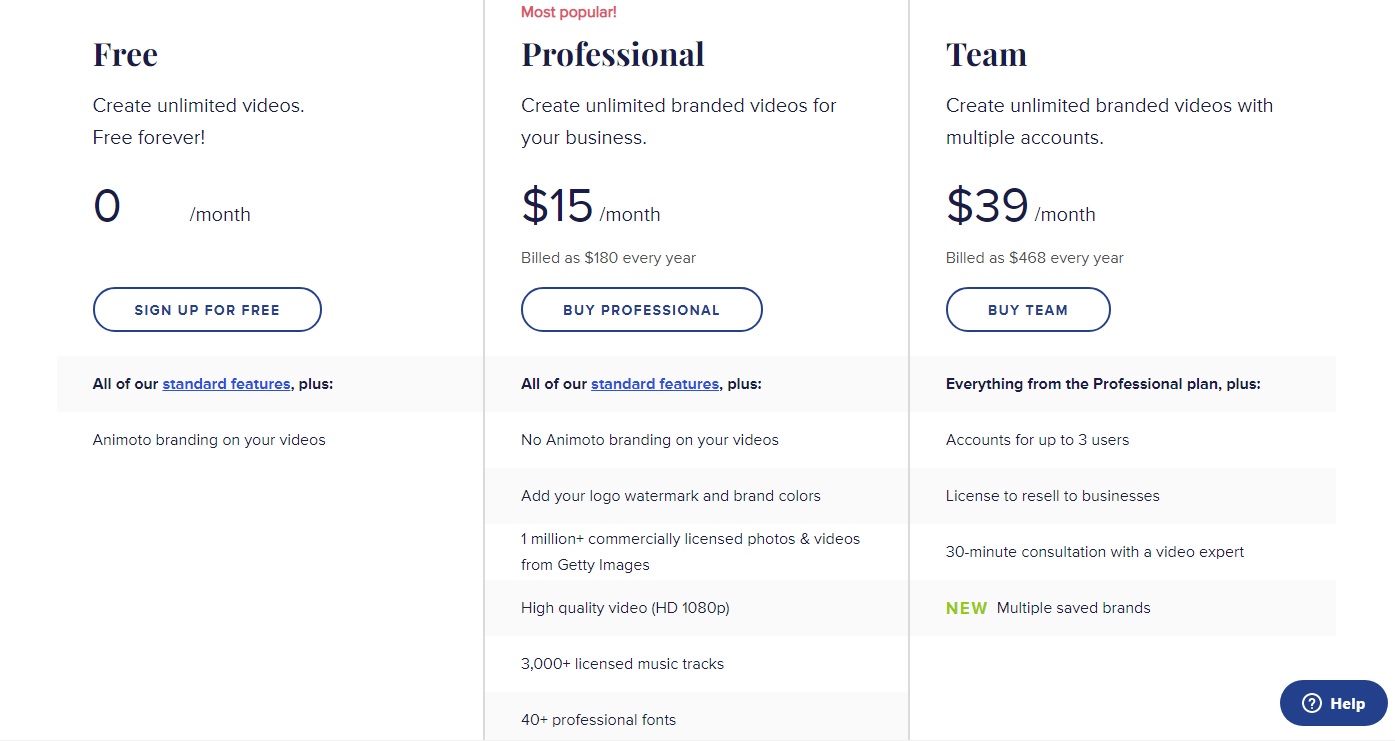 Animoto's user-friendly pricing is yet another reason to consider using this platform for online video creation. The free tier offers all of their standard features: unlimited video downloads, HD video resolution output (720p), 50 different music tracks, 3 font options, and 30 color swaths. 
The only possible downside is that you do get a watermark through Animoto's branding on your video output. If you're just a casual user then that shouldn't be a concern but if you're building video for a personal brand or business it detracts from your messaging. Upgrading to the Professional tier for $15/month (billed as $180/year) removes the Animoto logo and adds the entire 3,000+ track library of music and 40+ font options.
What's more, you can add your own logo and brand colors and you gain access to over a million commercially licensed photos and videos via Getty Images.

Their Team tier allows you to create accounts for up to 3 users, a license to resell to businesses, and a 30-minute consultation with a video expert to help refine your brand's messaging. All that for $39/month ($468/year)!
Who is Animoto For?

Animoto is for digital content creators who want to generate effective video media content as quickly as possible. It's for businesses who dabble in videography and want solid content without having to learn Adobe Premiere or another high-end, highly complex software.
Animoto keeps the fun factor of video creation in place thanks to its drag-and-drop interface, which means no time spent browsing tutorials and instant realization of your creative vision. 
You don't have to spend hours syncing your video to music tracks, or clipping files to fit perfectly; it's all done within Animoto's platform seamlessly. 
Just keep in mind that is so stripped down, you don't have the options that professional video programs offer. You can't save your settings for future videos, nor can you output to 4K resolution. You also can't fine-tune a single frame of the video. But that kind of editing simply isn't what Animoto is built for.
Conclusion
If you've been wondering how to create videos online for free then Animoto is by far the easiest way to get started. The interface is a highly intuitive, drag-and-drop design that takes no time at all to master. And you have simple yet powerful editing tools in the form of exposure, sharpness, and color control to get your images looking right. 
There are also tons of text modifications you can add to further tell the story of your brand or memory. Just remember that the free tier does add an Animoto logo to your video that only the paid version removes (and allows you to customize as you see fit)!
Related posts
How To Shoot Video With DSLR Camera
What is the Best Video Editing Software for Beginners?
Thanks for reading, I hope you enjoyed the article, in case you have any questions just drop them below & I will be happy to answer you.
If you enjoy the site, don't forget to subscribe, we will only inform you when a new article is posted.