If you are in the field of photography and wishing to use your camera to produce some videos to present your works and to share them, you need to have editing software to edit and customize your videos. Some of the editors offer a gentle introduction to editing, so you can easily learn the basics and be able to make the step up to a more advanced program when you're ready.
I have made a post about shooting video with your DSLR, and to complete the subject, I wrote this post.  If you're a beginner and new to shooting videos I advise you to try some of the free video editors to make the learning process much easier. The following is a list of well-known editing software and it has no particular order.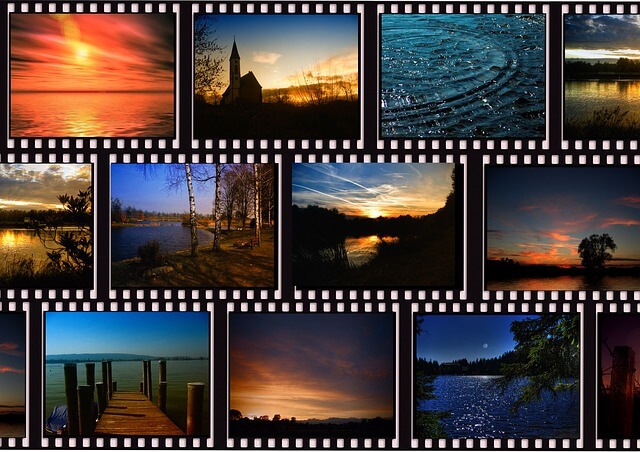 The Best Video Editing Software for Beginners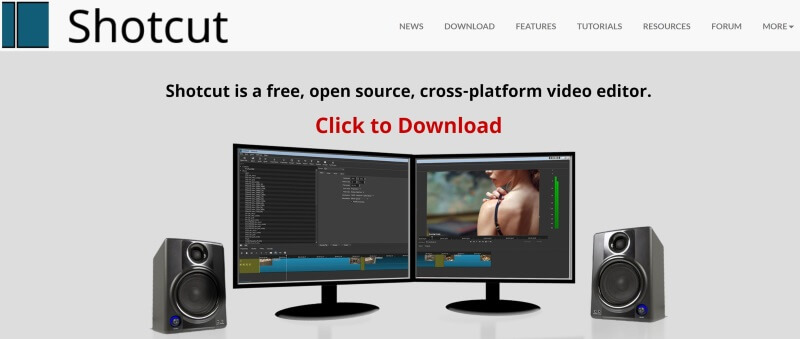 Shotcut is a free, open-source, cross-platform video editor for Windows, Mac, and Linux. Major features include support for a wide range of formats; no import required meaning native timeline editing; Blackmagic Design support for input and preview monitoring; and resolution support to 4k. You may download Shotcut free from here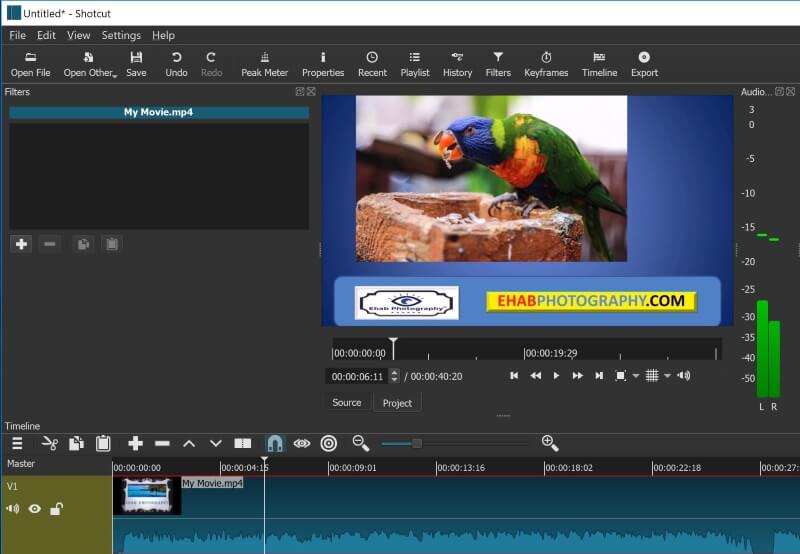 Main features:
Support for the latest audio and video formats thanks to FFmpeg
Supports popular image formats such as BMP, GIF, JPEG, PNG, SVG, TGA, TIFF, WebP as well as image sequences
Support for 4K resolutions
Network stream playback (HTTP, HLS, RTMP, RTSP, MMS, UDP)
Export single frame as an image or video as an image sequence
Trimming on source clip player or timeline with ripple option
Easy-to-use cut, copy, and paste operations
Append, insert, overwrite, lift, and ripple-delete editing on the timeline
Drag-n-drop files from the file manager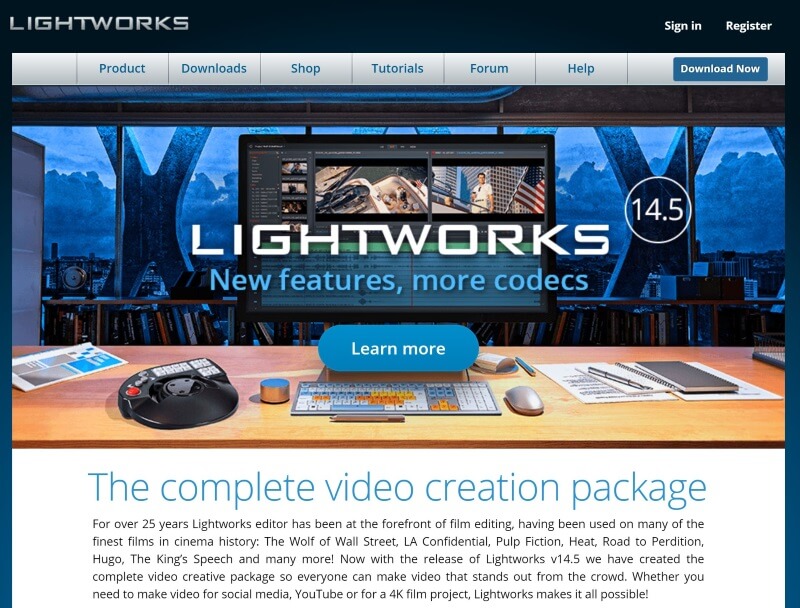 It's available on Windows, Mac, and Linux. Lightworks is one of the more powerful video editors on the list. It's absolutely packed with useful features. For those just stepping into video making, Lightworks offers a FREE license version with all the tools. The free version should be more than enough for most users, the only restriction is on output formats (Export YouTube/Vimeo up to 720p).
The Lightworks Pro license can be purchased as needed; go monthly (for $24.99), annually (for $174.99), or get the outright license (for $437.99), which includes Boris Graffiti and FX packages.
Whatever the final platform or format you need to deliver the video to, Lightworks has it covered. From Facebook, Vimeo, and YouTube, to SD, HD, 4K, and beyond, video makers can package video for them all.
Lightworks has many great video tutorials that can make it quicker to get up and running.
This software is available for Windows and IOS operating systems.
Filmora Video Editor for Windows is the easiest video editing software for Windows users, allowing you to import any video, photo, and audio files from iPhone, iPad, Android, camcorder, cameras, and other devices, as well as from Facebook and other social platforms.
The software has basic editing features like rotating, trimming, splitting, cropping, and joining. This video editor for Windows enables you to adjust the aspect ratio, hue, brightness, speed, saturation, contrast, and more for the videos. There are more than 200 filters you can use in Filmora Video Editor for Windows. They are very helpful for changing the whole style of your video.
Filmora also offers multiple options to save and share videos: export the video to any video format you like and you can adjust the parameter for the video; save for devices (iPad and iPhone 7S supported); share online and burn to DVD.
The site has full support and a comprehensive guide, 24h/6 Response One to One Support Email and Website Live Chat One to One Support, and it comes in three price plans besides the free trial:
One year for $44.99, you can use this product for 1 year and renew if you're satisfied.
Lifetime for: $59.99, you pay a one-time fee to enjoy a free upgrade for a lifetime on 1 PC.
Unlimited for: $104.87, you can use this product and get unlimited access to 1000+ video effects for 1 year.
You may download Free Video Editor version and use it completely free without any restrictions. It runs on most of the Windows versions.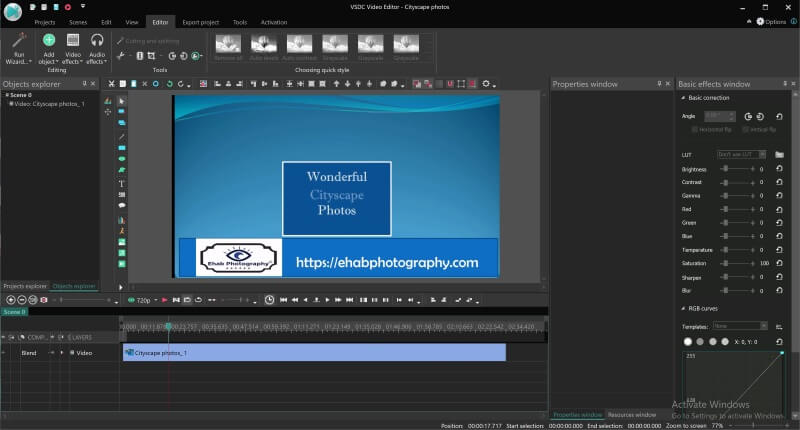 Main features:
Non-linear video editor: It allows objects to be placed in any position on the timeline and have any size. Besides, various parameters, shapes, and positions of objects can change arbitrarily over time.
Visual and audio effects: you can apply various visual and audio effects to your videos to achieve the necessary result.
Blending modes and Instagram-like filters: One more way of changing the look of your video image according to your preferences is color blending. You can attach a unique professional style to your video.
Masking: VSDC Free Video Editor allows for creating different shaped masks for hiding, blurring, or highlighting certain elements in your video.
Easy export to social networks: VSDC Free Video Editor offers you special export profiles, so you can easily prepare a video for Facebook, YouTube, Instagram, Twitter, and Vimeo.
Support of popular formats: it supports virtually all video, image, and audio formats and codecs, besides 4K and HD format.
Creation of videos for specific multimedia devices: you can easily create videos for most popular multimedia devices, such as DVD players, iPod/iPhone/iPad, PSP, Galaxy, any smartphones and regular phones, Sony PlayStation, Xbox, Zune, Archos, iRiver, Creative Zen, Blackberry, MP4 players and many others.
Desktop video capture: the video editor features a desktop video capture utility that saves captured footage to a video file for subsequent processing in the editor.
There is a pro version of the software that has a more advanced setting for professional editing, hardware accelerator, and waveform. You can buy it for only $19.99
Machete is a convenient utility for playing and editing multimedia files, it runs under Windows operating system (Windows XP / Vista / 7 / 8 / 10) It is currently available for $19.95, also it has a 14-day free trial.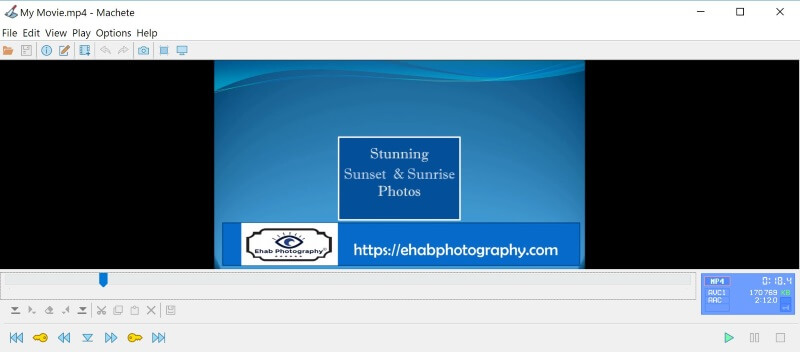 It has a user-friendly design, Machete is an ideal solution for quick and easy "slicing" of your multimedia files. You can delete unnecessary fragments (e.g. cut out commercials), copy, move, mix and save individual pieces.
You can edit the following types of video files: FLV (Flash Video) video and audio files (*.flv), MP4 (MPEG-4) and MOV (Apple QuickTime) video and audio files (*.mp4, *.mov), Edit 3GP (3GPP) and 3G2 (3GPP2) audio and video files (*.3gp, *.3g2), MKV (Matroska) video and audio files (*.mkv, *.mka), WMV video files (*.wmv, *.asf) and WMA audio files(*.wma), AVI video files (*.avi), and MP3 (MPEG Layer-3) audio files (*.mp3).
You can do the following editing functions: cut, copy, delete and paste fragments of video files, save video fragments as separate files, and insert one video file into another file of the same format
Extract and save the audio stream as a separate file
Extract and save the video stream as a separate file
Add/Replace audio stream in video files
VideoPad is a fully featured video editor for creating professional quality videos in minutes. The software can run under Windows and Mac. It comes in two versions:
VideoPad Video Editor Home Edition: Fully featured, but allows only two audio tracks and no external plugins for $39.95
VideoPad Video Editor Master's Edition: All features unlimited audio tracks and plugins for $69.95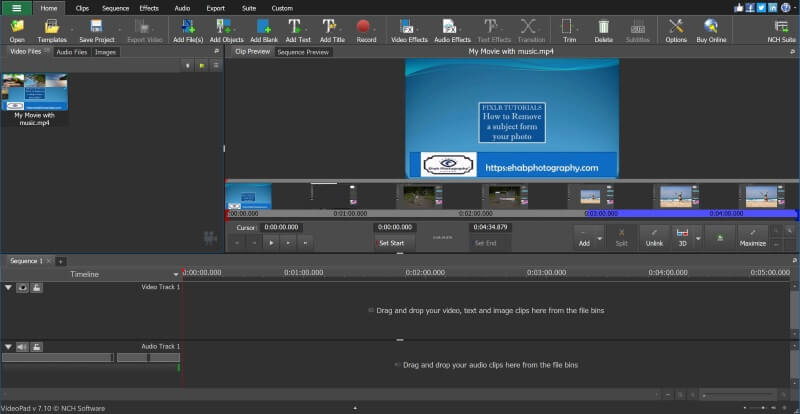 Main features:
Supports all popular video formats seamlessly: Capture video from a DV camcorder, VHS, GoPro, webcam, or all common video file formats including Avi, WMV, MOV, DivX, and many more.
Breathtaking transitions and visual effects: Over 50 visual and transition effects to add a professional touch to your movies.
Create videos for DVD, HD, YouTube, and more: Burn movies to DVD and Blu-ray or export your videos online and to your portable devices.
Pure Digital Audio Tools
Import and mix music tracks like a pro
Includes audio effects, such as choral, echo, distortion, and more
Make your own custom movie soundtrack with
MixPad multi-track mixing software
Record your own narrations with the click of a button
Use sound effects from the free Sound Effect Library
Complete Video Optimization
Fine-tune color and other visual effects
Slow down, speed up or reverse video clip playback
Reduce camera shake with video stabilization
Add photos and digital images to your sequences
Plugin support to add thousands of tools and effects
Create looped gif videos
Share With Family and Friends
Burn to DVD and watch on your TV
Share online or directly to Facebook and YouTube
Save to PSP, iPod, iPhone, or 3GP mobile phone
Edit 360 videos for YouTube and VR headsets
Export movies in multiple resolutions including full HD, 2K and 4K (720p, 1080p, 1440p, 2160p and more)
DaVinci Resolve is arguably the most advanced video editor on the list. While it has many professional video features, its interfaces remain intuitive. Alongside video slicing and trimming you can master audio and correct color. You can also use it to add 2D and 3D titles to your video. DaVinci Resolve 16 is the world's only solution that combines professional 8K editing, color correction, visual effects, and audio post-production all in one software tool! You can instantly move between editing, color, effects, and audio with a single click. DaVinci Resolve Studio is also the only solution designed for multi-user collaboration so editors, assistants, colorists, VFX artists, and sound designers can all work live on the same project at the same time! Whether you're an individual artist or part of a large collaborative team, it's easy to see why DaVinci Resolve is the standard for high-end post-production and finishing on more Hollywood feature films, television shows, and commercials than any other software.
If you just want to trim and upload your videos, the rich feature set of DaVinci Resolve may be too extensive. However, if your video project is a little more advanced, the free version of this software is hard to beat.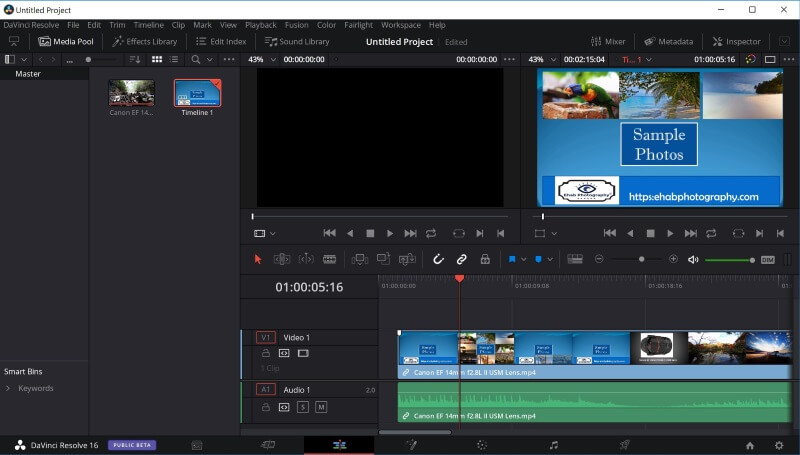 Main Features
Advanced trimming
Multicam editing
Color correction
Audio mastering
Avidemux is a free video editor and open source software designed for simple cutting, filtering, and encoding tasks. It supports many file types, including AVI, DVD compatible MPEG files, MP4, and ASF, using a variety of codecs. Tasks can be automated using projects, job queue, and powerful scripting capabilities.
Avidemux is available for Linux, BSD, Mac OS X, and Microsoft Windows under the GNU GPL license.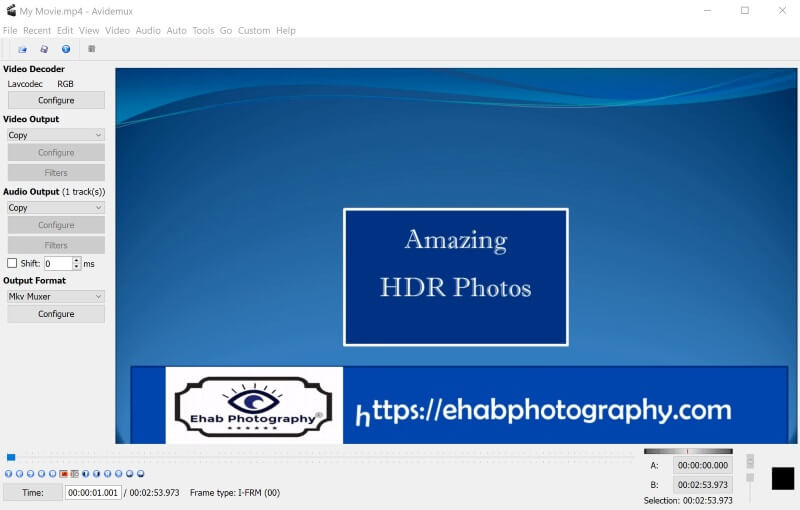 HitFilm Express is one of the more professional video editors to make the list. It contains all the features you would expect from a basic editor (splicing, trimming, and audio editing) plus many more. While some users may find HitFilm a little advanced, it's certainly one of the best all-round free video editors out there. The free package includes over 180 special effects.
Before you can download this software, Hitfilm asks you to share a status update on social media. However, this is a very small price to pay for such advanced software. Finally, Hitfilm includes a store where you can purchase add-ons, but this is beyond the scope of most users, as the free feature set should be more than enough.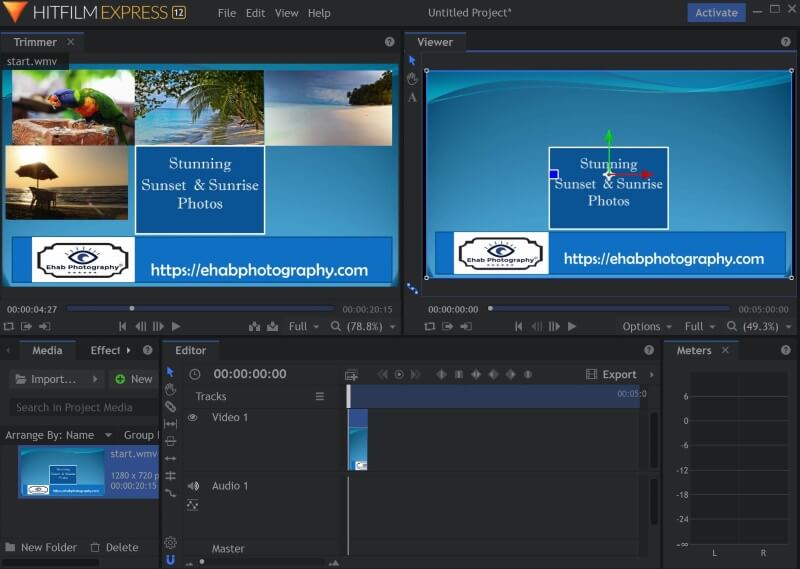 Main features
Professional-grade video editor
Full 2D and 3D compositing
410+ effects and presets
Free video tutorials and projects
Unlimited tracks and transitions
Windows & Mac compatibility
Openshot is open-source software and it is totally free. OpenShot supports the following operating systems: Linux (most distributions are supported), Windows (version 7, 8, and 10+), and OS X (version 10.9+). Project files are also cross-platform, meaning you can save a video project in one OS, and open it on another.
Main features
Support for many videos, audio, and image formats
Desktop integration (drag and drop support)
Unlimited tracks/layers
Clip resizing, scaling, trimming, snapping, rotation, and cutting
Video transitions with real-time previews
Compositing, image overlays, watermarks
Title templates, title creation, sub-titles
3D animated titles (and effects)
Advanced Timeline (including Drag & drop scrolling, panning, zooming, and snapping)
Frame accuracy (step through each frame of video)
Time-mapping and speed changes on clips (slow/fast, forward/backward, etc…)
Audio mixing and editing
Digital video effects, including brightness, gamma, hue, greyscale, chroma-key (bluescreen/greenscreen)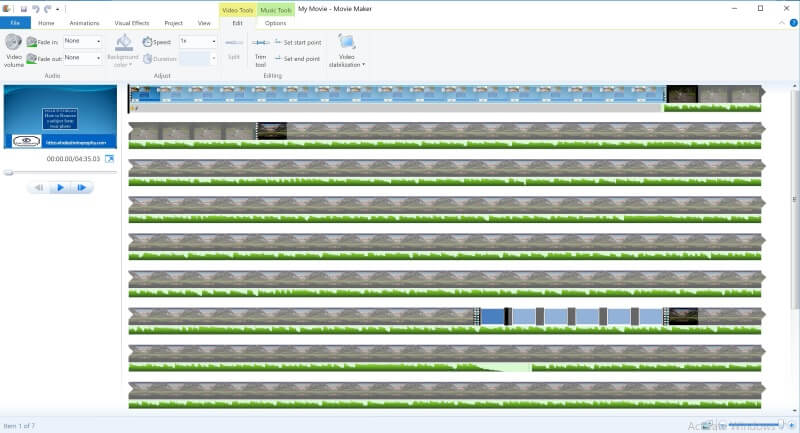 It is user-friendly with a classic Microsoft feel, and great for beginning video editors.
Movie Maker was Windows' pre-installed free video editing software. While it is no longer pre-installed, you can still download this application from some third parties and use it to create and share high-quality movies.
VEED  (Online video editor)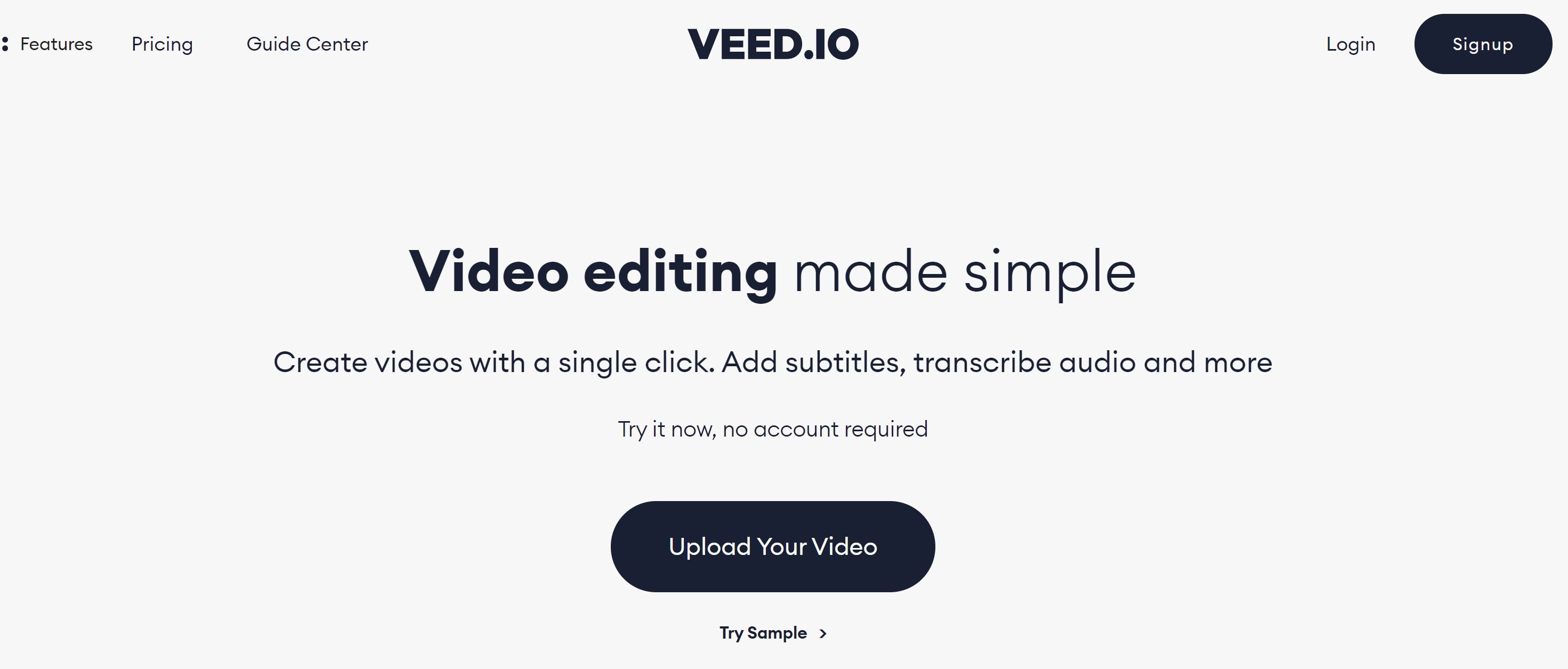 This site is an online service that is dictated to editing videos. Simply you can upload your video and you can make all the basic editing in simple steps. Use the timeline to trim, split, and delete part of your video. Using the toolbar offers a lot of editing functions such as:
Adding text, subtitles, shape, and images
Adding an audio file to your video
Change the font type, size, and color of your text and subtitles. In addition, you can position it where you like in the frame.
The edited video can be exported in different aspect ratios that suit many social media requirements like YouTube, Instagram, Facebook, and much more.
You can easily use filters and even draw on your video.

This is an online site to create videos in a very easy way by using customized templates & stock photos. They have plenty of templates to fit your needs, like (products, business, social trends, celebration & even personal). Also, you can find clips to add background music. below are some functions:
Make each video your own with intuitive color, text, and design tools. Add your logo as a watermark to build brand awareness.
Create square, landscape, and vertical videos to share to social media and beyond. There are no creation or download limits on any Animoto plan.
Text effects and a selection of over 40 professional fonts.
Trim your footage, crop your photos, and adjust the timing of your media without ever leaving Animoto.
The Animoto brand watermark will never appear on videos created with Professional and Business plans. Keep your brand in the spotlight.
Lastly, they have a free plan.
FlexClip is an online video editor that is made for users who are new to video editors.
This software lets you create spectacular videos in a flash. With hundreds of video templates, motion presets, and an extensive stock footage library, FlexClip editor is all about effortless creativity, and it's a totally free video editing software
You can easily make slideshows, video essays, invitations, vlogs, ads, or promo videos. With FlexClip's features, you're good to go.
Main feature
FlexClip gives you the power to create, edit, convert, or compress videos in an instant. Here's what the program can do:
The video editing software has multiple sections for specific editing purposes.
You can create a video from scratch or through templates. Just import files from your computer, hard drive, or memory card. Alternatively, you can find content in FlexClip's impressive media library.
You can insert text, shapes, transitions, and other special effects with simple drag-and-drop and one-click controls. Also, you can adjust the speed, lighting, and orientation very easily. Its slow-motion and flash-forward controls are particularly impressive.
Using FlexClip, you can trim certain parts of your video by simply dragging your cursor. The software allows you to get creative by applying a jump cut, axial cut, cutaway, match cut, smash cut, parallel cut, or crosscut.
You can upload all your videos or images at once, put them in a sequence, and voila!
FlexClip features file compatibility for editing, converting, or compressing videos. You can upload and export various video and image file formats, including MP4, MOV, WAV, M4V, WEBM, JPEG, and PNG.
FlexClip includes thousands of totally free videos, photos, and music you can add to your storyboard. They are all royalty-free, which allows you to use them for marketing and advertising video production. FlexClip's dedicated music catalog is also very appealing to Youtubers, as it contains popular background music and gets updated frequently.
Related posts
How To Shoot Video With DSLR Camera
How to create videos online for free
Thanks for reading, I hope you enjoyed the article if you have any questions just post them below & I will be happy to answer you.
If you enjoy the site, don't forget to subscribe, we will only inform you when a new article is posted.