Pixlr is an online photo editor and I considered it a good alternative to the famous Adobe Photoshop Express. It allows you to work easily with the common editing tools such as layers, filters, masks, brushes and other tools, and on top of that, it comes for free!
Remove any background on your image at Pixlr.com
A couple of years ago no one could imagine that Adobe suite would be available online, thus the alternative software by famous Autodesk team became so popular. Pixlr suit contains 3 versions:
Pixlr Online, a photo editing web app;
Pixlr Express, one-click editing web app for quick picture enhancing
Pixlr Mobile, a set of mobile apps for iPhone, iPad, and Android.
In this review, I'll concentrate on the Pixlr web application.
Interface and main features
The app interface is very similar to Photoshop, To use it, you need to have some basic understanding of how image edit tools like select, crop, resize, layers, etc. The photo below is a snapshot of the interface.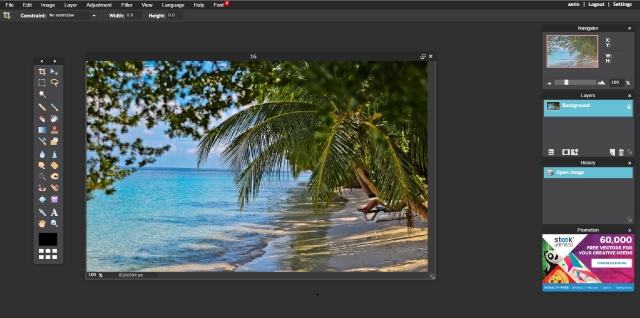 In the top, there is a horizontal menu bar. It includes the following menus: file, edit, image, layer, adjustment, filter, view, language, help, and font. You have to remember that the menu bar contains tools that apply to the whole image.
Underneath the menu bar, there is the options bar, where you can fine-tune and adjust the specific option parameters that are related to the selected tool.
Also, you should know that it takes a few moments for any tool and Adjustment changes to preview in the web app. It isn't unreasonable, but you have to wait for the preview to catch up before sliding the adjustments further or you'll overdo it.
The Pixlr comes in with 25 different languages; you can easily choose your preferred one, by just a mouse click.
At first, I'll go throughout the menus bar. The following are the main Pixlr menus.
Pixlr Menu Bar
You can load a photo from your computer or from a web page, or from the library as shown in the below photo. Pixlr also offers "Grabber for Firefox," a free download that enables you to right click on any image in a web page and loads it into Pixlr for editing. This Firefox add-on also lets you capture the whole or parts of the browser content (print screen).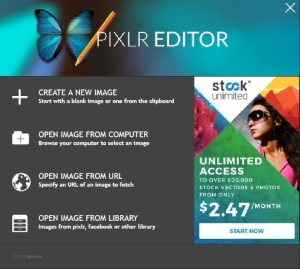 The basic editing tools are shown in this menu, like undo, redo, copy, and past and many others. The free transform tool is available also, it allows you not even to transfer a selected area, but also to rotate it with any angle. The edit menu is shown below.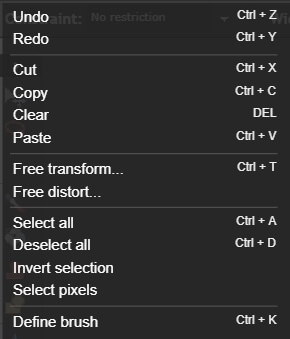 In this menu, you can crop, resize, and rotate your photo. The image menu is shown below.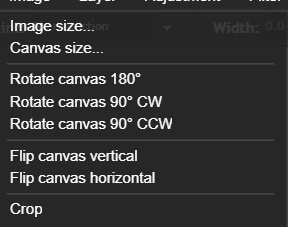 This menu makes a big difference between a free web app and an advancing and expensive photo editing software. When having this feature in a free app it is considered a major advanced feature.
You can add a mask layer and make specific retouching to a specific subject on your photo. The layer menu is shown below.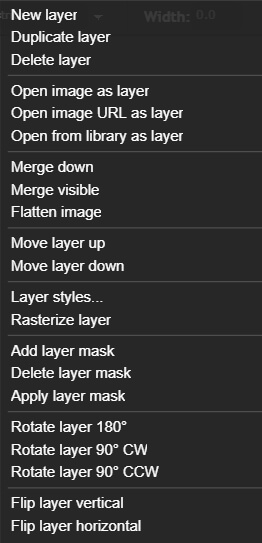 In this menu, you can make all the well-known editing features like brightness & contrast, hue & saturation, color balance, exposure and much more. The adjustment menu is shown below.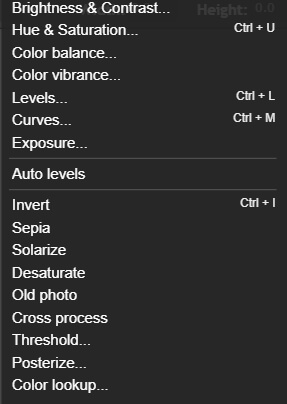 You can apply different filters on your photo, add blur or sharpen, and apply any filter from a great list, the list is shown below.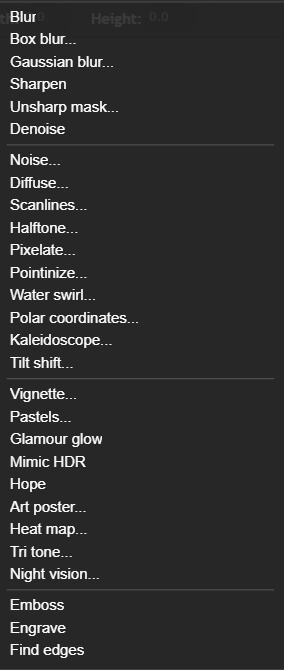 Tutorial video
The following is a short tutorial video using the main menu tool.
Pixlr Tool Boxes
To the left of the interface, there is the tools box. It has 28 different editing tools that can be used to edit and adjust a certain selected area of your photo. The toolbar names are shown in the following photos with their shortcut keys (Alt key + letter).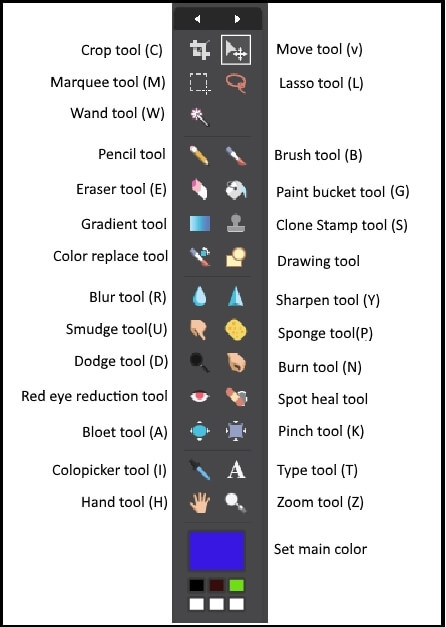 To the right, there is a navigator box that allows you to zoom in and out to make the editing job more easily done. A Layer box is available to let you add a new layer, or a mask layer, and many other things. Also, a history box is there to let you go specific editing stage, all your editing actions are recorded.

Are you a photo editor in need of a job? Check out new vacancies here.
Tutorial videos
The following are short tutorial videos using the tools box of PIXLR
Related Posts
What is the Best Online Photo Editing Services
Thanks for reading, I hope you enjoyed the article if you have any questions just post them below & I will be happy to answer you.
If you enjoy the site, don't forget to subscribe, we will only inform you when a new article is posted.