Photo editing is a term that refers to the manipulation of an image. With the advances in digital photography, photo editing has become much more advanced. Photo editing tool allows for complex adjustments to be made down to the image pixel, it also can be used to enhance exposure, remove unwanted objects, retouch an image subject, and more.
Because no matter how well you shoot your photos, there are always little things to fix and retouch afterward. In earlier posts, I wrote about the famous Adobe Photoshop Lightroom, which is, and his mate, Photoshop is considered the industry standard of photo editing software.  I also compile a list of free software for a fellow with a tight budget. This post focuses on another type of photo editing tool, which is an online photo editing service. In this type, you don't need to download software to your PC, but it is rather simpler, you need only to upload your photos to the site and do all the editing jobs online. When finish editing, download your final edited photo back to your PC. Here are some of the interesting online tools:
The Best Online Photo Editing Services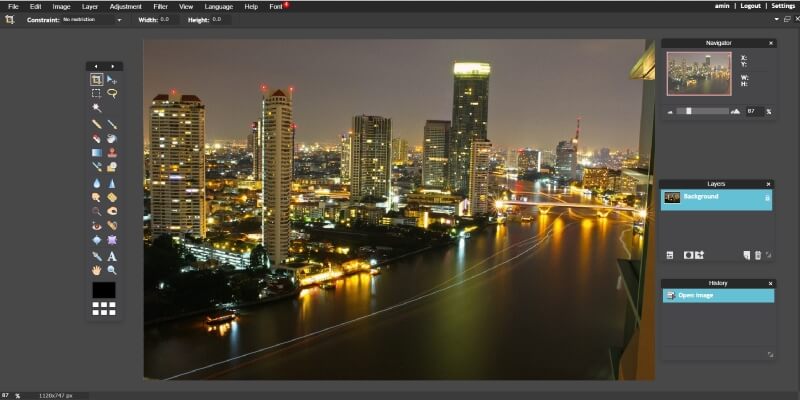 PIXLR Editor is a browser photo editor, for all your editing needs. With Pixlr Editor you have full control over your images including layers and effects.
Pixlr is a free online image editor with a number of attractive features:
A clear and logical user interface
Layers support with blending modes, masks, and layer styles
All the tools you'd expect from a fully-fledged pixel-based image editor
Quick and responsive to use
Powerful adjustment tools including Curves and Levels
Full-screen mode maximizes workspace and makes it feel like a desktop application
Extensive range of filters for creative effects
A full review of Pixlr is in my post >>Pixlr – The Free Online Photo Editor<<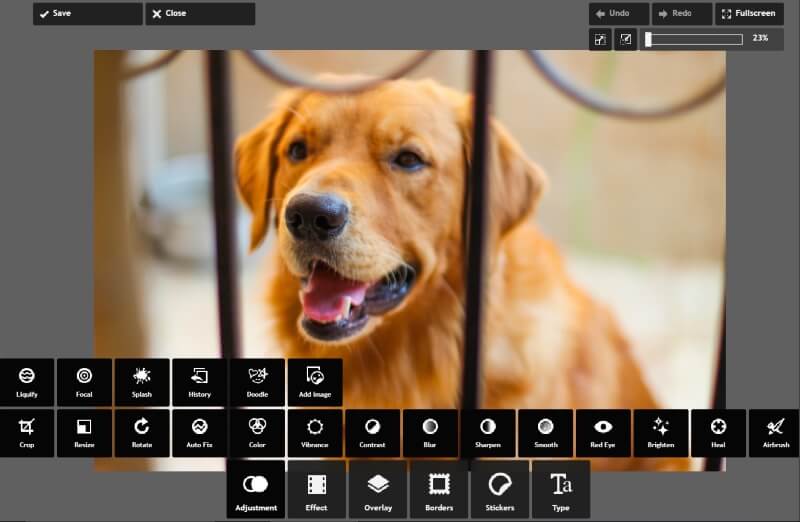 Pixlr Express takes a different approach to personalizing your photos. Namely, it packs in the editing, color correction, and tweaking options so you spend less time with filters and more time improving the final photo.
It does have some notable tools under the hood: One-touch red-eye correction, teeth whitening, focal blur, de-noising, sharpening, and more are available, along with standards like crop/rotate/resize options. You can even tap the "auto-fix" button and the app will take care of your shot for you, adjusting for low-light levels or oversaturated colors. You can always revert to its changes.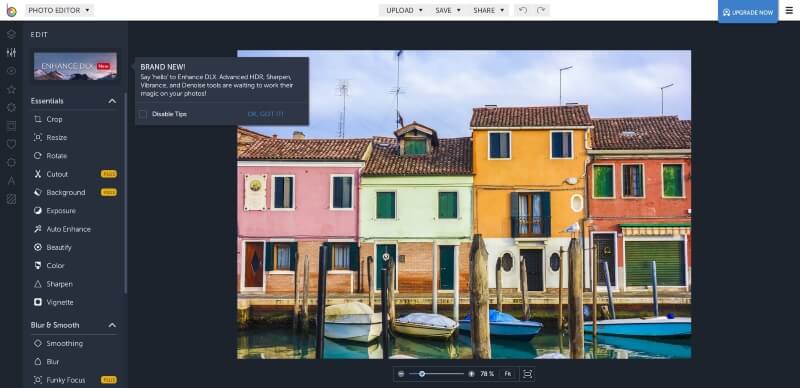 BeFunky photo editor has smart enhancement tools to fix poor lighting, digital noise, fuzziness, and other common problems all with just a single click. It is a uniquely powerful online and mobile photo editor. Think Photoshop, but simplified for everyday users. With BeFunky, you can easily create stunning, professional-quality images with a single click. The process might be simple, but the results are incredibly sophisticated. You can do the most editing jobs like:
Crop: Trim off some of the edges to bring more attention to the subject of the image.
Exposure: Adjust Brightness along with Highlights and Shadows to add contrast.
Saturation: Increase Saturation to enhance colors; decrease it for flat and dull colors.
Sharpen: Increase Sharpen to add contrast to the details and lines of your photo.
Blur and smooth.
The perfect tool for a portrait photo. It can soften skin, change eyes color, and teeth whitening.
It has many amazing effects- filters.
Large selection of frames.
Easley add a text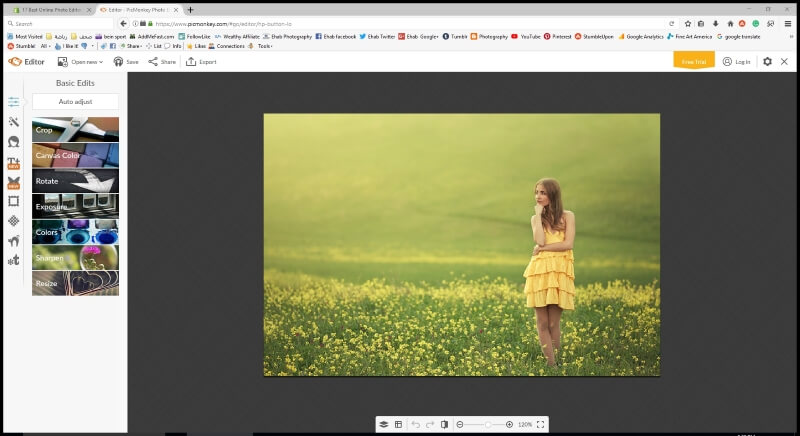 PicMonkey is another great online photo editor with a very cool feature: collage. You can take various photos and arrange them together. If you have lots of products, you can collage them together for perhaps a store banner or an email newsletter.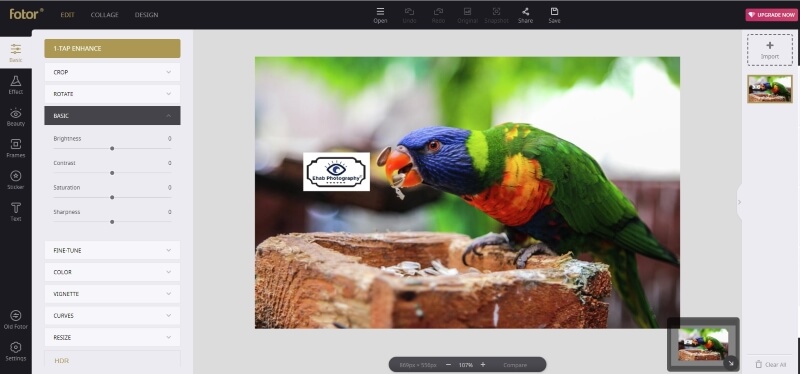 Fotor, the online photo editor offers editing and beauty retouching. Most cool is it's High Dynamic Range feature: you can take three photos at different exposures to combine them into a single image, with the best light and tone from each of the separate photos.
Some of its features are not free; you need to upgrade to gain access to them.
With Fotor editing suit, you can easily adjust color, size, light and more.
It has amazing photo filters.
It has separate features for portrait retouching, you can do the makeover, put highlight, and add radiance. etc.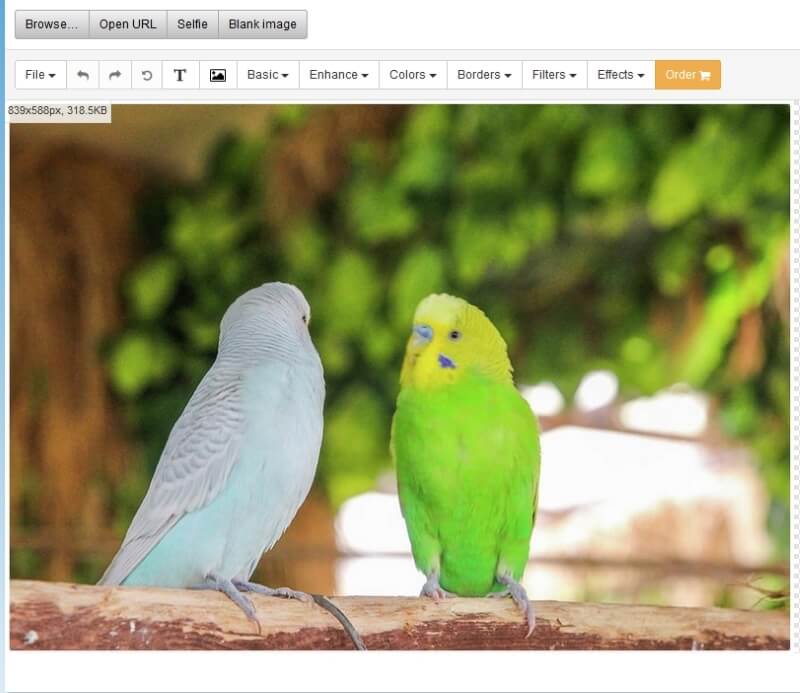 It is a very simple photo editor service. After uploading your photo, you can resize, sharpen and/or rotate your photo. Several filters and effects are available to enhance your photo: Red Eye Removal, Sepia, Enhance, Sharpen and Polaroid Effect. Afterward, you can download your photo or save it online. The maximum size of a picture you can upload is about 6MB. Large pictures are automatically resized to 1024×768.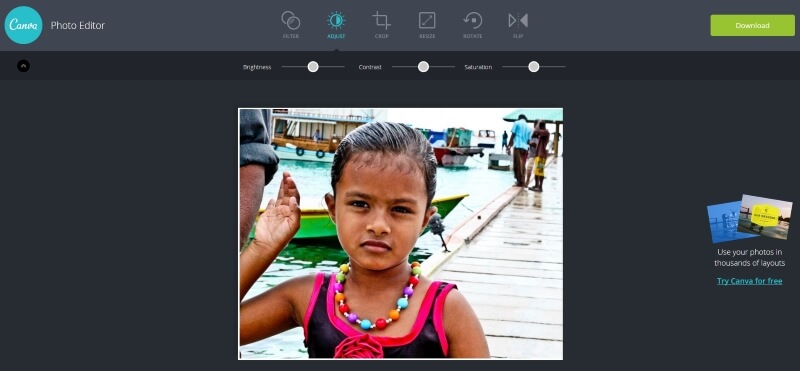 The Canva photo editor is a module of the Canva design website. It is a very straightforward tool and can make a limited editing of your photo, It has 14 different filters. You can make basic editing such as adjusting brightness, contrast, and saturation by just moving a slider. Also, you can crop and resize your photo easily.

This is an online site to create videos in a very easy way by using customized templates & stock photos. They have plenty of templates to fit your needs, like (products, business, social trends, celebration & even personal). Also, you can find clips to add background music. below are some functions:
Make each video your own with intuitive color, text, and design tools. Add your logo as a watermark to build brand awareness.
Create a square, landscape, and vertical videos to share to social media and beyond. There are no creation or download limits on any Animoto plan.
Text effects and a selection of over 40 professional fonts.
Trim your footage, crop your photos, and adjust the timing of your media without ever leaving Animoto.
The Animoto brand watermark will never appear on videos created with Professional and Business plans. Keep your brand in the spotlight.
Lastly, they have a free plan.
Related Posts
The Free Photo Editing Software- The best 7 Software Packages
The Photo Editing Software – CyberLink PhotoDirector 8 Ultra
Adobe Photoshop Lightroom 5 Review – My Favorite Photo Editing Program
Thanks for reading, I hope you enjoyed the article if you have any questions just post them below & I will be happy to answer you.
If you enjoy the site, don't forget to subscribe, we will only inform you when a new article is posted.