Food photography is a highly creative field in which many different lenses have their legitimate uses. The fact is, though, that some lenses are generally more suited to the task than others. As Canon camera owners have access to a formidable array of optics, offering a bewildering range of focal lengths and technical specifications, understanding which will be the best lens for your food photography can feel like a daunting task. For this reason, I've put together a list of the 10 best Canon lenses for food photography currently available, including options for both Canon full-frame and cropped-sensor cameras.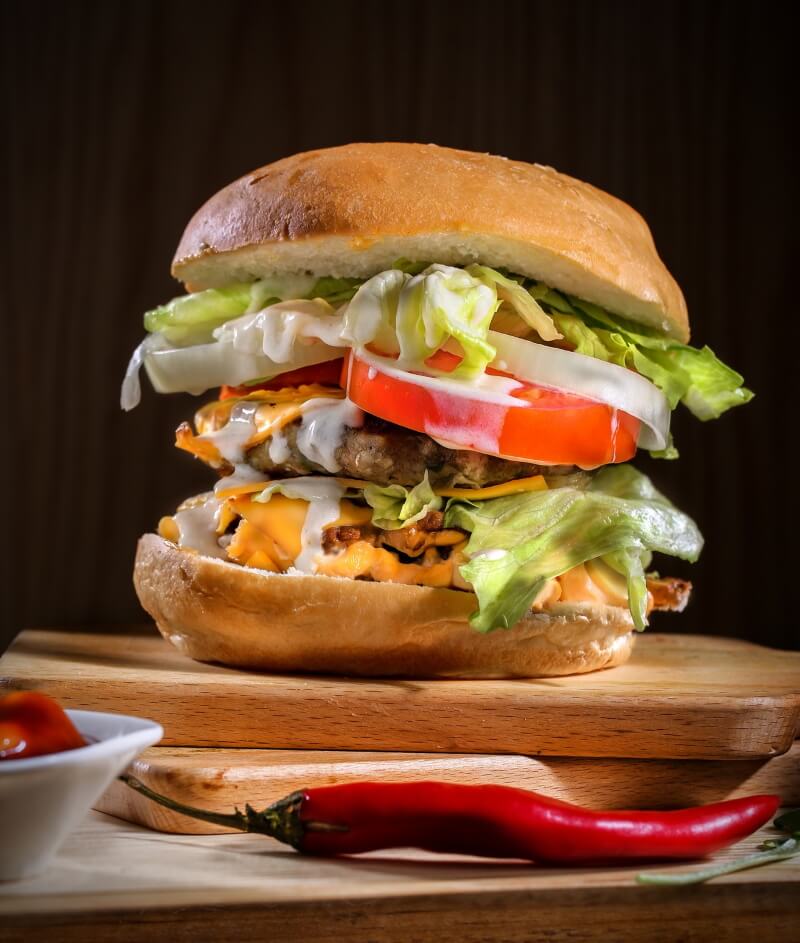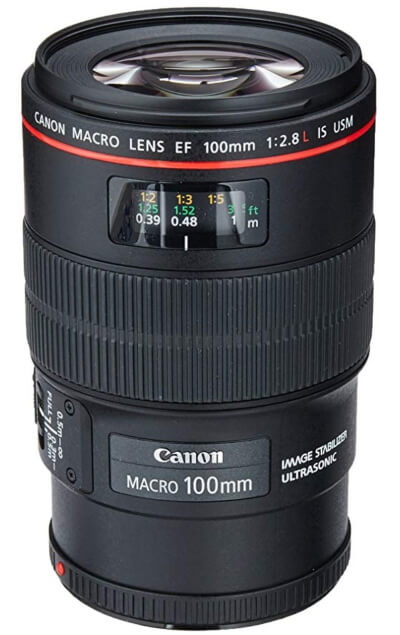 Canon's EF 100mm f/2.8 is a fast maximum aperture telephoto macro lens that is ideal for producing sumptuous narrow depth-of-field close-up shots of the "food porn" variety. On a full-frame body, 100m will be a very useful focal length for food photography; providing a good degree of magnification without forcing you to photograph so close to the subject that it looks more like a bizarre moon-landscape than a plate of food. With that said, the lens certainly could be used on a cropped sensor camera, too. However here the greater degree of enlargement would make it less appropriate for daily use, becoming more of a special lens for occasional abstract or creative shots.
Being among Canon's older models, the EF 100mm Macro lacks image stabilization. Nonetheless, it produces excellent image quality, with an amazing center of image sharpness. What's more, there are almost no noticeable chromatic aberrations. Autofocus, too, is exceedingly accurate. Meanwhile, with a simple twist of the focus ring, the focus will immediately switch to manual operation. Considering all of this, and taking into account that the lens also retails at a very reasonable price, the Canon EF 100mm f/2.8 Macro is undoubtedly one of the very best Canon Lenses for food photography currently available.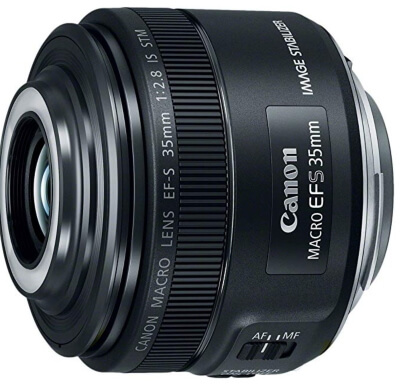 The EF-S 35mm f/2.8 Macro IS STM is a fairly unusual lens for Canon cameras that includes a built-in ring-light mounted around the front element. The ring-light is controlled by a button on the side of the lens, letting you adjust the power according to your needs. For more directional lighting, the ring-light can be switched off on one side of the lens, providing a less even, but undoubtedly much more natural, lighting effect.
The bad news for full-frame camera owners is that the 35mm f/2.8 Macro is compatible with cropped-frame APS-C format cameras only, where it provides an angle of view equivalent to 56mm; which is surprisingly wide for a macro lens. Although this is a focal length that might not appeal to the average nature photographer, it actually works really well for food photography, where a longer focal length macro lens such as the EF 100mm (above) may feel too restrictive for some photographers.
Optically, the lens is very sharp, even when used wide open. True, it tends to lack a little contrast at f/2.8, but thankfully this problem quickly clears up when shutting down the aperture even just a stop or two. Importantly, the lens also features onboard image stabilization. Overall this is a fantastic choice of lens for food photographers, permitting creative macro photography at a genuinely useful focal length.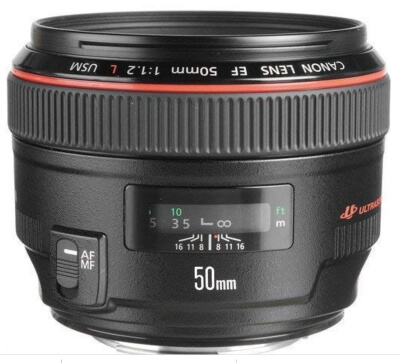 There are stacks of "nifty fifty" lenses out there (in fact, we recommend several in this guide). What makes the Canon EF 50mm USM so special? Well, for a start, it offers an exceedingly fast maximum aperture of f/1.2, making it ideal for shooting bootylicious food porn. The lens is also very sturdily built, featuring a weather-sealed lens mount and built-in image stabilization.
At mid-range apertures, color, contrast, and image sharpness are really quite phenomenal. And even stopped down to f/1.2, central sharpness is very impressive indeed. Just be aware that a hint of chromatic aberration is detectable at the widest aperture settings (although of course this can easily be rectified at the editing stage).
Although autofocus is perhaps not the fastest currently on the market, this is rarely an important consideration for food photographers anyway. Nonetheless, the focus is at least very accurate and silent. Be aware, though, that with all the high-quality optics crammed into this lens, it is slightly bigger and heavier than your average standard prime. However, beyond this, the only major drawback of the EF 50mm is simply the price: it definitely could not be described as a budget lens.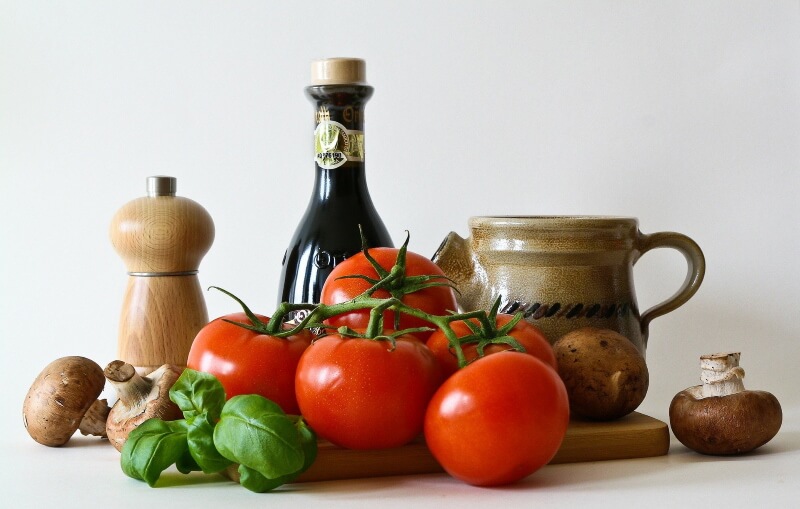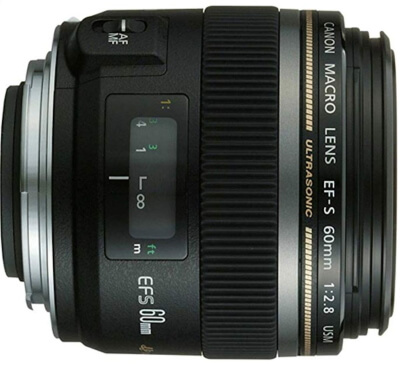 Another fantastic short-length telephoto lens that will be well-suited to food photography is the EF-S 60mm Macro. Small, lightweight, and featuring a moderately fast f/2.8 maximum aperture, it's ideal for handheld natural light photography with Canon's APS-C format DSLRs.
True, there's no image stabilization. And perhaps the busy-looking out-of-focus rendering will not appeal to true bokeh aficionados. But overall it's a lovely little lens that's capable of producing some stunning-looking close-ups. For a start, the minimum focus distance is extremely close. And when this is combined with the lens's maximum aperture, the ultra-narrow depth-of-field it produces is extremely attractive.
Optics are superb, producing images that are sharp as a knife throughout almost the entire aperture range. And distortion and color fringing are pretty much inexistent. Autofocus performs brilliantly, or alternatively, the lens can be switched to manual mode merely by turning the focus ring on the lens barrel itself. All in all, this is one of the best Canon lenses for food photography out there right now.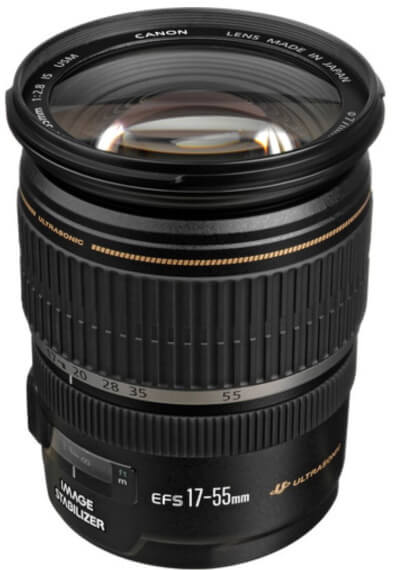 If you're finding that the slow kit-zoom that came with your APS-C DSLR is holding you back, Canon's EF-S 17-55mm f/2.8 might just be the answer to your problems. Admittedly it's a lens that's been around for quite a few years now, but that hasn't done anything to tarnish its shine. And with a constant f/2.8 aperture throughout the zoom range, good bokeh, and excellent central image sharpness at all settings, it's a serious candidate for becoming your everyday workhorse lens for most food photography tasks.
Less positively, however, the lens does display some vignetting and color fringing at wider zoom settings. Although these are of course very simple problems to fix with digital editing software. The lens comes highly recommended for those who shoot a lot of videos, possessing as it does very smooth zoom and focus rings, and fast and silent autofocus and image stabilization. Just be aware, though, that after some years of heavy use, many owners have experienced a noticeable drop in the performance of this lens's image stabilization.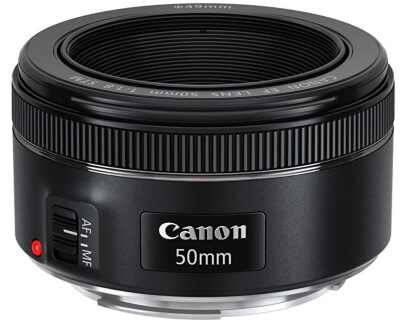 Everyone needs a fast, sharp, 50mm prime lens in their bag. And if the EF f/1.2L (above) is out of your price range, this great little piece of glass is only marginally slower; yet costs a mere fraction of the price. Attach the EF 50mm f/1.8 lens to a full-frame camera and it will function as a versatile "standard" lens for general food photography usage. Meanwhile, on a crop sensor model, the lens will provide an angle of view roughly equivalent to 80mm, where it will be more suitable for shooting close-ups and straight-on "food portraits." There is no image stabilization.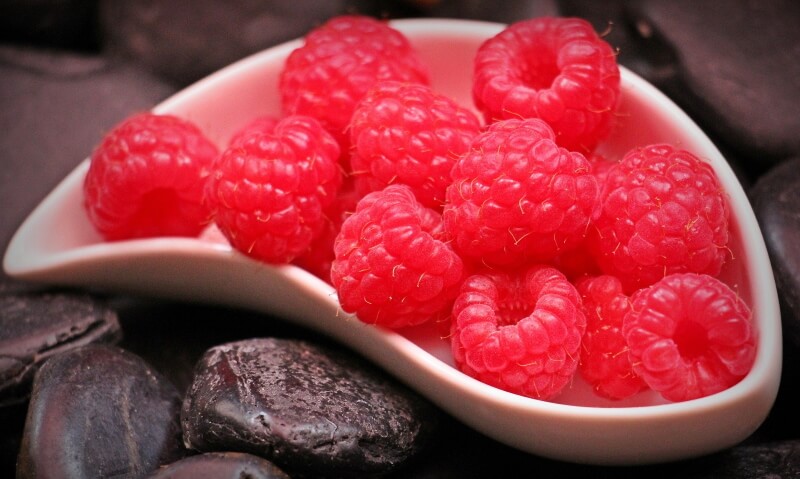 Image by S. Hermann & F. Richter from Pixabay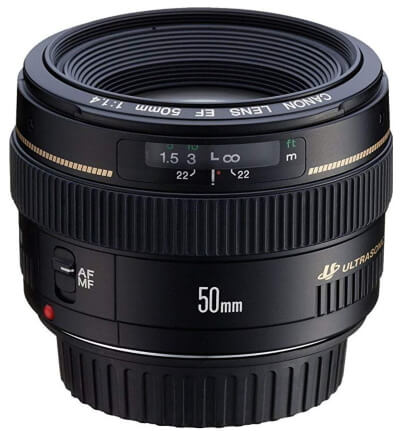 Alternatively, if you're looking for something slightly faster than the EF 50mm f/1.8, but still at a lower cost than the top-end EF f/1.2L, Canon's EF 50mm f/1.4 USM is perfectly positioned between the two; both in quality and in price. Of course, aside from the reduced amount of light coming in through the aperture blades, you don't get quite the same degree of sharpness as with the f/1.2L either. Nonetheless, autofocus is fast and reliable, meanwhile, a mere twist of the focus ring will override AF and put you into manual control of focus. As with the 50mm f/1.8, there is no image stabilization.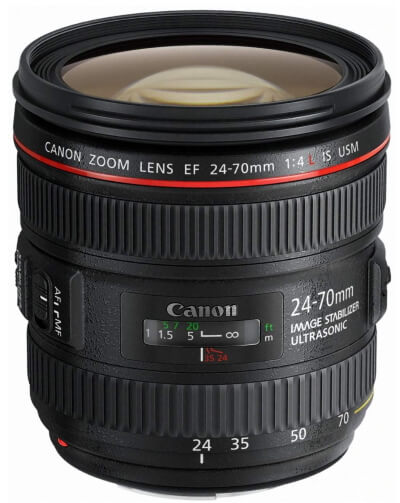 While the EF 24-70mm f/4L is not the fastest workaday zoom that Canon currently has to offer, it nonetheless has certain charms of its own where shooting food photography is concerned. For a start, image stabilization is excellent and autofocus almost silent, meaning that it will appeal to anyone who also shoots food movies. More importantly, though, while not technically a macro lens, the 24-70mm f/4L nonetheless comes with a handy Macro Extension Mode that will permit focusing as close as 5cm.
Image quality is excellent, at all zoom and aperture settings. And while the lens barrel is made from plastic, it is surprisingly durable and comes with a weather-sealed gasket at the mount. On the upside, the plastic build makes for a very small and lightweight lens too.
Overall this is a great option for full-frame camera users who do most of their food photography with studio strobes and therefore won't really miss the faster maximum apertures offered by pricier Canon lenses. Alternatively, if handheld daylight shooting is more your thing, check out the EF-S 17-55mm f/2.8 (above) for a faster option on APS-C cameras.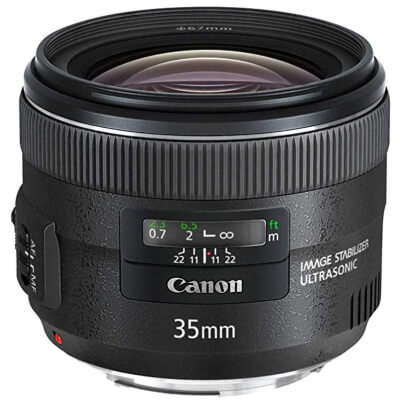 All the 50mm standard lenses we've looked at here so far have been for full-frame users, meaning that they function more like a "portrait lens" when used with an APS-C sensor. While the EF 35mm f/2 is also primarily intended for use on full-frame cameras, at 35mm this would give a field of coverage that is likely a little wide for most food photography situations. However, put it on the front of your cropped sensor Canon DSLR, and you've suddenly got a fantastic fast, sharp standard lens suitable for many everyday food photography tasks.
In addition to its fast maximum aperture and great optics, the lens offers excellent autofocus, AF-override, and very smooth and reactive manual focus operation. There's also highly effective image stabilization and the lens's construction is sturdy and durable. Although note that it does lack weather sealing, so just be careful with those food pouring shots!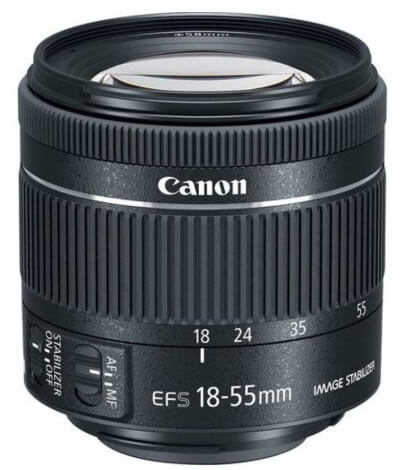 If the EF-S 17-55mm f/2.8 IS USM (above) had you salivating right up until the moment you discovered the retail price, Canon's EF-S 18-55mm f/4-5.6 represents an altogether much more affordable alternative. Featuring excellent image stabilization and almost totally silent autofocus, it's a great choice for videography, too. Image quality is nicely sharp, and – surprisingly for what is effectively a starter kit-lens – the quality of build is actually very solid and hardwearing.
To be sure, with its slow maximum aperture (f/4 at wider zoom settings, dropping to 5.6 at longer focal lengths) it's not a great choice of lens for those who shoot handheld with daylight. But if you're the kind of food photographer who instead favors working with a tripod, or you shoot everything under powerful studio lights, this is a very good all-rounder that will cover a wide range of food photography tasks.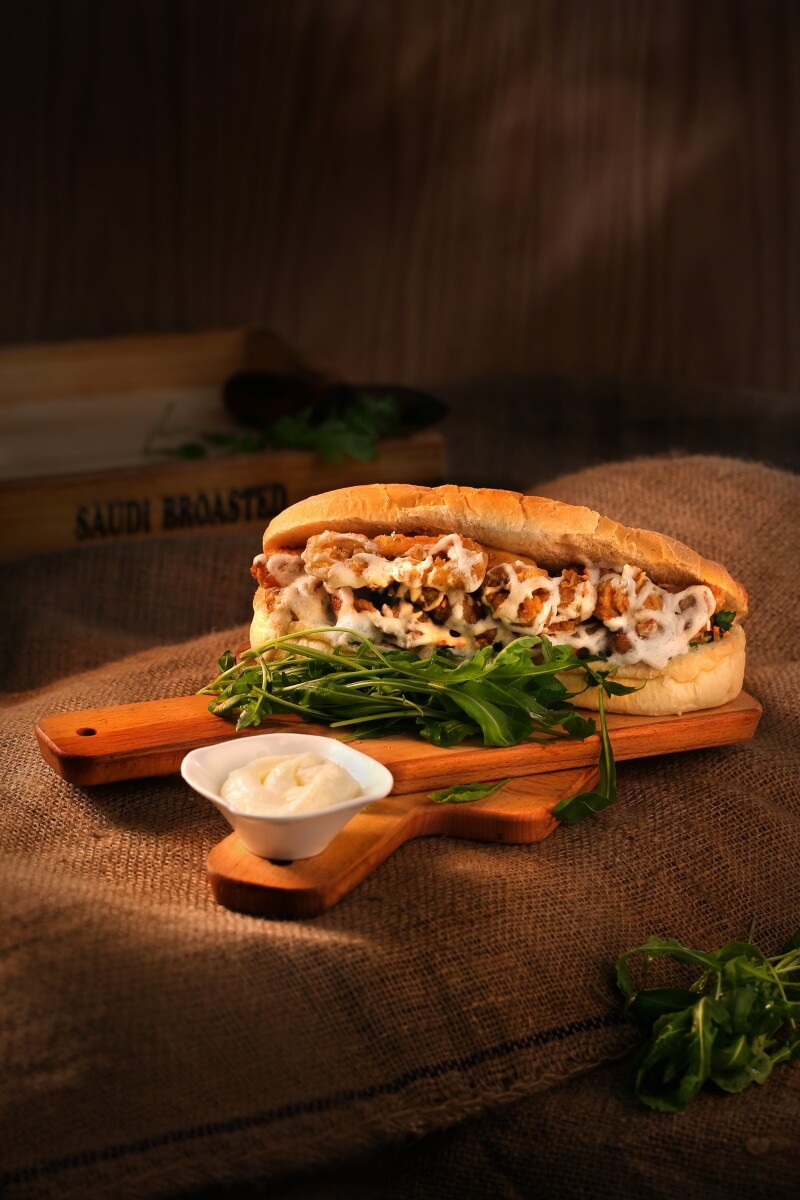 Related posts
Canon EF 24-70mm F/4L IS USM Review
Canon EF 50mm F/1.4 USM Review
Canon EF 50mm F/1.2L USM Review
Canon EF 50mm F/1.8 STM Review
8 Abstract Photography Ideas To Get You In Experimental Mode
Food Photography Tips – And Lens Recommendations
Thanks for reading, I hope you enjoyed the article. If you have any questions just let me know in the comments section below and I'll do my best to reply.
The featured image by Dana Tentis from Pexels
If you enjoy the site, don't forget to subscribe, we will only inform you when a new article is posted.