One of the amazing choices of Photo Editing Software is PhotoDirector 8 Ultra; it is a powerful tool for managing and editing digital images. It offers the ability to work with layers, filters, effects, and so on. It is compatible with both Windows and Mac and is also capable of reading a wide variety of proprietary raw formats. There are also over 100 lens profiles to provide correction options. Photodirector 8 has an extensive range of easy-to-apply filters and effects, along with precise retouching and adjustments for portraits. If you're a beginner or enthusiast photographer looking for an alternative to Lightroom with similar features and some additional ones, it's well worth a look.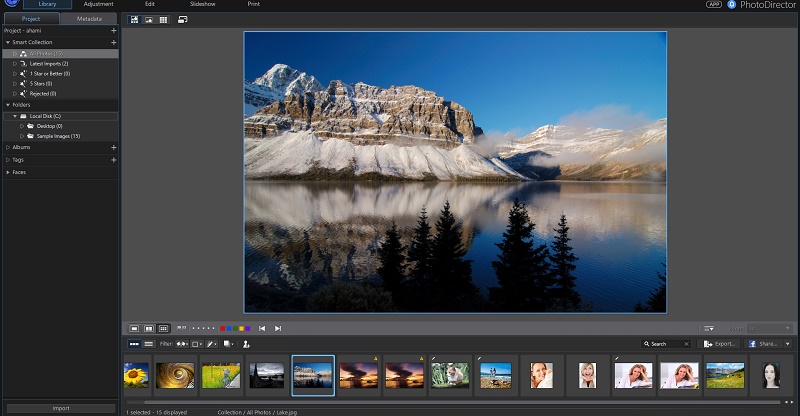 You can download the software from the website, and if you have an activation code you enter it, or you can choose to run the 30-day free trial. As the trial is fully functional, it's definitely recommended as you can use it exactly as you would once the software has been purchased.
When you launch the program you'll find six main sections.
Main sections of PhotoDiretor 8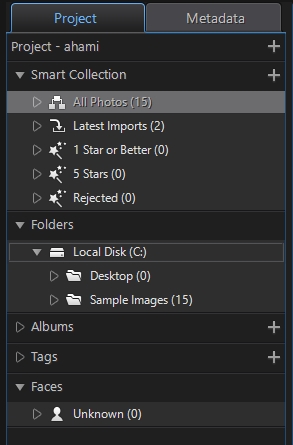 The library is a great place to organize your files. It is where you import, view, rate, tag and generally organize your photos. There are plenty of time-saving tools on hand (face tagging, the ability to exclude duplicates when importing), but it's all very straightforward and easy to use.
The Adjustment section provides manual and fully automatic tweaks (preset) for color, white balance, tone, sharpness and more, as well as crop and rotates tools, various healing brushes, and a red-eye remover. On the top of the menu, there is the histogram of the photo you are going to adjust.
The adjustment section has two options; the first one is for regional adjustment tools: such as crop, spot removal, red eye removal, adjustment brush, adjustment selection and gradient mask. The regional adjustment menu looks like that:

The second option is the global adjustment tools. There's a lot of different options here, including White Balance, Tone, HDR Effect, Saturation, Toning and so on. You make any changes by moving sliders; pretty much anything you might want to change is available here. You can make as many or as few changes as you like, and there's also a curve tab.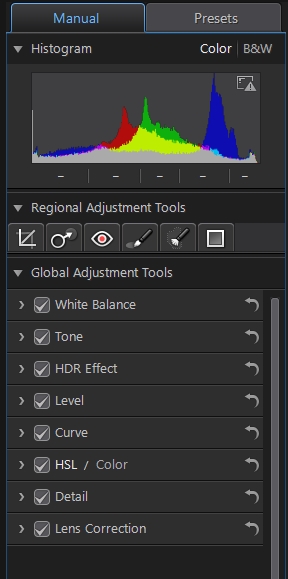 As for the preset or automatic adjustment, you will find several presets available and you can download a lot more. The menu of the presets and an example of an HDR realistic preset is shown in the below photos.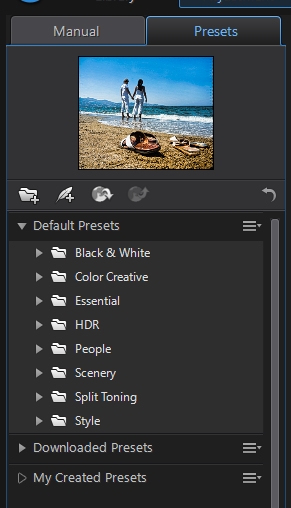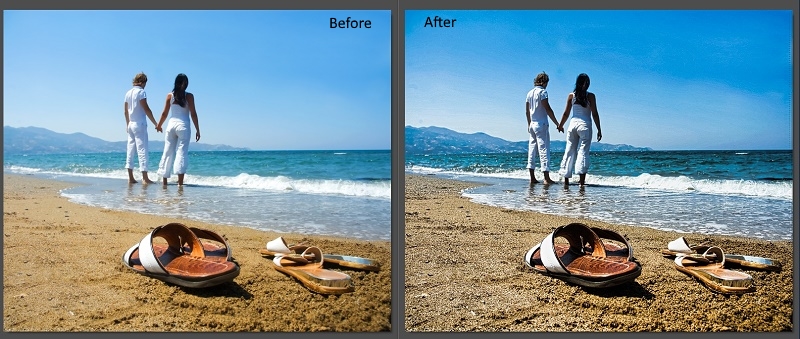 One of the most useful tabs is Auto Lens Correction. This should be automatically populated with whichever lens you've been using, applying the correction for distortion (Correct barrel distortion, vignetting and chromatic aberration) in your photos instantly and so on as per the presets that come with the software. You can tweak lens correction as well, again using the sliders underneath, and you can also import lens correction profiles for different lenses. I have tried this tool on one of my photos and the result is shown below.

The main editing menu looks like the figure below.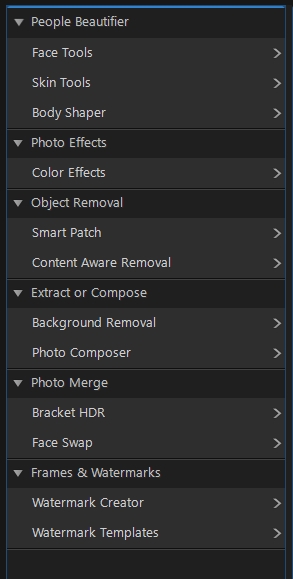 There are many editing tools available in the main menu, I tried some of them, for example, the face tools allow you to slim a face of a portrait photo and make it more appealing, and enlarge the subject eyes sizes as shown below.


You can remove objects or people from photos simply by brushing over them. PhotoDirector instantly fills spaces using an intelligent algorithm that blends perfectly with the surrounding background.

You can create layers, including empty layers, photo layers, and duplicate layers. You'll see all the existing layers on the left-hand side as you're going along, and you can switch any layer off at any time by clicking an eye icon next to it. There is also a blending mode, where you'll find options such as darken, overlay, exclusion, and so on.
There are also templates that contain all the layer components that make up complex images. They're not only an easy way to put together and get stunning images but also help to show how layers combine to produce photographic effects.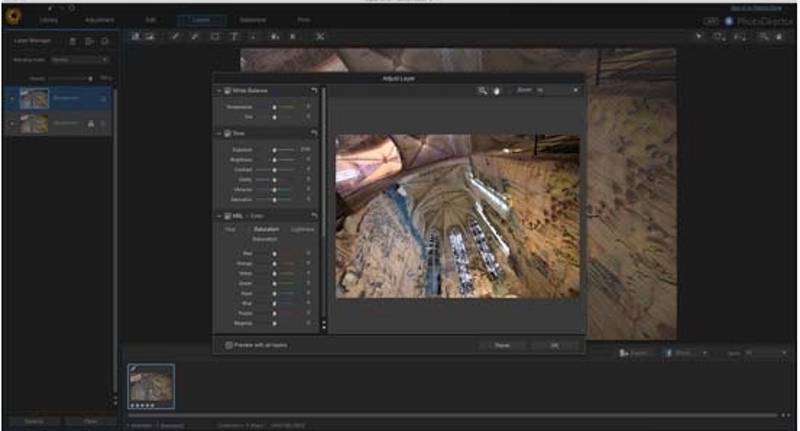 You can use the slideshow tool to create a slideshow of your imported images, with a range of different effects, ratios and with background music.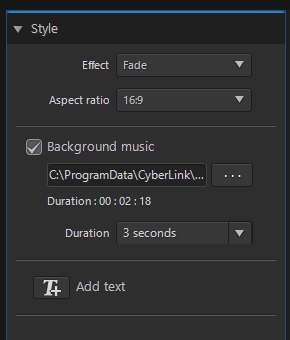 The Print tab sets up your images ready for printing, giving you options to change paper settings, grids, resolution, adding a watermark and so on.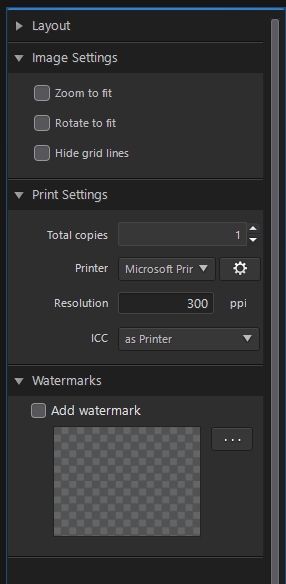 There are so many new features added to this version of the software compared to the previous one, and I didn't explain them all in this review, but they are worth mentioning, like the video-to-photo converter where you can pick up the perfect picture from your videos.
With just a click you can capture a razor-sharp still image that you can use to create your own perfect panorama, group photo, multi-exposure image, or layered image.
Also, PhotoDirector can make impressive multi-exposure images from your videos along with offering some great customization options. You can create breathtaking, wide-angle panoramas by stitching together a sequence of images from your videos. Select the still you want to use from your video, and then PhotoDirector will stitch them together for a flawless panoramic image.
In group portraits, it is not easy to get everyone's eyes open and smile in photos. But with photo director, you simply take a video of the group and then use Video-to-Photo Face Swap to instantly create a single, perfect photo.
PhotoDirector 8 Deluxe is the baseline version of the program. It has most of the features we've described but leaves out layer-based editing, auto lens correction, the Panorama creator, Blur tools, the new multi-exposure tools, a few other high-end filters, and the 25GB of cloud storage.
PhotoDirector 8 Suite extends the package with ColorDirector, which delivers a stack of color grading features for video: noise reduction, sharpening, RGB curve adjustments, video color replacements, a live histogram, intelligent object motion tracking, split toning, and more. It also doubles your cloud storage space to 50GB.
Conclusion
CyberLink PhotoDirector 8 Ultra is a competitively priced alternative to Adobe Photoshop Lightroom that will appeal to home enthusiasts looking for a decent blend of powerful features and usability, and it worth a trial.
Related Post
Adobe Photoshop Lightroom 5 Review – My Favorite Photo Editing Program
Thanks for reading the article, hope you find it useful, If you have any comments or questions just write it down in the below box, I will be more than glad to answer.
If you enjoy the site, don't forget to subscribe, we will only inform you when a new article is posted.
Save
Save
Save
Save