Keeping your photos safe is now much easier than ever, thanks to the cloud. Backing up your photos on CDs or DVDs, and hard discs can be a hard and time-consuming task, and yet not quite safe. The term "cloud" is just techno-jargon for online storage. You can choose from service providers offering variable storage spaces from only 5GB to 1TB, or indeed unlimited drive space.
Backing up your pics in a cloud enables you to access your photos from anywhere with an internet connection. You can also share them, and finally, just forget for good the hassle of dealing with discs or hard drives
If you have some concern about the privacy of your photos, most cloud storage providers make it easy to set restrictions to make images accessible only to your password-protected account, or to anyone with a private web link.
What the difference is between photos Hosting, sharing, and storing
Image hosting websites allow you to upload your images onto their servers. Once uploaded, your images are 'hosted' and can be accessed online. Think of it as your personal hard drive but connected directly to the internet. With image hosting, you can control where you place the images online; you can upload your images, store them in one place, and makes them accessible to your audience through whatever online platform you wish.
Photo sharing can also take on other forms such as through sites such as Flickr and Google Photos. You create albums and share them on the same platform or with friends and family.
Photo sharing also has another purpose, which is to free up storage space on either your camera or smartphone so that you can continue to take pictures. In addition, when you upload your photos via a photo-sharing site you can get feedback from friends, family, and followers on your images.
Phot storing is concerns only about backing up your photos and files; it provides you with a cloud saving space.
Best Cloud to Store Photos
I have compiled a list of the providers of the best cloud to store your photos online.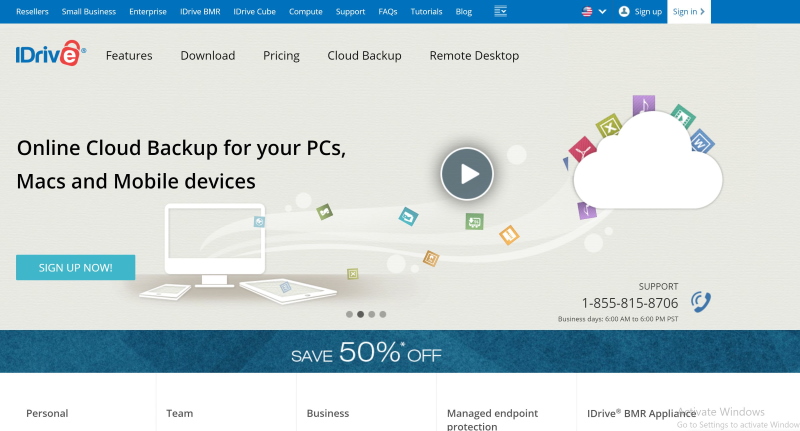 IDrive is one of the best cloud storage services around; it is a great option for storing photos. A free plan gives you 5GB, which might be enough if you do not have that many photos. Users who need more space can upgrade to a 5TB plan priced at $69.50 per year.
Backing up your photos on unlimited devices to a single account is a great option for photographers.
Main Features
Backup unlimited PCs, Macs, iPhones, iPads, and Android devices into a single account.
Files and folders will be synced in real-time across all the devices that you link using IDrive.
Transfer and store files with 256-bit AES encryption using a user-defined key that is not stored anywhere on the servers.
The simple web interface allows you to easily share files by email or to social media sites
Plans & Pricing
Basic: 5GB for free
IDrive personal: $52.12 first year, one user, unlimited computers, 5 TB storage.
IDrive team: $74.62 first year, five computers, five users, 5 TB storage.
IDrive business: $74.62 first year, unlimited users, computers, 250 GB storage.
Pros
Quite fast
Great security
Simple and easy to use
Cons
Exceeding your storage limit can be expensive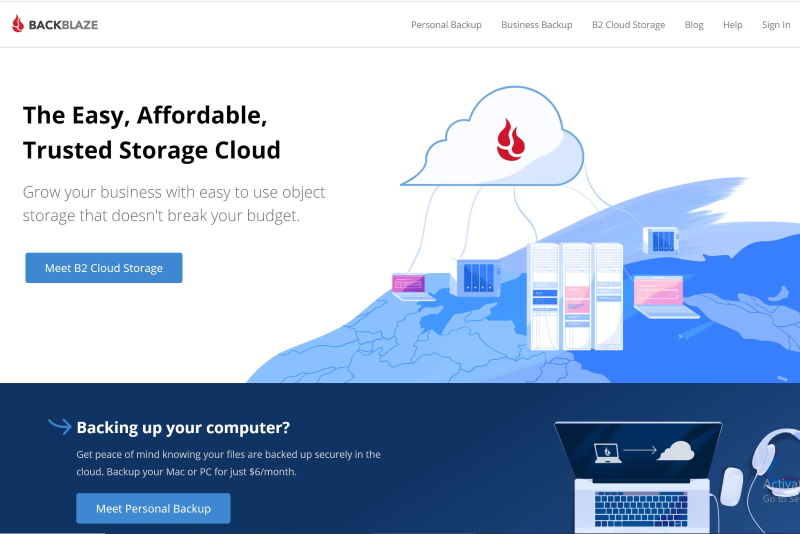 Backblaze has been around since 2007, and it offers a very convenient solution for backing up photos. No input required from the user – everything is backed up continuously, and that all happens in the background automatically. Not only this, but you get unlimited storage capacity with the personal subscription plan. While storage isn't limited, you're tied to just one computer with one account – if you want more, then you'll need another subscription for additional devices (one for each, and mobiles aren't covered, just PCs).
Plans & Pricing
Personal Backup: Back up your Mac or PC unlimited files with unlimited file size just for $6/month.
Pros
Invisible operation.
Reliable and simple file recovery.
Excellent security options.
Cons
File organization sometimes is a little confusing
You can't share your photos.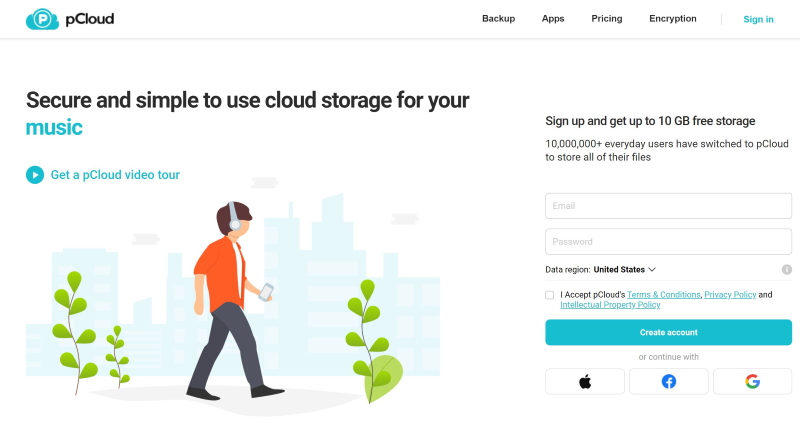 pCloud is a cloud-based digital asset management platform that provides access to all digital content including images, video, audio, documents, and more, anytime, anywhere, on any device. Users can keep important files safe and centralized in one place, and share with team members, clients, etc. across the globe with controlled access and permissions to the digital library.
pCloud is one of the very few providers that provides a lifetime storage subscription, which means that you only have to pay once to get, well, 2TB of storage. You can see thumbnails and previews of most RAW files with the web and mobile versions of pCloud, as well as in iCloud Drive for macOS. pCloud has a browser extension that allows you to save videos and images directly to your pCloud account. you can also keep file revisions for up to 30 days and that you can create an entire static HTML website with its own URL.
Plans & Pricing
$175 onetime payment for Lifetime premium subscription with 500GB storage
$350 onetime payment for Lifetime premium subscription with 2TB storage
Pros
Syncs fast
Stores any file type
Proven legacy
Cons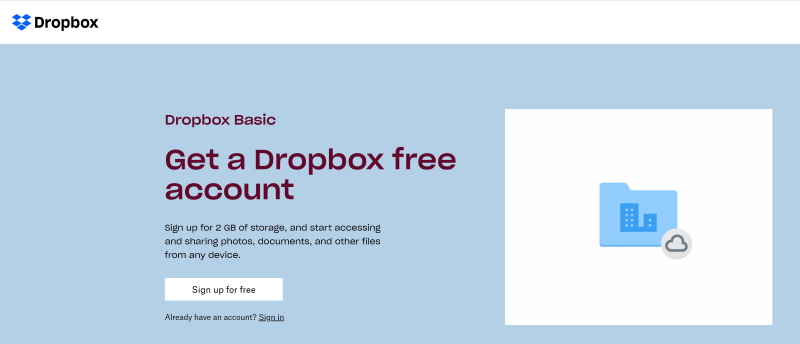 Dropbox is great for storing any file type you can think of. Organizing files is a cinch thanks to the intuitive folder system, and you can access files on the go with apps for iOS and Android. All this and 2GB of storage is free with a Dropbox Basic account (you can get an extra 500MB of space for referring a friend, all the way up to 16GB).
For its versatility and simplicity, Dropbox is superb, especially if you just need to store RAW files. In addition, Dropbox is integrated with Facebook, allowing you to easily transfer photos or videos from the social network.
Plans & Pricing
A Dropbox Plus account offers 2TB for $9.99 / month
Pros
it's easy to use
Fast file synchronizing
Shared folder flexibility.
Great user interface
Cons
The cost (especially for small businesses) can be high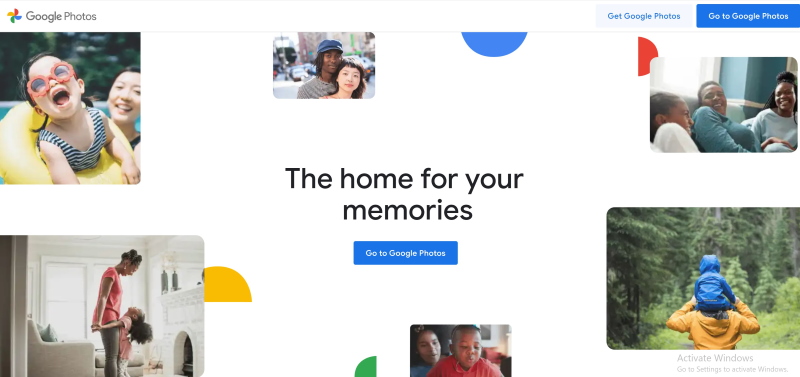 Google Photos is an easy and free way to organize and synchronize all of your images, so you can access them no matter where you are and which device you're using. That's why Google Photos is one of the best photo storage and sharing sites around.
The service uses Google's image-analysis technology to organize photos and videos, making them easier to search and share. Google Photos provides unlimited storage for free and offers paid options for people who want to store higher-quality versions of their media. As a free Google One user, you can back up data on your Android phone, and also free up space in your Google Account using the storage manager. If you get a Google One membership, you'll unlock additional features like expanded cloud storage, support from our team of Google experts, and exclusive benefits.
Price and plan
Starting at 100 GB. All Google Accounts include 15 GB of storage free. The prices of the different plans vary according to your location and country. There are plans for 100 GB, 200 GB, and 2 TB
Pros
Attractive, ad-free interface
Solid facial recognition capability
Well integrated with Android
Low-cost basic photo books
Cons
Unlimited free accounts are going away
Lacks step undo for editing and blemish/red-eye removal
No built-in sharing to Instagram or Flickr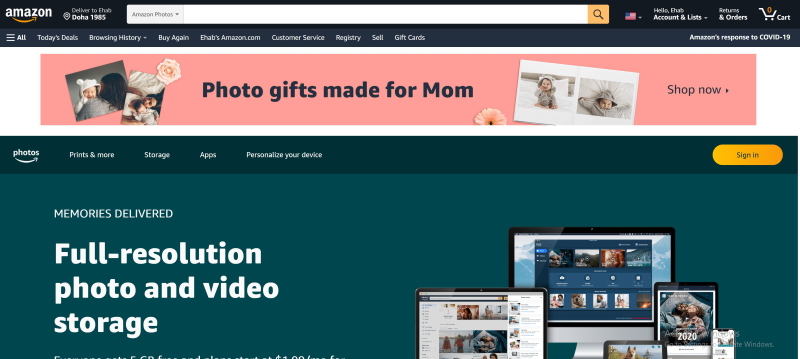 If you're an Amazon Prime member, you already have access to this free unlimited service. In addition, unlike most free options, Amazon Photos has no size restrictions for images. For files larger than 2GB, though, you have to use the free Amazon Drive Desktop app instead of the Drive website to upload images. Like photo storage services from Apple and Google, Amazon Photos also features a mobile app, Prime Photos, which offers editing features, tagging, support for those "live" motion photos you see on smartphones, and machine-learning-supported search. That last benefit uses artificial intelligence to recognize objects in your photos, which can help locate items in your collection. For instance, you can use search terms such as "tree," "cat," or "man" to find the photo you are looking for.
Pros
Unlimited storage
Automatic photo uploading
Photo printing service.
Cons
If you shoot mainly video, Prime Photos Storage isn't for you.
Although SmugMug website builder is a professional photography-focused platform, it has a basic plan for storing photos. Its target audience encompasses specific niche user categories, namely photo enthusiasts, professionals, and freelancers. Thus, the service comes with a broad range of features and tools needed to start and manage portfolio and photography websites.
SmugMug has recently acquired Flickr, which has notably enhanced the brand popularity and functionality of the platform. This integration has made the company the world's most influential photographer-centric community, providing a powerful feature set to start, manage and promote photography/portfolio websites.
Price and plans
The basic plan: for $7 / month, or $55 / year for unlimited full-resolution storage with free desktop and mobile apps.
Pros
Easy to get started for everyone
Professional responsive portfolio templates that are fully-customizable
Cons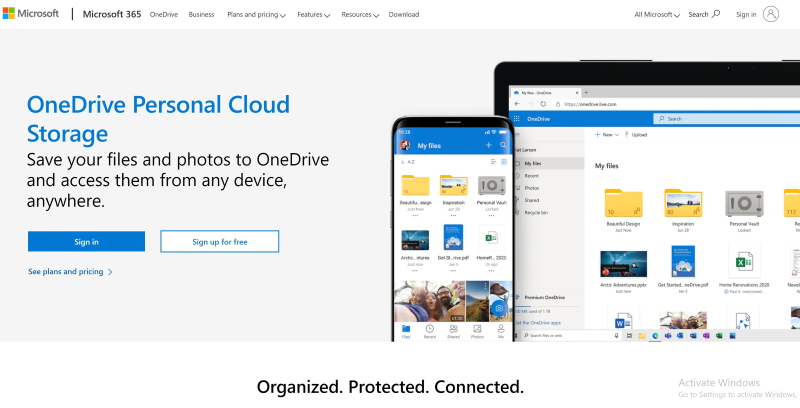 Microsoft OneDrive is a file hosting service and synchronization service operated by Microsoft as part of its web version of Office.
Microsoft OneDrive keeps your photos and files backed up, protected, synced, and accessible on all your devices. The OneDrive app lets you view and share OneDrive files, documents, photos, and videos with friends and family. You can use the app to automatically back up your phone's photos and videos.
Price and plans
5 GB of free cloud storage, or upgrade to a Microsoft 365 subscription to get 1 TB of storage.
Pros
Easy organization
Leading social networks can be linked to the OneDrive account.
+1TB storage is cheaper than rivals
Cons
The user interface could be improved
Related posts
What Is The Best Way To Store Digital Photos
Best Photo Hosting Sites – 15 Websites Listed!
Thanks for reading, I hope you enjoyed the article, in case you have any questions just drop them below & I will be happy to answer you.
The featured Photo by Jon Tyson on Unsplash
If you enjoy the site, don't forget to subscribe, we will only inform you when a new article is posted.