Different tasks call for different tools, so the basic question is when I should look for the free photo editing software rather than spending a lot of money on something I really don't need. If you're already satisfied with the general look of your pictures and just want to enhance them a little before sharing them online, a basic editor that enables you to resize, crop and apply filters will be ideal. If you're planning to print your work, you'll be better off looking at more advanced photo editors that will give you the fine control you need to make your pictures look perfect at high resolutions.
Adobe Photoshop is the industry standard for image-editing, there's no argument about it; Adobe Photoshop remains the best photo-editing software on the market. But unless you've undergone formal and comprehensive training, Photoshop is a difficult program to master, and is also expensive to use.
For the home user and newbie professional photographers, Photoshop isn't necessary for basic and semi-advanced tasks, such as resizing, cropping, and exposure correction. There are plenty of other photo-editing programs out there, with which you can do almost anything you could do in Photoshop and sometimes more, and the amazing thing is that some of them are totally free of charge. In this article, I will provide you with a list of the recommended free photo editing software for the two options, desktop download, and online editing.
Desktop software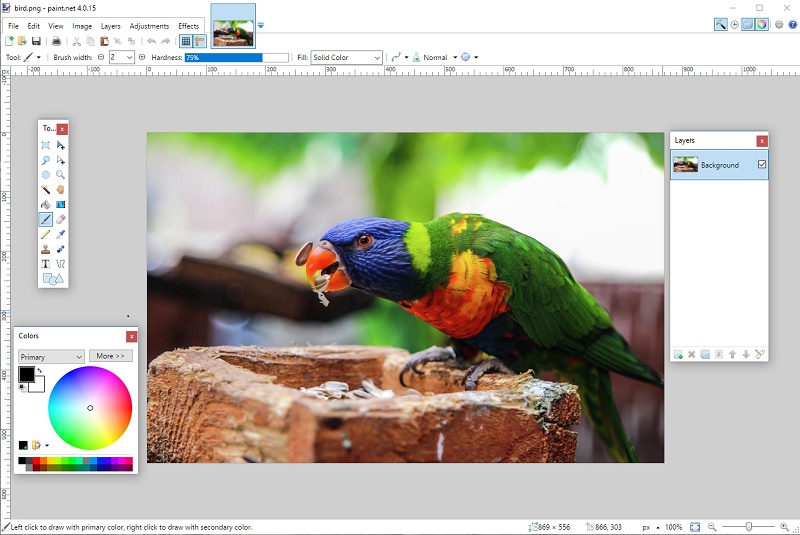 Originally intended as a free replacement for the Microsoft Paint software that comes with Windows, it has grown into a powerful yet simple image and photo editor tool. It has the following features:
It has a simple, intuitive, and innovative user interface.
NET is considered to be one of the fastest image editors available.
Easily handle layers.
It has an online forum with a friendly, passionate, and ever-expanding community. This provides a growing list of tutorials and plugins.
Many special effects are included for enhancing and perfecting your images. Everything from blurring, sharpening, red-eye removal, distortion, noise, and embossing are included.
NET includes both simple tools for drawing shapes and other powerful tools which include the Magic Wand for selecting regions of similar color, and the Clone Stamp for copying or erasing portions of an image. There is also a simple text editor, a tool for zooming, and a Recolor tool.
Unlimited history for undoing or redo actions.
You can download the software for windows HERE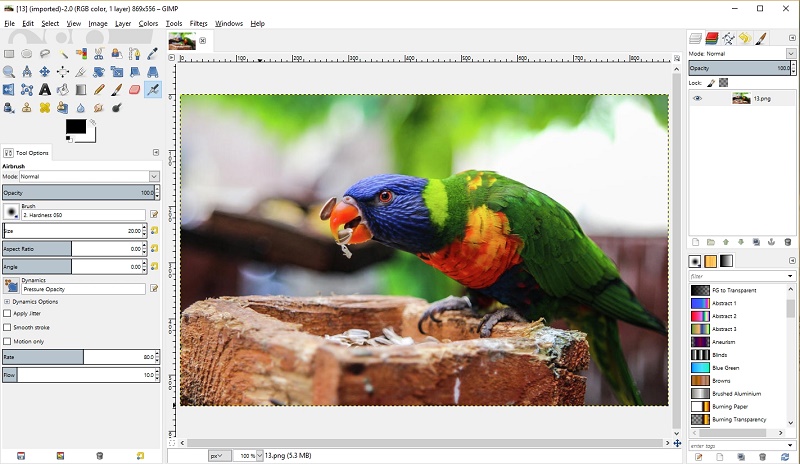 GIMP (GNU Image Manipulation Program) is an open-source application that relies on a community of volunteer developers who maintain and improve the product. Available for Mac and PC, you get a lot of professional-level editing and retouching tools, it is perfect for designers who can't afford to spend much money on Adobe.
GIMP is an open-source project, and its community of users and developers has created a huge collection of plugins to extend its capabilities even further.
GIMP comes with an impressive selection and montage features, various ways to retouch your images, cropping, noise reduction and color adjustment tools, customizable brushes, gradients and so much more. There's plenty for the more advanced user, too, including layer masks, filters, and even an animation package.
The interface is highly customizable, and the GIMP community has produced a ton of excellent plugins that are all free to download. The program is loaded with tutorials and there's plenty of assistance to be found in the active and helpful community.
The latest version of GIMP introduces an optional single-window mode, so you don't have to deal with multiple images and toolbars each in their own window. You can navigate between different images using tabs.
You can download the software for windows HERE
You can get GIMP tutorials from Retouch photos with GIMP
Although its interface looks unusual, the main menu is shown in the figure below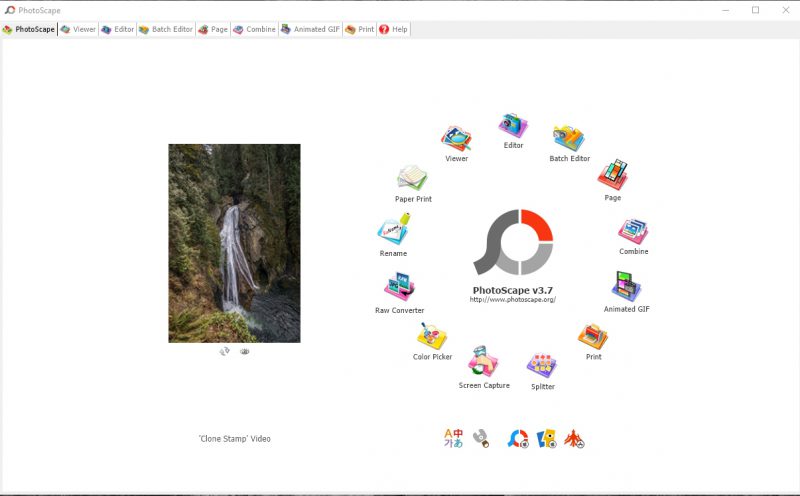 It contains the following: Viewer, Editor, Batch Editor, Combined, Animated GIF, Print, Splitter, Screen Capture, Color Picker, and Raw Converter. You can customize your toolbar, so you can organize the features you use most, and then revert to the default toolbar when you want to dig deeper into the software's offerings.
PhotoScape offers some basic editing, including color adjustment, white balance editing, adding text, cropping, and filters. The main menu of the editing section is shown in the figure below.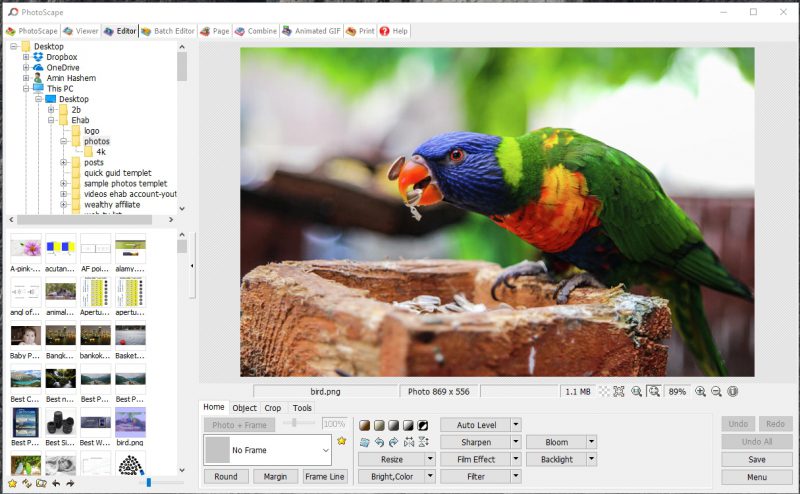 You can download the software from HERE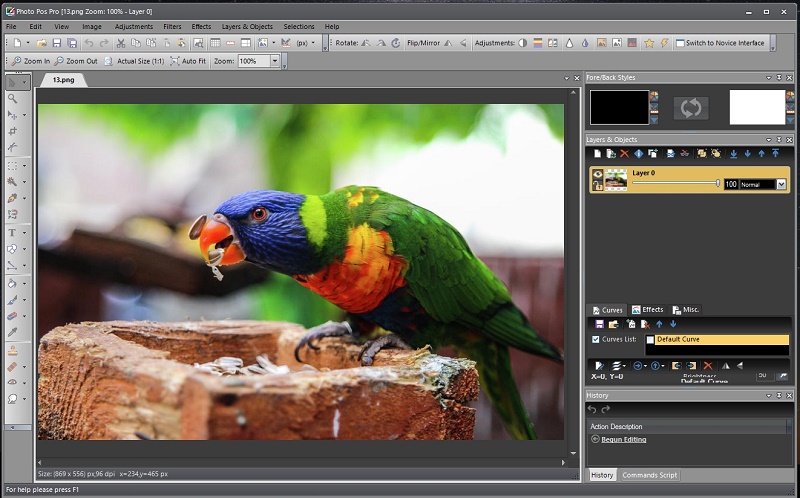 Although Photo Pos Pro isn't as well-known as Paint.net and GIMP, it remains another top-quality free photo editor that's packed with advanced image-enhancing tools.
Photo Pos Pro interface is smart and easily accessible, with everything arranged in a logical and consistent way. There's also an optional layout that resembles a filter-based approach. The expert layout offers both layers and layer masks for sophisticated editing.  There are tools for adjusting curves and levels manually. You can still access the one-click filters via the main menu, but the focus is much more on fine editing. Photo Pos Pro also includes a clone brush for erasing unwanted blemishes, support for batch-editing, and scripts to help you save time when refining a whole folder of photos.
The free edition of the software has only one apparent drawback, you can only save files at a maximum resolution of 1,024 x 2,014 pixels, which might be not suitable for professional prints. If you want to remove this restriction, Photo Pos Pro Premium is available for a low fee.
You can download the free Photo Pos Pro from HERE
Online tools
If you have a reliable and fast internet connection and don't mind the lack of plugins, and you don't want to download and install software on your computer, or when you are not in front of your own computer, here are a few Web-based programs that offer almost the same editing capabilities. The following is a list of some of them.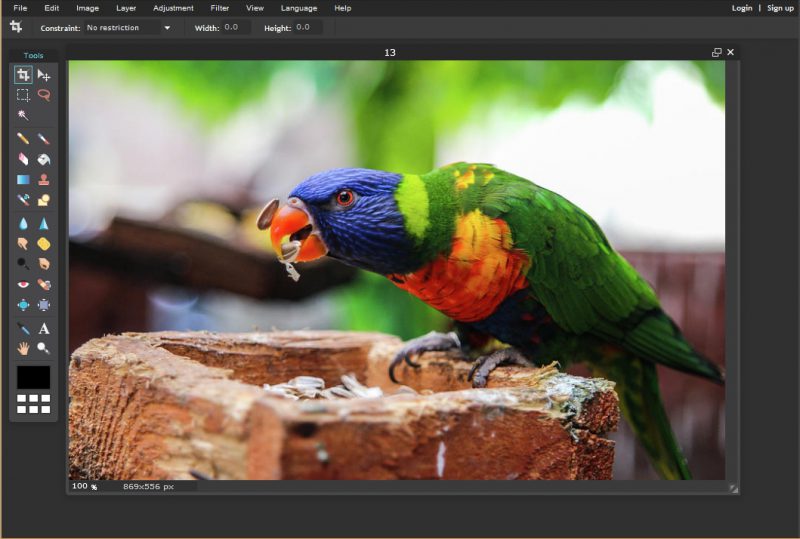 Just Load up a photo and you'll have access to layers, masks, clone stamps, selection tools, and everything else you'd expect from a top-notch image editor. There's no batch-editing unfortunately, but you can open several images at once and edit them individually.
The Pixlr Editor is more like Photoshop. It's a straightforward photo-editing tool that lets you crop, size, and tweaks the image. It has a red-eye tool that eliminates those devil eyes that appear when the flash goes off.
Note that Pixlr offers both mobile and desktop versions of the software that you can download. However, it's usually easier to just pop open a browser tab and load up the online version.
Join Pixlr today, as low as $4.90 a month!!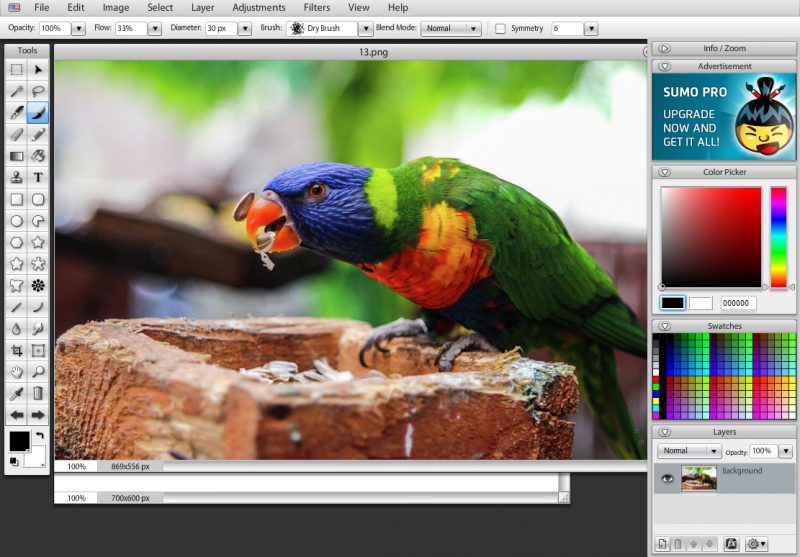 Sumo Paint is an online image editor, without the need to install anything to your device. It's the most versatile photo editor and painting application that works in a browser. You can open and save images from your hard drive or save it to the cloud.
This web-based software (there's a download option as well)  has a layout very familiar to Adobe users, a toolset that's easy enough to understand and use, and a minimalistic feel that concentrates on getting the job done. This option is better suited to more serious photographers who don't want to give up any editing options…but also don't want to pay for their editing software.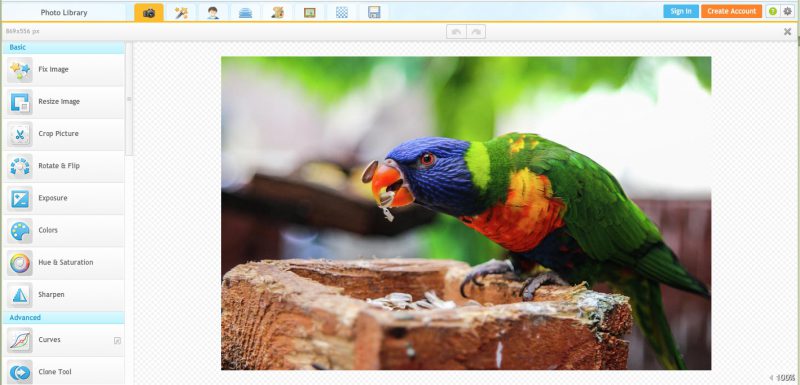 iPiccy lets you edit photos with an automated process. Rather than using wands and tools to actively edit photos, the effects are applied to the whole photo in most cases.
Click a button to fix images, resize, crop, rotate, flip, change the exposure, and other settings. While iPiccy may sound like a simplified app, there is complexity in its wide offering of editing options. Many settings have a slide rule that lets you adjust brightness, contrast, and other functions. The one main complaint might be that there is no undo button, and undo history, so it is impossible to cancel the last edit unless you save every step you made.
Also, I recommend checking this free photo editing software
Related posts
What Is The Best Free Online Photo Editor?
Pixlr – Free Online Photo Editor
Hope you enjoy reading the article and found it useful, if you have any comments or questions, just drop them down in the box below, I'm willing to answer.
Also, don't forget to subscribe, we will notify you when a new article is posted.
Save
Save
Save
Save
Save