A gimbal stabilizer is a tool that uses motors and smart sensors to support and stabilize a camera; you can shoot smooth video footage while you are moving. It illuminates sudden movement and shakes. Modern gimbals utilize quiet brushless motors that make micro-adjustments to the arms of the gimbal, so the mounted camera can be completely steady.
In this post, I will explain the gimbal stabilizing system and recommend some types for both DSLR cameras and smartphones camera.
Definition: By Wikipedia
A gimbal is a pivoted support that allows the rotation of an object about a single axis. A set of three gimbals, one mounted on the other with orthogonal pivot axes, may be used to allow an object mounted on the innermost gimbal to remain independent of the rotation of its support (e.g. vertical in the first animation). For example, on a ship, the gyroscopes, shipboard compasses, stoves, and even drink holders typically use gimbals to keep them upright with respect to the horizon despite the ship's pitching and rolling.
If you want to know more about gimbals and other in-depth guides on gimbals, you can check out this amazing website; Gimbalinsider.com.
Handheld 3-axis gimbals are used in stabilization systems designed to give the camera operator the independence of handheld shooting without camera vibration or shake.
Why do we use a gimbal
A nice cup of tea, for example, will spill its contents if you tilt it at a certain angle. Turn it over, and you can expect everything inside to fall on the floor.
However, if you put the cup on a gimbal, then it remains at an upright position, regardless of how you are holding the base of the gimbal or its outer circle. The cub's roll, pitch, and yaw axes make instant adjustments to counter shake, jolts, and other movements. Thus, the cup always remains horizontally leveled and never spills its content.
That is why we use the gimbal with a camera, especially when shooting videos. Your camera will always remain steady and horizontally level in spite of your movement.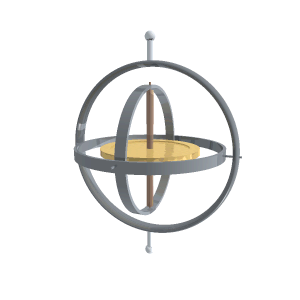 How gimbal works
The 3-axis gimbal, as the name implies, adjust and stabilizes the three known movement axis: tilt, pan, and roll of a camera to maintain the camera in a horizontal position.
A shaking camera will obviously have random unwanted movement in all three axes. However, it is possible to effectively counteract those movements by producing movements in the opposite direction. Essentially, the gimbal does the exact opposite pitch, yaw, and roll movements so you have a perfectly stable camera. The three main axes are shown in the below photo.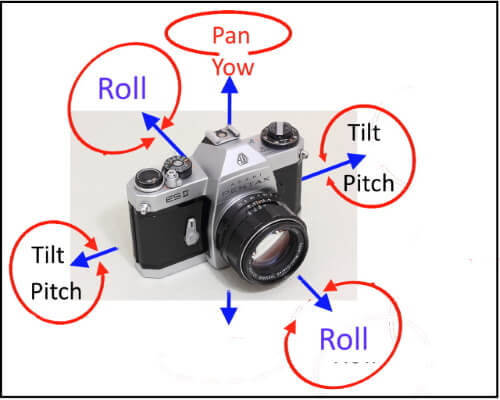 Tilting (Pitch axis) is moving up and down. This feature of a camera stabilizer is used to take a video of an object moving up and down or vice versa. Taking a video of a person going down and up the stairs or a person jumping into a swimming pool are examples of the movement along the tilt axis.
Panning (Yow axis) is moving from left to right and vice versa. This feature of the gimbal stabilized the camera movement when following an object moving horizontally. Like a moving car or a running person.
The Roll is the tracking of somebody when he is rotating about an axis that is perpendicular to the vertical plane
Types of Gimbals
There are two versions of gimbal stabilization systems:
Mechanical Gimbal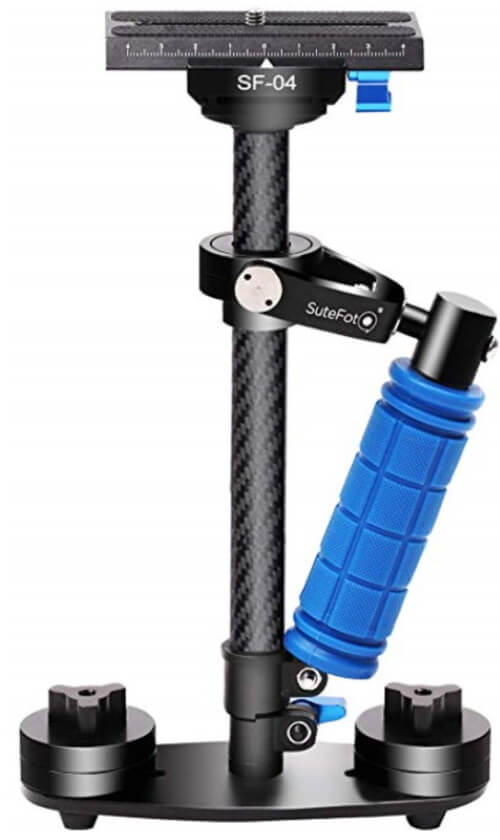 Mechanical gimbals have the sled, which includes the top stage where the camera is attached, the post that in most models can be extended, with the monitor and batteries at the bottom to counterbalance the camera weight. This is how the Steadicam stays upright, by simply making the bottom slightly heavier than the top, and pivoting at the gimbal. This leaves the center of gravity of the whole rig, however heavy it may be, exactly at the operator's fingertip, allowing deft and finite control of the whole system with the lightest of touches on the gimbal.
Motorized Gimbal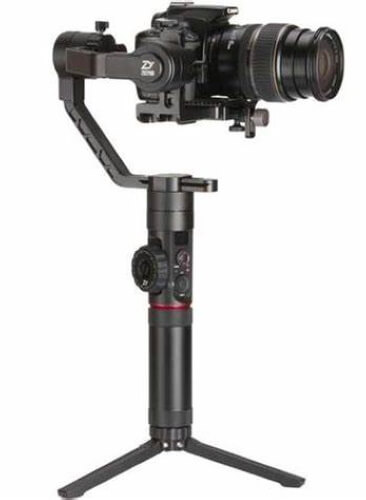 There are two common types: two and three-axis gimbals. Brushless motors (two or three motors according to their type) power the motorized gimbal; motorized gimbals have the ability to keep the camera level on all axes as the camera operator moves the camera. An inertial measurement unit (IMU) responds to movement and utilizes its separate motors to stabilize the camera. With the guidance of algorithms, the stabilizer is able to notice the difference between deliberate movements such as pans and tracking shots from unwanted shakes. This allows the camera to seem as if it is floating through the air, an effect achieved by a Steadicam in the past.
How to choose a Gimbal
When you are trying to choose a gimbal, you have to keep in mind that some of them are designed solely for stabilizing your camera, while others offer many more capabilities.
These extra features can be remote controls that allow you to control the camera's movement from a distance. Others have time-lapse video modes where you can set the camera to slowly pan while you capture time-lapse video. Another feature that can be found in some gimbals is the auto-tracking feature where they can automatically keep a moving subject in the frame. Also, some of them have external rod-mount focus motors for mechanical follow focus/zoom control.
So, it is very important to think about what features you really want, what types of shots you are planning to take, and finally how much many you have. The following are some general factors to be considered when choosing a gimbal:
Axis Stabilization: The single most important feature of a gimbal is its ability to keep your camera steady. There are two different types of gimbals – two-axis stabilizers and three-axis stabilizers. Two-axis gimbals stabilize your Tilt and Roll, and three-axis gimbals stabilize your Pan. Two-axis stabilizers are generally more affordable, but three-axis stabilizers are better for shooting moving footage.
Gimbal payload: It is very important to check the payload capability of your gimbal and make sure that it can handle the weight of your camera and lens
Batteries running time: Battery-powered gimbals come in one of two ways. Some models use standard alkaline batteries that have to be replaced in regular intervals. Others use rechargeable lithium-ion batteries, but these tend to have shorter running times.
Gimbal Weight: Most gimbals do not weigh more than a couple of pounds, but even two or three pounds can get heavy if you have to hold it up for extended periods. As a rule of thumb, the lighter the gimbal the better, but make sure you are not sacrificing performance just to save half a pound.
Compatibility: you need to make sure the gimbal you purchase is compatible with your camera or smartphone as well.
My Recommended Gimbals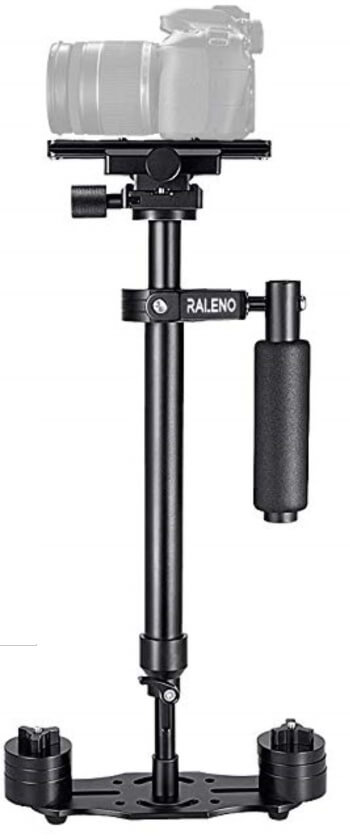 Key Features
LIGHTER AND MORE PORTABLE. Made of high-strength aluminum alloy, making the entire Steadicam stabilizer more durable, lighter, and more portable
TWO-WAY ADJUSTABLE QUICK-RELEASE PLATE. Mounting pan/tilt and camera in a vertical or horizontal direction, with laser precision scale for precise adjustment, suitable for all DLSR
REDUCE SHAKING DURING SHOOTING. This stabilizer system is specially designed to reduce shake and stabilize video on cameras and camcorders, it is the equipment you need most in weddings, travel, hiking, and wedding photography
MULTI-ANGLE SHOOTING. Allows high and low angle shooting, high precision bearings, and low friction joints can be used with professional vest damping arm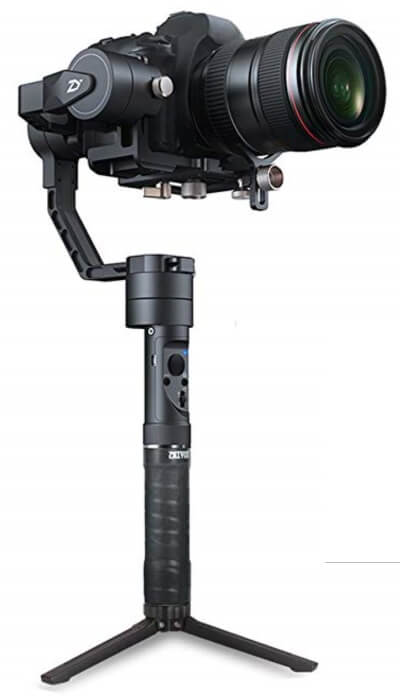 Zhiyun-Tech Crane Plus is a three-axis handheld gimbal stabilizer offering MotionMemory, POV, Intelligent Object Tracking, and Night Lapse modes. The Crane Plus supports a large payload capacity of up to 5.5 lb and provides integrated control for select DSLR and mirrorless cameras.
With 360° rotation along all three axes and up to 45° of synchronized roll in POV mode, the Crane Plus offers a multitude of smooth, stabilized shooting angles. An all-in-one design and dedicated camera cables enable you to snap stills and zoom with select cameras using controls on the Crane Plus handgrip.
Key Features
Features MotionMemory, POV, Intelligent Object Tracking, and NightLapse modes
360° rotation along all three axes; 45° of synchronized roll in POV mode
Supports camera rigs weighing up to 5.5 lb
Includes detachable lens support for long lenses
Four-way stepless joystick
Provides integrated control for select Panasonic and Sony DSLR or mirrorless cameras
Includes a 1/4″-20 bottom mounting hole, a hard carrying case, and an aluminum mini-tripod
The gimbal can be controlled wirelessly from an iOS/Android app
Maximum 12 to 18-hour runtime with included batteries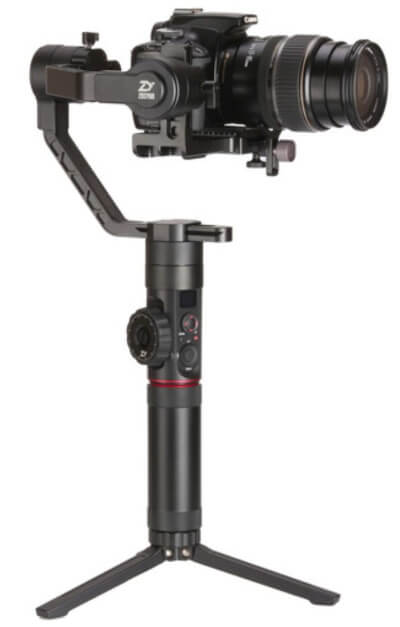 The Zhiyun-Tech Crane-2 is a 3-axis handheld gimbal stabilizer supporting mirrorless and DSLR cameras weighing up to 7 lb. Mount your camera on the included Manfrotto-standard quick-release plate, balance it, and shoot for up to 18 hours on the supplied batteries. A rod-mount mechanical focus motor is included and can be controlled via the gimbal's handwheel or an optional remote control for the Crane 2.
It can be aligned to the focus or zoom ring of your lens for follow focus or zoom control. A support rod, USB cable, and two universal lens gear rings are also supplied for attaching and connecting the focus motor and using it with virtually all lenses.
The Crane-2 also allows for digital follow-focus control via the gimbal handwheel for select Canon DSLRs and the Nikon D850 with compatible autofocus lenses. Simply connect the camera to the gimbal with the included USB cables, and after a few settings adjustments, you'll have direct-followed focus control without requiring the external motor.
Key Features
Includes external rod-mount focus motor for mechanical follow focus/zoom control
360° pan, 320° tilt, and 360° roll adjustment
7 lb payload
18-hour runtime using the included batteries
Digital follow focus control for select Canon cameras and the Nikon D850 with compatible autofocus lenses
The Manfrotto-standard quick-release plate
The "Slow-fall" feature protects your camera from a sudden drop when the Crane-2 is powered down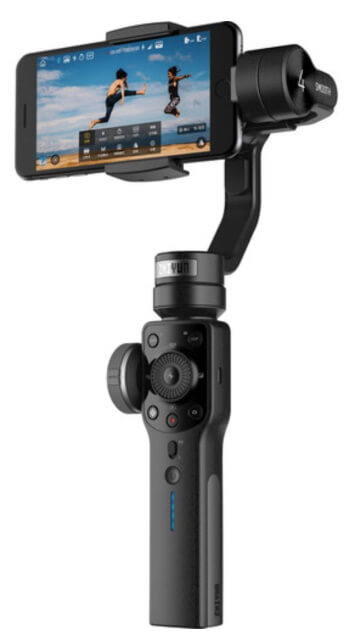 The Smooth-4 Smartphone Stabilizer from Zhiyun-Tech, in black, has been designed to provide cine-style functions to content creators using their mobile phones for video capture. When used with the free, downloadable ZY Play app, the control panel enables Android and iOS users to control both gimbal and smartphone camera functions such as focus, zoom, time-lapse, and still photo settings.
The Smooth-4's controls reduce the need to touch your phone's screen, thereby minimizing unintended jostling while recording. A dedicated "Vertigo" function emulates the perspective-shifting, dolly/zoom effect dear to many filmmakers. Compared to the ZT Smooth-3, the Smooth-4's controls are more ergonomically laid out and better labeled with icons.
The Smooth-4 also has a significantly larger focus/zoom wheel, a PhoneGo mode for quickly grabbing the action, multiple time-lapse functions, and object tracking. With the ability to support smartphones weighing up to 7.4 oz and measuring up to 3.35″ high, the Smooth-4 is compatible with almost any mobile phone.
Key Features
Supports smartphones weighing up to 7.4 oz, and up to 3.35″ in height
Large, cine-style focus/zoom wheel with a witness mark
Use the free, downloadable ZY Play app to control select iOS/Android phone functions
"Vertigo" effect, and quick-response PhoneGo modes
Multiple time-lapse and follow-mode choices
300° of pan, 240° of tilt, and 240° of roll
Up to 12-hour runtime; ability to use an external power pack
Can charge your phone while shooting
Related Posts
How to Shoot Video with DSLR Camera
What Is The Best Video Editing Software For Beginners?
Thanks for reading, I hope you enjoyed the article if you have any questions just post them below & I will be happy to answer you.
If you enjoy the site, don't forget to subscribe, we will only inform you when a new article is posted.