The direct light coming from an on-camera flash is very harsh because the flash is relatively a small light source.  It produces dark shadows that are often unflattering. It's often easy to spot an image that was taken with an unmodified flash. The obvious solution is to pounce the flashlight; bouncing the light by rotating the direction of the hot shoe flash makes an instant improvement. This effect happened because the light bounces off a larger surface like a wall or ceiling, it becomes a larger light source, hence fewer harsh shadows.
For practical reasons bouncing the flash is not always the solution, sometimes the ceiling is too high, the wall has a casted color, or you are shooting outdoors. That is where flash diffusers or modifiers come in. Flash modifiers make it possible to spread out the light and make shadows softer.
Why use the flash diffuser
There are reasons to use a flash diffuser or modifiers.
To remove the dark shadows that direct flash creates.
To remediate the redeye effect that results from the flash reflecting from the inner wall of the subject's eyeballs.
To create lighting that flatters the subject and makes the overall photograph more pleasant.
What are the different types of flash diffusers?
Flash diffusers are classified into three types:
Diffusion Dome

A diffusion dome looks like a small translucent plastic cap that fits over the end of a hot shoe covering the flash tube window. When the flash fires, it illuminates the dome and the light is diffused and scattered. It is often one of the first modifiers new photographers pick up. They're as simple to use as snapping one on the end of the flash and are also inexpensive.
Reflector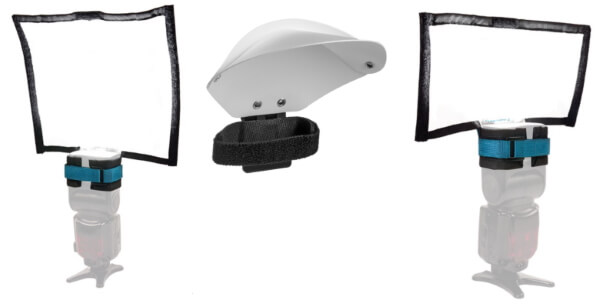 A reflector or bouncer is a flash modifier that you use to bounce the light when there is nothing to bounce the light off. It looks like a small, thin piece of material that straps to the top of the flash. With the flash head pointing towards the sky, the light will hit the card and bounce back towards the subject. The reflectors are attached to the body of the flash unit and are positioned so that light from the flash tube bounces off their white or silver surface and is thereby dispersed. The result is similar to bouncing light from a wall or ceiling with these advantages: the light is stronger because it doesn't travel as far; the color temperature is more accurate and consistent because the color of the reflective surface is constant.
Most flash reflectors are bendable, so you can adjust them to bounce in a general direction. Getting the light to bounce in the right direction may be a bit tougher than simply adding a diffuser, but bouncers tend to lose less light when compared to a diffuser, so they're better for subjects that are a bit farther from the flash.
Softbox

A softbox is similar to a diffusion dome, but since it has a larger surface, it tends to spread the light out a bit more than a simple cap. It resembles a lopsided box kite with one large, flat translucent surface. The flash unit is positioned on the opposite side of the box so that the full force of the flash tube is directed toward that surface. This diffusion will help to eliminate shadows and gives photos a more natural look. They delivering soft, even lighting, and collapse or fold up for easy transportation and storage.
Have you tried Keh? I highly recommend it for buying/selling used photography gear.
Best On-Camera Flash Diffuser
Flash Diffuser Light Softbox 6×5" by Altura Photo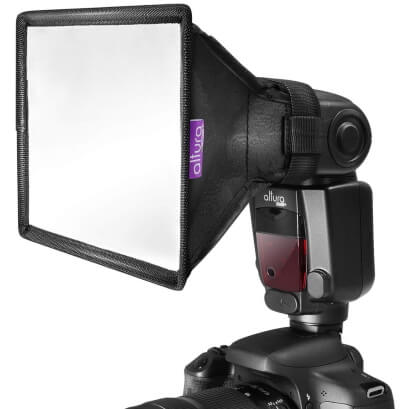 Altura Photo's Softbox Diffuser is the top-selling light modifier for shoe mount flashes. Its high-quality diffusion material and reflective silver interior lining produce a soft evenly spread light that minimizes harsh shadows.
Its compact design and ease of use make it the perfect accessory for everyone's gear bag. Ideal for a variety of situations including indoor events, portraits, macro, food photography, and more.
Features:
Fits most on-camera shoe-mount flash units.
Includes 2 layers of diffusion for a softer quality of light.
Pro-grade reflective silver interior maximizes light output.
Rubberized mounting grip holds your diffuser in place.
Elastic Velcro strap provides a secure fit around the flash head.
Collapsible and portable design; easily fits into any gear bag.
Constructed from durable & high-quality materials for long-lasting use.
Soft Box Size: 6″ x 5″ inches
Lightsphere Collapsible Speed Mount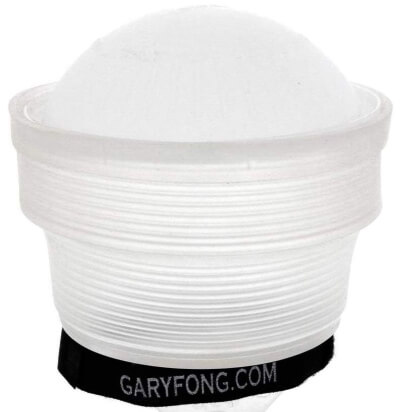 Features:
Universal Fit for all Speedlight flash units – One Size Truly Fits All
Utilizes the new Speed Mount design that allows switching out modifiers in seconds
Mounts with a tug of a strap – No Velcro. Will not fall off – ever.
Includes Lightsphere Collapsible Speed Mount, White Dome, Cinch Strap, Field Guide
Clear Material – No white dye (which blocks flash efficiency)
Neewer Pro Universal Soft Mini Flash Bounce Diffuser Cap for On-Camera or Off-Camera Flash Gun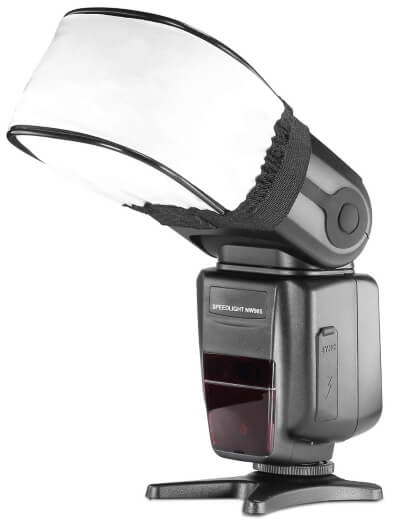 Features:
Universal Studio Softbox Flash Diffuser.Converts the harsh light from the battery-operated flash to a softer, diffused light, while reducing shadows and softening hot spots as shown in our testing photos
Set up and fold flat in seconds and store in a zippered bag, making it ideal for location or studio use
Simply slip the softbox around the front of your flash unit
Waka Flash Diffuser Reflector Kit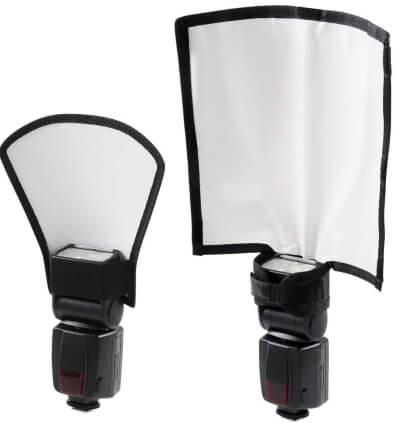 Features:
2 in 1 Flash Reflector Diffuser Kit – Includes Bend Bounce Flash Diffuser + Silver/White Reflector, adds you various possibilities in your Speedlight photography and outdoor shooting. If you want [NEW LENS POUCHES], enter https://www.amazon.com/dp/B07J9ZK8QG.
Bendable Reflector – The large-size reflector is bendable to achieve a variety of creative shapes by changing the angle of light reflection.
Silver & White Reflector – It works perfectly to reduce hard background shadows and eliminates the annoying red-eye effect.
Universal – Fits all popular brands of accessory flash such as Canon, Nikon, Sony, Yongnuo, etc.
Extra Bonus – Comes with one premium quality lint-free microfiber cleaning cloth as a gift to clean your camera or something else. Please don't hesitate to contact us via the Amazon message system if, at any time you aren't completely happy with your purchase, we'll provide you a satisfactory solution. Buy with confidence.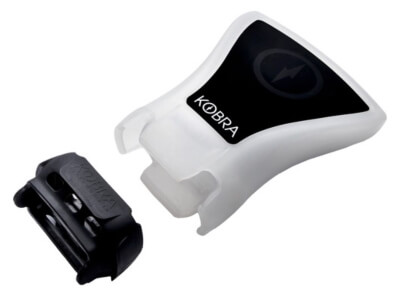 Designed to take the harsh edge off the output from your on-camera Speedlight, the KOBRA Flash Modifier Kit is a flexible, translucent silicone diffuser that folds down to half its open size to stow in your camera bag. Ideal for any kind of event photography, groups, or portraiture, the secret of the Modifier's soft, flattering quality of light is the patent-pending, built-in reflector that bounces the light forward through the translucent silicone diffuser, acting as a second layer of diffusion. The Modifier attaches to the flash using the sturdy silicone band, which fits most flash heads. Compatible units include Nissin, Canon, Phottix, Sunpak, Nikon, Sony, Yongnuo, Sigma, and Godox.
Related posts
What Is The Use Of A Flash Diffuser? – Simple Tutorial
How To Use Flash In Photography- The Full Guide
What Are The Different Types Of Light In Photography?
Thanks for reading, I hope you enjoyed the article if you have any questions just post them below & I will be happy to answer you.
If you enjoy the site, don't forget to subscribe, we will only inform you when a new article is posted.