Choosing the right printer can be a tough job, there are so many features to choose from. In this article, I will try to answer the question: what is the best photo printer? By helping you to figure out your intended needs for using the printer and choose the suitable one that has the features that fulfill your needs.
Overview of printer categories
Printers can be classified in the following categories:
According to their purpose of use
There are two types: the general purpose and the special purpose
The general type of purpose printer can print text, graphics, and photos, while Special-purpose printers include portable printers, dedicated and near-dedicated photo printers, and label printer.
If you're looking for a model to print, say, photos, consider whether you want to print only photos or want a printer that can also produce other kinds of output.
According to their intended use (home or office)
Multifunction printers (MFPs), also known as all-in-ones or AIOs, bring consumers a range of features beyond printing. All can also copy and scan, and many, especially business MFPs, add faxing to the mix.
When looking for an MFP strictly for an office, you probably care more about the text than photos, you probably also want it to fax, email, and include an automatic document feeder (ADF) to scan, copy, fax, and email multipage documents.
If you're looking for a home MFP, you probably care about photo quality. if photos are your primary interest, and you're looking for a way to print them from virtually any source (memory cards, USB memory keys, cameras, slides, strips of film, and original photographic prints) you need a photo-lab MFP.
There are two main technologies used in printing, laser, and inkjet, they are increasingly overlapped in capabilities, but there are still differences. Generally speaking nearly all lasers (and laser-class models, such as solid ink and LED-based printers) print higher-quality text than nearly any inkjet, and almost any inkjet prints higher-quality photos than the overwhelming majority of lasers.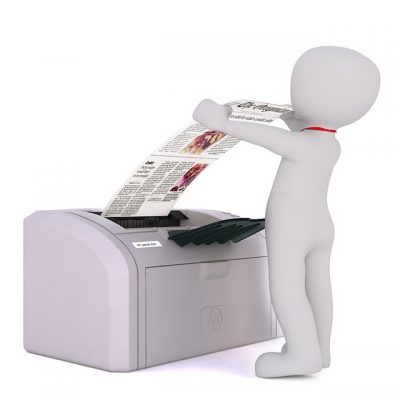 Photo printers
As the name implies they are printers that focus on printing photographs and they fall into two broad categories: dedicated and near-dedicated photo printers.
The dedicated (also known as small-format) photo printers can print nothing but photos. They are typically limited to a maximum paper size of 2 by 3, 4 by 6, or 5 by 7 inches. These printers are relatively small and portable. They're also much fewer computer printers than they are standalone consumer electronics products, with an emphasis on ease of use. There are few of them still on the market these days. Most of them include menus with basic editing features that let you crop an image and remove redeye. They often include a large touch screen to let you easily give commands and they have the ability to scan slides and film negatives.
The near-dedicated photo printers are aimed at serious amateur photographers. They offer professional-level output quality, can typically print at sizes up to 13 by 19 inches, and often demand a reasonable level of sophistication to get the best results.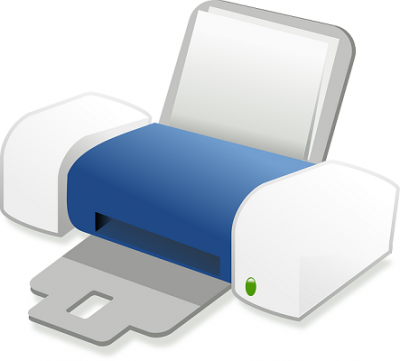 Factors to be considered when choosing a photo printer
Resolution:
Resolution is perhaps the most important consideration since a higher resolution will yield better-quality photographic prints. While virtually every printer branded as a "photo printer" will have good enough resolution for casual usage, professionals will want to look for a resolution of 4,800 x 1,200 dpi or even higher if you can afford it.
Cost Considerations
You have to calculate the total cost (initial and running cost) of the printer. Most manufacturers, especially for dedicated photo printers, will tell you the cost per page, and many give a cost per photo. To get the total cost, calculate the cost per year by multiplying the cost per page by the number of those pages you'll print each year. Add these amounts to get the total cost per year. Then multiply that by the number of years you expect to own the printer, and add the initial cost of the printer. Compare the total cost of ownership figures between printers to find out which model will be least expensive in the long run.
Unfortunately, this may be impossible for near-dedicated photo printers, since there's currently no widely accepted standard for calculating the cost per photo.
Connection Options
You should think about how you will print your photos and what connection you are going to use.  Most dedicated photo printers can print from a computer over a USB connection. Most new models come with Wi-Fi connectivity; you can print directly from PictBridge cameras and memory cards. Remember to make sure that the printer is compatible with the memory card format you have in your camera.
Printer Sizes:
Some buyers keep printer size in mind when making photo printer comparison. Smaller, ultra-portable machines may cost more, but they are perfect for on-the-go photographers.
Supply costs
Depending on how often you plan to print, it can be a good deal to purchase an expensive printer that offers a cheaper line of cartridges. Also, look into the possibility of refilling your own cartridges, which can cost dramatically less than buying new cartridges every time. Canon and Epson now offer "ink tank" models which you can fill from small bottles of ink, providing a very economical cost per page.
My recommended Photo printers list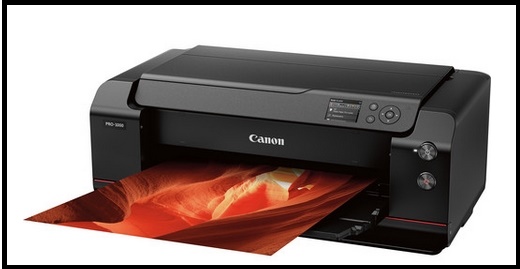 It is a near-dedicated photo printer from Canon that can print color and grayscale images up to 17 by 22 inches. To achieve its superb output, the PRO-1000 deploys 12 separate inks cartilages that provide a wide color range.  The inclusion of the aforementioned photo-centric black and gray cartridges among this printer's inks greatly enhances black-and-white and grayscale images. It is capable of printing at high resolutions, typically up to 4,800 by 2,400dpi (dots per inch). It has a 3-inch color display, a navigation wheel, and a few buttons. Among other things, the LCD, while not a touchscreen, does an excellent job of displaying the status of those 12 ink tanks. If you're a professional photographer or a serious enthusiast, the image Prograf PRO-1000 is a professional-grade printer that will be a terrific boon to your business or hobby.
The only cons of this printer are that it hasn't a roll print option, it only can print on cut papers.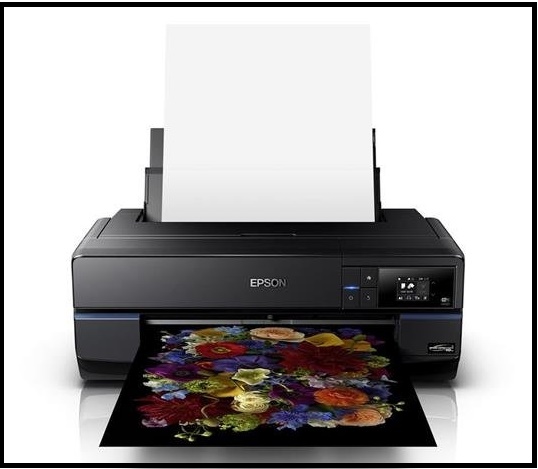 Epson SureColor P800, produce remarkably good, professional-quality prints. The P800 is similar in price, capacity, and print quality to the Canon imagePrograf PRO-1000. It also offers the option to print on paper rolls measuring either 13 or 17 inches wide and up to 10 feet long. You can choose to buy the adapter separately as an add-on, or as part of one of Epson's "Designer Edition Series" bundles.
Setup and configuration options are handled from a 2.7-inch color touch screen. In addition, the control panel consists of a Power button and another four buttons for navigating on-screen menus.
As for the printing speed, the P800 printed a borderless 4-by-6-inch photo at the highest resolution (2,880 by 1,440dpi) in 1 minute, 58 seconds, compared with the PRO-1000's 1:35.
the SureColor P800 uses nine inks and like the PRO-1000, the P800 comes with several shades of black ink, which, among other things, help produce stunning grayscale images.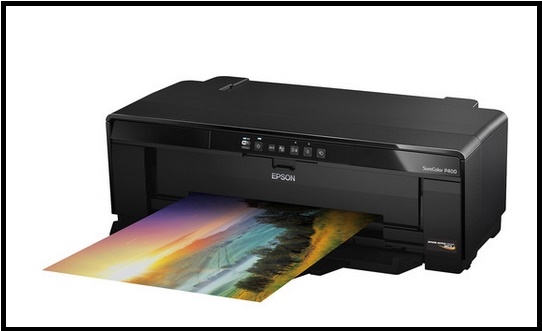 The Epson SureColor P400 is moderately priced for a near-dedicated photo printer, it produces magnificent photo prints at a good speed, and it can print from paper rolls. Fast for a near-dedicated photo printer.
Highlights:
Photo print speed: 8″ x 10″: as fast as 1 min 8 sec11″ x 14″: As fast as 1 min 42 sec
Max Resolution: 5760 x 1440 dpi
Max Printable Area: 13 x 129″
Accepts Roll Media up to 13″ Wide
USB 2.0, Ethernet, & Wi-Fi Connectivity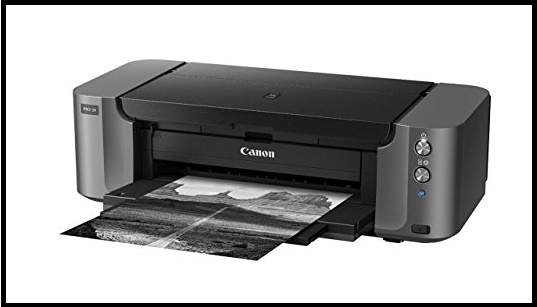 The Canon PIXMA PRO-10 Wireless Professional Inkjet Photo Printer features a 4800 x 2400 dpi resolution; the printer's 10-cartridge ink system provides a wide color range and includes 3 black inks for high-quality black-and-white photos. The Pro-10 can output borderless prints up to 13 x 19″ and is compatible with a wide range of media, including glossy, luster, and matte photo paper as well as Museum Etching and other fine art papers. Additionally, you can print directly on CDs, DVDs, and Blu-ray discs and create your own customizable discs and jackets.
Product Highlights
Max resolution 4800 x 2400 dpi
Print speed for 8 x 10″ in 3 Minutes, 35 Seconds
Connectivity: Wi-Fi, Ethernet, PictBridge
Max Print Sizes up to 13 x 19″
10 Ink Cartridges Including 3 Monochrome
Chroma Optimizer Reduces Bronzing
CD, DVD, Blu-ray Printing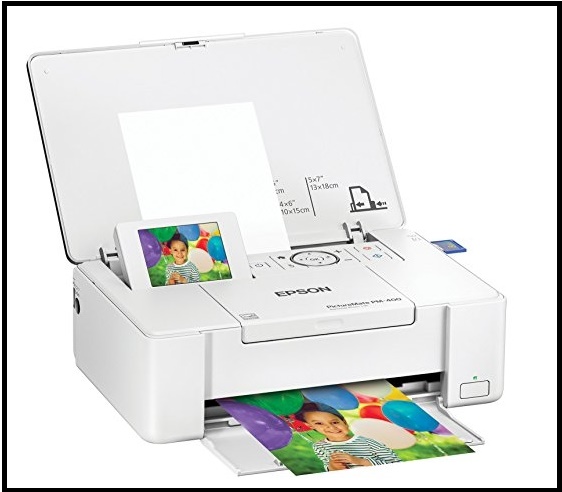 Epson PictureMate PM-400 Personal Photo Lab can print beautiful borderless photos, and easily print high-quality 4″ x 6″ and 5″ x 7″ photos. It has an ultra-compact design, a lightweight, portable printer that saves space, wherever you choose to print.
Thanks for reading the article, hope you find it useful and informative. If you have any questions, just drop them in the box below and I will be glad to respond immediately. Also, don't forget to subscribe, we will notify you if there is a new post.