In the visual realm of photography, having an exceptional online portfolio is non-negotiable. But with the myriad of website builders available, how do you determine the best website builder for photographers – the one that seamlessly melds artistic expression with functional design? In this exploration, we'll navigate through the top website builder options, considering their features, aesthetics, and user-friendliness, to help you make an informed choice and craft a digital space that truly showcases your photographic prowess.
As you gradually advanced as a photographer, you might feel the need to present your works to more people. Of course, you will try to upload your photos to Facebook or Flickr, and then you may think that you have some photos, which you believe people may like and want to pay for them. To promote your work at a more advanced level, owning your website could be the perfect solution.
Nowadays a website is a "must-have" tool since this is the foundation of all your promoting efforts. A photographer's website may in the near future become the only appropriate way to present your portfolio to your potential customers.
There are many other reasons why you may need a personal photographer's site: to reach prospective clients by demonstrating your works, to promote photos, to sell them, to organize workshops, and to share posts through your blog. If you are running a photography business, a personal website will provide your customers with all the necessary information: descriptions, prices, and service.
Therefore, whether you own a small photography business or you are looking to create your own blog, website builders make it so easy, you don't have to hire a web designer to have a professionally designed site.
In this tutorial, we are going to answer the question What is the Best Website Builder for Photographers?. We gathered a list of our recommended best website builders for photographers, but first, let us explain some terms used in this field.
What is a website builder?
A website builder is a platform or program that allows you to easily construct a website without any previous manual code knowledge. These are typically intended for users to build up their own websites and establish their online presence.
Website builders typically feature drag-and-drop software that lets you customize elements on a page with layouts chosen from a handful of available web page templates.
There are two types of website builders:
Online website builder:

it does not require any software downloads; it'll simply work through your internet browser. Most online builders come with accompanying hosting services, so you don't have to worry about that extra technical hoop. This is an easy-to-use option for newbies.

Offline website builders:

It is a downloadable software program, where your computer hosts your files until you're ready to upload them to your web host. With this option, you need more technical know-how. In addition, you need a plan from a web host, which you'll need to buy separately.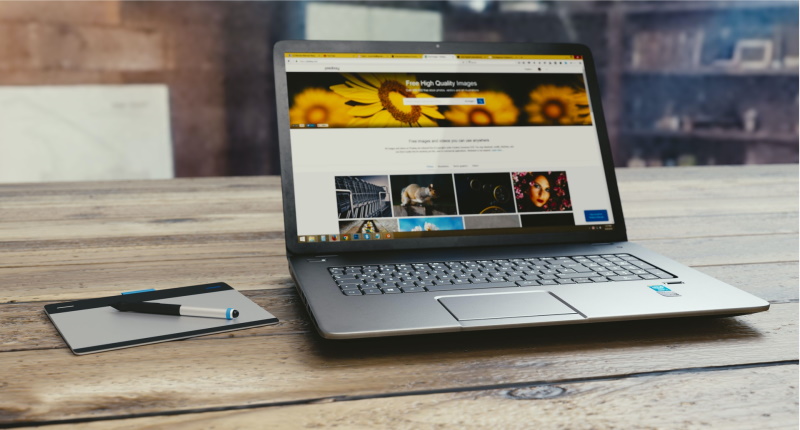 Photo by Monoar Rahman
The benefits of using a website builder
These platforms are excellent tools for small business owners and entrepreneurs looking to establish a strong online presence, let us view some benefits of using them:
They do not require technical skills
To get a site up and running with a website builder, you only need to use a computer; you do not have to write a single line of code.
You can set up and run your site in a couple of minutes
You can create your own unique website from a collection of pre-formatted and eye-catching layouts outfitted with your brand's content, images, and videos. After setting up your website will only need to post fresh content regularly, again a good website builder makes that easy.
They are greatly customizable
Website builders allow you the freedom of customization, so you can give your site your own personal touch within a professionally-designed template.
They are not expensive
You can get an amazing site running on the internet at low-cost options and might offer a trial period.
Photo by Pixabay
What to look for when choosing a Website builder?
Suit your budget
Website builders generally bill on a subscription model, so you have to consider the long-term costs as well as what you can afford at this moment. Choose a website builder that falls within your ongoing budget for your website.
Make sure you consider what features are included in the price plan instead of just going with the cheapest option.
Ease of use
Make sure you find a Website Builder that has an intuitive editing tool so you can easily shape your website to look and feel how you want it to. Drag-and-drop functionality is a good feature to look for.
Many customizable templates
Make sure the website builder you go with supplies a good number of templates for you to choose from. A website offering responsive templates is a necessary option (It allows viewing photos on computers, tablets, and mobile), so you won't have to do anything extra to make your website mobile-friendly.
Choose a website builder that gives you many options to customize the template you choose to turn it into something wholly yours.
SEO features
A website builder that has SEO features can give you an advanced start by helping you optimize your website's pages for visibility in the search engines.
Social share features
Social share features can help you to push out new content to your social networks to let your followers know about it, and you can make it easy for visitors to share your web pages with their followers with one click as well.
Educational resources
If the website builder you choose has some educational resources on how to do things, it would be surely a plus.
The Best Website Builder for Photographers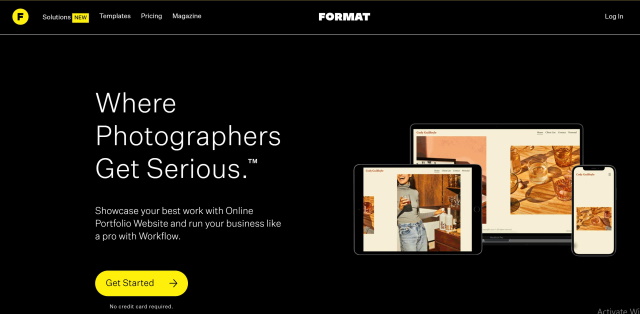 Format is a fully customizable portfolio builder that includes modern features such as custom templates, high-definition, responsive, and retina themes – all you need to create a successful photography portfolio website.
With Format, themes are 100% mobile-ready and the interface is a joy to use so you can create your site in record time and have a completely customized theme without coding. There are various page templates you can use such as, private pages, simple content pages, galleries, resume, etc.
Format also has an intuitive, powerful, and great-looking blogging interface. You can now share your work and your words, all in one place without having to resort to an external or 3rd party blogging system.
Highlights
Templates for photographers and artists, created by award-winning designers.
You can have a gorgeous portfolio site created simply by customizing portions of template pages.
Mobile optimized – all templates are designed for mobile users.
Domain options
SEO (Search Engine Optimization)
Blogging functions
e-commerce integration
Price plane
Portfolio account:  Basic: $7/MO, Pro: $8/MO, PRO PLUS: $13/MO
Workflow: Pro: $8/MO, Pro Plus: $13/MO
Bundle: Professional: $20/MO
Pros
14-day free trial
Online store option
Easy to use
Cons
Could be cheaper
Not suitable for full-time bloggers.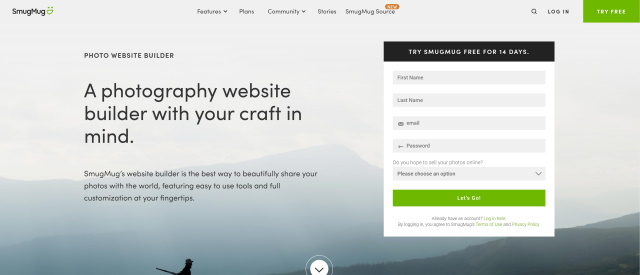 SmugMug is a photography website builder that provides an easy way to display and sell your photographs. As a specialized builder, SmugMug is superb at what it does.
The real advantage SmugMug has over competitors is that it's ready to help you sell straight out of the box! You can charge per photo download, create custom price lists for clients, and sell prints and gifts directly with no need for extra integrations.
Highlights
Provides a secure, reliable place to store photos (Privacy controls, Unlimited Storage, Cloud-secured, and Automatic upload)
Beautiful website templates
Drag-and-drop customization
Prints, products, digital downloads
Price plane
Basic: $9/MO
Power: $13/MO
Portfolio: $28/MO
Pro: $42/MO

Pros
Pro shooter features (Unlimited photo and video uploads)
Partnerships with professional printers so visitors can order prints/products directly from your site, with no need for additional integrations
Extensive social media integration so you can stay connected with your audience
Upload image albums from multiple locations, from Dropbox to Apple
Android app
Cons
The main drawback of SmugMug's features is that there's no built-in blogging option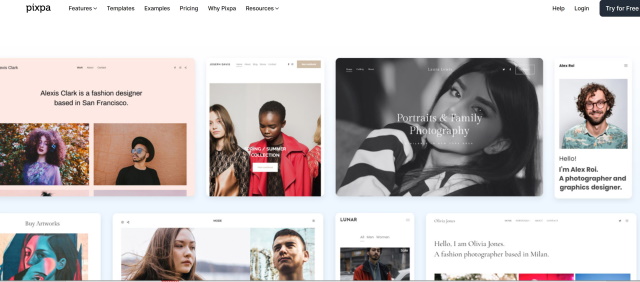 Pixpa has a complete suite of features which includes beautiful themes, client galleries, e-commerce, blogging, and excellent support enables photographers to save both time and money by having everything in one place.
No coding knowledge is needed with their easy-to-use drag & drop website builder. Pixpa has made it easy for photographers to sell their images as prints or downloads and process orders easily using integration with printing labs.
Highlights
Create a beautiful portfolio website
Sell product, download & services
Create a blog for your website
Create dedicated private or public client galleries for each of your clients
Create personalized, mobile photo albums
24/7 Customer Support
Price plane
Start with a 15-day free trial. No credit card is required. Subscribe anytime with a 30-day money-back guarantee.
LIGHT: $3/MO
PERSONAL: $7/MO
EXPERT: $10/MO
BUSINESS: $16/MO
Use Coupon Code "ehab10" to get 10% off on all Pixpa Plans
Pros
Build mobile gallery apps
Money-back guarantee
Half-price for students
Cons
The interface is not the easiest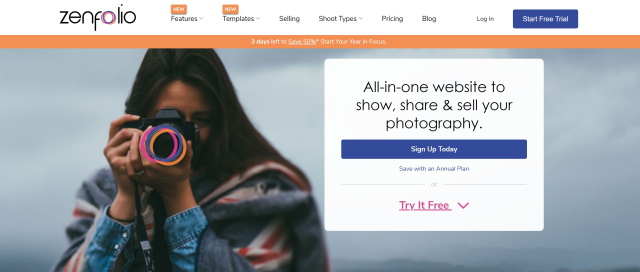 Zenfolio offers a variety of customized templates that can easily suit your brand and make you stand out. It's quick and easy to upload photo galleries and there is an option to password protect them. There's a built-in payment system that makes selling your prints an easy task, unlimited storage, image protection, and image security guaranteed.
In addition, Zenfolio also automatically adjusts image sizes to suit the viewing device (computer, tablet, mobile). Also, Zenfolio features auto-dim effects and image optimization to make browsing photo collections the best experience they can be.
Highlights
Automated workflows: Create custom photo galleries, add custom watermarks to photos, track client interactions, tag photos, and allow digital downloads.
Manage your booking, payments, and orders all in one place.
Get paid directly — partial deposit, upfront or upon completion.
Client orders fulfilled and shipped based on their pre-purchased package
Custom, online photo galleries for your clients to share and favorite.
Stunning photography website templates to beautifully showcase and sell your work online.
Price plane
Portfolio:  $5/MO
Portfolio plus: $12/MO
ProSuit: $12.5/MO
Pros
Handles large file volumes
Very easy to get started
Cons
Fairly simplistic designs
Minimal customer support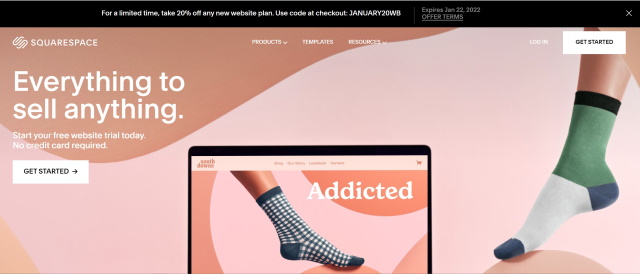 Although it's not aimed exclusively at photographers, and there's no free version, It could be one of The best website builders for photographers today.
It has the best selection of elegantly minimal, professional-looking templates out there. Moreover, that makes it the best way for photographers to showcase their work online.
In general, Squarespace's templates are geared towards displaying large, high-quality images, whether viewed on a laptop, tablet, or smartphone.
The drag-and-drop interface makes it easy to create your own site and also there are pop-ups to help out every time you hover over an area. you certainly don't need any prior experience in building websites or any knowledge of coding.
If you want to add a blog or an online store to sell your prints and photobooks, those features are all easy to use too, and there's 24/7 email support with good response times, plus live chat.
Squarespace may be more expensive than many of its rivals, but we feel the extra cost is worth it if you want your online portfolio to look truly fabulous.
Price plane
Personal: $12/MO
Business: $18/MO
Commerce: $26/MO
Pros
Beautiful templates
Highly customizable
Great e-commerce features
Cons
More expensive than rivals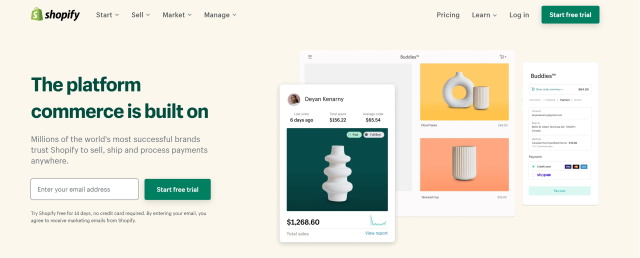 If your main target of a photography site is selling prints, photobooks, workshops, or anything else, Shopify may be your best bet.
While it's not the most visually attractive option, and it's not specifically aimed at photographers, it does make it quick and easy to set up an online store.
With a vast range of third-party integrations, you can integrate your Shopify site with Instagram, Facebook, and other social media. This means that if one of your followers sees something they like, it's quick and easy for them to buy it. In addition, that means they're ultimately more likely to buy.
Shopify offers a variety of payment options and some good marketing tools to help promote yourself. It does cost more than other website builders do, so if you don't need an e-commerce feature, it's not the best option.
Highlights
An e-commerce website backed by powerful tools that help you find customers, drive sales, and manage your day-to-day.
Price plane
Basic: $29/MO
Shopify: $79/MO
Advanced: $299/MO
Pros
Lots of handy shop tools
Plenty of apps and extensions
Cons
Only worth it for sellers
Transaction fees
Conclusion
Setting your goals and the needs of a website determines the features you should have on your site. For example, if you want to sell prints of your photos through your website, you'll need a good e-commerce feature: Shopify is appropriate. If you are more interested in how your photos will be presented: Squarespace has the most beautifully crafted templates that are perfect for showcasing large-format photography, but it is more expensive.
If you are concerned, about how many photos you plan to upload. A web builder that can handle multiple galleries with sub-folders: Smugmug, Format, or Zenfolio will probably be your best choice.
Finally, what's your budget? Squarespace offers super-sleek templates but it is a little more expensive.
The following list summarizes the price plans of our recommended website builders per month
Format
Portfolio :$7 to $13
Workflow :$8 to $13
Bundle:$20
SmugMug
Basic: 9$
Power: $13
Portfolio: $28
Pro: $42
Pixpa
LIGHT: $3
PERSONAL: $7
EXPERT: $10
BUSINESS: $16
Zenfolio
Portfolio:  $5
Portfolio plus: $12
ProSuit: $12.5
Squarespace
Personal: $12
Business: $18
Commerce: $26
 Shopify
Basic: $29
Shopify: $79
Advanced: $299
Related posts
How To Sell Your Own Photos Online
Best Websites Selling Photos- 13 Amazing Websites
Thanks for reading, I hope you enjoyed the article, in case you have any questions just drop them below & I will be happy to answer you.
The featured Photo by Designecologist from Pexels
If you enjoy the site, don't forget to subscribe, we will only inform you when a new article is posted.