Modern cameras have complicated electronics, but only a few moving mechanical parts. The most important parts are the shutter mechanism and the motor that flips up the mirror in a DSLR.
Knowing that moving mechanical parts will be worn faster because of friction and wear, the main factor to establish a life span of a camera is figuring out its shutter count,  so, What is the Shutter Count of a Camera? Simply it is the number of times the shutter has fired. It is the same situation as when you are evaluating the conditions of a used car you always check the vehicle's mileage. A camera's lifespan also depends on many other factors, such as care, servicing, and environmental conditions.
Camera Basics
While DSLRs and mirrorless cameras have many characteristics that differentiate each other, they do share one important feature that separates them from all other types of cameras. They're interchangeable-lens cameras; you can swap out the lens and attach another type of lens. The photo below shows the basic designs for both DSLR and the mirrorless camera.

DSLR cameras have a mechanical shutter mechanism to cover and expose the digital sensor. Each time you take a photograph the shutter mechanism moves back and forth across the sensor at a precise rate according to the shutter speed you selected. This is one actuation and adds one to the shutter count. Like any mechanical device, the shutter experiences wear and tear, and eventually, it will fail.
How does shutter work?
The shutter of a DSLR camera consists of three basic parts the mirror, the bottom curtain, and the top curtain. When you look through a DSLR viewfinder, you are essentially looking through a series of mirrors that get their light directly from the lens.
When you click the shutter button, the mirror flips upwards to allow light to pass to the sensor. This is why the viewfinder goes black for a short amount of time when taking photos. Then the first curtain moves from top to bottom exposing the sensor beneath. After that, another curtain will fall down, covering up the entire sensor, and then finally the mirror flips down to its original position.
The below video illustrates the working sequence of the focal plane shutter.
This process can vary in time depending on the length of your shutter speed. Sometimes a shutter speed can be so fast that your camera sensor won't be entirely exposed at any one time. The entire process from mirror up to mirror down is known as one actuation. A typical DSLR can withstand over 100,000 actuation in its lifetime.
What is Shutter Count?
Shutter count is the number of photos that your camera has taken. It's an important number that indicates the life expectancy of your camera. The mechanism that flips a DSLR's mirror out of the way, built from tiny and delicate parts. Then, a curtain will move from top to bottom, exposing the sensors, followed by another curtain covering it. This process also often moves incredibly quickly.
For example, if you're taking a picture in the bright afternoon sunlight, your shutter may only be open for 1/1000 of a second or less. In order to stay open for such a short amount of time, it needs to start moving very quickly and then stop moving just as fast.
Over time, these movements lead to wearing out of shutter parts. When this happens, you may have to either send the camera back to the manufacturer to replace the shutter mechanism.
If your camera is starting to get some age on it or you are looking at buying a used piece of gear, it can become important to check your shutter count to know how close you are to reaching the shutter's limit. After all, the last thing you want is to have your shutter fail during the middle of an important shoot.
What is the Shutter Rating of a camera?
Shutter mechanisms are built for a large number of actuation. In most cameras, the shutter is rated for at least 100,000 to 200,000 shots, and the top pro models are rated even higher. It's also common for camera shutters to last far longer than their official rating.
To find out the shutter expectancy of a camera, you can check The Camera Shutter Life Expectancy Database. It is a great resource for camera shutter actuation and its life cycles.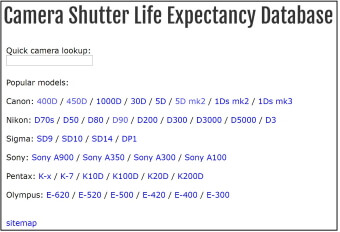 If you've had the same camera for a few years or are considering buying a used camera, this website can quickly give you an estimate. A quick Google will also return the typical life of a camera shutter for your particular body.
The following tables show the official shutter rating of some well-known camera models:
Canon Shutter Count Ratings
Canon has released shutter count ratings for most of their cameras above the Rebel line. Only some of the Rebels have official ratings available. The following table shows some examples of Canon camera shutter rating:
Camera Model                           Shutter Rating
Canon 1D X Mark II                    500,000
Canon 5D Mark II/III/IV            150,000
Canon 6D Mark II                       100,000
Canon 7D Mark II                       200,000
Canon 60D/70D/80D                 100,000
Canon T5i/T6i                             100,000
Nikon Shutter Count Ratings
Nikon also states shutter count ratings for most of their camera models. The following table shows some examples of Nikon camera shutter rating:
Camera Model             Shutter Rating
D4/D5                             400,000
D500                               200,000
D850                               200,000
D3500                             100,000
D5600                             100,000
D7500                             150,000
How to Check Shutter Count
There are a large number of websites that will allow you to upload an image,  and will tell you the shutter count from the EXIF file of your photo.
What is EXIF Data?
All cameras store a lot of info in each image's EXIF data. For many cameras, such as most Nikons, most Sony Alphas, and some Canons, the EXIF file contains the shutter count number. You can use any program that will show you the complete EXIF data (not just an image viewer that only shows the basic information) and look for a line that says something like Image Number or Shutter Count.
Adobe Photoshop will show your EXIF data by clicking on File Info in the File menu and clicking on the Raw Data tab. You can view complete EXIF data on images uploaded to Flickr.
Online services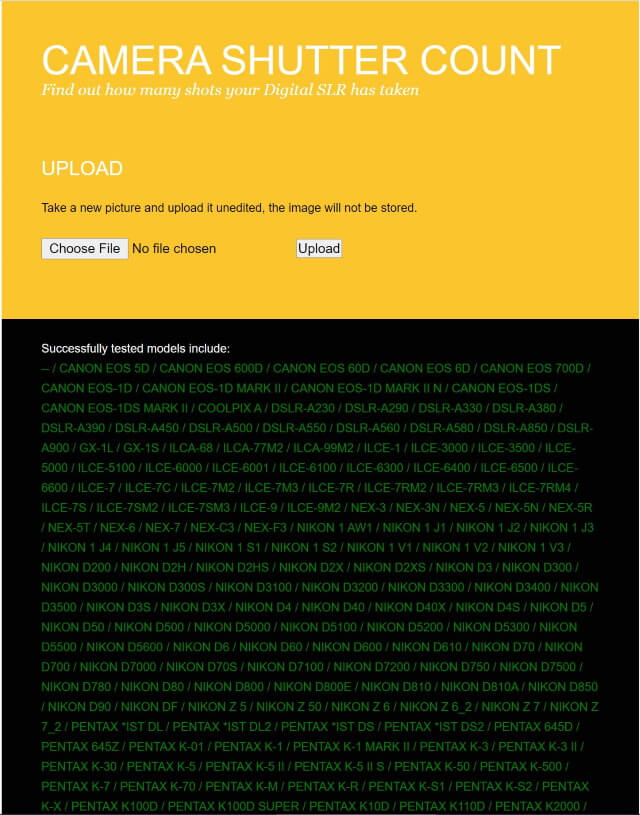 Take a new picture and upload it unedited, the image will not be stored, and then you can find out how many shots your Digital SLR has taken.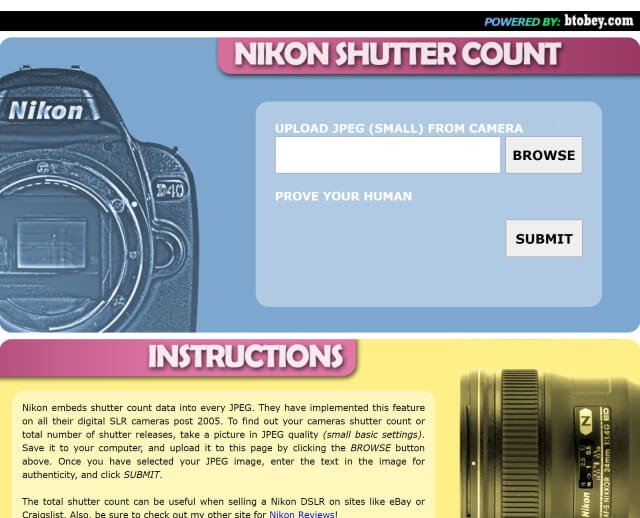 Nikon embeds shutter count data into every JPEG. They have implemented this feature on all their digital SLR cameras post-2005. To find out your camera's shutter count or the total number of shutter releases, take a picture in JPEG quality (small basic settings). Save it to your computer, and upload it to this page by clicking the BROWSE button above. Once you have selected your JPEG image, enter the text in the image for authenticity, and click SUBMIT.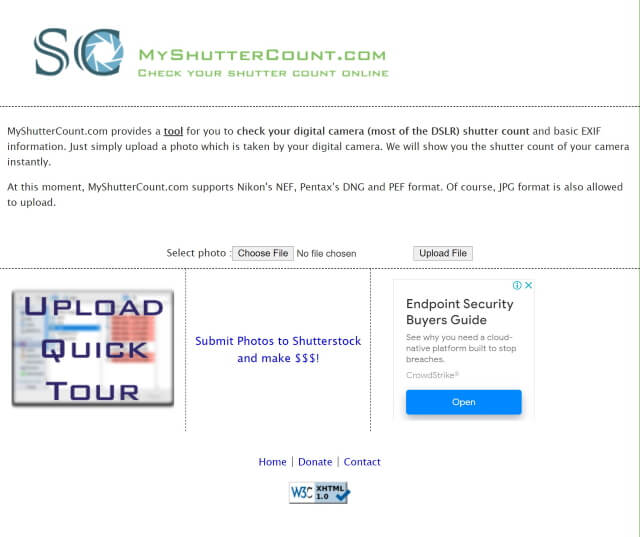 MyShutterCount.com provides a tool for you to check your digital camera (most of the DSLR) shutter count and basic EXIF information. Just simply upload a photo that is taken by your digital camera. We will show you the shutter count of your camera instantly.
At this moment, MyShutterCount.com supports Nikon's NEF, Pentax's DNG, and PEF format. Of course, JPG format is also allowed to upload.
Software
This software will provide the shutter count for any Canon DSLR except most 1D series bodies and it also won't work with the original 5D and the 10D, 20D, 30D, 300D, 350D, and 400D. It will display detailed information such as shutter count, firmware version, copyright strings, and more about the camera connected to the PC.
EOSInfo is for Windows only. At this time, does not have any plans for creating a Mac version, largely due to time constraints. Mac users should continue using the 40DShutterCount utility.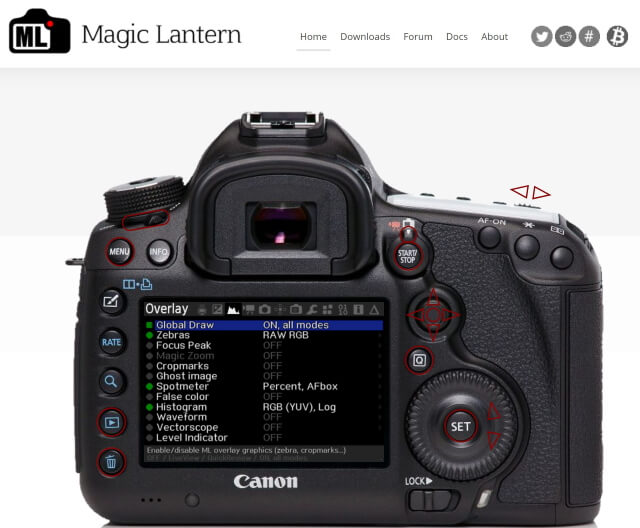 Magic Lantern is a free software add-on that runs from the SD/CF card and adds a host of new features to Canon EOS cameras that weren't included from the factory by Canon.
Magic Lantern is a free, open-source firmware add-on for Canon DSLR cameras, which provides the information on the camera's preview screen itself within the Magic Lantern debug menu screen.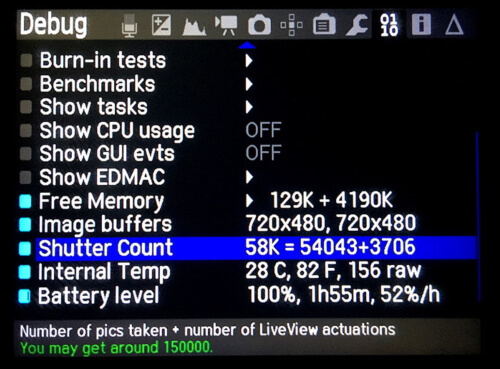 No computer needed at all for this. All you need to do is download and install Magic Lantern on the memory card of your Canon camera and away you go. Again, this is not an option for any 1D series cameras (5D the 10D, 20D, 30D, 300D, 350D, and 400D), Magic Lantern will not run on any of these models. At the moment Magic Lantern supports the Canon 5D Mark II, 5D Mark III, 6D, 7D, 50D, 60D, 500D/T1i, 550D/T2i, 600D/T3i, 650D/T4i, 700D/T5i, 1100D/T3, and EOS M. In addition, there is a beta version of Magic Lantern for the 70D available here. You can also see a full list of all Magic Lantern versions here. Below is a screenshot of Magic Lantern running on my older 5D Mark II
Conclusion
Manufacturers make the shutter count difficult to access so that it cannot be tampered with dishonestly. Shutter counting with third-party software is by no means a perfect science, which is why this metric should be considered only within the context of the rest of the camera's condition, and be used as a general guide of the camera evaluation process.
To evaluate the condition of a used camera, you have to take a close look at the other conditions like external condition, wear of the mount, grip and port condition, and cleanliness among other factors.
Related posts
What Is Shutter Speed In Photography
What Is Photo EXIF Data- How To Read And Edit Metadata
What Is The Best Place To Buy Used Cameras
Best Place To Sell Used Camera Gear
Thanks for reading, I hope you enjoyed the article, in case you have any questions just drop them below & I will be happy to answer you.
The featured Image by klickblick from Pixabay
If you enjoy the site, don't forget to subscribe, we will only inform you when a new article is posted.