Do you have some camera gear that just isn't seeing any action nowadays? Perhaps you're ready to switch to a new camera system or want to just clean house a little. Whatever your motivation, I've found that KEH.com is the best place to sell used camera gear!
What is KEH.com?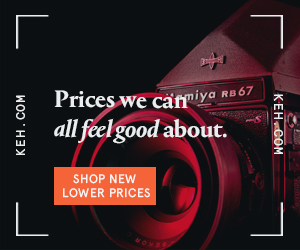 Based near Atlanta, GA, KEH.com is an online marketplace specializing in the buying and selling of used camera equipment. Rather than seeing perfectly usable equipment hit the garbage heap or sit untouched for years, they offer folks the chance to make a little income. And in exchange another photographer can find your unused equipment for a bargain price.
As they describe themselves: "We're camera people—photographers and videographers, collectors and crafters, makers, and muses." Considering the extremely affordable prices on items ranging from common to ultra-rare, this isn't too surprising.
Their inventory truly is massive, with an astounding 60,000 items in stock at any one time, fully accessible from their website. And their prices tend to be extremely low; up to 40% below retail prices. And even less for items dating back a few decades.
When buying, KEH uses an extremely conservative estimate of the item's quality, ensuring that customers remain happy with their ratings. An item that's Excellent in grading or even Bargain is likely to be entirely usable and nearly flawless save for some faint scuffs that only a collector would object to! But what about selling to KEH instead?
Pick up Leica camera gear without breaking the bank
What about the Money?
I have to be upfront about one significant disadvantage that KEH holds over some other ways to sell used camera gear. You won't make quite as much money as you would selling to someone in person. KEH has to underbid because they are a business trying to make a profit on used items.
This means that the item has to sell for less than it would cost brand new, meaning they have to buy it from you for even less money. You can expect to receive 30-50% of what you paid for an item if you bought it new, possibly more if it's still relatively new and extremely popular.
Get up to 40% off retail used Fujifilm equipment
What Advantages does KEH Provide, Then?

The main advantage is that selling to KEH is an incredibly easy process with none of the hassle of scammers, auction timers, hagglers, and other issues that alternative markets have. You can have your item priced, in a box, and shipped using one of their labels within an hour of getting a quote from them.
Another advantage that KEH offers over many other places to sell camera equipment is that they are in the market for a much larger range of tech than any individual shopper is going to be. If you're looking to sell something that's currently a hot commodity, such as a Fujifilm X-T4 or other new model, you will find buyers almost anywhere.
But if you're looking to sell a collection of vintage film camera lenses, large format bodies, or other less popular equipment, KEH is much more likely to be interested in these. They have so many folks shopping with them that they don't mind holding onto them until someone interested in a niche product comes along. But you, on the other hand, may find it impossible to find a buyer for these products.
It's a good idea to join their mailing list as well if you do frequent or even infrequent business with KEH. They occasionally offer 5-10% bonuses on gear sold to them during specific times of the year.
Get cash for your old camera gear in 4 easy steps at KEH!
Why Sell to KEH vs eBay, Craigslist, etc?
One advantage KEH has versus auction sites like eBay and places like Craigslist is that you're working with a fixed price. While you can often sell for more on eBay, their auction placement fees and transaction fees (they double-dip on your income when accepting money through Paypal) all add up. eBay's main advantage is exposure due to the sheer number of people browsing – but KEH allows you to instantly target a buyer for your equipment with no fuss or worries about the final sales price.
When selling to KEH your best bet is to use their Instant Quote feature. In just a few steps, you can search for an item, confirm that they are buying said item, and get a price based on the condition that it's in. The final sales price might vary slightly since KEH still needs to receive your item and confirm its condition. But in my experience KEH has always agreed with my assessment of an item's condition and value!
KEH staff are also always available by calling 800-342-5534 Monday through Friday from 8:30 am to 9 pm EST. If you're confused about an item's specifications, the price quoted, aspects of shipping or some other detail, their customer support team will help you sort it out in a single call. You can also reach their purchasing department at purchasing@keh.com.
Many photographers may not feel comfortable sending expensive equipment off via the postal service where damage, theft, and other issues may arise. In this case, if you happen to live in California or Georgia, KEH also holds in-person buying events!
You also don't have to deal with any of the uncertainty that can come after a buyer bids on eBay or buys in person. Buyer's remorse, excuses regarding the condition…Any of these can come back to haunt you even after the sale is done with. KEH simply wants to buy your equipment and won't turn you down so long as the condition matches what you said – or their revised estimate of its condition is suitable for you!
KEH is best for photographers looking to downsize their collection and want an expedited way of getting their money. Their website is especially good for folks who have an upcoming move, need the money to fund a new gear purchase ASAP, or otherwise need to get quick.
Sell KEH your gear and get cash!
Conclusion
The KEH brand has done an impressive job of not only providing photographers with a place to buy used gear. They are also the best place to sell used camera gear as well! Considering their flawless selling platform, giving you quotes in seconds, and friendly customer service if you have further questions, they offer a user experience that's as pleasant as it is profitable!
Related posts
What Is The Best Places to buy used camera lenses
Thanks for reading, I hope you enjoyed the article, in case you have any questions just drop them below & I will be happy to answer you.
If you enjoy the site, don't forget to subscribe, we will only inform you when a new article is posted.