Digital camera prices are quite expensive, by adding the cost of a lens or two and some accessories, the cost of your photography setup can be high and may quickly go over your budget. Thank God! There is a way to get around this, which is to buy used camera equipment. You can save money on camera equipment if you buy it second-hand or refurbished.
In this article, I will explain why and where you can buy a used camera body, and present a few tips you can use when buying your used camera.
Why buy a Used Camera Body?
Cheaper Prices
The most obvious benefit of buying a used camera body is that it will cost you less. This means that you can save anywhere from a few hundred dollars to thousands of dollars when buying the used camera body.
For example, a new Sony a7iii costs $2,000 while you can find a used one for $1750, a total savings of $250.
Purchasing a used camera body is incredibly thrifty; it will leave you with extra cash to invest in more equipment or even an additional photography trip.
A Very good Option for Back-Up Camera
if you are a professional and already have your own camera, it might be a good choice to invest in used backup camera bodies. Because you will use it in case of emergencies.
Camera Quality last long
People, generally, tend to assume that the used camera body has diminished quality, reliability, and/ or lifespan. However, this is often not the case for most modern cameras. Here is why:
All well-known sellers have a condition rating for all their products. Therefore, if you pick up a used camera that has a high condition rating, chances are you can count on its quality and reliability.
Regain purchasing Costs If You Resell
A new camera loses value as soon as you use it.  This means the minute you use your new camera, you are foregoing the possibility of ever getting your money back.
On the other hand, if you buy a used camera body and decide to resell, you are more likely to regain what you paid for and in some cases make a profit.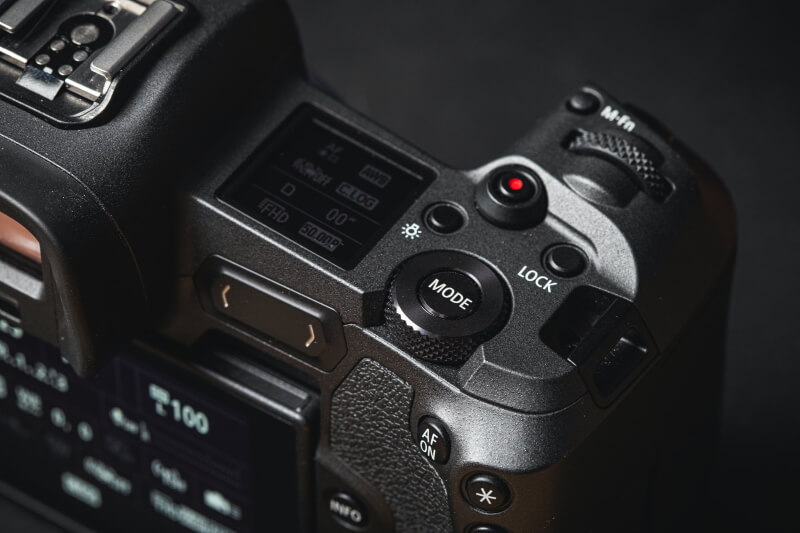 Photo by James Feaver on Unsplash
How to evaluate the quality of a used camera
If you have the opportunity to check and examine a used camera to know its condition, it would be a great thing. The following are some items you should check, if possible,
Check shutter count lifespan
Digital camera's lifespan is not measured in years, but rather in shutter count. The camera's shutter count represents a running total of the times the shutter of a camera has been used. You can think of it as the number of photos taken with a camera.
Every camera will have a shutter lifespan. The shutter lifespan is the average number of shutter accusations that the camera can handle before the shutter breaks. To determine the shutter lifespan of a camera, perform a Google search with" [Camera Name] Shutter lifespan". Typically, camera manufacturers will provide the shutter lifespan for all their camera models.
Entry-level DSLRs typically last at least 50,000 shots, while professional DSLRs typically last to at least 200,000. Before purchasing a used camera, it's good to have an idea of what the shutter count of the camera is.
To determine the actual shutter count of a used camera. You can ask the seller to disclose the shutter count before you purchase it. Alternatively, you can test the shutter count yourself. To do so you take a shot and upload it to camerashuttercount.com or any other shutter count software, and get immediate results.
In the worst case, the shutter can be replaced. A shutter only costs around $200 to $300 to repair. This means, even if the shutter breaks, having it repaired is much cheaper than buying a new camera.
Check the interior of the camera body
Take the body cap off and look closely at the interior of the camera. Check the inside of the camera using a small light source, and hold the camera face down so additional dust and dirt can't get into it.
As you check around the interior, note that any gunk, dirt, or oil that builds up inside. Oil, in particular, can indicate problems with the internal mechanisms of the device.
Check the camera sensor
Check the sensor for any issues. Mount any reliable lens on the camera body, and then take a series of test shots, pointing the camera at a bright light.
Then, view the image on a computer monitor while zooming in and out. Watch out for scratches or other markings on the image. It's likely that you'll see dust spots as you are shooting with a small aperture. If you do, you shouldn't worry as they can easily be cleaned.
But anything that looks like a fragment of worm's lines is probably a result of a scratch on the sensor.
Test the autofocus system
Using a tripod, and focus chart is the best way to test the autofocus. I recommend reading the following posts to learn more about autofocus, and how to test it
Examine Buttons, Dials, and Compartments
You have to make sure all the buttons and dials still work properly. Pay special attention to the shutter button, camera modes dial, power button, flash, and the live view button. Avoid purchasing a camera if the buttons are sticky or don't work at all.
Also, check the battery compartment, and memory card slots. Make sure that there is no corrosion or rust present.
The main disadvantage of buying a camera body locally is that your choices will be very limited, and it is difficult to find what you are looking for, maybe, you have to wait long to find what you are looking for.
What is the Best Place to Buy Used Cameras?
Check your local market
Try buying locally if you can. The important benefit of purchasing locally is the fact that you can have an actual visual and physical examination of the camera body before you buy it.
The following section lists the main items you should check before buying a used camera body
Buy from trusted retailers
The other alternative is to buy online from trusted retailers. Although you will pay first before receiving your lens and that is a risk. The good news is that those retailers examined professionally the camera bodies they bought before offering them for sale. In addition, it is important to check the return policy of the seller before placing the order.
There are several places to find camera bodies and gear online. Below is a list of places to find cheap used gear.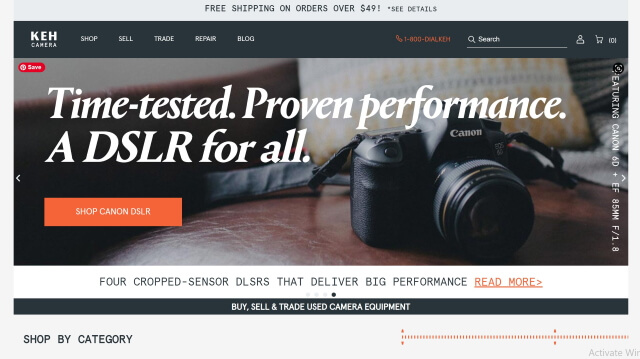 KEH is considered one of the largest places for selling and buying used camera equipment. They apply 14 days "no question asked" return policy.
Each individual piece of equipment receives a quality rating after a thorough 10-step inspection process by our team of top-notch technicians.
Grades are based on cosmetic attributes and not on functionality, as all equipment is guaranteed to work as intended unless otherwise noted, or if it falls under the AS-IS grade.
KEN applies an Inspection Process to evaluate the quality of a used digital camera body. The inspection process includes the following activities:
Visually inspect the physical condition of the body, including any components inside the mirror box or sensor areas, screens, battery doors, and memory card pins.
Insert a test battery & the memory card, powering the camera on.
Set camera mode to Manual (M) or Aperture Priority (A).
Clear all prior menu settings, input test settings, and clear the sensor using a bulb blower.
Attach a test lens and test the camera's metering capabilities and calibration.
Adjust the diopter and inspect the viewfinder area.
Change meter settings and confirm that they change in the viewfinder
Test the camera's shooting and focusing capabilities including vibration reduction, continuous shooting modes, video capabilities, flash modes, and white & black exposures.
Inspect the image quality of these test photos on a separate computer screen to check for focus issues, sensor dust or damage, hot or stuck pixels, or any other quality issues.
Note any problems, damage, wear, loose or missing pieces and confirm grade before sending to the next step.
Grading system
KEH grading system is respected as the industry standard, offering an option for every need and budget. The grading system criteria are used whether buying or selling cameras or other equipment.
The following table shows the KEH grading system, and its relations with the grading system of B&H, Adorama, and Amazon.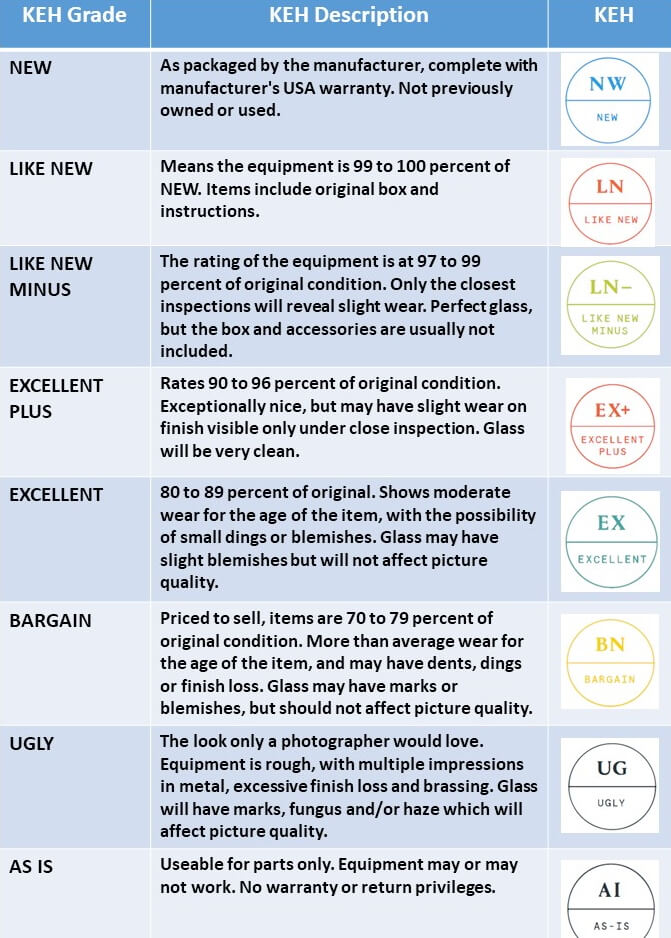 Both KEH's shipping and return policy are top class as well. KEH ships via FedEx the same or the next day, depending on when your order is received.
Returns are free within 14 days and you get a full refund (they require that you call them in order to arrange a return) minus shipping fees spent by them.
Returns received from 14-30 days have a 15% restocking fee added in.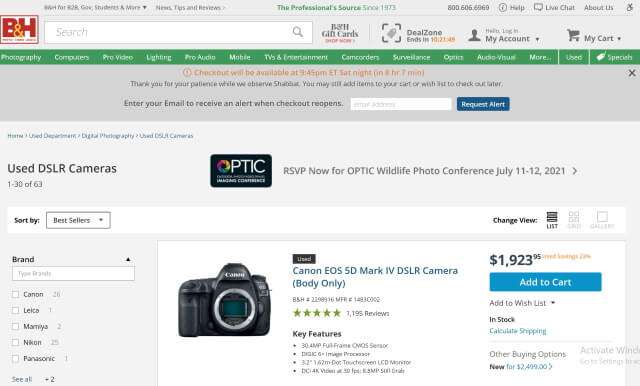 B&H has a used department; it contains loads of used cameras, both film and digital. In addition to the used gear, there are also refurbished products that are restored to original manufacturer specs—just like new!
What is awesome about this site is that you can check a box next to the search bar that will permit you to search the used store only. All Used Equipment is tested and sold in working order, and there is a 90- Day warranty policy
Cameras are rated for their condition, this is an excellent way to decide how low you can go and still have the quality you want. The following scale is for cosmetic conditions only.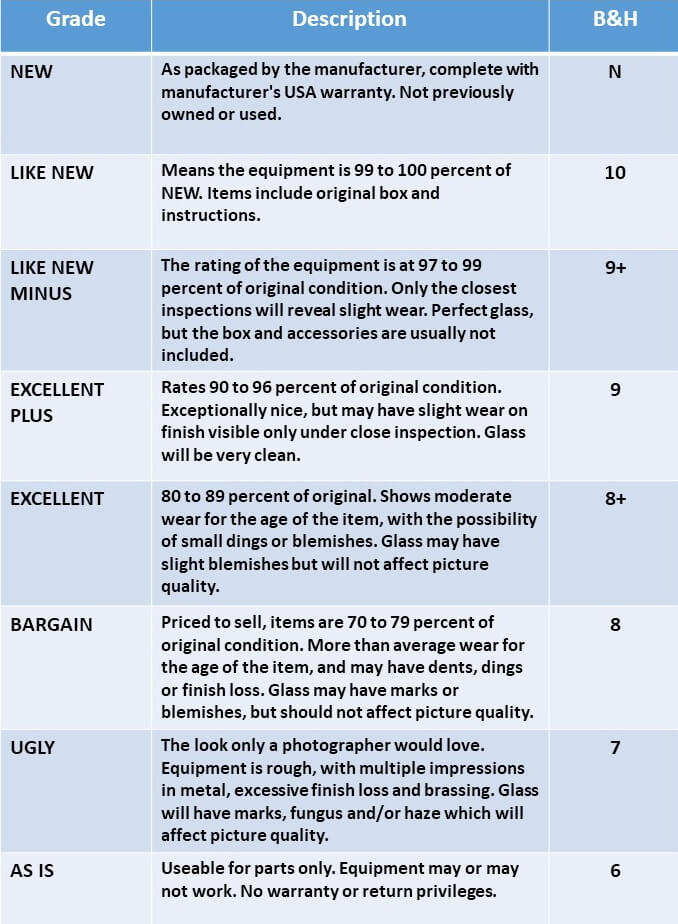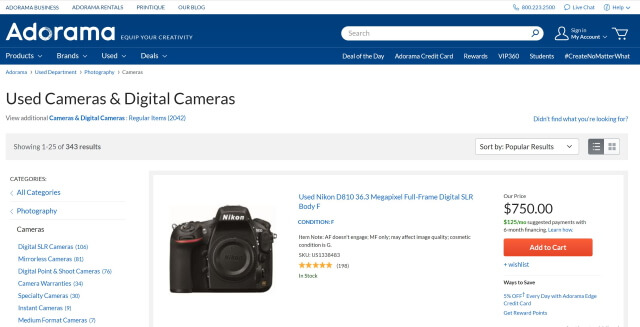 Adorama has a special store for used lenses and also for featured brands, so it is very easy and useful for narrowing down your search. Adorama inspects, rates, and guaranteed the used lenses. They provide a 30-Day Money-Back Guarantee. The following is the rating system for their used equipment.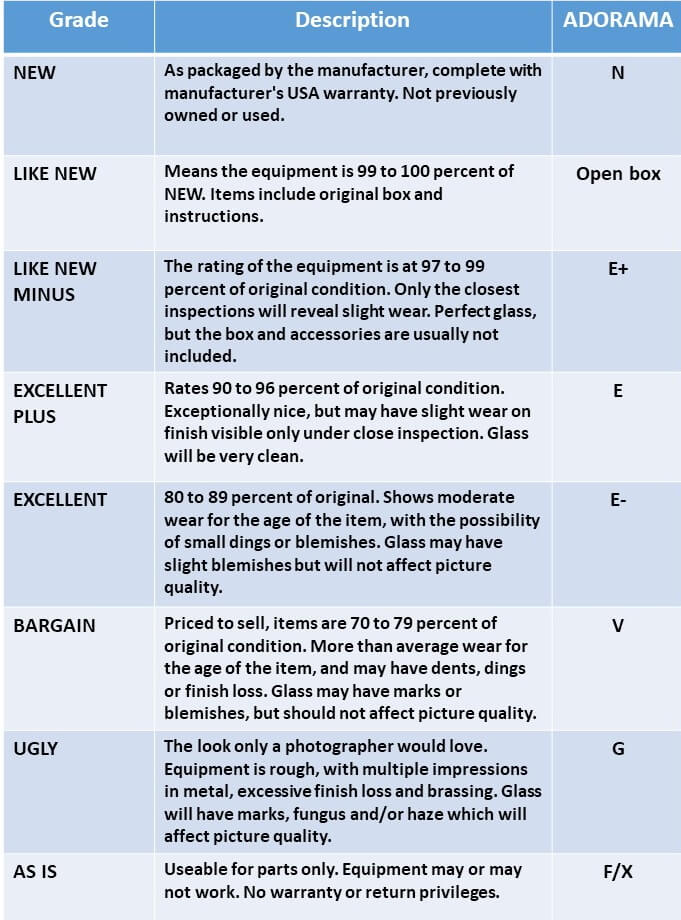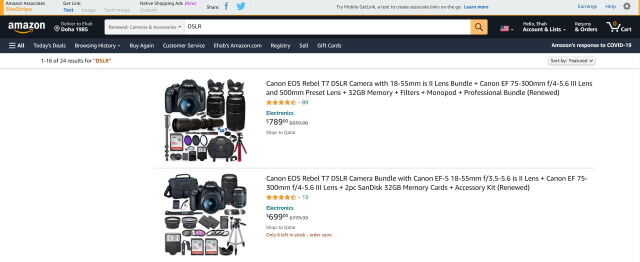 Amazon Renewed is a program that showcases refurbished, rebuilt, and previously owned items. On the retailer's website or app, if you see "Amazon Renewed" on a product's page, it means:
The device has been pre-owned or was a display model.
The item comes with a guarantee from Amazon.
The item has been inspected and tested by an Amazon employee or contractor.
The company also says that all Amazon Renewed merchandise is "tested and certified to work and look like new by a qualified technician or a specialized third-party refurbisher."
Amazon promises that you won't have to worry about finding big scratches, dents, or other blemishes you might expect or see on electronics. But there is a qualifier on that promise: "The products have no visible cosmetic imperfections".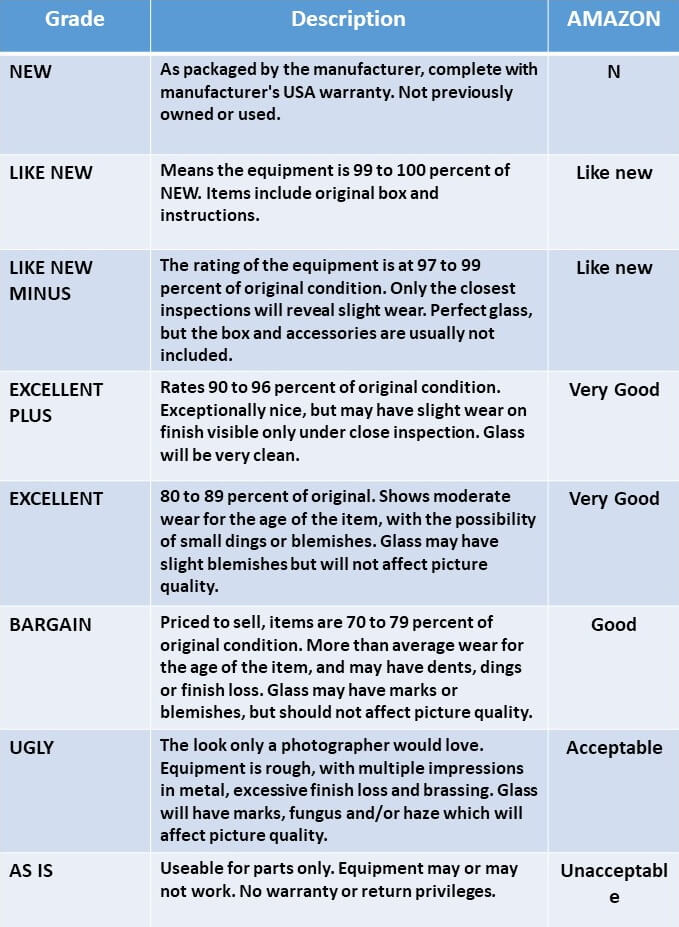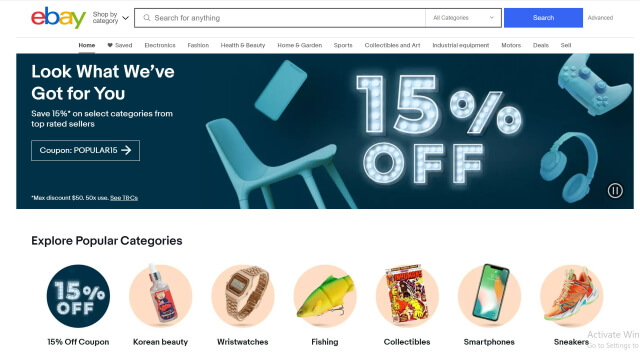 You have a number of options when buying used camera equipment on eBay.
When you do a search on eBay for a specific product, all the options will come up, including new, refurbished, and used products. You can filter the search results to only include the type of item you are looking for, but it's probably worth keeping all the results so you can compare prices between new and used items.
Then, listings will either offer a "buy it now" price, or you will have to bid, like a traditional auction house. Which you decide to go for will of course depend on you. You might get a great deal with the auction model, but if you see a good deal on a "buy it now" product, then it could be worth just going for it.
Make sure to check the seller's rating to see if they have a good history, and look through the description and images carefully to be sure the item is in good condition.
Finally, eBay offers good protection to buyers with the eBay Money Back Guarantee, which covers you if the product is not as described. In most cases, you should be able to get a replacement item or a refund.
Tips for Buying Used Camera Equipment
I like to share a few tips to help you ensure you get a good product.
Condition of the equipment
Most online stores will have some sort of rating system in place. Products will be rated from a "like new" condition down to lower qualities of condition. Make sure you know exactly what the rating of your chosen camera body is.
If you are buying online through a site like eBay or Amazon, you are likely going to be buying through a third-party seller rather than directly from the store. If this is the case, you definitely should read the reviews that previous buyers have left for the seller. This should give you a reasonable idea of how they are to deal with if they are legitimate, and what to expect.
The warranty you get, if any, will usually be provided by the seller. It's important to check exactly what this warranty covers, and how long it is for. You will also want to consider any shipping costs that may be incurred if you have to use the warranty.
All the major online sites that we have listed have some sort of buyer protection, whereby if the product you buy does not meet the description, you should be eligible to return it for a replacement or refund.
You should know the returns policy, and what it covers. In addition, understand what the process for claiming is, and who will pay the shipping costs in the event of a return.
Conclusion
Overall, I find KEH to be one of the best places on the internet to pick up a well-used camera body. They offer a wide selection of camera bodies and provides a standardized grading scale, warranty, and a good return policy.
Related posts                                        
What Is The Best Place To Buy Used Camera Lenses
How To Buy Used Camera Lenses? – Keh Is The Answer!
Best Place To Sell Used Camera Gear
Thanks for reading, I hope you enjoyed the article, in case you have any questions just drop them below & I will be happy to answer you.
The featured Photo by Griffin Taylor on Unsplash
If you enjoy the site, don't forget to subscribe, we will only inform you when a new article is posted.